The BGN News Archive
March 18, 2013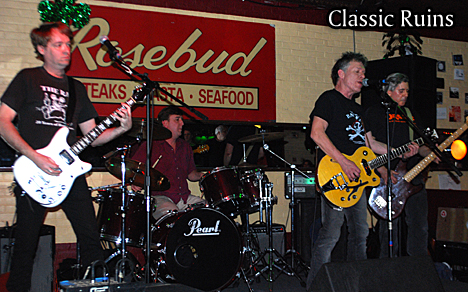 Bob Colby has done his job well; the idea of 'Second Thursdays' is logged in our brain and we headed over to Rosebud to catch his booking of the Classic Ruins, Corin Ashley and Moose and the Mudbugs. With news of the Rosebud's sale this looked like the last gig at this venue. Bob will now move his shows over to the Cantab beginning on June 13th! Midway through the night Bob came over and said that they are now booking the Rosebud to the end of April but his move to the Cantab stands.
There was lots of gabbing at the Rosebud. The world was fixated on the Pope but we were stunned by the exit of The Phoenix. For most club goers there was no time before The Phoenix. Starting with Boston After Dark then to the battling Real Paper and Phoenix the idea of a newspaper entertainment weekly is ingrained to the scene. In the early punk days getting into Rory O'Conner's or James Isaacs' columns in those papers was a sign of success and fostered better gigs and all sorts of favorable impressions among fans. As a writer it was a good gig to shoot for. I only think of the music but Michele Meadows mentioned the art listings. This is going to be a hard transition. Without doubt a transition to a web based alternative.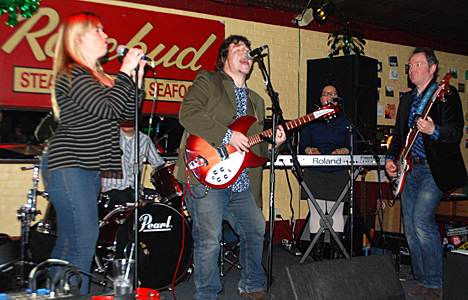 I never took the Classic Ruins for granted but by playing out less these days makes them seem more precious than ever. They come and do the Ruins thing. They are not a throwback or a thing of nostalgia or even a time machine; what they are is the exact same essence of Ruins they were and have always been. When you hear those songs which are Boston Rock treasures you are getting the same experience you got back in the seventies and into the future if you hear them again. In introducing Geraldine I Need Money Frank Rowe says that the song is so old it can't be measured in time. So, measure it on a scale of enjoyment from hearing it along with Rocco's Wake, Nyquil Stinger and that math song, as Frank describes it, 1 + 1 < 2. With the Ruins you get the package of Frank along with the amazing Carl on bass who is mind bending every time, Jeff Crane who is essential to the Ruins - without him the middle is missing (in that time when he had a job we missed him) and Tommy Long who had a legendary career in the Dogmatics before the Ruins.
I've been dying to catch Corin Ashley for some time and it's all been my short coming because Corin has played around enough. Now I can thank Colby for this occasion. Corin did great pop with Pills and you know you are going to get Beatlesque (everyone used this term during the night) songs. Even knowing that, I was overwhelmed with how good it was. Hearing this sort of thing on CD is one thing but to hear it live right in front of you seems like some sort of pop legerdemain. That's because the elements are relatively simple but it's a matter of choosing from infinite musical ideas, having the songs and then of course to perform at a high level. Not to worry Corin has it all down. Song wise it's all quality material inspired by the masters of the 60's. He mentioned Graham Goldman. I was enthralled by his bass playing. He plays just like Paul McCartney. It's uncanny. All the techniques, nuances, and the feel are there. He leaves spaces like McCartney does yet he's playing his own songs. I just loved it. I get to hear Carl Biancucci one of punk's finest and then this -Wow. Corin finishes up with Dandelion by the Stones and that was perfect rococo psyche.
Now it's getting late and some people have to work but we stayed for four songs by Moose and the Mudbugs. Last time I saw Ed Moose Savage he put in a powerful, emotional performance at Willie Loco's Birthday Party and he did that solo. Tonight it goes in the opposite direction, he's got his whole line up of guys, including Ken Kaiser AND George Hall both on guitar...and they belt out the material. They have new arrangements of some tunes like Iceberg Lettuce. It was sounding pretty good.
The night started out with a few people in the audience but by Ed's set there was a respectable crowd and an appreciative one. Bob has a good thing going and we look forward to the new gigs at Cantab which we will tell you about, after all you cannot check The Phoenix any more.
We spoke to Simon Ritt on Thursday who told us he was recently interviewed in NYC for the upcoming documentary "Looking for Johnny" by Danny Garcia who also made The Rise & Fall of The Clash. Here's a link to Danny's blog about filming and a teaser about the film
And I have to say it was so nice to finally meet Corin Ashley...and to hear he reads the BGN all the time! Hey Corin has a new CD out called New Lion Terraces and part of the proceeds from the CD he'll be donating to Boston Children's Hospital, how cool is that? And like Kickstarter there's Pledge Music and you can go there to pledge $$ (purchase)for his new CD.
So we all know South By Southwest has been happening down in Austin; Here's David Grol's keynote speech. There's a nice section where he relates his introduction to punk which he describes as "the first day of the rest of my life".
The Live at the Rat CD is getting closer and closer to actually being in your hands!! They sent out to their backers a bunch of photos of what the package looks like and a note saying they are almost off to the manufacturers so it won't be long my friends!!
WMFO's "A Crash Course for The Ravers" show is making exciting radio for us Boston punk fans. ...Carl Biancucci will be a guest this coming Saturday 3/23 at 2pm playing "assorted hits and misses from my illustrious (?) career (?) in music" to quote the man himself. Carl's groups include:Classic Ruins,Johnny and The Jumper Cables, Doom Buggies, Shotglass Killers,etc).
Gigs and other news:
This very Monday March 18th it's Jim Seery's 40th Birthday at Charlie's Kitchen!!! There's a load of bands playing including Triple Thick of course..and I am sure there'll be loads of beer drunk too! HaPPY BirtHDay Jim!
And of course Thalia Zedek, is doing a residency at TT's every Monday. ...on Monday the 18th she shares the bill with Chris Brokaw!
And finally, we know far enough in advance to tell you that JJ and Thee Cuban Heels are playing at Toad this Friday the 22nd!
Saturday 3/23 Walter Sickert and His Army of Broken Toys are at the Brighton Music Hall...always makes for an interesting night!
Monday the 25th is the last Thalia Zedek night at TT's..also on the bill are Brokeback and Pouf Pony. And you can pre-order Thalia's new CD here: Thrill Jockey)
Friday March 29 has My Own Worst Enemy at Precinct with Mars and Tsunami of Sound.
Saturday March 30 we got electro music by some of Boston's best with Adventure Set (Ken Scales) , Workforce (Michael Abbot/James Straight), and DJ Ike at The Middle East Up.
Mark your calendars guys coz the big night's a comin': April 6th we celebrate JAY ALLEN'S 50TH BIRTHDAY!!! At Radio with 11 bands ...Of course the Archcriminals will play...also on the bill The Dogmatics, Muck & The Mires, The Bristols, The Dirty Truckers, The Other Girls, Underball and even Quest for Tuna....also on the bill is Petty Morals (this is their debut performance!)...a new band with former members of The Killer Abs and Tijuana Sweetheart...should be GOOD! Jay has also turned this occasion into a benefit for his two favorite charities so bring some dough!
Before you head out to Radio....spend some time in the afternoon listening to the Rick Harte Interview at 2PM (show starts at 1) on WMFO's (91.5) A Crash Course for Ravers. And April 12th is Mary Lou Lord performance & interview!!
The Middle East Up on Friday May 31th are The 360's, Classic Ruins, Terrible Beauty and Pop Gun it being their CD release party...time to get out the old calendar and mark it for that one too!
EMAIL US AT......misslynbgn@yahoo.com