The BGN News Archive
March 18, 2019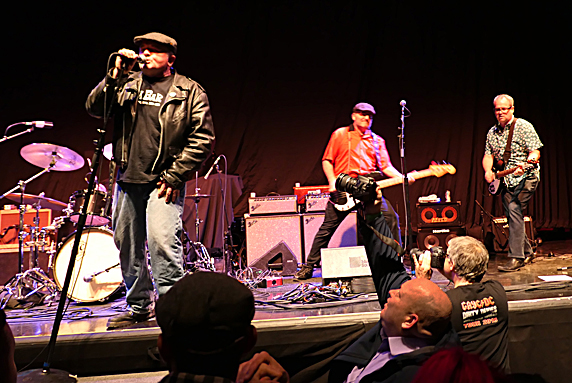 Stop Calling Me Frank at the House of Blues
Photo: Blowfish
Charlie's Kitchen in Harvard Square always has good bills on Monday nights. The club is problematical because basically about 6 people can see the band clearly but everybody else are behind them...and it gets seven or eight rows deep...so the chance of actually seeing the band is not good.
We're thinking of going there more though, because the Middle East has stopped having rock shows that interest us, for the most part. TT the Bears used to be good for shows all week but now, as Sonia, they have lots of non-rock and especially non-punk bands in there.
So there we were on Monday upstairs at Charlie's. The Rong has been getting some buzz but we missed them. But here's a release by them on Werewold records.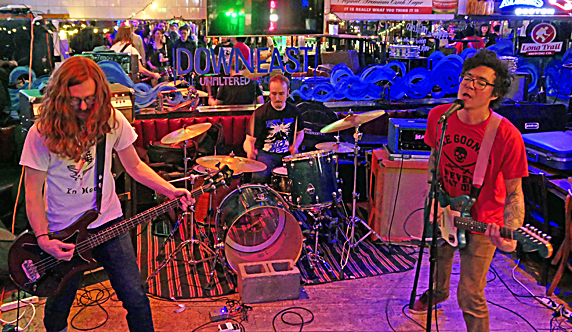 Sneeze
Photo: Blowfish
We arrived to a trio called Sneeze beginning their set. They sounded messy at the beginning, but about half way through the set things got better. Either we got into it more or they warmed up and got a bit tighter. The sound was a grungy wash, but rocking hard and that always wins us over.
The guitarist seemed to have some unusual fingering going on with lots of open strings. Listening to them on Bandcamp helps to see what they were doing a bit more.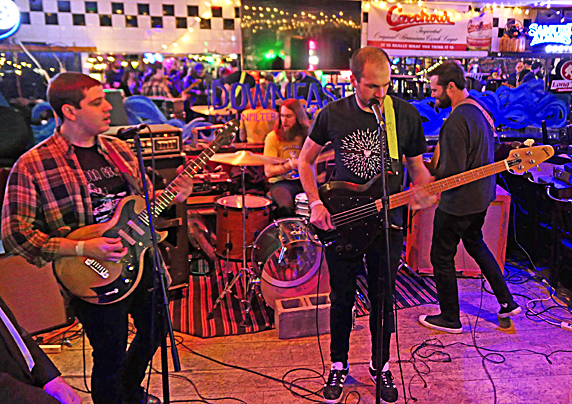 Nice Guys
Photo: Blowfish
Then it was Nice Guys. This band has fans that have stuck with them through the years as they change their sound. When we saw them in Feb of 2016 they were a raw and loose garage band with one minute songs. They could barely keep things together – but it was fun. By the time we saw them in January of 2018 their music style had changed, they had Led Zepplen style big riffs going on and a unified band attack.
At Charlie's Kitchen we could hear the next chapter. Now they were super tight and playing an angular art rock. This music showed lots of discipline and practice. Some of the two guitar interplay was heading for Captain Beefheart territory. At other times The Maps came to mind also.
We don't see that they have much music online. It seems to us that this batch of songs should get recorded. In any case this band is going their own way and it's very interesting.
Nice Guys are playing with Bad Sports at O'Brien's on April 4. That's a recommended show to hit!!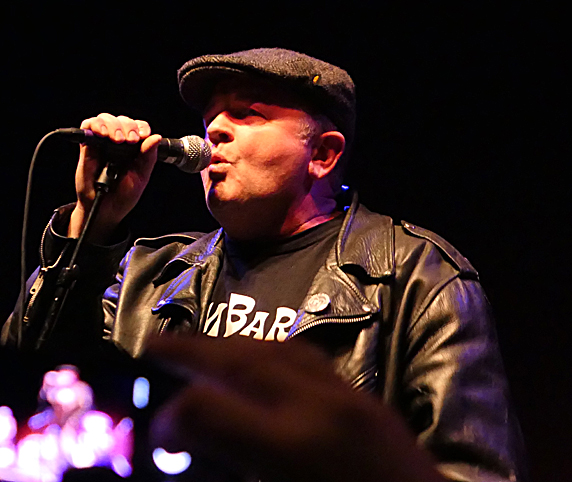 Lennie - Stop Calling Me Frank
Photo: Blowfish
Thanks to the generosity of Stop Calling Me Frank we found ourselves at the Dropkick Murphys' show at the House of Blues on Thursday with SCMF as openers. It started with a 40 minute wait in a line that was long in front of us but way longer behind us. Then it was a TSA worthy security check point and finally into the club.
People were streaming in quickly. SCMF was on at 7pm and by the time the set was over the place was filled. We equate SCMF with the small clubs so to see them on the HOB stage was a novelty. We talked to Lennie and Dan beforehand and they seemed very calm. On stage they did the same set they would do at Midway and it worked on the big stage. They began with "Gimme Life". That has the band's blue collar ideals up front and those are the same as the Dropkick Murphy fans. They got a good reception on that and you knew all would be well.
You could hear every instrument and in perfect balance. There was zero distortion and the instruments sounded natural. The sax sounded the best of all. (it made us think of Clarence Clements' tone). What a sound system! So, that's what they can do.
SCMF had the perfect songs for the night. They were half serious, half funny and then the drinking songs. They had the perfect songs for being an opener. Some songs were: "Drinking After Work, "My Baby Is an Axe Murder from the State of Wisconsin" , "Rockin' and Rollin'", and "Whiskey in the Jar".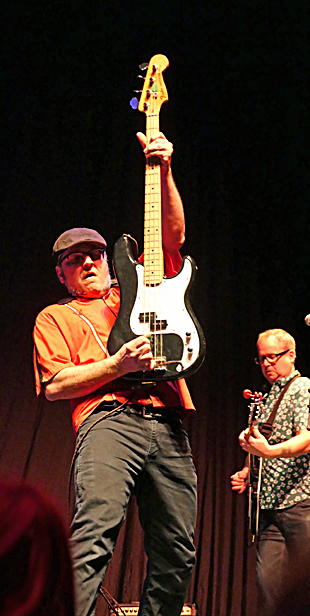 Stop Calling Me Frank
Photo: Blowfish
When they got to their last song "Whale Baby" the crowd was with them all the way and we could hear them doing the whale bellowing along with the band. What a great moment that was. We felt so happy for the band.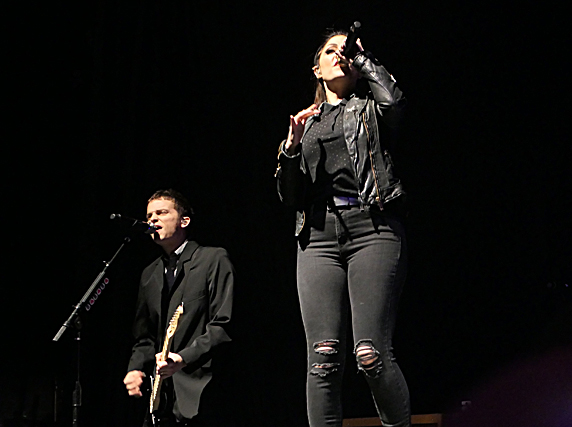 The Interrupters
Photo: Blowfish
The middle band was The Interrupters from LA. They were a ska band. Some groups use ska for a song or two for variety that not The Interrupters, they are ska every minute. They play it super tight. They two guitarists are in constant motion. The singer Aimee was moving and interacting with the audience up front. The lyrics were about overcoming hardships and offering inspiration. They kicked things up a level and the audience responded.
We were up front which was alright but could tell that behind us the crowd was heading for mosh time. Then as we got pushed around a bit we looked to our left as a crowd surfer went by next to us. We moved out of the stage area at that point. From the next floor up we could see the middle of the floor moshing and skanking.
Dropkick Murphys
Photo: Blowfish
At 9pm the Dropkick Murphys started the show. There was dramatic lighting for the solo bagpipe player. The first song is "The Boys Are Back". There's an elaborate light show, the band rushes on stage, then four small Irish Dancers followed by more of the song, then additional taller Irish dancers. The stage is packed and smoke joins the lights that never stop winging all over the place. It's sensory overload and very exciting. Things continue in that vein. By this point we had been standing for 3 ½ hours, so we start heading out knowing that others here have been standing much more than us and who knows how long the band will play.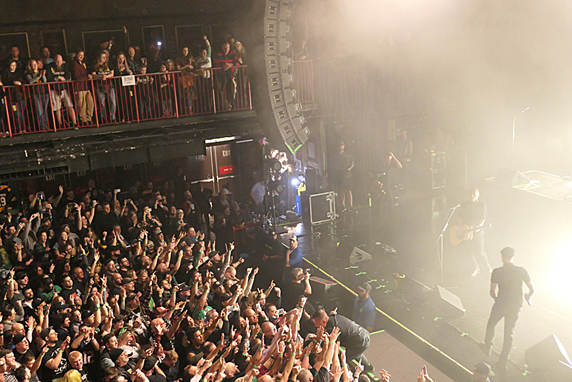 Dropkick Murphys
Photo: Blowfish
We never had a look into one of these home stands and thank to SCMF for the opportunity.
It was a real change of pace on Saturday at the Midway for a hardcore line up and an added surprise- no cover.. We were looking to catch Neighborhood Shit. The first band was Where They Hide from Maine even though they were not listed on the bill we saw.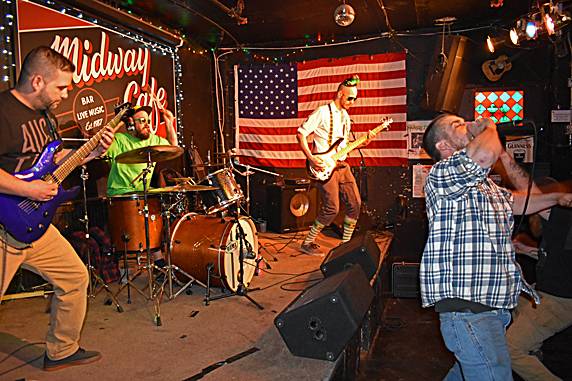 Where They Hide
Photo: Blowfish
They were totally grindcore complete with throat singing. The drumming was a thunderous roll with some very fast stick action - impressive stuff. The guitarist and bass were super-fast and precise. It's funny how the overall effect is a raging blur but dig down and it's all built of an intricate structure. We loved how all three were playing the same complicated rhythm. That made you nod your head in conjunction.
The throat singing just sounds like argggggggggggghhhhhh but you knew there was words in there you would love to hear. Sure enough the song on Bandcamp has lyrics which sound like an internal monologue of some sort.
During the set there were a few moshers who were a indiscriminate on where they did their karate chops and kicks. Standing in a usually protected place wasn't good enough and we ended moving further back. That was true for the whole night.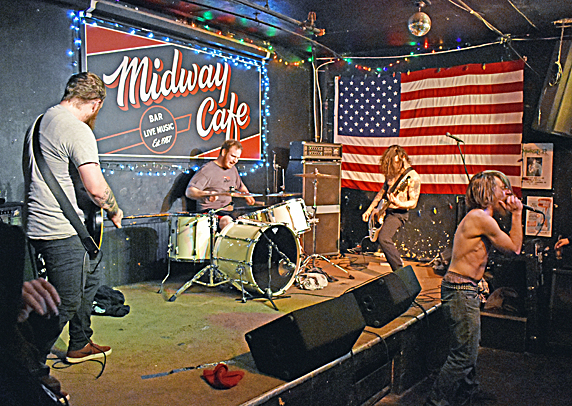 Psychic Weight
Photo: Blowfish
Next up was Psychic Weight, a Boston band, and man were they something. They were more straight up punk hardcore. The singer took the floor in front of the stage and the band was flailing like crazy on stage. Just visually alone you could tell they were serious about the music. Then their frantic moves and intensity radiated a sense of danger. Add in the moshers and you get the mix that scares off most of the world and leaves the punks alone. The songs were short. "Whacking Day" on their Bandcamp page gives the lyrics. They come off as the rantings of a disjointed paranoid that you can laugh at if you want.
The next band was not Neighborhood Shit. We figured either we missed them if they went on first, or if they were going on after the band their set would be way short. So, we split. The club was full as it has been for months for these early shows.
Where They Hide
Photo: Blowfish
Miss Lyn with an editorial here: First off its a sad time when hardcore punk bands look like freaking lumberjacks. What's up with all the heavy duty facial hair?? Gross. But the REAL problem I want to complain about are the rotor-blading arm-swinging and martial-arts-kicking to the face and chest assholes in the audience who RUIN it for everyone else. I watched the audience, at many previous shows, and this day at the Midway as the one idiot was doing his moves...everyone is focused on where he is and when he might get too close INSTEAD of enjoying the band. It's a childish selfish act and nothing more. Act like grown men and if you need that much attention start your own band instead of stealing from the people on stage.
More band photos below the show listings.
John Keegan went to the City Winery this week where he saw The Flesh Eaters. The band name has always served to hide the celebs that make up the band. It's John Doe from X and Dave Allen from The Blasters and then Chris D. John gives a review of the night and there are the usual photos. Hit the photo below to go to the review.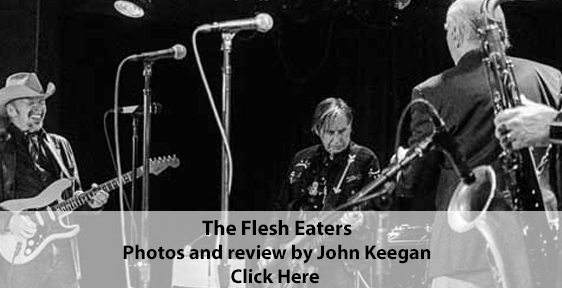 ---
And in other news.....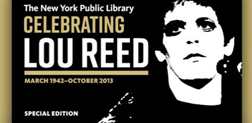 The NY Public Library now has the Lou Reed Archives. They have issued a limited edition Lou Reed library card too. We reported that Cornell had a Richard Hell archive a few weeks ago. The idea of the main stream facilities accepting punk material is very encouraging. The reality of a Boston Punk archive is non-existent but very much needed. Here's a write up about it on Brooklyn Vegan.

There's an interesting looking film out called Room 37- The Mysterious Death of Johnny Thunders directed by Ther Cordero Borhters. It's premiering in the UK and we hope it comes over here soon. It willbe interesting to see their take on his death. Lots of people have theories.

Little Billy Lost have a new video up of "Made in the USA"

Here's a short video on the Phil In Phlash show at the Midway Gallery last week. It shows some pieces and has some comments by Gallery East's Duane Lucia and Jae Johnson.

Peter's MOB bandmate Roger Miller also has a Kickstarter. Roger has an exciting project involving an installation in the Brattleboro VT museum. It's called Transmuting the Prosaic: Film, Conceptual Art, and Music. He will also be artist in residence there for three nights. There's a lot to this so check out Roger's Kickstarter page
---
Here's some good shows coming up this week.....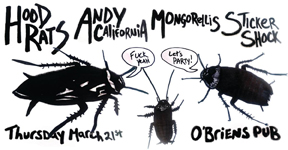 March 20 (Wednesday) Brian Young of WMFO and his band The Thigh Scrapers will be on the Heavy Leather Topless Dance Party Brian should LUV that!!!
March 20 (Wednesday) Wine Lips, Zip-Tie Handcuffs, Baabes at O'Brien's Pub
March 21 (Thursday) Hood Rats, Andy California, Mongorellis, Sticker Shock at O'Brien's
March 21 (Thursday) Feed The Punks DJ Night at Jeannie Johnston Pub in JP with Mangled and DJ Sweets spinning records
March 22 (Friday) The Knock Ups, Modern Day Idols, Devil Love, The Daylilies at The Midway
March 22 (Friday) Rawstrum, Bad Larrys, Rolling Stony at Magnolia Pub Gloucester.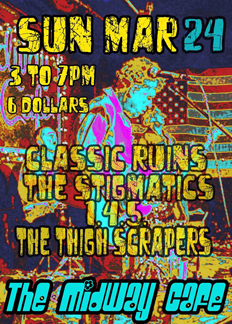 March 23 (Saturday) A Crash Course For The Ravers 1pm to 4pm at http://www.wmfo.org/popout_player.php?bitrate=256 and 91.5FM Medford. This week they have Thee Fightin' Fish in for a set!
March 23 (Saturday) TRiPLE THiCK, MOTO, The Hi-End, The Inebriations at The Midway for a 3-7PM matinee show
March 23 (Saturday) Baabes, Hambone Skinny, and A Bunch of Jerks at The Plough. Music starts at 10PM
March 23 (Saturday) Carissa + The Cure-Alls, Justine & The Unclean, Tiger Bomb, RunHideFight at Sally O'Brien's
March 23 (Saturday) Tigerman Woah, Cactus Attack, Coffin Salesman, Nick The Barbarian at Opus Underground
March 23 (Saturday) The Gala, Sapling, Kid Gulliver, Mister Vertigo at Ralph's in Worcester.
March 23 (Sat) & 24 (Sunday) New Zineland 2019 - SEEK + FIND Boston's 4th annual, NEW ZINELAND (zine fest)!! Explore two floors of 60+ smalls presses, distros, artists, writers, and photographers slinging their self-published works from comics to fanzines, artwork to autobiography, and everything in between. 12-5PM both days. Elks Lodge Bishop Allen Dr Cambridge. FB page for more info
March 24 (Sunday) Classic Ruins, The Stigmatics, 1.4.5, The Thigh Scrapers 3-7 matinee at the Midway
March 24 (Sunday) High Test Fest at Ralph's Rock Diner in Worcester with OC45, Michael Kane & the Morning Afters, Coffin Salesman, Bad Image, Deranged Youth - 2-8PM
And further out we have.....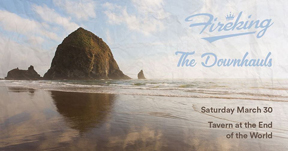 March 27 (Wednesday) Baker & The Double Downs, Muck & The Mires, DJ Easy Ed at ONCE Lounge
March 29 (Friday) The Big Sway, Bad Larrys & Imaginary Animals at Sally O's
March 29 (Friday) Neighborhood Shit, Wake of Humanity, Sick Minds, Judgement, The Greying - O'Brien's
March 30 (Saturday) A Crash Course For The Ravers 1pm to 4pm 91.5FM Medford. This week they have Totaled as guests.
March 30 (Saturday) See This World, The Runouts, DNZL, WarGraves at the Midway for a 3-7PM matinee show
March 30 (Saturday) Bowery Boston presents The Devils Twins, Party Bois, Ned and the Dirt, Gray Bouchard & the Dedications at Great Scott
March 30 (Saturday) Electrolux, Thee Sonomatics, Black Souls Review, special guests The Plimsouls and its Kim's Rockin' Bday!!!! at Sally O'Brien's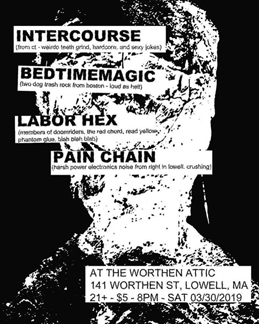 March 30 (Saturday) Fireking, The Downhauls at Tavern at the End of the World.
March 30 (Saturday) Scott Damgaard and Richard Mirsky and their respective bands at Club Bohemia at the Cantab
March 30 (Saturday) Intercourse, Bed Time Magic, Labor Hex, Pain Chain at The Worthen Attic (141 Worthen st, Lowell) 7:30-Midnight
March 30 (Saturday) When Particles Collide and Tiger Bomb at Bayside Bowl Portland ME
March 30 (Saturday) Il Mostro, z/28, Rockin' Bob Punk Band, Gasoline Virgins at Koto / Salem
March 30 (Saturday) The Radiator Rattlers, Diablogato, The Von Traps, Loser's Circle up in Haverhill, MA at RG's Pub 242 Winter St
March 31 (Sunday) A Jumping Jack Flash, The Rat, Storyville, Mess-Around with Jerry Lehane and Peter O'Halloran from The Dogmatics joined by James Young, Dave Barton and his new band Blame The Whiskey, and Lee Harrington of The Neighborhoods along weith Tom Baker and Jay Allen. At The Plough 4-6PM
April 1 (Monday) Gooch Palms, theband Vú, Louzy - at Sonia.
April 1 (Monday) Lenny Lashley, Mike Frazier (AF Records), the Old Edison at Charlie's Kitchen
April 2 (Tuesday) Rock & Roll Trivia w/ Erin & Brett at the Sinclair 8-10:30PM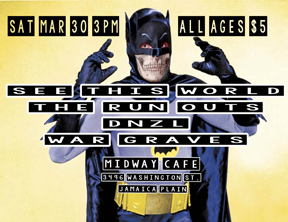 April 5 (Friday) Together on Two, The Gala, Little Billy Lost, Kid Gulliver at Opus Salem
April 6 (Saturday) Roy Sludge Trio, Barley Hoppers, Easy Ed's Record Hop 3-7PM Matinee at The Midway.
April 6 (Saturday) The Inebriations, Bled Sabblin, GarageDogs, Gene Dante & TFS at The Midway.
April 6 (Saturday) When Particlas Collide and Petty Morals at The Plough.
April 7 (Sunday) Tørsö (CA), Low Vision (Japan), Laughing Stock, Crisis Actors at The Greek Club in Union Sq Somerville. 7:30PM
April 7 (Sunday) Punking Out Homelessness 3 homeless benefit with State Of The Union, The Brigands, Charlie Don't Surf, The Only Things at Opus Underground Salem. 2-8PM
April 10 (Wednesday) Slovenly Recordings presents: Tommy and The Commies, Les Lullies, and The Monsieurs plus DJ Pete Slovenly at The Midway
April 12 (Friday) Low Dose, Leopard Print Taser, Labor Hex at O'Brien's
April 12 (Friday) Venom & Mayhem (Twin sisters from Flight Of Fire, ) unplugged doing originals & covers, Corolla DeVille, Doug MacDonald Band - at Tavern at the End of the World.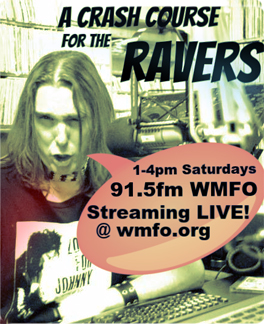 April 12 (Friday) Brad Marino Band Record Release Show! at the Button Factory Stage Portsmouth, NH. Also on the bill Kris Rodgers and The Dirty Gems - FB page.
April 13 (Saturday) The FU's, Armpits, Citizens Against People, Crux Decussata at The Midway 3-7 matinee show
April 13 (Saturday) Classic Ruins at Tavern at the End of the World
April 13 (Saturday) Stop Calling Me Frank, Brad Marino Band, Kris Rodgers at Sally O'Brien's
April 13 (Saturday) Rock n Roll Rumble Prelims #6- Baabes (9PM) Jakals, Set Fire, Birnam Wood at Once Ballroom.
April 14 (Sunday) Boston Hassle's Black Market Flea 12-6PM FB page for more info
April 19 (Tuesday) Disaster Strikes, Gizzaards, Rooftops, Hairspray Queen, Myocaster Coypus at O'Brien's
April 20 (Saturday) A Crash Course For The Ravers show streams to everyone LIVE Saturdays 1pm to 4pm at and transmits on WMFO 91.5FM Medford. This week we have The Hi-End in to chat, spin tunes, we'll see what else.
April 20 (Saturday) Brave Hands, Notches, Tied to a Bear, The Furniture at O'Brien's
April 20 (Saturday) Junkyard, Derailer, The Hi-End, Demons Alley at Koto in Salem.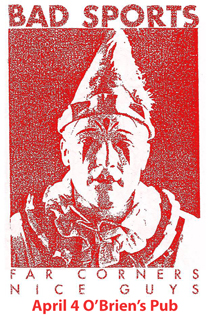 April 25 (Thursday) The Proletariat, Moving Targets, The Northern Skulls at Alchemy Provi RI
April 26 (Friday) Michael Kane And The Morning Afters, Cuidado, and Lenny Lashley at the Thirsty First Tavern Lowell.
April 27 (Saturday) The Proletariat and Moving Targets at Once
April 27 (Saturday) The Stigmatics, Mongorellis, Thee Sonomatics, Groundlift at Club Bohemia
April 27 (Saturday) Nervous Eaters CD Release, Mr Airplane Man, Corolla DeVille at 9 Wallis Beverly.
May 3 (Friday) Barrence Whitfield & The Savages w/ Muck and the Mires at The Middle East
May 3 (Friday) Corolla Deville, Stigmatics and Pop Gun at Jeannie Johnston's Pub JP
May 4 (Saturday) 61 Ghosts on 91.5 WMFO with Brian Young's Crash Course for the Ravers! 1-4PM
May 4 (Saturday) The McGunks, Silver Screams, Revilers, Damnation, Live Nude Girls at The Midway 3-7PM
May 4 (Saturday) Carissa+Cure-Alls, Justine & The Unclean, Tiger Bomb, RunHideFight at Sally OBrien's
May 11 (Saturday) The Knock Ups, Ila Minori, Erel, Chad Gosselin of The Big Lonesome at The Midway night show
May 11 (Saturday) FUs, GLiDER, Classic Ruins, Screw.Cart at KOTO Salem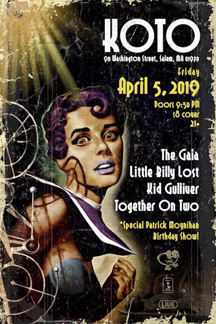 May 11 (Saturday) Cactus Attack, Diablogato, Jittery Jack & Amy Griffin at the Dover Brickhouse Dover NH
May 15 (Wednesday) Jon Snodgrass, Lenny Lashley, Micah Schnabel at O'Brien's Pub
May 17 (Friday) Lily Black, Highway Chapel, Thee Fightin' Fish, The Negans at Club Bohemia.
May 17 (Friday) Parlour Bells, Gene Dante and The Future Starlets, and Smitt E. Smitty & The Feztones @ OPUS Underground in Salem,
May 18 (Saturday) Marko And The Bruisers, Color Killer, Shore City, Punk Band - 3-7 matinee at The Midway
May 20 (Monday) Coffin Salesman, Molly Rhythm, Talk Me Off, Double Star at Charlie's Kitchen
May 24 (Friday) Lo Wreck's birthday with The Downhauls, The Dents, Duck & Cover and Skytigers at Sally O'Brien's
May 11 (Friday) FUs, GLiDER, Classic Ruins, Screw Cart at KOTO in Salem
June 7 (Friday) 61 Ghosts, Cal Cali Band at Tavern at the End of the World.
June 15 (Saturday) Thee Fightin' Fish, The Billy Connors Project, A Bunch Of Jerks, Club Linehan A Go Go - 3-7 matinee at The Midway
July 9 (Tuesday) Some Kind Of Nightmare, Losers Circle, Nick Barbarian, And Live Nude Girls at Thirsty First Tavern Lowell.
CONTACT US AT....misslynbgn@yahoo.com Send us your gig listings, your news and anything else ya got!! You want your CD reviewed?? Contact us for that too.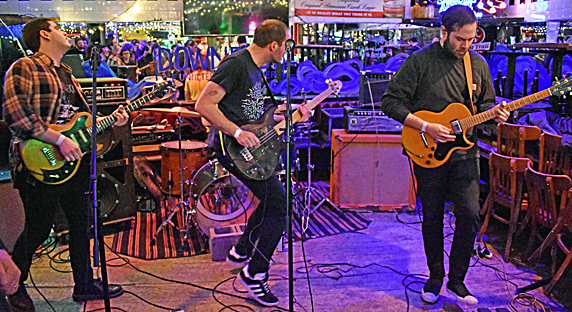 Nice Guys
Photo: Blowfish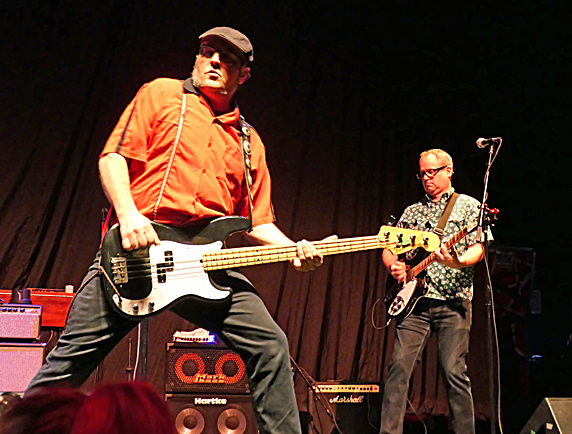 Stop Calling Me Frank
Photo: Blowfish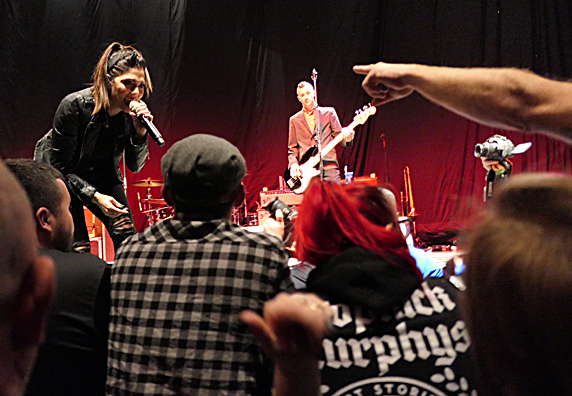 The Interrupters
Photo: Blowfish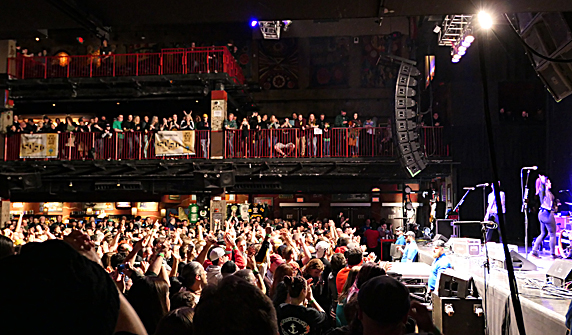 The House of Blues crowd
Photo: Blowfish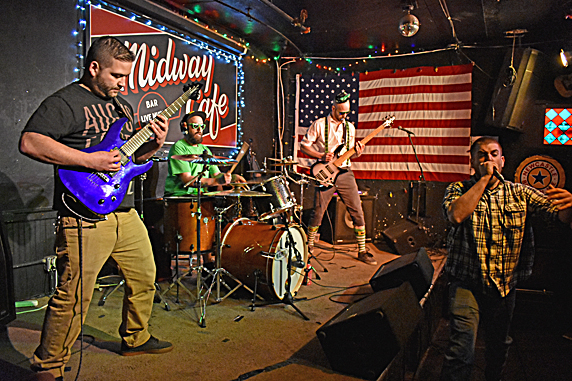 Where They Hide
Photo: Blowfish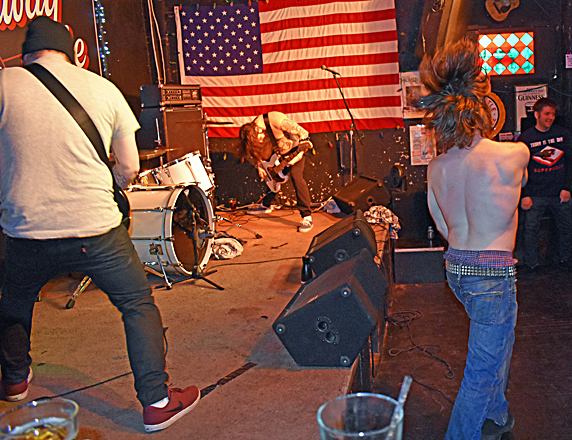 Psychic Weight
Photo: Blowfish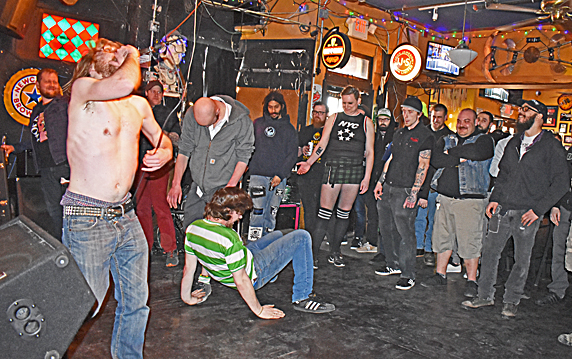 Psychic Weight
Photo: Blowfish