The BGN News Archive
March 19, 2012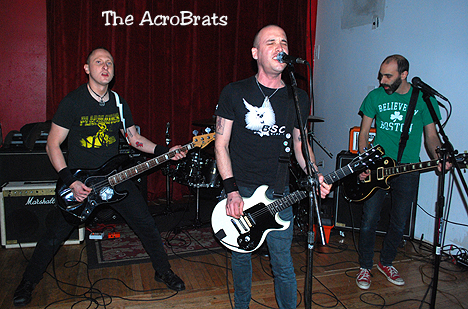 The luck of the Irish came early when we got an easy parking space near Radio in Union Square on Friday, a day before St. Pat's day. Vapid Dissent, the first band had some of the Irish punk thing going. They had a lot of elements I liked - energy, the vocals and a sharp guitar sound - but overall were just too lose to hit real hard, the drummer especially was all over the place. And there was a personality vacuum on stage also.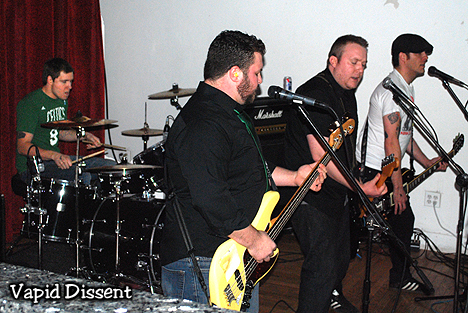 We've been lovin' the Acrobrats for some time and tonight they were better than ever. Musically they are in a great place. They have a lot of punk, some pop elements and the drummer is strong on the 2/4 beat which nails everything in place. Bass player Swid is a gem, his playing is advancing, now he's fluid and melodic while still pounding the tonic when needed. He moves all over the neck with ease. On top of that he's a ball of energy.
The two guitarists complement each other and sometimes do tandem leads. One song had them making a bag pipe type sound between them a la Big Country. Chris sings hard and will often get to the yelling mode and I love that. The whole package is very tight and makes them one the best in town now. Get out to see these guys.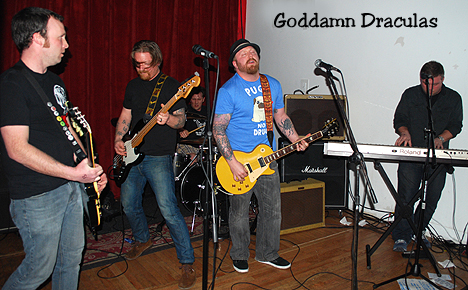 We didn't stay too long for Goddamn Draculas. I think they were shooting for a seventies era vibe. They did have tight harmonies and a big sound. And of course Radio is always a great place to go out to!!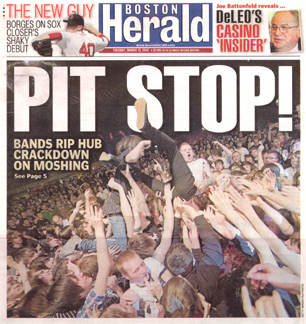 We haven't seen this for years but for some reason Boston Police are focused on mosh pits. The House of Blues has been spotlighted. We'll see if it gains steam. On Guitar Squid there are comments and links to the original Herald Article.
Store 54 has been consistently hosting some pretty way cool events and here's another one on Saturday, March 24th: The New Frustrations and Darling Pet Monkey will be playing there - show start s at 9PM...that definitely promises to be a good show!.
On April 21st James Straight and the Wide Stance with Cadillac Heart will be at The Magic Room Third Rail's Richard Nolan will be performing a few songs with Cadillac Heart and Frank Rowe will be doing one of his solo acoustic sets to start the evening.
And on Monday April 17th Bad Brains are at The Paradise...they have a new album out and are touring to promote it...
May 19th we got a Cal Cali Birthday Party to celebrate at The Rosebud with Lyres. Jetset, Classic Ruins and Tsunami of Sound.
And The Psychedelic Furs and Pop Gun are at the Salem Performing Arts at The Catholic Center in Salem on May 26th!! Get your tix now coz they are going fast!
HEY!! Email us with your latest news, I'm feelin' lonely here!!....misslynbgn@yahoo.com