The BGN News Archive
March 20, 2017
The Digs
Photo: Blowfish
We went to the Tavern at the End of the World to support the benefit for John Doherty's sisters. They have a GoFundMe page to help with medical expenses for a kidney transplant herte it is: https://www.gofundme.com/dohertygirls They're close to their goal, get in there and help.
Trick and Natalie Flanagan
Photo: Blowfish
The Tavern was full and busy. One of the acts was Sue's Guitar which is Sue from My Own Worst Enemy, musically is all covers. We saw a little of Natalie Flanagan & Trick. It was all acoustic and hard to hear unless you were in that music room and that was full.
We were glad to help John who has been one of the scenes biggest supporters. In the same vein…Bob Colby was there and talking of his 65 Birthday show that he is lining up. We don't think he can beat his 60th Birthday party at TT's But you never know with Bob! Matt Burns gave an appearance and seems to be doing well after his bout of illness.

Friday at the Middle East was another band from days of old; Simply Saucer. They were from Canada and they had comparisons to early Pink Floyd. That psych influence resulted in a few psych bands being on the bill with them and a neat light show.
The club was full when we walked in and Major Stars were on. You could tell from the feeling in the room that there were going over well. We just heard one song and it was a rockin' one.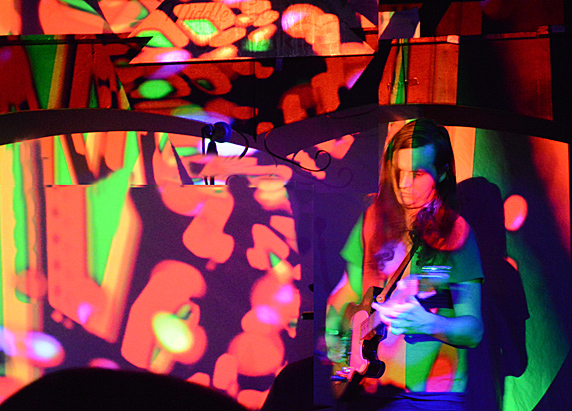 Doug Tuttle
Photo: Blowfish
Doug Tuttle was on next and he was the major reason we were there. We've seen him a few times. Last time was also here at the ME Up. And this show was much like it. He's got a trio format and the bass and drums are contributing a big share. Doug is playing in the sunshine psych area but it with a little muscle too. It's top shelf playing and song writing. He's one of the best of the current batch mining the psychedelic genre. The bass player helped with the ethereal vocals.
Doug sways from side to side as he weaves serpentine leads. He does everything with casual grace which is a mirror to the music. If you are willing the music will carry you away.
Some of the songs are very short and the endings catch people by surprise. Who would think of psych songs as short as punk ones? Genius. They do longer ones too and end with a long one that wallows in feedback. This is always a group to see.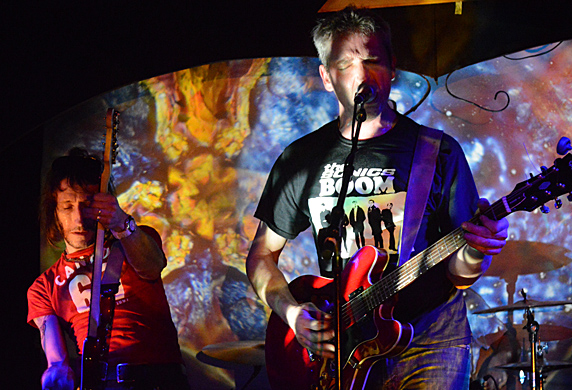 Poppy Seed and the Love Explosion
Photo: Blowfish
Next up was Poppy Seed and the Love Explosion also from Canada. They were aggressive where Doug was casual. There's more darkness than sunshine in the mix and with that comes a deeper beat. They had a three guitar attack at times. It was full blown psychedelia and very enjoyable.
By this time the ME Up was getting hot like it tends to and we actually bailed before Simply Saucer knowing we would be out and about for a third day in a row on Saturday.

On Saturday we did an early gig at Midway and later one at the Middle East.
Midway had their afternoon hardcore bill and we had the jones for loudness to go along with it.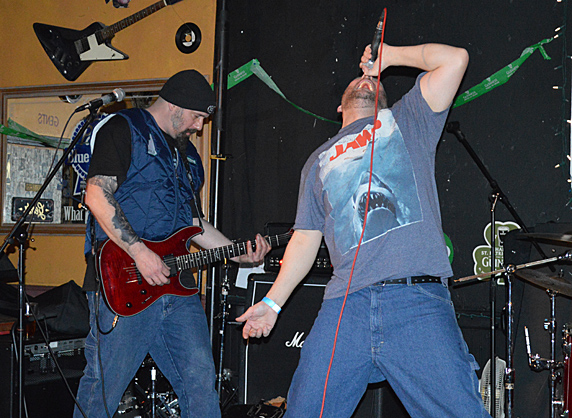 One Less Scumbag
Photo: Blowfish
One Less Scumbag from NH fit the bill. They were on a sweet spot on the hardcore/metal spectrum. They call themselves American Terror Core. They were thundering without the doom gloom. The lead singer was very throaty but you could understand some lyrics. The drummer was our fave. He was seemingly indefatigable as he worked the set with fast and furious fills. The actual drum set had a good sound too. Kudo's to the sound guy on this because it was the same for all the groups; despite the roar of Marshalls the drums were clear in the mix.
The singer talked a bit about the problem with drugs and then they launched into Fuck Your Drugs. It was satisfying to hear the full hardcore/metal roar coupled with the emotional full throttle vocal condemning the drug culture. Way to go. The singer actually made every song count by singing like he cared for every word. He would point and make hand gestures to emphasize what he sang.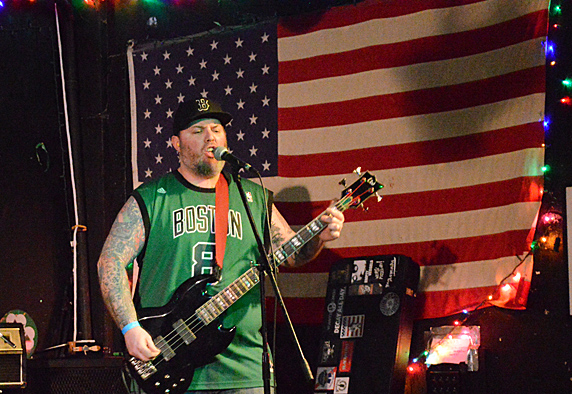 Words of Truth
Photo: Blowfish
It was another way loud set with Words of Truth. A lot of songs stuck with us with these guys. It was funny that the bass player was still dressed in St Patty's day green as they pounded out Fat Irish Bastard, a fast one minute cut. All I can hear in the song is the three word title but it's been lodged in my brain ever since. You can hear on their site: Words of Truth It's also the short middle video above.
They had one song that we thought said Kill the Dealer and that could have been another anti-drug song. Ex-Girlfriend had them working out issues. Nervous Breakdown was another song that registered. It's unusual to come away with this many songs from a hardcore/punk set like they do.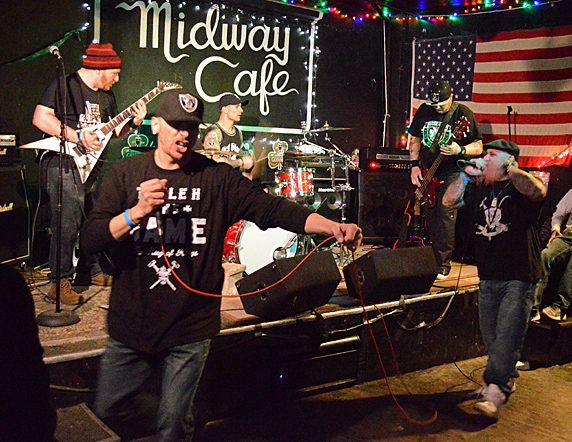 Reason Enough
Photo: Blowfish
Reason Enough was a NYC band that had two rappers upfront. Not our thing, we left. There weren't a lot of people there then again there never was in these afternoon shows but we love them and hope it continues.

We split the Midway and got to the Middle East Up in time to see The Digs. The Digs are in a weird place, they have a new EP out and are set to do a big tour, yet they are splitting up the minute that's done. The reason for the split is that main cog Jeff is pursuing his education. You could tell by the set they played that music wasn't the issue.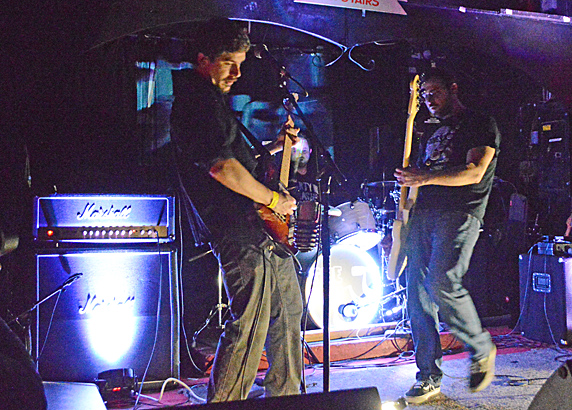 The Digs
Photo: Blowfish
As a unit they seemed to have doubled their punch/volume since the last time we saw them. Part of that might have been the sound system at the ME but that doesn't explain the red hot performance. The bass/drums were a solid center as Jeff dealt out some searing leads. The Digs say it best; "Too rock for punk, and too punk for rock." Instead they fashion their own middle ground where hard hitting songs have melodies. There are times when the melody and lyrics sync up and you get a catchy phrase that you wait to come around again. Jeff's voice adds to that, he can wrap is voice around a lyric or growl out a line in turn.
In another irony their latest material is their best. So, you know, you're getting better and then…that's it. We'll miss this band. Andrew on bass will still be playing guitar with the Runouts. Their new EP is here: https://digsboston.bandcamp.com/album/kinetic
Video of song from show.
Skybar was at the show and he was mucho impressed with the new material. He'll play it we're sure on his Tuesday 8pm stint on WMFO.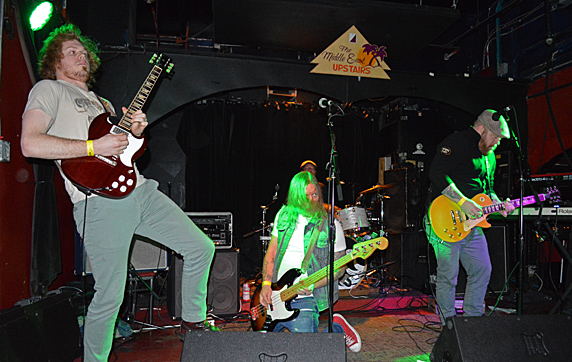 Goddamn Draculas
Photo: Blowfish
Following The Digs was the Goddamn Draculas. They were the 2014 Rumble winners. They were amazing in their way. It was instant excitement and a huge sound. The playing was superb. The stage antics were fun. This was an arena show in a club. Music wise it was early seventies style with not much concession to anything punk or beyond, which of course is what we care about.
And with that we called it a week.
And in other news.....
Sonia the club replacing TT's will open on March 31. One new twist – they will now have a ticket window set up right on the street. Photo to the right.

Cool colorful psychedelic cartoon video for the new song "The Man Who Killed Reality" by The Prefab Messiahs..check it out here.

Smitt E Smitty (of FireKing) is doing some solo work….he's posted a cut on Bandcamp check it out here.

Steve Cataldo gave the fans an update on what's with the Nervous Eaters on Facebook last week He said: "Sorry guys, Eaters have been recording and its been months, with a few more to go I can see that now....anyways as the weather warms up we will back out gigging with new songs from the CD in the set. See you all in a few months." We're looking forward to it Steve!!

Here's a good read: How punk changed cities – and vice versa. It's an article in the Guardian. There's a lot on the LA and NYC scenes. Check it out here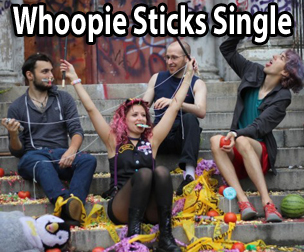 Whoopi Sticks have just released two songs released exclusively to PunkNews.org…..You can hear 'em here.
We talked to Jim Foley a while ago who is setting up the final JoeFest, the tribute to Joe Coughlin at the Midway. One of the main features came to Jim in a dream: a group would play called Blue Oyster Coughlin that would cover the first three Blue Oyster Cult LPs. And so it shall come to pass. Mike Quirk and Jay Allen will be performing in there somehow. It's happening on May 13 so mark your calendars.
The Shods have a Kickstarter page to raise funds to record a new album called Exarcheia which is the name of an anarchist city within Athens, Greece where Shod Kevin Stevenson lived for a while. Here's the Kickstarter page...help 'em out!

And of course we have to join the rest of the world rock community in sadness over the death of Chuck Berry. Everyone who picks up a guitar owes Chuck a debt of gratitude. Hail Hail Rock'n'Roll and RIP Chuck Berry!
Here's some good shows coming up .....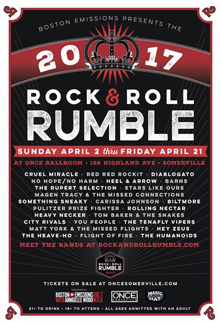 March 23 (Thursday) Bob Colby Presents: 28 Degrees Taurus, Headband and Uranium Daughters at Once This is a Free show but donations are gladly accepted. FB Page
March 23 (Thursday) Beans On Toast, The Old Edison, Troll 2 and Miketon & The Nightblinders at O'Brien's
March 24 (Friday) Thrust Club, Ms. Fridrich's Messy Ann Band, FuzzQueen and Awaaz Do at O'Brien's
March 24 (Friday) Oh the Humanity, Radio Compass, Swivel, Heavy Denims at Opus in Salem
March 25 (Saturday) 45 Adapters (NYC), Blood Stained Brindle, The Damn Garrison, Quiggs at The Midway - this is an afternoon show 4-8PM
March 25 (Saturday) Another benefit for the Cambridge Fire victims. Lots of families were displaced and lost everything. Help 'em out by going to the Greek American Social Club (Union Sq Somerville) and listen to Tsunami of Sound and A Bunch of Jerks. Here's the FB page
March 25 (Saturday) The Hi-End, M.O.T.O., Modern Day Idols and Hello Susie at the Midway for the night show
March 25 (Saturday) Muck & The Mires, The Evil Streaks and Tiger Bomb are at The Chit Chat Lounge in Haverhill. FB Page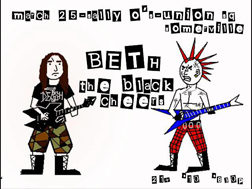 March 25 (Saturday) Sean Coleman & the Quasars and The Red Pennys at Nick-a-Nees, Providence
March 25 (Saturday) BETH & The Black Cheers at Sally O Brien's - FB page
March 25 (Saturday) A Wish For Fire, Devil On Horseback, Test Meat at O'Brien's Pub
March 25 (Saturday) Boston Underground Summit 9! brought to you by Boston Hassle - 9 bands will set up round-robin-style in two rooms, 3 stages and take turns playing a song. When the cycle is complete, the loop repeats again...and again... and again. UNTIL THE SHOW ENDS! Here's the bands Pink Navel, Sidney Gish, Ozlo, Boston Cream (ex Barbazons) Kármán Voh, Mint Green, Solei, Divided Self (Worcester) and Kiss Concert. Its at The Elks Lodge on Bishop Allen Drive Here's the FB page
March 25 (Saturday) Rockin' Bob Punk Band, Pragmatics, Sick Joke, Laughing Stock, Piss Dogs, and Screw Cart are all at The Spotlight Tavern in Beverly MA 3:30pm show/$10
March 26 (Sunday) Shepherdess and Alice Bag and Electric Street Queens at Once Buy tix etc here FB page
And further out......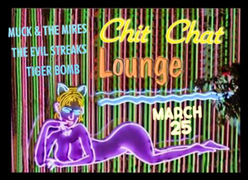 March 27 (Monday) Jay Allen's Mess Around moves to Taco Mondays at Once with Jay Allen, Tom Baker, Justine Covault, Chrissie Vaccaro And Special Guests...FB Page Starts at 7:30
March 30 (Thursday) Black Helicopter will celebrate the release of 'Everything is Forever' with the proceeds going to the ACLU. On the bill also- Trinary System (feat. Roger Miller of Mission of Burma) and The Boston Typewriter Orchestra at Once Somerville
March 31 (Friday) Classic Ruins and Randy Black and the Heathcroppers are at The Tavern At The End of The World
April 1 (Saturday) State of the Union, The New Frustrations, The Stigmatics and The Only Things doing a GREAT early show (4-8PM) and its ALL AGES at the Midway (FB page)
April 1 (Saturday) The Upper Crust, Sidewalk Driver and When Particles Collide as part of the ArtsEmerson Black Box series at Emerson/Paramount Center, Jackie Liebergott Black Box Theatre - 559 Washington St Boston (Link)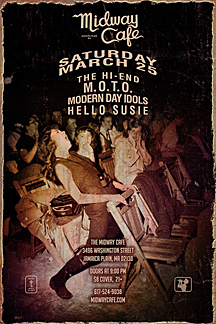 April 1 (Saturday) The Proletariat are in Newport RI at The Parlor. FB Page
April 2 (Sunday) Six Organs Of Admittance and Minibeast are at Great Scott
April 3 (Monday) City Mouse, Jenn Lombardi's Lucky United, Mr. Fahrenheit and Dogtooth MA are at O'Brien's
SATURDAY 4/8 (Day Show) 4pm ($5.00): Jiblantos, Big Giant, The First Supper, This Machine
April 8 (Saturday) The Kurt Baker Combo, Soraia, Watts and The Connection at O'Brien's Here's the FB page
April 10 (Monday) Actor|Observer, Sparrows, SuperTeen and No Hands are at O'Brien's
April 10 (Monday) The Very, Justine and the Unclean, The I Want You at ONCE Lounge FB PAge
April 13 (Thursday) The Rumjacks, Jason Bennett and the Resistance, Michael Kane & The Morning Afters and The Runouts
April 13 (Thursday) Modern English are at The Brighton Music Hall
April 15 (Saturday) The Last Ones are at The Midway with Tsunami of Sound,Trusty Sidekick and Sammy Kay (a PM show)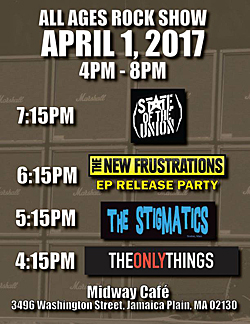 April 17 (Monday) Terry Malts, Shark Toys with Idiot Genes and Bad Deals at O'Brien's Pub
April 22 (Saturday) Electric Frankenstein, Symbol Six, Hey Zeus and Duck & Cover at O'Brien's Pub
April 22 (Saturday) The Last Ones, Tiger Bomb and Corolla deVille at The Spotlight Tavern in Beverly
April 28 (Friday) The Upper Crust, Benny Sizzler, Devil On Horseback at Once
April 28 (Friday) Why isn't this show in Boston or Cambridge!?!? Lydia Lunch, Hard Nips (Japanese Girl Band), Cassie J Sneider and Nonye Brown-West at Ralph's in Wishtah. FB page
April 29 (Saturday) A special evening of performances at The Met by Throwing Muses, Neutral Nation, and Plan 9, and their inductions into the Rhode Island Music Hall of Fame! Tickets are scheduled to go on sale on February 27!!! For unveiling ceremony and rock inductions day #2 check out the FB page!!
May 4 (Thursday) Walter Sickert & the Army of Toys, Scarlet Sails, Radiator King at Once
May 8 (Monday) Indonesian Junk.....who have just released a digital single "Turn to Stone" on Rumbar Records..... are at O'Brien's. HearTurn to Stone here.
May 10 (Wednesday) Zip-Tie Handcuffs, The Mad Doctors, Idiot Genes, Future Spa at O'Brien's Pub...FB page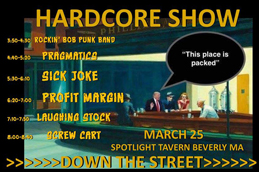 May 11 (Thursday) Cruel Miracle, The Stops!!!, DiNOLA and The Scrapes are at O'Brien's
May 12 (Friday) Mike Watt (Minutemen) and Meat Puppets are at the Brighton Music Hall Here's the FB page
May 12 (Friday) Rockin' Bob Punk Band w/ Special Guests TBA at O'Brien's
May 13 (Saturday) A Crash Course For the Ravers has Glider on - WMFO 95.1 1-4PM
May 13 (Saturday) Watch City SteamPunk Festival in Waltham...Website FB Page
May 20 (Saturday) Jenny Dee & The Deelinquents, Muck and the Mires, Vicky and the Vengents at The Middle East Up.
May 22 (Monday) Whoopi Sticks, Fire In The Radio (Philly) and Cook Bag at O'Brien's
May 26 (Saturday) Corin Ashley and Modern Day Idols are at The Plough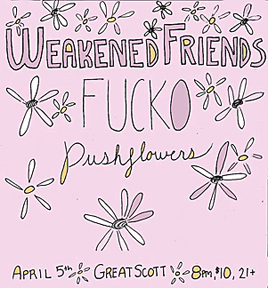 May 27 (Saturday) The Cal Cali show that had The Shadows of Knight at ONCE Ballroom has been changed to now have all local bands: Lyres, The Black Souls, Classic Ruins and CalCaliBand You can buy tix here (Only ten bucks!!) FB page
May 27 (Saturday) The Runouts, The Martians, Blame Shifters, Nymphidels at The Midway this is an afternoon show - 4-8PM
May 29 (Monday) Teenage Bubblegums, Jagger Holly, Mongorellis, Jimmy Jacked at Opus Underground in Salem (FB page)
June 1 & 2 (Thurs & Fri) Reverend Horton Heat at Once in Somerville
June 4 (Sunday) GIUDA (from Rome Italy) and Unnatural Ax & The Hi End at Once Tix etc here
June 10 (Saturday) Psycho, Conclave, Whoopi Sticks, Gant, Spillers an afternoon 4-8PM show at the Midway
June 17 (Saturday) Held Hostage, Point Blank, Infernal Diatribe, Profit Margin at Koto in Salem (FB Page)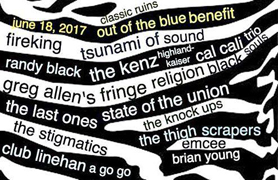 June 18 (Sunday) Help Save Out of the Blue Gallery Too - this will be an all day affair (3PM-11PM) with FOURTEEN bands including: Brian Young -WMFO as Emcee plus Thalia Zedek, Fireking, Randy Black, The Knock Ups, Tsunami of Sound, The Stigmatics, State of the Union, Cal Cali Rockin' Trio, The Last Ones, The KENZ (Highland & Kaiser), The Thigh Scrapers and Club Linehan A Go Go ~ 50th Birthday Party for Joe Quinn. Check out the FB page
July 19 – July 30: The Midway's Dirty 30th Anniversary Celebration Spectacular
September 16 (Saturday) Chameleons VOX At the Middle East Also on the bill: Soft Kill , Way Out and The Milling Gowns FB Page
CONTACT US AT....misslynbgn@yahoo.com -Send us your gig listings, your news and anything else ya got!! You want your CD reviewed?? Contact us for that too.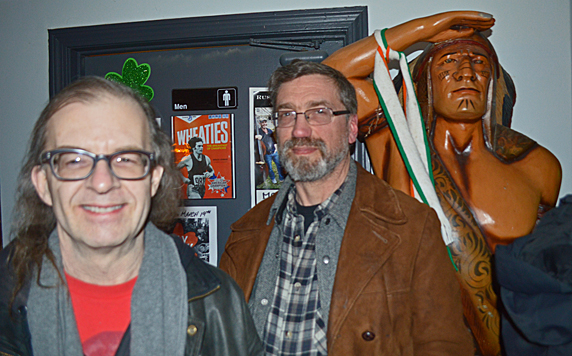 Matt Burns, Keith and friend
Photo: Blowfish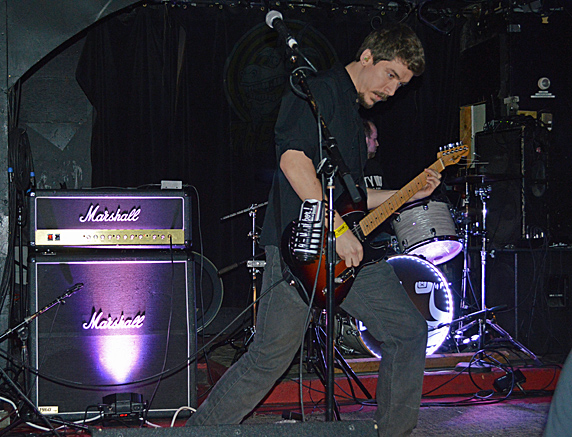 The Digs
Photo: Blowfish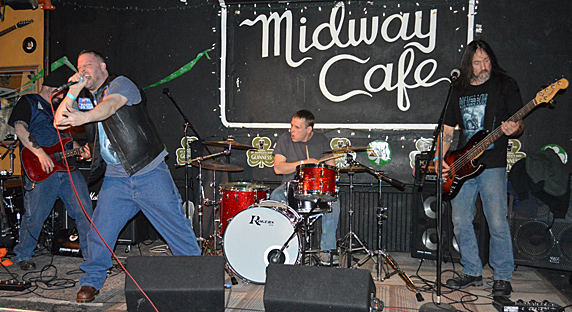 One Less Scumbag
Photo: Blowfish
Words of Truth
Photo: Blowfish