The BGN News Archive
March 21, 2011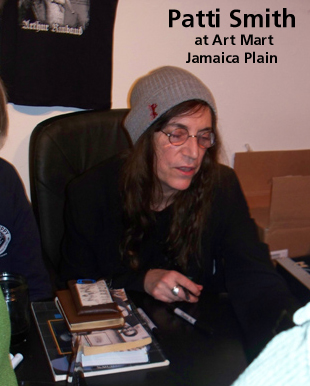 For St. Patrick's Day we went to the JP Art Mart/Monumental Cupcakes place for a visit with Patti Smith. It was an excellent experience..... a very small room with Patti set up in a corner and all her books around her and some very nice black and white photos on the walls. All for sale and I would say she raked in some dough that night, as well she should.... her written word her imagery all her product is fabulous, and besides she freaking Patti Smith one of those that changed the course of music when we needed it most. Hearing Piss Factory is still an important memory for me as is seeing her a few times.
She sportin' the scruffy look she has so well cultivated but she seemed very nice, friendly but quiet. All I can say it it must have been a strange experience to hear all of us gush at her and tell her how much she meant to us while sitting there for two hours signing and signing and signing our multitude of Patti 45's and albums and books. I am very glad I went and it was fun to hang out on the street with Eric Law, Carmelita, Blowfish, Bret Milano, as well as talk to strangers there too.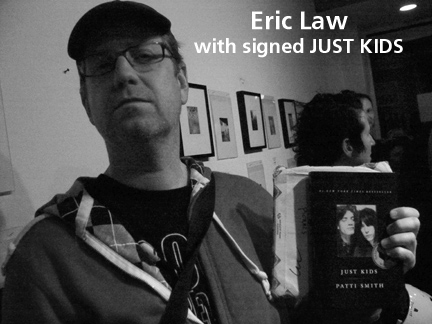 In case you haven't heard about this there's a new reality show on The Travel Channel: Deathwish Movers, On the crew of Deathwish Movers (Boston based moving company with an awesome name) are a few local musicians including Keith Bennett who hails from the likes of Mung and Panszerbastard.....check it out!!
Alrighty....for your listening pleasure my friends we have here a link to a new song by our pal Johnny Angel! The song is entitled "As Long As You Always Love Me"--it's different from, what we are u sed to from Johnny....its mellow countrified....his singing, in particular though, reminds me here of Willie DeVille, the music is excellent, these cats know how to play no question!! And the lyrics are VERY Johnny Angel...he don't care what the hell you do, as long as you love HIM!! And Johnny you know I 'll always love you my dear! So my friends take al isten and here are the very impressive credits:,br> Johnny Angel: Vocals, all acoustic guitars, percussion Jordan Shapiro: Electric guitars (plays with Eddie Spaghetti) John Goetchius: Piano (Dogmatics, Mighty Mighty Bosstones) Scott Gilman: Sax (New Man and Foreigner) Paul Ill: Bass (Young Adults, Government Mule, Alicia Keys, Pink, Tina Turner) Dave Bach: Drums (Wheelers and Dealers, Adam Sandler) and it was mixed by Justin Burrill (Wild Stares)...wow talk about ALL star!!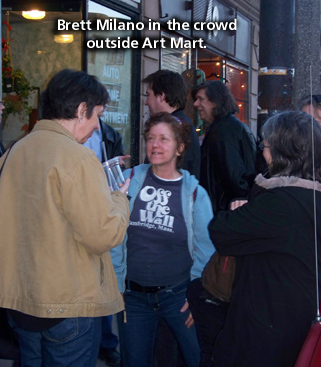 So here some stuff coming up ....
And Wow Thursday March 24th also over at Church is A.C. Psycho, Scummy Men and The Nose Jobs....
and there's punk the next night at Church too with Urban Waste, Refuse Resist, Down Low and The Revilers
also on Friday the 25th The Lyres are at Club Bohemia at the Cantab with My Own Worst Enemy
We're almost into April and we just heard that Classic Ruins will be recording, in April, at Q Division Studios in Somerville, with producer Ed Valauskas (Barrence Whitfield & The Monkeyhips, Muck & The Mires,Eli "Paperboy" Reed & The True Loves) at the helm. Sounds like something to look forward to!!
Also in April that stupid stinking useless behemoth The Rock'N'Roll Rumble rears its ugly head again....and the only reason I'm gonna mention it is on Thursday, April 7th there's a couple of cool bands playing for the "prelims" at TT's The Acrobrats and Triple Thick....just go and enjoy the bands and don't buy into the other ridiculousness.....
also coming up in Aprilů......such as....Cheetah Chrome appearing with Mike Hudson of the Pagans and Bob Pfeifer of the Human Switchboard in the Cleveland Confidential Book Tour ....... On Thursday April 7th they will be in our area, down in Providence RI at the Knight Memorial Library (275 Elmwood Avenue, Provi.) they will be reading from and discussing their books - A Dead Boy's Tale, Diary of a Punk and University of Strangers! Put this on your calendars NOW!!
April 9th is an all day punk extravaganza at the Middle East for Boston Rules OK! 2011 ...the day show has Death Before Dishonor, For The Worse, Ashers, Watchfire, Bulldog Courage and The Bonus Army...then the night show is excellent for sure with Razors In The Night, Bloodshot Hooligans, Blood Stained Brindle, Combat Crisis, Word For Word, Taxi Driver and Choke Up....
April 16th a screening of Andy Warhol's film The Velvet Underground in Boston!!! This is being presented by Arts Emerson and should be a fantastic thing to see!!
and Here's a sweet bill to look forwards to...... The Nervous Eaters, Lyres, and Robin Lane and the Chartbusters at the Royale on Saturday, April 16. Last time the Eaters played at the Beachcomber in Quincy they were in ripping top form.
and just in Nancy Neon is puttin' on a new show at The Cantab on Friday, April 29th with Kenne Highland opening at 9 then The Apeshits and Sticky Business......
Nancy also tell us she has a most awesome show lined up for May 20th....at The Cantab with The Varmints along with Corolla DeVille, The Satin Kittens and The Nervous Eaters!!
Hey keep in touch huh?? click click click