The BGN News Archive
March 24, 2008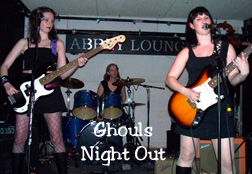 Happy spring time folks, I write this on "Easter Sunday"....The name "Easter" originated with the names of an ancient Goddess and that Easter was named after Eostre. She was the Great Mother Goddess of the Saxon people in Northern Europe. Her name was derived from the ancient word for spring: "eastre." Similar Goddesses were known by other names in ancient cultures around the Mediterranean, and were celebrated in the springtime, names such as Ostare, Ostara, Ostern, Eostra, Eostre, Eostur, Eastra, Eastur....for a very special Easter weekend I went to The Abbey, Saturday the 22nd and saw a great show: Ghouls Night Out, The Sprained Ankles, The Throwaways and The Coffin Lids...it was not crowded by any means and it took us a while to realize why...the holiday. But everyone gave their all regardless and it was an excellent night!!! ....
Ghouls Night Out are a cute all girl band, they say they are influenced by The Cramps and The Misfits and are into "horror punk" but they seem like cute girls doing punk songs to me....fun and upbeat and pretty damned good too!! Check 'em out at "Ghouls Gone Wild"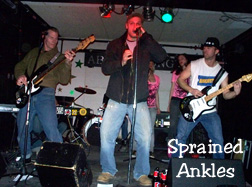 Next up were the Sprained Ankles...they had us smiling too... these guys are very very good and have been (are now) on our Top Ten list with Death From Above and they got a hit in Pizza Wolf too! Lead singer is funny, he's tall, you hardly ever see tall guys in bands and he scrunches down, bending his knees like he's riding a horse or something..and he's got that hint of rap inspired moves going on...but like Blowfish says "he's just too white to really have it happen" but he's very entertaining that's for damned sure. The whole band if fun to watch and listen to!! And they have a cd: The Sprained Ankles Love You...so with that sentiment you just gotta get it, right?? Their my space site is just a click away...Ankles.....
Next up was the reason for my being there...in my mind its "Staffy's new band" and it is of course The Throwaways...this is band of glorious misfits that have graced the stage previously in various versions of The Marvels. Eric Law says they are a little more pop than the Marvels and I can definitely see that but its just a bit really.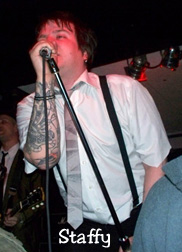 As always I just LUV watchin' Staffy. Oh yeah I could wax poetic about the stance he takes on stage, his skewed eyes, his voice and the way he screams, his nose. I don't know what it is about this kid but I just LUV him! Oh yeah, he said he was getting over a cold but I think having plied himself with copious amounts of alcohol before the show may have leant to the disheveled look he touted last night! I have to say Staffy looks way better in jeans and a plaid shirt than dressed up in baggy-assed dress pants and suspenders. But hey, these guys are EXCELLENT , the guitarists are spot on and screamingly cool. Their own songs are great(!) and they did a cover of my favorite Cult song :Sanctuary. I will not direct you to their MySpace site though because the horrible sounding demo recordings on the site are in NO WAY representative of what they sound like live....Check these guys out next time they play, well well worth it!!! Night rounded out nicely with The Coffin Lids and they are good yes very good...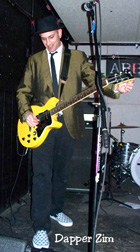 OK, well, now what's coming up? .. Stuff I've mentioned before as well as new stuff ...Thursday Mar 27 at The Abbey is the Black Fortress Of Opium CD Release party with Black Fortress of Opium, Garvy J and The Invisible Rays....
And get ready coz on Friday, March, 28 2008 at The Living Room in Providence RI there is a most, most awesome show with Murder Junkies, Red Invasion, Sleazies and The Midnight Creeps....
and then the sickness spreads to Boston on Sunday March 30th is the GG Allin Memorial Show with Murder Junkies, Thunderhog, Mob Hit, Shit F*ck, Eat The Homeless, Iza and DJ Hair Ball spinning scuzz punk... wow.
Now if you're out in Wormtown or are into something different than scuzz punk well Ed Moose Savage and his Litany of Complaints are doing a show in Worcester at the way cool former Speakeasy called The Ship Room at the legendary Hotel Vernon in Worcester, time: 8:30PM address: Hotel Vernon, 1 Millbury St. Worcester
Also ..Tunnel of Love starts their European Tour in April!! Check 'em out at TOL

And I was wastin' some weekend hours watching TV recently. I checked out the free movies on Comcast and found A Slipping Down Life...lo and behold! There was Boston's own Miss Xanna Don't...quietly combing her trademark beehive in a scene with Lilli Taylor!! Do you remember Xanna??? Kilslug show with "A.C." its their 20th Anniversary Show...and Psycho at Church in May.... So that's it for now..new photo page of Fleshtones is here for your viewing pleasure, scroll to just below the news AND we got NEW vintage late 70's Rat pics from Kathy Flynn after that!.... Email us here...