The BGN News Archive
March 24, 2014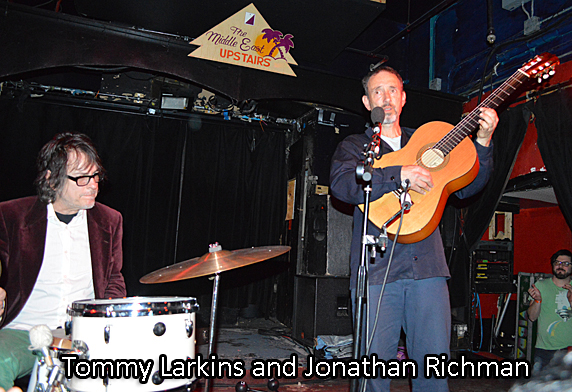 This week of partying and stuff started early with Miss Lyn heading over to Atwood's in Cambridge On Sunday 3/16 to meet up with Kenne Highland and welcome Max Demata, Sonic Daze lead singer, and his family to Boston. Preacher Jack was playing and AJ Wachtel was there for the Noise. Kenny Kaiser made a cameo appearance to welcome Max, as did Gee Julie. Max is a Gizmos fantatic and Boston music scene fanatic as well! His band Sonic Daze originally started out as a DMZ cover band! Tuesday Miss Lyn met up with Kenne and Max along with Carl Biancucci to talk a little more and see how the visit to Boston was going. Max interviewed us all for Italian Radio. Max first heard about the whole Boston scene when he was young, in the early 80s since it was actually a very big thing over in Italy. He found out about the Gizmos through a friend named Lux Inferior and he's frankly never been the same since. Max will be playing bass in the Gizmo's 2014 Reunion.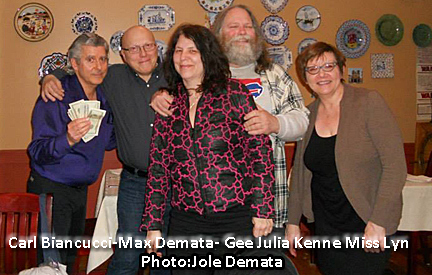 So, yeah, the Gizmos Reunion 2014 is a definite now. Krazee Ken Highland and the other guys will be playing in Bloomington (june 12) & Indianapolis, IN(June 13) and its looking like Cincinnati, OH and possibly Chicago. Please go to the Kickstarter page to donate to the cause to get these guys on planes and trains to head to Bloomington to play!! Even $10 will help!! They know for sure that these original Gizmos will be performing on the tour: Ken Highland, Eddie Flowers, Ted Niemiec, and Rich Coffee ...and Max Demata on bass. You can read more about it in this weeks Ken Highland At Large column as well.
Now later in the week....
We hit the Thursday show of Jonathan Richman's three day sold out stand at the Middle East Up. He's done the same thing here before. It was an early 8pm. show.
We got up front which was easy to do when we arrived. Rich Parsons and Susan Rowe were right there with us arriving a few minutes later. Richie said he saw Paul Robinson there too. (Paul later posted on FB that he felt like he was 17 all over again!).
As Richman hopped on stage with drummer Tommy Larkin he looked out he gave a nod and a hello to Richie. Then it was a nice long show (over an hour) of Jonathan doing the Jonathan thing and you know what that is, if you like that, and I do.
Most of the songs were extended with extra observations and side stories that he thinks apply to the subject of the lyrics. In "Summer Feeling" for example he adds some memories of his that illustrate a summer day. There were lots of New England and Boston references as you would expect. There were only a few Modern Lovers' songs. He concentrated on newer material. He also sang a couple of songs in Spanish and one song he sang in French. His voice and guitar playing seem made for the Spanish style and his mouth contorted like a natural Frenchman in the French song - pretty impressive stuff!
He did "Lesbian Bar", a longtime favorite. He took that opportunity to do the Jonathan dance steps. "Interpretive dance" as Richie predicted earlier! Jonathan often jettisoned the guitar to dance around or pick up a maraca to help Larkin during a drum break or punctuate the beat in a certain place.
He made a hilarious comment to someone in the audience who was using his smart phone: "Whatcha watchin' on that TV? Anything good?" The crowd roared with laughter. He followed that with a little diatribe against the "screens", meaning all televisions, computers, smart phones and iPads. I think it was during the song "These Bodies That Came To Cavort".
None of this is new to you who follow Richman. I saw him in NYC a few years ago in a big hall. I enjoyed this much more, being just feet away. I was able to see and hear the guitar work which is always free style and lose.
Meanwhile it was very, very hot and steamy. I think I was heading for a faint as my body heat was building up and the sweat was running down my back. But the show ended just soon enough. I've had lots of uncomfortable times in that rock sweat lodge. Outside I soon revived by gulping some water along with an energy bar.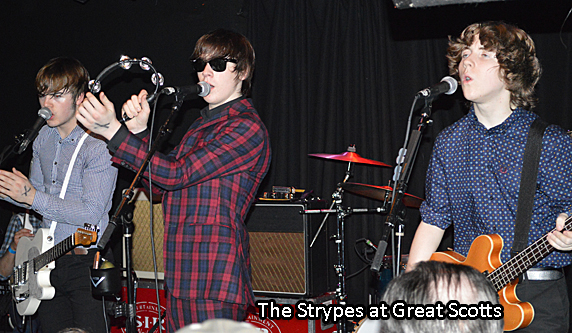 That's was needed because next up was heading for Great Scotts where The Strypes were playing.
Eric Law sent out a link to a video of the group months ago and that showed a too young to be believed quartet barreling through "Can't Judge a Book by the Cover". By now they have gotten a bigger buzz and Eric notified they were playing Great Scotts.
I did what I'm doing more and more - buying a ticket online. I wasn't wrong because it sold out when I got there.
Outside the huge tour bus and equipment trailer illustrated the support they are getting from somebody...I'd really like to know who! Inside were a lot of familiar faces: Mary Lou Lord, Carl Biancucci,Todd Purple, Andrew Hegarty, Vinny Bratti, Michele Meadows and Larry, Kim and Cam Ackland, John and Jeff Blout, Brett Milano, Joanie Lindstrom, WMFO's Skybar, Johnny Black, and Judy Wilburn among others.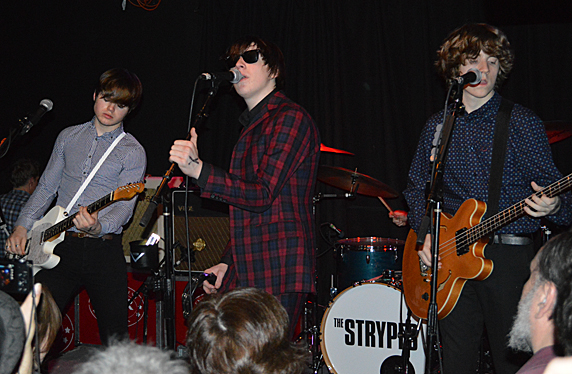 One thing you couldn't fail to see was that this was an old crowd. We think we are cool picking up on the buzz but what about the college crowd that is usually packing the club? I mean even the audience at the Jonathan Richman gig had a large percent of young people in the mix. It seems like this group maybe doesn't appeal to them.
All The Strypes' influences are from pre 1970. They have an old rocking style down pat and its exciting stuff...to us I guess. The current generation is not picking up on it, but all that seems academic as the group starts to play.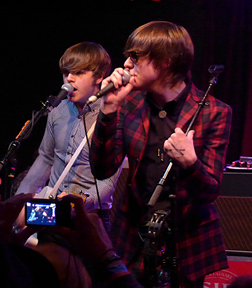 The immediate impression is being hit by a thundering onslaught of sound. It never stops the whole set. There are no slow songs or down time, it's all fast paced songs with a very busy rhythm section. Everyone but everyone mentions the Yardbirds' influence. It's pretty obvious and all encompassing. They don't even deal with the slow things, psyche songs or eastern influenced material just the blues and the 'rave up' style the group excelled at. Of course early Yardbirds were like that too.
The crowd was eating all this up and I was too. It's too good. The set was so exciting all the way through but then it got even better near the end with Heart Of the City, Can't Judge a Book by the Cover and the best yet- Rollin' and Tumblin'. There couldn't be more? Yes, the encores were Rockaway Beach by the Ramones and the last song Louie Louie.
What can you say? A group of teenagers rocks the house with blues based material 30 years older than them and encores with the national anthem to a club of people who grew up with it but don't get to hear it live anymore. The cover was $10.00. Best money spent this year.
On Saturday afternoon there was no tour bus, crowds, advance tickets or hype connected with the all ages Midway gig. Inside we had a small crowd with a few preteens, one baby and one dog, at the bar....yes, one dog at the bar.
I've come to love the Saturday afternoon gigs. They are low key and refreshingly free of pretension.
We thought we would check out Dead Cats Dead Rats since that name keeps coming up. We never did get to see them. On stage was Sleep Crimes, who were young. To me they are still getting it together. I like that they were all hard working. They played some heavy Black Sabbath style (and a Sabbath cover) then did a song based on a 50's template. The singer had a cutting voice that was always in pitch. They had lots of humor in the lyrics that I think bodes well if they develop.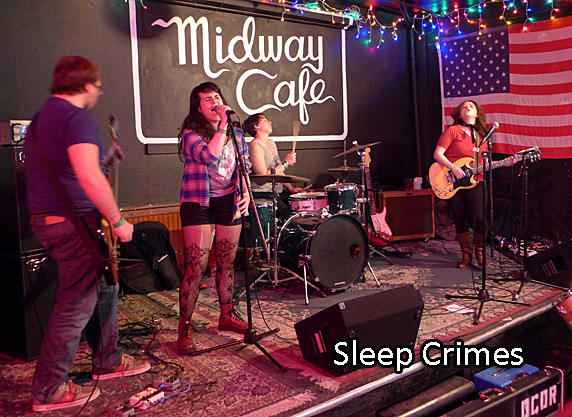 We saw Endation a year and half ago. As I look back and read what I said I can see it all applies again with one big difference, the intensity has increased exponentially. The jerky, precise rhythms are even sharper. I never even noticed this time that the guitar had four strings and for a guitar nut like me not to register that is a testament to his ability to work with the limitation.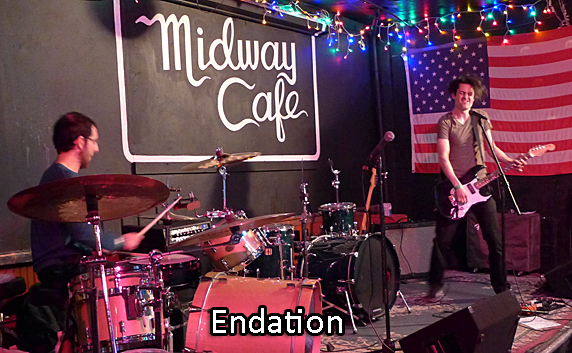 The main thing was the seething emotional punch of the songs. The first song snapped me into attention and for five songs I was lost in the music. I actually got chills during two songs. The drummer raises himself out of his seat at times in an effort to hit as fast and strong as he wants while the singer teeters backwards and forwards like he's balancing on a skyscraper I-beam. The singing goes from soft to screaming at top level. You think he must lose his voice before it's all over.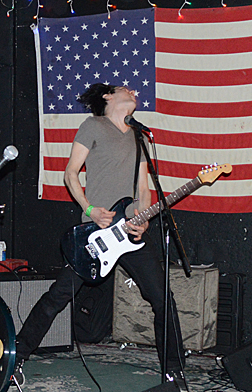 All the stage drama would mean nothing if the songs didn't back it up and they do. Endation doesn't do a lot of gigs but have one coming up at the new ARCH at Studio 52 in April 2nd. I wish these guys got some of the attention that I saw Strypes getting but that's the way it is. I'm glad we got to see this set. The singer Anthony Conley, who was also in Faux Ox, has been working to keep the scene healthy with his organization called Save Our Scene. The recent period when the clubs seemed to be all closing pushed him into action.

We talked to him afterward and he's a very interesting guy and soft spoken which is a surprise after hearing him yell with emotion for forty five minutes. He and Matt have been playing together for quite a few years, since they were both 19. They've drifted into one or two different bands but always seem to end up together again. And we're glad that's what's happening now with Endation!

And for upcoming shows.....

There's a serious punk show at The Ramrod next Tuesday the 25th with Mystic Inane, Funeral Cone, Discipline, Jock's Blood and Stranger

This Thursday March 27th is the official Kenne Highland Birthday Bash at Tavern at the End of the World

Saturday March 29 at The Midway you can get a double dose of Chris Brat (we hope his ribs have healed by then) plus these are some damned good bands - its The Old Edison (In case you missed them last week), The Warning Shots, The Black Cheers and Duck & Cover

And the Savtones have rescheduled their Store 54 show for March 29 ...

and Allston Rock City Hall (ARCH) has its Grand Opening Celebration on Saturday March 29th!! It starts with an art show (1-4PM) and a party, an after party and then music (ending at midnight)!!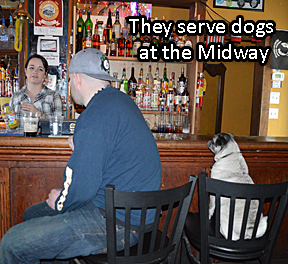 The fundraiser gig for Veterans Advocacy Services was canceled due to SNOW (what else is new this winter huh??) and has been rescheduled to 3/29/2014 at the Maynard Elks from 7:00 PM to 12:30 AM and now they have nabbed Special guest Gary Soprano (Third Rail and Cadillac Heart) will be joining Reddy Teddy for this important event.
Jon Bernhardt is celebrating his 50th Birthday and 30 Year Anniversary on WMBR's Breakfast of Champions with a gig at the Middle East down on April 2 with Bevis Frond and Barbara Manning and Dump. Tickets are $20, to benefit WMBR and are available via TicketWeb.
Friday April 4th at The Regent Theater is the debut of Tim Jackson's film "When Things Go Wrong" which is all about Robin Lane there'll also be a Q&A with Tim and Robin and live performances from Robin, The Chartbusters, Barrence Whitfield, Ramona Silver, and others TBA . You can buy tix here Regent Theater site
April 4th at The Midway are The New Limits, The Screw-Ups, The Allstonians, The Copacetics, and DJ Nate EaseUp of Rude Sounds
Saturday April 5th there's a great show, one not to be missed really!, at the Spotlight Tavern in Beverly with Two Saints, Greg Allen's Fringe Religion, The Low Babies and Mike Woo's Raging Bone.
For you folks up in the Portland, ME scene the Bayside Bowl Uproar happens Saturday April 12th - at Bayside Bowl see three of Portland's most talented artists presenting some of their best original pop & rock songs for your listening & dancing pleasure...Joe Brien, all girl Portland band Tiger Bomb and the Johnny Cremains band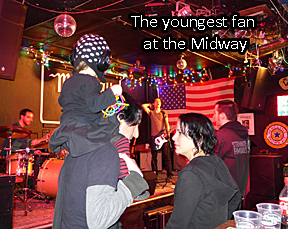 The Saturday April 19th at The Cantab gig has changed...Bittersweets are out but instead you get The Darlings, The Funeral Barkers, FoxPass and Emily Grogan...
Thursday April 24th The Koffin Kats are back at O'Brien's along with Ten Foot Polecats,the Radiator Rattlers and Weak Week.
Saturday April 26th at the Midway is The Cheeseburger Eatin' King's Annual Birthday Circus featuring Bad Lieutenants, The FUs, Big Meat Hammer, Rough Francis, The Stand Alones, The Pubcrawlers, Bragging Rights, and Slim Francis
The 4th Annual HardCore Cotillion is Sunday April 27th (5:30-10PM) at The President's Rock Club in Quincy...this is onwe killer show folks!! You got Kilslug, Jerry's Kids, Taxi Driver, Barroom Heroes, and Keith "Fishead" Knowlton - all for 8 bucks!!
Wednesday April 30th Streight Angular are at O'Brien's...
The Cavestomp (Boston) Standells and Lyres at The Brighton Music Hall on Monday May 5th.... You can buy tix here
the Joe Coughlin Memorial Show is at the Midway on May 10th!
At O'Brien's on Saturday, May 10th we got a excellent show with Jittery Jack (their Boston record release show) , Whiskey Kill, Johnny Carlevale and the Rollin' Pins and DiabloGato
Also on Saturday May 10th is a crazy night at Club Bohemia at the Cantab with The Hixxtravaganza - playing are Hixx of course along with Scott Damgaard, Cadillac Heart and James Straight And The Wide Stance
Wow this is a very special not-to-be-missed event: At The Regent Theater on Sunday May 11th (7:30PM) - A Boston Film Premiere Event: "Looking For Johnny" - The Legend of Johnny Thunders PLUS The Daughters Reform to Play LIVE! I know they interviewed some Boston rockers for this film, too!
It's a killer weekend over at The Midway on Friday, May 16th with The Other Girls, BrownBooze (featuring Rod van Stoli and Jordan Valentine of BrownBoot!!! she's in town for a couple shows this weekend -see below too) ) and Saturday, the 17th with The Hudson Falcons , The Sprained Ankles, The Black Cheers and Spectacle
OK people mark your calendars for April 17th there's two cool things that night:
You know it's summer when Cal Cali is back in town and he's back to celebrate his birthday on May 17th at The Tavern at the End of the World with Asa Brebner, Richie Parsons Duo and Emily Grogan
Al Janick's St. Stanilaus Polka Party on May 17th...this year its at Anthony's on Highland Ave sin Somerville and he's got his Plastyczny Ser Orkestra consisting of world famous musicians like , Kevin Hensleyski on Guitar, Matt Burkeski on Drums and Shaun Wolf Wortiski on Bass...along with The Warsaw Marching Accordion Army and the Horny Karkow Horns...and if that weren't enough he also has special guests The Pierogi Triplets (Jordan Valentine & Jenny Dee)!!!
Thursday, May 22 at The Middle East Up........ The Woggles with Muck and the Mires, Lyres - whoa what a show!!!!
The 2nd Annual Rat Beach Party is already well in the planning stages...its set for September 14th& 15th and here's a list of bands so far: Saturday night- Red Parrot Beach Bar starting at 7PM: Hardwired -- Heavy Weddle & Sweet Release -- Severance (or Band To Be Announced) -- JetSet -- Billy Rath & The Street Pirates -- Open Jam to close
Sunday afternoon/evening: Red Parrot Function Room, Beach Bar and Back Room Lounge starting at 12:00 -- The Beachcombovers (Function Room) -- Hardwired (Beach Bar) -- The Boize (Function Room) -- Gino Caira Band (Beach Bar) -- Count Viglione Love & Flame (Function Room) -- Hixx (Beach Bar)-- State of Union (Function Room) -- GraveDancers (Beach Bar) -- The Derangers (Function Room) -- The Workers (Beach Bar) -- Liz Borden (Function Room) -- Kenne Highland Clan (Beach Bar) -- Slow Children (Function Room) -- Pop Gun (Beach Bar) -- Gyro Lula (Function Room) -- Moose & The Mudbugs (Beach Bar) -- Tsunami of Sound (Function Room) 8:30 -- Masters of The Obvious (Beach Bar) -- Red House (Beach Bar) - Real Real Bayou Band (Beach Bar) -- All-Star Jam led by Cindy Daley, formerly of Lovelace.
The Kickstarter project for PunkRockPaperScissors will be of interest to a few of us. It is a book of punk flyers. There are some Boston ones in there according to the write up.
The Replacements are playing two weekends in April at Coachella and they are having David Minehan on guitar again. (Afghan Whigs and Brain Ferry are on the bill too!)
EMAIL US AT........misslynbgn@yahoo.com