The BGN News Archive
March 26, 2012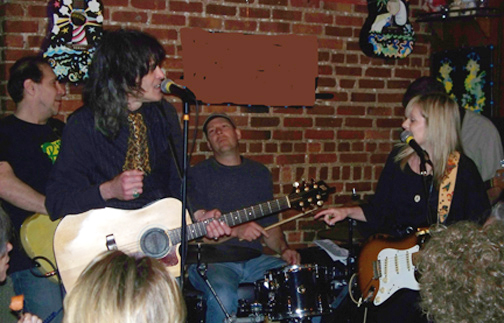 We stopped off at In a Pig's Eye in Salem this past Saturday to pick up our Furs tickets from our wonderful pal Terry Brenner AND to catch a couple sets of The Darlings....man every time I see them I am amazed at Kelly Knapp's fabulous voice...and I must relate this story: Well as you know there was this band called the Bristols..... ahem, I love Kim, Michele and Kelly but, let me just say that I don't think Kelly was singing anywhere ever NEAR her full potential to say the least....then I had a party at my house and I hear this amazing, strong, woman's voice coming from the other room....I walk over to take a peak at who it might be!....to my complete surprise it was Kelly Knapp!! I had NO idea she could sing like that!! And I have been blown away by her voice every time ever since.....of course there also one of Boston's BEST guitarists in the band; Billy Loosigian and the most fabulous Simon Ritt as well..so needless to say it was a great night of really well preformed country tunes....all the stuff my parents used to listen to as a matter of fact!! Really excellent show....The place; In a Pig's Eye gets packed but it's a very cool and friendly crowd, we had a most awesome time there!!
This Friday March 30- Muck and The Mires are at The Plough.....music starts at 10:30 there...
and Saturday the 31st - Foxy Shazam is at TT's on the but it's already sold out!!
But O'Brien's has a punk rock country night with Coyote Kolb and Ten Foot Polecats...
Oh my friends Salem is getting to be the happening' place these days....this Saturday March 31st - Classic Ruins are playing at The Seaport Café in Salem....Frank and Jeff are both doing special acoustic sets as well.
On Sunday April 1st - the 80's Oi band Peter and The Test Tube Babies up at the Wonderland Ballrtoom along with The FU's, Murphy's Law, The Revilers - its an early show starting at 4PM!
On April 21st James Straight and the Wide Stance with Cadillac Heart will be at The Magic Room Third Rail's Richard Nolan will be performing a few songs with Cadillac Heart and Frank Rowe will be doing one of his solo acoustic sets to start the evening.
The Dirty Truckers are having a big record release party on Friday May 4th at Radio! The bill also includes Muck & The Mires and The Scars....cool!!
May 19th we got a Cal Cali Birthday Party to celebrate at The Rosebud with Lyres. Jetset, Classic Ruins and Tsunami of Sound.
And of course Friday May 24th Manitoba is at Church…from all reports that should be an amazing show people !!!
And The Psychedelic Furs and Pop Gun are at the Salem Performing Arts at The Catholic Center in Salem on May 26th!! Get your tix now coz they are going fast!
HEY!! Email us with your latest news, I'm feelin' lonely here!!.....misslynbgn@yahoo.com