The BGN News Archive
March 27, 2017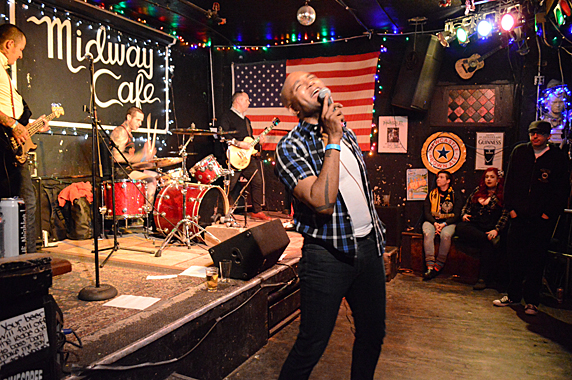 The 45 Adaptors
Photo: Blowfish
It was hard to get to some good rockin' early in the week. It seemed like all the shows we were interested in fell on Saturday. Of those we chose the afternoon Midway show that had two Oi groups. Last week there were few people at that hardcore show at this same place and time. This week the show was sold out. It seemed that the Oi bands drew people and there seemed to be some buzz over the NYC band 45 Adaptors.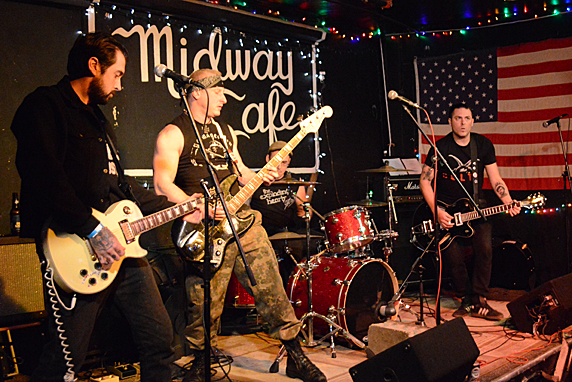 The Quiggs
Photo: Blowfish
We're fans of The Quiggs so we made sure to be there for them, the first band of the night. We caught The Quiggs early in their formation at the Midway back in March 2014. Then again at TT's. We've missed them for a while so it was reassuring to hear them again and see they still had all the qualities that we like. They have high energy, songs that make their mark and the chops to deliver their material.
Then there's Swid on bass. He's calmed down a bit and bulked up the physique even more! His bass playing is still stellar. He plays creative lines that move the songs, never just an easy repetitive box riff. He was complaining on stage of having hand problems. What's going on there?
The songs are all very punk rock. It's fuck this, fuck that. One made the point, "we don't give a fuck." I would like to say our favorite song plumbed the depths of being and questioned our place in the universe, but no, it was called "So Fucked Up". Hey, to us a good punk song does plumb the depths of being no matter what it says!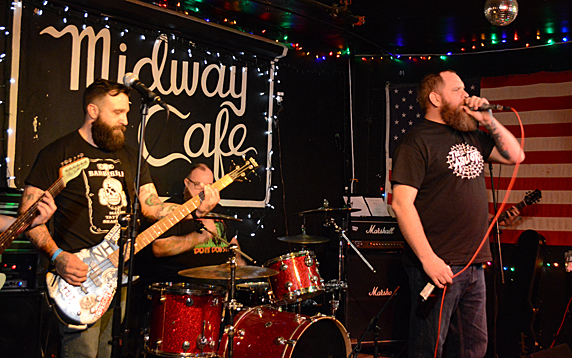 Damn Garrisons
Photo: Blowfish
The next group The Damn Garrison from NH was an Oi group. First thing you noticed was the volume went up from the Quiggs....and it's not like they were low. The lead singer sang throaty (and claimed a sore throat to boot) that took a while to get used to but we did. They also had another singer doing a lot of work.
Damn Garrison have taken the English Oi and made it fit the New England mill town...and it's a good fit. The song subjects are about the working man fighting for his job, life and rights. They urge you to "fight the real enemy". Like all of Oi, these issues make for catchy slogans and they make superb vocal hooks in a song's chorus. They made good use of that trait with all their songs. One song had the chorus, "Drink, Drink, Drink, Fight, Fight, Fight," that seemed to sum up the theme of many Oi bands.
They had some musical moments that were just cool like a riff that broke up a I-IV-V progression. It's in THIS VIDEO HERE. You hear the riff and then it goes back to the I-IV-V section at the 17 second mark.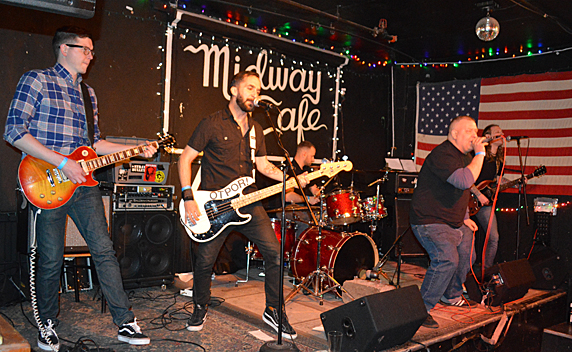 Blood Stained Brindle
Photo: Blowfish
Blood Stained Brindle continued the Oi attack....and also continued to up the volume; our poor ears! They sang more about the right to work and always focused on the working man. One song was an indictment of the Money Collection Man. Again the sloganeering made for memorable sing-a-long choruses.
They were strongly Oi but that's not all their influences. The singer was doing a different thing. He seemed more like a traditional rock singer. His voice was clear and delivered the melodies. On their Facebook page they claim a blues influence and maybe that's what we were hearing. What was attention getting was that voice on top of the industrial strength punk roar behind it. That combo was new. One song we liked was called Sargent Stubby about a WWI service dog. (He might just be THE original Blood Stained Brindle) They put a lot of emotion into that and it was inspiring like a lot of their other songs.
45 Adaptors
Photo: Blowfish
The bands on stage kept mentioning looking forward to the 45 Adaptors. We already had three bands blowing out the back wall, what could 45 Adaptors do? It turns out a lot. They had a different direction in their set. It was all in the personality of the lead singer. He came out and started talking before the group even began. He riffed on being way drunk, although he didn't seem to be. He was extremely entertaining to listen to. He was a fast talking, smart aleck, sex centered New Yorker supreme...and funny!. In that sense you had to be there to soak that in because everything lead from that.
But music wise they were also interesting. Generally they seemed to sound like older punk but you could hear Oi in there and some bluebeat ska. Their listed influences say a lot: Cockney Rejects, Jackie Wilson, The Equals, The Small Faces and Jook. All those were coming through. The singer who spent his entire time on the floor and in everyone's face also skipped around like an early English ska band singer.
The songs were supper catchy. One called Let's Get Loaded was representative. Another was Dress Well, Drink Heavily, that directive stirred you away from the worker oriented rally calls of the earlier Oi bands. In that way it was a good change of pace and made for a good bill....and of course DTAWDD...Don't Trust Anyone Who Doesn't Dance!

And what a bill! Four bands that hit hard. Another afternoon show that saved our week.
And in other news.....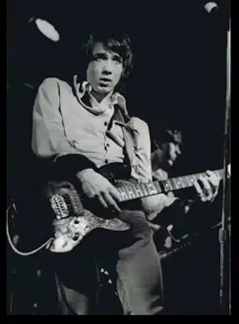 Dave Morrison had a series of groups that made some great pop back in the 80's (Boston based The Trademarks and True Blue and New York based Juke Savages) . His story is longer though. He talks about it as he reorients himself after a bout with cancer by building a blue guitar… …..Watch and listen here.
HA this is great! Chuck Berry talks about a few punk tracks back in 1980 on NBCNews.com - he gives his opinion on songs by the Sex Pistols, Ramones The Clash and The Talking Heads. And...he says something that brings to minds what John Felice is passionate about in the interview we are trying to finish up: "If you want to release your aggression get up and dance. That's what rock and roll is all about." Check it out here.
Rock'n'Roll Yard Sale in Provy on May 6 more details here.

Not music but .....This should be interesting: Artweek Boston is hosting a series of four cocktails inspired by the paintings of Salvador Dali. There will be a discussion on Surrealism and how Dali played a major role in this movement. Drinks'n'Dali
Here's some good shows coming up .....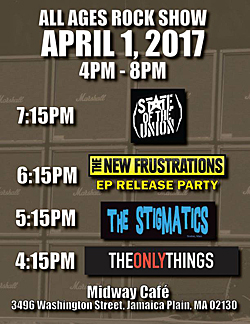 March 27 (Monday) Jay Allen's Mess Around moves to Taco Mondays at Once with Jay Allen, Tom Baker, Justine Covault, Chrissie Vaccaro And Special Guests...FB Page Starts at 7:30
March 30 (Thursday) Black Helicopter will celebrate the release of 'Everything is Forever' with the proceeds going to the ACLU. On the bill also- Trinary System (feat. Roger Miller of Mission of Burma) and The Boston Typewriter Orchestra at Once Somerville
March 31 (Friday) Classic Ruins and Randy Black and the Heathcroppers are at The Tavern At The End of The World
April 1 (Saturday) State of the Union, The New Frustrations, The Stigmatics and The Only Things doing a GREAT early show (4-8PM) and its ALL AGES at the Midway (FB page)
April 1 (Saturday) The Upper Crust, Sidewalk Driver and When Particles Collide as part of the ArtsEmerson Black Box series at Emerson/Paramount Center, Jackie Liebergott Black Box Theatre - 559 Washington St Boston (Link)
April 1 (Saturday) The Proletariat are in Newport RI at The Parlor. FB Page
April 2 (Sunday) Six Organs Of Admittance and Minibeast are at Great Scott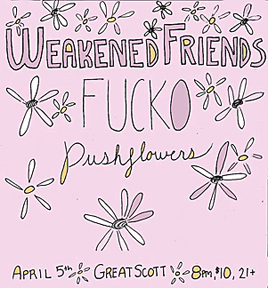 April 2 (Sunday) Corin Ashley Record Release & Birthday Show! 4:00 pm, $5 Suggested Donation at Atwood's
April 2 (Sunday) Kenne Highland Birthday Party at Fire & Ice in Back Bay 6:30 PM start
And further out....
April 3 (Monday) City Mouse, Jenn Lombardi's Lucky United, Mr. Fahrenheit and Dogtooth MA are at O'Brien's
SATURDAY 4/8 (Day Show) 4pm ($5.00): Jiblantos, Big Giant, The First Supper, This Machine
April 8 (Saturday) The Kurt Baker Combo, Soraia, Watts and The Connection at O'Brien's Here's the FB page
April 10 (Monday) Actor|Observer, Sparrows, SuperTeen and No Hands are at O'Brien's
April 10 (Monday) The Very, Justine and the Unclean, The I Want You at ONCE Lounge FB PAge
April 13 (Thursday) The Rumjacks, Jason Bennett and the Resistance, Michael Kane & The Morning Afters and The Runouts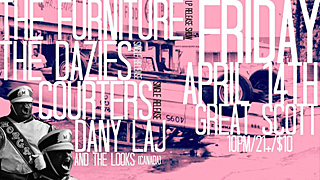 April 13 (Thursday) Modern English are at The Brighton Music Hall
April 15 (Saturday) The Last Ones are at The Midway with Tsunami of Sound,Trusty Sidekick and Sammy Kay (a PM show)
April 17 (Monday) Terry Malts, Shark Toys with Idiot Genes and Bad Deals at O'Brien's Pub
April 22 (Saturday) Electric Frankenstein, Symbol Six, Hey Zeus and Duck & Cover at O'Brien's Pub
April 22 (Saturday) The Last Ones, Tiger Bomb and Corolla deVille at The Spotlight Tavern in Beverly
April 28 (Friday) The Upper Crust, Benny Sizzler, Devil On Horseback at Once
April 28 (Friday) Why isn't this show in Boston or Cambridge!?!? Lydia Lunch, Hard Nips (Japanese Girl Band), Cassie J Sneider and Nonye Brown-West at Ralph's in Wishtah. FB page
April 29 (Saturday) A special evening of performances at The Met by Throwing Muses, Neutral Nation, and Plan 9, and their inductions into the Rhode Island Music Hall of Fame! Tickets are scheduled to go on sale on February 27!!! For unveiling ceremony and rock inductions day #2 check out the FB page!!
May 1 (Monday) PanzerBastard,Poison Rites and Armpits at O'Brien's
May 4 (Thursday) Walter Sickert & the Army of Toys, Scarlet Sails, Radiator King at Once
May 8 (Monday) Indonesian Junk.....who have just released a digital single "Turn to Stone" on Rumbar Records..... are at O'Brien's. HearTurn to Stone here. Also on the bill Jay Allen & The Archcriminals and The Von Traps
May 10 (Wednesday) Zip-Tie Handcuffs, The Mad Doctors, Idiot Genes, Future Spa at O'Brien's Pub...FB page
May 11 (Thursday) Cruel Miracle, The Stops!!!, DiNOLA and The Scrapes are at O'Brien's
May 12 (Friday) Mike Watt (Minutemen) and Meat Puppets are at the Brighton Music Hall Here's the FB page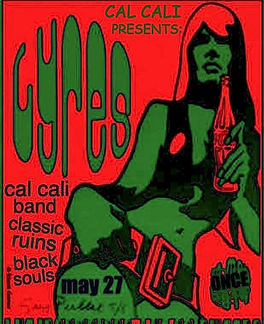 May 12 (Friday) Rockin' Bob Punk Band w/ Special Guests TBA at O'Brien's
May 13 (Saturday) A Crash Course For the Ravers has Glider on - WMFO 95.1 1-4PM
May 13 (Saturday) The 5th and Last Joe Coughlin Memorial Show.....we love Joe and will never forget him!!! On the bill: M.O.T.O., Super Special Guest Star, Blue Oyster Coughlin, Classic Ruins and Jay Allen at The Midway!!
May 13 (Saturday) Watch City SteamPunk Festival in Waltham...Website FB Page
May 20 (Saturday) Jenny Dee & The Deelinquents, Muck and the Mires, Vicky and the Vengents at The Middle East Up.
May 22 (Monday) Whoopi Sticks, Fire In The Radio (Philly) and Cook Bag at O'Brien's
May 26 (Saturday) Corin Ashley and Modern Day Idols are at The Plough
May 27 (Saturday) The Cal Cali show that had The Shadows of Knight at ONCE Ballroom has been changed to now have all local bands: Lyres, The Black Souls, Classic Ruins and CalCaliBand You can buy tix here (Only ten bucks!!) FB page
May 27 (Saturday) The Runouts, The Martians, Blame Shifters, Nymphidels at The Midway this is an afternoon show - 4-8PM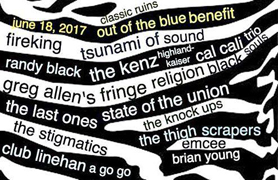 May 29 (Monday) Teenage Bubblegums, Jagger Holly, Mongorellis, Jimmy Jacked at Opus Underground in Salem (FB page)
June 1 & 2 (Thurs & Fri) Reverend Horton Heat at Once in Somerville
June 4 (Sunday) GIUDA (from Rome Italy) and Unnatural Ax & The Hi End at Once Tix etc here
June 10 (Saturday) Psycho, Conclave, Whoopi Sticks, Gant, Spillers an afternoon 4-8PM show at the Midway
June 17 (Saturday) Held Hostage, Point Blank, Infernal Diatribe, Profit Margin at Koto in Salem (FB Page)
June 18 (Sunday) Help Save Out of the Blue Gallery Too - this will be an all day affair (3PM-11PM) with FOURTEEN bands including: Brian Young -WMFO as Emcee plus Thalia Zedek, Fireking, Randy Black, The Knock Ups, Tsunami of Sound, The Stigmatics, State of the Union, Cal Cali Rockin' Trio, The Last Ones, The KENZ (Highland & Kaiser), The Thigh Scrapers and Club Linehan A Go Go ~ 50th Birthday Party for Joe Quinn. Check out the FB page
June 25 (Sunday) Nonzerosum Present: Conflict, Who Killed Spikey Jacket, Cinderblock, Pandemix - ALL AGES, $20, 8:00 PM Doors at the MIddle East Up.
July 19 – July 30: The Midway's Dirty 30th Anniversary Celebration Spectacular
September 16 (Saturday) Chameleons VOX At the Middle East Also on the bill: Soft Kill , Way Out and The Milling Gowns FB Page
CONTACT US AT....misslynbgn@yahoo.com -Send us your gig listings, your news and anything else ya got!! You want your CD reviewed?? Contact us for that too.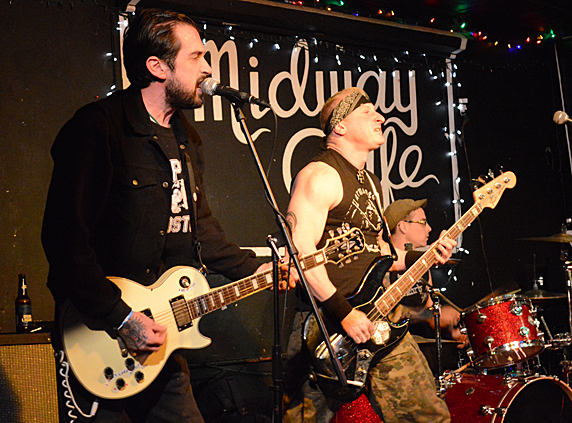 Quiggs
Photo: Blowfish
Damn Garrison
Photo: Blowfish
Blood Stained Brindle
Photo: Blowfish
45 Adaptors
Photo: Blowfish