The BGN News Archive
March 28, 2011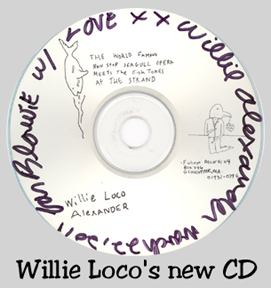 Every now and then it's FORWARD INTO THE PAST around here. I started the week doing what I did in 1976: sending away for some music by Willie Loco. He shout out on Facebook that he had a new CD on a short run. I sent away and two days later had the new CD called "The World Famous Non Stop Seagull Opera Meets the Fishtones at the Strand". It's produced by Ted and Conni St Pierre just like in the past. In 1976 you HAD to put out stuff on your own these days it's EASIER to. It's beyond great to hear Willie do his stuff. Willie is in the zone and pumping stuff out...try to keep up..Willie's CD's for sale - CLICK.
Not enough to live life in the scummy underbelly of punk rock JJ Rassler also likes his entertainment to be tawdry and unseemly and of course we love that too. Our luck we have a new RAZZ RANTS - CLICK where JJ gives us some novel ideas.
Joanie Lindstrom continues her itinerant ways and gives us a look at her Los Angeles Vacation - Click. She sees some ex-Bostonians there too and then aims her camera at some of the architecture.
Right around the corner.....
Sat 4/2 Cocked n Loaded, Cortez, Infernal Overdrive, at Great Scott...sometimes you need a band like Cocked n Loaded to knock the wimpy lite crap out of ya.
On Sunday 4/3 Wire comes to the Middle East. The lastest CD is realy good and they are always worth seeing.
The Rock'N'Roll Rumble on Thursday, April 7th has a couple of cool bands playing for the "prelims" at TT's The Acrobrats and Triple Thick..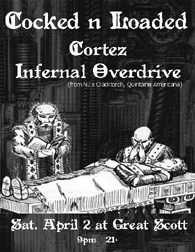 also coming up in April...... ....Cheetah Chrome appearing with Mike Hudson of the Pagans and Bob Pfeifer of the Human Switchboard in the Cleveland Confidential Book Tour ....... On Thursday April 7th they will be in our area, down in Providence RI at the Knight Memorial Library (275 Elmwood Avenue, Provi.) they will be reading from and discussing their books - A Dead Boy's Tale, Diary of a Punk and University of Strangers! Put this on your calendars NOW!!
April 9th is an all day punk extravaganza at the Middle East for Boston Rules OK! 2011 ...the day show has Death Before Dishonor, For The Worse, Ashers, Watchfire, Bulldog Courage and The Bonus Army...then the night show is excellent for sure with Razors In The Night, Bloodshot Hooligans, Blood Stained Brindle, Combat Crisis, Word For Word, Taxi Driver and Choke Up....
April 16th a screening of Andy Warhol's film The Velvet Underground in Boston!!! This is being presented by Arts Emerson and should be a fantastic thing to see!!
and Here's a sweet bill to look forwards to...... The Nervous Eaters, Lyres, and Robin Lane and the Chartbusters at the Royale on Saturday, April 16. Last time the Eaters played at the Beachcomber in Quincy they were in ripping top form.
and just in Nancy Neon is puttin' on a new show at The Cantab on Friday, April 29th with Kenne Highland opening at 9 then The Apeshits and Sticky Business......
Nancy also tell us she has a most awesome show lined up for May 20th....at The Cantab with The Varmints along with Corolla DeVille, The Satin Kittens and The Nervous Eaters!!
...and into MAY...
The Magic Room has a great line up with James Straight and the Wide Stance, The Cadillac Hearts and The Beach Combovers Saturday May 21 at 7:30pm - May 22 at 12:00am James Straight is always intense and has a tight band. The Cadillac Heats with Rayboy have already recorded some stellar material and promise to be great live and the Combovers have the songs for the summer which should be around the corner.
Fox Pass do a version of Sin City at Johnny D's and sound like the Byrds in their Sweetheart of the Rodeo days. Sin City on YouTube - Click. They can pop, they can rock, and do the C and W thing too. Hightlights from the same show HERE - CLICK. Their next gig is May 21 at Precinct.
Hey keep in touch huh?? click click click