The BGN News Archive
March 29, 2010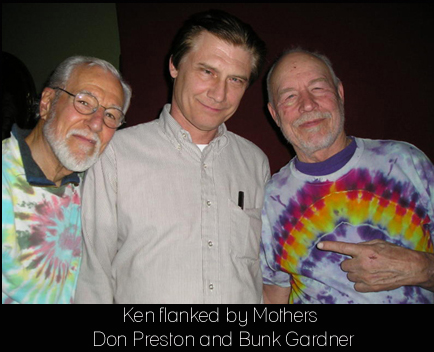 It's been a interesting week folks, our roving reporter BeatGirl went to the Magic Room to check it out ...I have not been yet, looks pretty interesting....here's a little report from her:
Since the SoB (spouse of BeatGirl) is a BIG Mothers of Invention fan I thought I would use this opportunity (Don Preston & Bunk Gardner) to suss out the Magic Room. It's a series of 4 lounges - the performance area consists of small stage and 60 tightly packed folding chairs. Show starts when Des deems everyone who's gonna show up is there?! It's a neat intimate setting. Pretty amazing show by two guys in spitting distance of 80!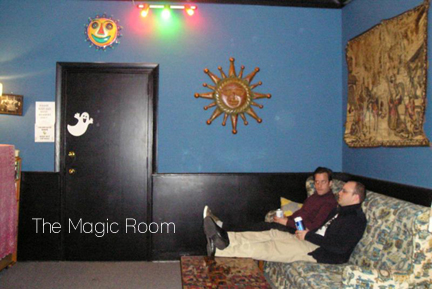 then I went to check out a new bar/restaurant "Prohibited" with Michele and Judy. This place is supposed to be a speak easy...the web site completely presents it as such, man they have failed miserably at doing so...it's more like a parent's bar in a basement with ugly-ass naugahyde furniture and a plethora of stupid video games and TV screens, awful. The website says it opens at 8 but when we got there the staff all said "Oh no, it opens at 9, where'd you hear 8?" um, your website???...so we ate dinner...food was awful, service equally as bad... so basically don't go there...but we did run into a pirate while there. He was very nice and plied us with drink and gifts from his previous plunders........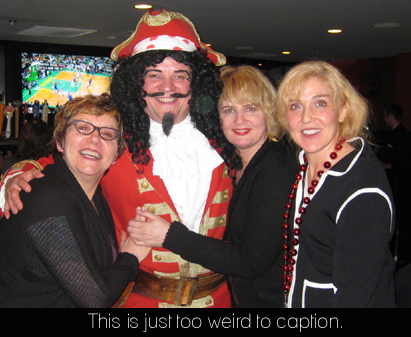 Saturday night we went to Precinct to see Watts, Downbeat 5 and aussie band The Chevelles. This was a great show!
Watts have been gaining steam as they get more and better gigs. I've never seen them have a bad night this night included. I thought the mix wasn't perfect but it wasn't horrible either. They don't tell you when they are playing an obscure cover so outside of the old tunes I don't know how many of the new ones are theirs or covers, but we'll see as they are getting closer to recording their next CD.
The Chevelles came from their appearance at SXSW. Little Steven plays one of their songs on his show. They came out loud and garagy and impressed everyone tonight. They ended with a cover by the Yardbirds and one by their Australian predecessors: The Radio Birdman.
These guys even had a Drink Manager. Ya, some guy who brings them pricy mixed drinks in fancy glasses! What a wonderful Australian innovation.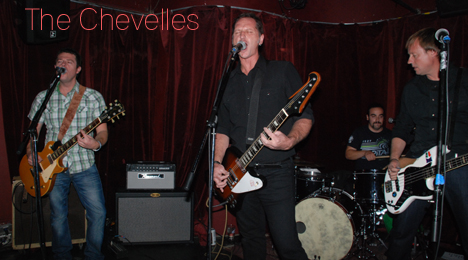 To hear JJ Rassler play is to hear some of the foundations of Boston punk. His tone was the basis of DMZ's sound. On top of that the Downbeat 5 gives you Jen's voice and a great rhythm section. Mike Yocco the bass player was doing a fantastic job.
Jen had a Suzi Quatro shirt on and I loved that because I love Quatro and Jen brings that small woman/large voice thing on stage. But every one knows all about her right? All the attention she gets is richly deserved.
It's a joy to see the DB5 interact on stage they are a real GROUP. It would be interesting to hear them talk about the songs they pick. Their sense of music history gives a depth to them that goes beyond most groups.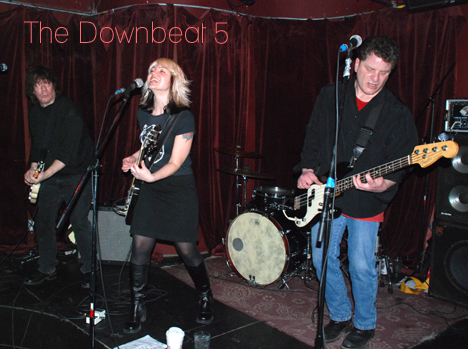 Now let's see about what's coming up: this weekend, Saturday April 3rd, is the Nancy Neon Rat Reunion Show at The Cantab...there are some important changes: 1-4-5 and The Flashcubes have cancelled so Willie Loco Alexander will be performing from 8:30-9PM....starting the show off right!! He is one of the first people I think of when I think of The Rat!...after WA there's : The Varmints 9PM, The Boize 9:30PM, Foxpass 10PM (Fox Pass will do set of songs they played at The Rat in the 1970s), Third Rail 10:30PM, The Classic Ruins 11PM and The Last Ones 11:30...all excellent bands that hail from the day and bring back lots of Rat memories!! Sounds like it'll be a fun night!...
The NEXT weekend is all about Church: There's a Ray Neades Memorial Show lasting three days, and it goes like this:
Thursday April 8th: Jay Allen and The Archcriminals , The Swinedells, The Marvels, AM Stereo and Full Body Anchor.
Friday, April 9th: Jenny Dee, The Dirty Truckers, Muck & The Mires, The Rudds, The New Frustrations, and Miss Reed
Saturday, April 10th:Beefy DC, Andrea Gillis, The Neighborhoods, Mung, The Bristols, Watts and Razormaze WOW!!!!
Now the next night, Sunday, April 11th Nancy Neon has an Art & Rock night at Church ....starting out the evening from 6-8PM, will be artwork from local rock'n'roll folks....including moi!! Here's a LONG list of people showing work:
the fabulously talented Miss Lyn Cardinal, Laurel Blanchard and The Rev. Joe Fagan of James Straight and the Wide Stance, Asa Brebner, Billy Borgioli, Steve Prygoda from My Own Worst Enemy and , local writer/artist Percy Davis, Tony Debrito, Jesse Drastic of Mess Me Ups fame, Andrea Gillis, Frank Rowe (Frank will exhibit his own work and some photos of Denise Donahue Rowe), Steve Nelson, former manager of the Boston Tea party will be showing photos of the Modern Lovers taken in L.A. immediately before they went into the studio with John Cale!
Now, for music there will be will be James Straight and The Wide Stance, Asa Brebner & Friends, MOWE and The Varmints that's quite a night!! ...There won't be admission charged for the art show so come on over and check out the work and meet the artists!
and more reunions...I can't wait for this one!! Johnny D's (the one in Allston from the good ole days) Reunion!!! At Church Saturday May 1st, with Turbines, Prime Movers, Classic Ruins and Moose & The Mudbugs
.... you can email us at: Miss Lyn email......