The BGN News Archive
March 29, 2021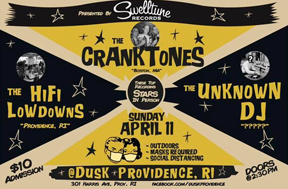 People are slowly getting vaccinated. They also want to get back to normal. Concerts are still a few months away with maybe some outside concerts coming up first.
Rhode Island is a bit looser. The Crank-Tones (Cranky Franky!!!) are playing outside Dusk on April 11, Sunday at 2:30pm. Masks and social distancing are required. The HiFi Lowdowns are also on the bill. Facebook event page.
The Queers have announced a tour starting July 29 in Florida. They think it will be alright then. (Queers on Facebook)
But Covid cases as of this week are ticking up. There could be a third wave that will delay things again.
Last Sunday the Mess Around coupled up with the record release party for Beebe Gallini. It was a packed program and it was a good time all around. See the video above.
Justine and the Unclean started the show playing as a trio. For the first time we could hear Janet King's bass clear. It had a warm tone and was melodic. We miss that when things are crankin'.
We ate up the Beebe Gallini album and this was the first time to hear them live and they were everything we were hoping. They scream 'garage rock' with every syllable, note and fuzzed guitar solo. The video was fuzzy too, but the joyous romp could not be dulled.
For their second song they did "Nobody Loves the Hulk" that we talked up last week and then they had their video of "My Way of Thinking" which we consider their hit – can't get enough of it!!
Beebe Gallini is from Minneapolis, we know them because Rum Bar released their album. Now, we feel like we gotta see them live.
| | |
| --- | --- |
| Beebe Gallini | Dogmatics |
The Dogmatics have been active in live streams all along this last year of imposed solitude. For the Mess Around they played "She's the One" off their last EP. You could hear the Buddy Holly influence in this version.
The Dogmatic offshoot, the Hired Men followed up. They played "Beauty School Dropout" by Kid Gulliver. Man, did that sound fine dropped in the middle of this. It so obviously seems like a classic that should live on.
Playing the hardest of all The Black Cheers had a cartoon video. That blast stood out.
Jay Allen put in some songs from a Midway live stream. Jay has been on the scene a long time but this last album with its memorable batch of songs has raised his profile.
There was a lot of acts in this video. There were a few bands that were friends of Beebe Gallini along the way. It ended with a Beebe Gallini interview.
Add Bands, Beer and Banter to the things that might not have existed without the lockdown. It's a comfortable hang with the buds done virtually. See Episode #5 above.
The beers this week Northwoods Brewing - Mack & Margie DIPA, Flying Dreams - One More Week NEIPA and True North Ale Company – Secret Test Batch #292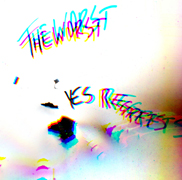 This week the Winter Group bandmates talk up vids by Cold Expectations ("Two Blueberries"), The Worst ("Yes Regrets"), Rice Edmonston ("Last to Know") and Peak Fifteen ("Egos").
The Worst have Dana Colley from Morphine on baritone sax. They've been around for about two years.
We had heard Rice Edmonston's song on Boston Emissions but it took a second hearing and the talk up by the guys to make us appreciate this song. Rice is drummer for Stars Like Ours, Darkbuster and Juliana Hatfield. It's surprising for a drummer to have a voice as strong and emotive like Rice's
David Minehan talked about his time with The Replacements in our interview in 2015 .
Now, to celebrate the 10th anniversary of the release of The Replacements doc Color Me Obsessed, two unedited interviews from the film have been released. One is with Road Manger Bil MacLeslie, the other is an hour long interview with Boston's own Sir David. (video below)
Meanwhile you can now buy "Deluxe" 2 DVD version of Color Me Obsessed here.
Moving Targets released a video of the song "Feed", off their latest album Humbucker, a few weeks ago. The video of this is above. The band didn't record for 25 years until Wires a year ago and now Humbucker. We love the vocals and the lyrics in "Feed". We have it on our Top Ten Songs
The song is off the Humbucker album on Bandcamp:
We also like "Make It Right". The lyrics and the vocal click right away then you hear that bass bumping underneath. The solo is short and choice.
Color Killer did a live stream this week. The video is below. This one included the whole group and it was a better video setup than usual. They even had a smoke machine going. They played a sharp tight set!
Some of the songs they played: "Sticks and Stones", "Go To Bed", "We're Not from California", "Summer Forever", "Spiders", "Michael Doesn't Like Me", "Holiday" by Green Day, "Just Like Heaven" by the Cure "Some Guys Have All the Luck" by the Persuaders.
Crow Follow post another single on Bandcamp called "54". It's got their signature low down noir sound with John Keegan's sax doing a lot of the work. The song is about one strange gig indeed. Crow Follow has shown us what they do during this last year and when we get back to clubbing they will be the perfect fit for some creative line ups!
The song is even more suitable for creating a mood in a video. The bands video is above. Until the right movie soundtrack gig comes along you can see how their style works with some black and while shots and some effects in Crow Follows latest video for "54" that came out Saturday.
We all got a welcomed gift this week when - Baabes gave us a fast 2:38 minute blast on Facebook to remind us they are still around, practicing and ready to rock. Catch it here.
The bands can't go on the road so Once Virtual Venue is going to them. They will focus on four cities with a night for each to showcase some bands.
Here's the line up: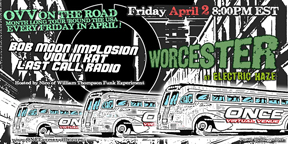 Worcester, April 2 - Bob Moon Implosion, Violin Kat, Last Call Radio, Hosted by Nico of William Thompson Funk Experiment Tickets/Event page.
Brooklyn April 9 - Low Roller, The Lords Leftovers, Finks Tickets/Event page
Philadelphia April 16 – Dear Forbidden, Tiger Castle, This Kills Me Hosted by My Little Underground Tickets/Event page
Albuquerque April 23 - Prism Bitch, FUTURE SCARS, Sundog and The Launchpad, Hosted by Lauren Poole and Barney Lopez Tickets/Event page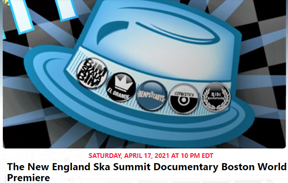 The Vitale Brothers who did such a good job with the Chet's documentary now have the New England Ska Summit Documentary. "World Premiere Screening of this groundbreaking documentary shot mostly at ONCE Ballroom, featuring never seen new live performances, recently unearthed exclusive footage, and interviews from Bim Skala Bim, The Skatalites, The Copacetics, Riki Rocksteady, Hempsteadys, El Grande, Big D, and the Kids Table, Skavoovie, The Allstonians, Steady Earnest, Tjovi Ginen and many more." You can get tickets here. Here's the Facebook event page.
With even a small return to normalcy, along comes society's problems. We've had a few mass shootings these last few weeks. The Parkland shootings were the genesis of Billy Connors/Adam Sherman song "I Call Bullshit" that was done with the Billy Connors Project in October of 2019. A lot is captured in this song. It's sad but predictable that this would be so relevant again.
This week on April 2 will be the next Bandcamp Friday when all the purchase money for the music goes to the musicians! Get in there and buy!! Bandcamp.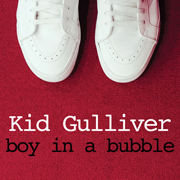 Kid Gulliver will release a new song, "Boy in a Bubble" on April 7.
Tickets are now available for the Walter Lure Memorial Celebration on April 22. For $15.00 (or more if you want because "Portion of proceeds go to St. Jude Children's Research Hospital") you get 25 performers on the bill including: Clem Burke, Glen Matlock, Jayne County, Ivan Julian, Marco Peroni and Jesse Malin. Sounds great! Tix are here.
What an amazing career Iggy has had. You would never have predicted it in the early days when the Stooges got criticized for not being able to play and they were just noise. Since then he has become a cultural icon. He appeared in Gucci ads this year!!
Iggy's music has gone through all sorts of transformations and he has done so many collaborations. All this is to talk about his current hook up with jazz organist Dr. Lonnie Smith. You wouldn't have guessed it but it's a great match – a soul/jazz organ group and Iggy! They cover "Sunshine Superman" and "Why Can't We Live Together"
CDs/ Music.......
The latest from Rum Bar this week was by Pale Lips, from Montreal. They have a retro sound that's beefed up with a punk kick. That's a popular niche these days and a good one. Their album, After Dark, is still to be released but the two upbeat tracks now available sound like a group having a ball making music. They even get away with some cheesy synth riffs in "You're a Doll"
Nat Freedberg's band, Freeloader has new album coming up. The great thing is it sounds like a Nat Freedberg project and that is very welcome thing indeed. Freeloader includes Charles Hanson, Jim Haggerty and Jim Janota.
The song "Put Another Cross By the Side of the Road" is guitar heavy.
The album will be called "The Path of Least Resistance". They claim the songs have been "idly accumulating", the drums "indolently recorded", the guitars were "carelessly assembled" and they are now "lackadaisically mixing the results"....so "Rather than dawdle around while the whole album was completed, Freeloader, in collaboration with Rum Bar, is off-handedly releasing each song as a single, as it is completed and mixed, every couple of weeks this spring and summer.
We invite you to be a part of this grand, haphazard spectacle of creation as it languidly unfolds, and proudly present to you the first single from the forthcoming Freeloader II (working title) album: "Put Another Cross by the Side of the Road."
In true Nat fashion the notes on the Bandcamp page are in black on a black background! Here.
With the pandemic shutdown there also has been a proliferation of acoustic performances. If you want a blast of hard punk to wake you up we suggest you go with Wargraves. This New Hampshire group have released a few things this last year and now we have a single on Bandcamp that will clear off the dust from your speakers.
What we love is not just that it's loud but it's intense, both in the vocals and the playing.
"No You Don't" is a speedy 1:27. We can't remember any song that starts so abruptly. If you have the volume up you will flinch when it starts. That's a sharp edit. Like all Wargraves songs the drumming is fast and furious. They double down with a few staccato "No you don't's" at the end that make a dramatic statement.
The next song "Secret Key" is right in the same mold as "No You Don't". Again the drumming knocks us out and the guitar/bass drill down with emphasis a few times which will be a killer moment live.
We have "No You Don't" on our Top Ten Songs.
Red on Red is increasing their stable of groups with Devil Love. You can see the attraction, Devil Love have their thing together with a wide range of influences, and they fashion refined songs with them. The band is obviously experienced because the playing is so confident.
More than most anything we've heard in a while Broken Things sits together as a cohesive album listening experience. It's a good calling card for the group.
Meanwhile on Red On Red.....
The Chelsea Curve will release their first in a series of monthly singles THIS week on Wednesday March 31st. Dont' miss it on Red On Red.
and.....The Red On Red April Virtual Showcase is coming up on Friday April 16, 2021 @ 8 PM – 9 PM EDT. Here's the FB event page.
CONTACT US AT....misslynbgn@yahoo.com Send us your gig listings, your anything else ya got!! You want your CD reviewed?? Contact us for that too.
---