The BGN News Archive
March 30, 2015
I went to catch the film Salad Days A Decade of DC Punk at the Somerville Theater this past Saturday but the damned thing was sold out!! I'm glad for Scott Crawford and the whole crew involved in the film BUT where are these people when actual bands play live in a club???? The FU's at the Cantab - 10 people in the audience, various hardcore shows at the Midway not too crowded, sometimes there's 5 people in the room!! WTF??? If you went to the film and you're reading this - get out there and support the live bands!!! That said you should do both: #1- go see live bands!! there couldn't be a film about it without the bands performing live!!! and #2 go see the film - its playing this weekend in provi (info below in listings)
Here's a cool article on Brother Cleve in The Dig. You can read it here and Brother Cleve will be spinning platters this very Saturday at Store 54's 4th Anniversary Party!
Another sad note - This past week Thom Moore. One of the Cars family and Syncro Sound engineer passed away. He was a dear friend to many many people on the boston music scene. You can read about it in the post on Facebook by Ralph Fatello. RIP Thom
And beloved scenster and booking guy Terry Brenner is back home after his recent incident and we wish him all the best and good health from now on in!!!
So with that said.....
Here's some other stuff we've posted before but still think its worthy:
Andrew Szava-Kovats has given us another trailer for his next film The Women Who Rocked Boston. This one is with Laurel Blanchard who was the drummer for Lou Miami!! Watch it here.
If you liked the bands you saw in True Age Media's Let's Go To the Rat you can now get the soundtrack from the film since its out on CD. It can be ordered here…
check out: Dave Koehler site here.
here are some shows that are happening this week....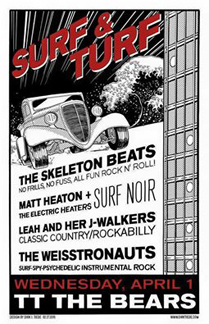 April 1 (Wednesday) It's "Surf and Turf" at TT's for a night of instro/surf and rockabilly/rock and roll/honky tonk featuring The Skeleton Beats, Matt Heaton & the Electric Heaters, The Weisstronauts and Leah and her J-Walkers
April 1 (Wednesday) The all new Mars Records opens today in downtown Plymouth Ma Mars Man says "this will be the coolest and funkiest record store you have ever seen!! I'll be selling New and Used and Rare Collectable records as well as other music related goods. I will also be paying cash for unwanted vinyl records. This has been a LONG time coming and I plan to make something special for Plymouth and all of the south shore and beyond !" Here's a link to the store's FB page, like it to keep updated on what's happening! Road trip to the Cape!!! and while there don't forget the most awesome Atomic Dimestore run by Rick Paige in Hyannis!!
April 1 (Wednesday) Mars Records Grand Opening Party at The New World Tavern Plymouth with Kingsley Flood! and special guests Plymouth's own New Frustrations! 9pm no cover charge!
April 2 (Thursday) Go wish Kenne Highland a happy birthday!
April 3 (Friday) At the Midway - the return of The Real Kids!! also on this bill: Monsieurs, Stop Calling Me Frank and The Skeleton Beats (note the Skeleton Beats were originally booked in Salem for this night but that has changed, they are at the Midway instead, really can you blame them??) The Skeleton Beats will start recording an album...on vinyl....on March 27th at Galaxy Park Studios....and remember the Real Kids are currently in the studio also!
April 3 (Friday) -It's Party Time at TT's with Party Bois, Petty Morals, Parlour Bells and Gene Dante & The Future Starlets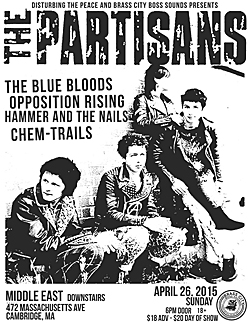 April 3 (Friday) The Knock Ups, Ladymob, Lucky United and Radio Compass are at Opus Underground in Salem.
April 4 (Saturday) A Crash Course for the Ravers has lots of good music AND the Welsh Boys on today WMFO 91.5 1-4PM
April 4 (Saturday) Roy Sludge with Duke Levine and Johnny Sciascia are at Atwoods this afternoon, 4PM! Yes!!
April 4 (Saturday) a FREE and all ages punk show at The Midway with Opposition Rising, Ancient Filth, All Torn Up, Slow Children and Crystal Methodist -This is a 4PM early show. FB event page
April 4 (Saturday) Happy 4TH Anniversary to Store 54!!! Wayne's having a Cocktail Dance Party to celebrate. At Store 54 of course. Brother Cleve will be spinning discs! Check out the info here.
April 4 (Saturday) Cadillac Heart is doing a show at Club Bohemia at The Cantab. Also on the bill is James Straight and The Wide Stance, Billy Connors' nephew Cory's band Dr Fuzz and the Garage Boys
April 4 (Saturday) Roy and Johnny have a busy day today cause The Memphis Rockabilly Band has a show at The AMVETS Post 51
(9 Amvets Lane off Pleasant St., Randolph, MA) This show is FREE and its 8:30 - Midnight.
And coming up after this week we have.......
April 10 (Friday) Salad Days - The D.C. Punk Revolution is a film about the great punk scene that came out of DC from 1980-1990 is playing in Providence, RI at AS220 (115 Empire St) Here's the FB page for this event.
April 10 (Friday) and of course The Sonics are at The Brighton Music Hall along with Barrence Whitfield & The Savages, Muck And The Mires - NOTE!! early show, doors at 6 show starts at 7PM! Hmm, what to do afterwards???
April 11 (Saturday) A is for AWESOME 2: the punk version. This is a fund raiser for Autism research etc. The money raised from all four events during the weekend will be donated to The Trudeau Center Children's Rec Program and The Autism Project. Confirmed so far they have: Neutral Nation, The Frenzy of Tongs, The McGunks and Me Jane. At the Parlour in Providence RI. Check the FB page for updates!!
April 12 (Sunday) A is for AWESOME 2 : On this night they have: The Worried, Pyramid, Black Oil Incinerator, Atlantic Thrills The Neutrinos, The Evil Streaks and more to be announced soon. Check the FB page for updates on the bands etc...
April 19 (Sunday) It's The 5th Annual Hard Core Cotillion...with Gang Green, Antagonizers ATL, Drug Shock and "Special Guests" (who they'll announce after 3/17!) and Rockin Bob (Cenci) and The BarRoom Heroes. This is an All Ages 3PM afternoon show.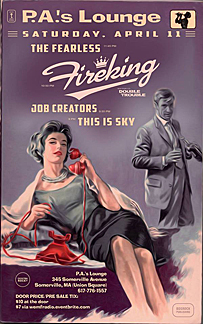 April 24 (Friday) The Upper Crust, The Grannies, White Dynomite and I Am Next are at Cuisine en Locale. You can buy tix for this killer show here.
April 24 (Friday) if you live near Dover, NH you're lucky coz there's a awesome show with NYC legends Thee Casualties and we luv us some Wimpy and you get Wimpy Rutherford & The Cryptics doing a Full Queers set - the Cryptics backing up NH legend and original Queers singer Wimpy Rutherford ...also, he should not have cut his hair,- Rockin' Bob which is Bob Cenci of Jerry's Kids and The FUs & friends playing Jerry's Kids material + more but you also get Shitty Friends we all have some of those right? these guys are from Lancaster, PA and also on the bill are Maine street punks The Earbleeds. its all happening at the Dover Brickhouse. See the FB page and be there.
April 25 (Saturday)- Bob Colby Presents Sarah Rabdau & Self-Employed Assassins and The Wrong Shapes at Store 54
May 6 (Wednesday) here's one to put in your calendars my friends: The Meatmen, Against the Grain and The Humanoids at the Middle East upstairs....(UP??? They sold out the downstairs last time!!) anyway here's the FB event page
May 9 (Saturday) JOEFEST III: The 3rd Annual Joe Coughlin Memorial Concert with M.O.T.O., Johhny & The Jumper Cables - Stump The Undertaker and Lenny Lashley
May 14 (Thursday) John Cooper Clarke is performing at Berklee!! At the David Friend Recital Hall (921 Boylston Street) Click the link to read more about JCC and to buy tickets.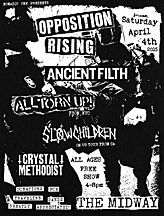 May 16 (Saturday) Hixx are at Club Bohemia at The Cantab
May 22 (Friday)- You have been warned - Book the flight now: Sleep Chamber!! Doing their only show in 34 years in Tel Aviv, Israel at UTC+02. Not only is this their first show in 34 years - its their LAST SHOW ever.
July 18 (Saturday) Mission of Burma opens for The Foo Fighters and the Mighty Mighty Bosstones at Fenway Park
and of course The New England Shake-Up! September 25,26,27 2015! Keep yourself updated at their FB page
CONTACT US AT…….misslynbgn @ yahoo.con Send us your gig listings, your news and anything else ya got!!