The BGN News Archive
March 30, 2020
Well here we are in the new normal...for now...
One bright spot this week, when we really needed it: The Ace of Hearts Story; 40 Years of Recording 1978-2018.
For this new CD Rick Harte went through all his 300+ recordings and picked songs that he thought were representative of Ace of Hearts, but avoided the 'hits'. It makes for a rewarding and illuminating listening experience. It hits you on several levels; first the immediacy of the recordings and their quality, and secondly you realize the history of what you're hearing - and as a Boston punk fan - you realize you're part of that history and have a unique perspective on it. Then of course you realize that one man, Rick Harte, has been hard at work for 40 years and has given you some unforgettable musical moments!!
Even if Rick was trying to avoid out and out hits, the groups themselves have such a special status that when you hear them they register as special and they are elevated to favorite status. Any song by The Neighborhoods, Nervous Eaters, Mission of Burma, Lyres, Neats and Real Kids is just gold to all of us, and that's the beginning of what you get here.
There are five previously unreleased songs and one is the first time on Ace of Hearts:
Infliktors, Strangled-1978
Infliktors, Police Freeze -1978
Neighborhoods, The Patriot – 1979
Neighborhoods, Mr. Reeves – 1979,
Tomato Monkey, Volunteers of America,
Mission of Burma, Execution - 1979-80 (only released on Matador before).



Rick Harte on cello

The CD begins with two cuts that set the stage. They sound like two cutting edge indie bands playing right now. The first cut "Ad Astra" by Heat From A Dead Star, jumps out with crystal clear sound. It's a short 2:26 that ends with a cello part (flipped backwards) played by Rick! Really?? Rick on cello???

Next is Birdsongs of the Messazoic who have a sharp edge to their artiness. You would swear it was a studio recording until the audience applauds at the end. MOB's Tremelo also benefits from the immediacy of the live setting.

The Satin Kittens' cover of PJ Harvey's Rid of Me sounds like it could be a Salem 66 song. It's the only place on the CD where you hear a woman's voice and it is mightily welcomed.

Two never before heard songs by The Neighborhoods! Oh, you are going to love those. Just the general loping forward motion of the song "Mr. Reeves" as it starts up will make you swoon because it's a patented Neighborhood rhythm.

Richie Parson's Tomato Monkey covers the Jefferson Airplanes' "Volunteers of America". Linda Viens does the Grace Slick part. Who else could do that?

There is so little Inflicktors recorded material that these two songs are useful in assessing this very early Boston punk group.

Those are just some points to think about. As you listen to the CD the Nervous Eaters, Lyres, Real Kids and Neats plug in regularly, and it makes the whole thing a monumental listening experience. It's more like a WHRB record orgy than a CD.

The CD is on lots of digital platforms, check this link for that… https://ditto.fm/aceofheartsstory and you can get it from Ace of Hearts here.
---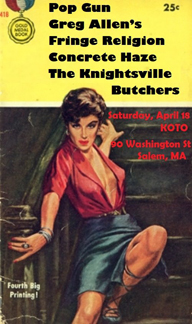 Hope springs eternal. Some bands in Salem have booked a Post Covid-19 Cabin Fever Bash at Koto on April 18. It's Greg Allen's Fringe Religion, Pop Gun, Concrete Haze and The Knightsville Butchers. OK, we'll see how things are on April 19 and see if that will happen.
Adam Sherman played the Plough and the Stars as part of the Will Dailey's Isolation Tour Show #5 this week. They raised $900.00 that night. Adam's set can be seen on his Facebook page : here
Here's a list of Financial Relief Resources for Artists During COVID-19 on Artwork Archive.
Here is another donation platform from MusiCares: The MusiCares COVID-19 Relief Fund
The Dig halts it's print edition and gos digital only...for now, as a responses to the C-19 virus. Read about that here.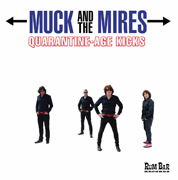 Everything is an opportunity to Muck and the Mires. In a time of pandemic they release their new CD Quarantine-Age Kicks in hi-def Muck-o-Phonic sound!!– of course they do! On the cover they are the required six feet separated. It's a compilation of 9 cuts. And you know it's Muck so it's great! You need this, we all need this. It's On Bandcamp… Get it!

Here's this week's Boston Emissions - Anngelle Wood played some great stuff - The Dents new single "Last One Standing" and a new one by The Knock Ups called "Black and Blue" a raw rockabilly rave up. This is a real treat. The Knock Ups can write a song with lots of attention to detail but here it seemed like they let the rock and roll in them just run wild. There's a sense of abandonment in it that makes it special.

Angelle also played "January" a new song by STEMS. STEMS is actually Penelope Conley, formerly of Endation. There's a lot of Endation intensity still in the music. Catch the song "January" here.

And we liked hearing "MT" by Green Piece who we've seen at the Hong Kong a few times.

Anngelle says that she has booked The Rumble at Once for August.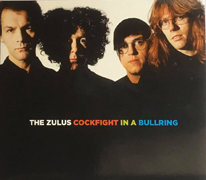 The Zulus reunion show has been postponed until Sept 4th. To hold everyone over they are releasing a compilation CD titled Cockfight in a Bullring. It features all their Fort Apache Sessions, a Radiobeat session and their last live show at The Rat, Feb 15, 1991. It's available (along with a T shirt) for $19.00 on Rich Gilbert's webpage here https://www.thelegendaryrichgilbert.com/store
And here's a new Internet radio station that came to life on March 19, 2020 - Oh, Hello Boston!: "We play Indie Rock, Americana and Rock & Roll music by Boston bands and musicians around New England. We'll be adding shows soon. While we get things set up, the station is broadcasting on shuffle — listen up to hear music from the 1990s into today. When you tune in with the Live365 player (desktop+mobile), you'll see what's playing now, album artwork plus recently played songs. - If you're in a band in Boston or around New England, email Sooz to share your music: hello@OhHelloBoston.com. We broadcast through Live365 and pay full licensing coverage in the United States, Canada and U.K. for SoundExchange, ASCAP, BMI, and SESAC." Here is their FB page with a link to listen: Oh Hello Boston. They play a ton of the bands you read about in the BGN as well as other stuff too.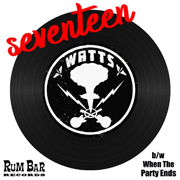 Sightings of Watts have been very sparse for a while now. Maybe their new single release is a sign they might be back in the swing. They sound more glam than ever on "17". It's like a dose of Sweet at times. Dan Kopko drawls and stretches some of the lyrics. The flip side "When the Party Ends" is less hectic with more feeling and reminds us of some of their earlier material, which is what made us fall in love with this group. Here's the Bandcamp link it's free.
---
So here are some shows to look forward to after things are hopefully back to normal....maybe.....
May 8 (Friday) Salem Answers-Night 1: This is a music fest to celebrate and encourage the arts, magic, equality, and diversity of Salem! 7-9 at Koto: Accoustic sets with Pink Malahares, Coffin Salesman, Jenn Lombari - 9:30 to close at Koto: Salem Wolves, Oh The Humanity!, Radio Compass, Bad Larry's....9:30 to Close at Opus: Marianne Toilet and the Runs, Losers Circle, Red Ledger, Hyber, Subourban Sunrise FB page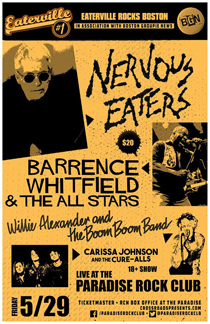 May 9 (Saturday) A Crash Course for the Ravers featuring Glider WMFO 91.5 - 1-4PM
May 9 (Saturday) Divine Sweater, Eagle Jesus, Louzy, Jailbait matinee show 3-7PM at The Midway
May 9 (Saturday) Salem Answers-Night 2: 7-9 at Koto: Acoustic sets with Live Nude Girls, C.Murray, C.Okeeefe - 9:30 to close at Koto: Diablogato, Brix'N Mortar, Hellbound Hitmen, Skytigers, Motel Black...9:30 to Close at Opus: The Gala U.S., Z28, The Von Traps, The Downhauls FB page
May 10 (Sunday) SalemAnswers-Night 3: 7-9 at Koto: Accoustic sets with Carissa Angelo, Opus, Vilanvs, - 9:30 to close at Koto: Stiff Propisition (Glamtastic covers members of Bacterial Husk, Sexcrement, and Brix'N Mortar), Master of Beers (Metallica), Aces High (Iron Maiden), Warthog (Ramones ). FB page
May 14 (Thursday) The Thigh Scrapers , 61 Ghosts, GLiDER, and Sara & the Scaliwags at Thunder Road
May 16 (Saturday) Baabes, The Knock Ups, Mister Vertigo, Motel Black at The Jungle
May 16 (Saturday) The Hi - End Record Release party at The Square Root
May 22 (Friday) Guilloteenagers, Stigmatics, Acrylic Killers at The Square Root
May 22 (Friday) Cal Cali Band, The Last Ones at Tavern at the End of the World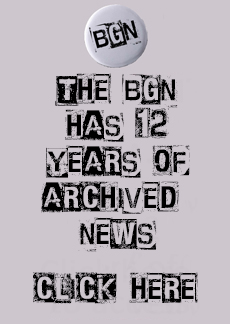 May 24 (Sunday) Negative Approach, ACxDCx , Bandit at ONCE Ballroom
May 29 (Friday) Easterville Rocks Boston with Nervous Eaters, Barrence Whitfield & The All Stars, Willie Alexander and the Boom Boom Band, Carissa Johnson at The Parardise
May 29 (Friday) Brix'n'Mortar and Silver Screams at Koto Salem
May 29 (Friday) Tsunami of Sound, Kid Gulliver, Jonee Earthquake Band, Doug Macdonald Band, The Thigh Scrapers at Pete's Bar & Grill in Quincy
May 30 (Saturday) Stray Bullets, Duck & Cover, Disco Rice, Silver Screams at O'Brien's
June 5 (Friday) Booze & Glory (punk/Oi - U.K.), The Drowns, Battery March at Great Scott
June 5 (Friday) Booze & Glory (punk/Oi - U.K.), The Drowns, Battery March at Great Scott
June 6 (Saturday) Straight Johnny, The Cretins, Electric Joey, Bad Sandy, Thigh Scrapers at The Midway 3-7PM matinee
June 6 (Saturday) Jay Allen and the Arch Criminals Record Release Show at The Square Root
June 13 (Saturday) Lyres and GLiDER at ONCE Lounge early 6:30-9PM show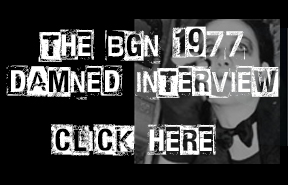 June 13 (Saturday) Sugar Cones, Diablogato, Bunch of Jerks at The Square Root
June 14 (Sunday) Fourth Annual Out of the Blue Art Gallery Benefit FB page for more info as it comes.
June 27 (Saturday) Stop Calling Me Frank, Nat Freedberg, Brad Marino at The Square Root
June 28 (Sunday) The Amplifier Heads, The Thigh Scrapers, 1.4.5., The Stigmatics at The Midway 3-7PM matinee
July 3 (Friday) Andrea Howlett's X-Ray Specs Tribute Show at The Square Root
July 18 (Saturday) The F U 's, GLiDER, Screw Cart at 9 Wallis Beverly
August 10 (Monday) (moved from 4/6/20) The Knock Ups, blindspot, Gene Dante & the Future Starlets at Charlie's Kitchen
September 4 (Friday) The Zulus at The Paradise
September 17 - 21 The New England Shake-Up! Year Seven! in Framingham FB page
CONTACT US AT....misslynbgn@yahoo.com Send us your gig listings, your anything else ya got!! You want your CD reviewed?? Contact us for that too.