The BGN News Archive
March 31, 2008
Ralph Moberly of Ralph's Diner in Worcester has died...... This is from the RALPH'S MYSPACE PAGE..... Ralph Moberly R.I.P. Services will be held at the First Unitarian Church (Main St, next to the old courthouse), Saturday April 5th, at 11am. Afterwards there will be a celebration of Ralph's life, here at Ralph's Diner (all day, all night, no cover). Everyone is invited. Preformers include Psychobilly Cadillac, Huck, Muck & the Mires, Wilbur & the Dukes, Carry The Zero , and many more...
A remastered version of the Atlantics' BIG CITY ROCK Lp is of mysterious origin, and where do you get it? I don't know.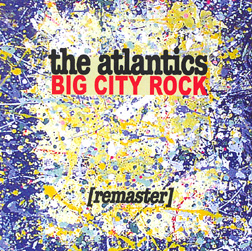 OK, excellent shows to start up April my friends
This very Thursday, April 3rd at Church over in the Fenway there's The Sleazies, The Rydells, Chainsaw Disasters, War of Words and as a special treat Joey and Ryan(of Red Invasion) as DJs for the night!!
at The Abbey, Friday the 4th are All Mod Cons, New Frustrations, The Illegals AND Lehane, Long and O'Halloran (members of the Dogmatics)
then on Saturday the 5th its back to Church with a very special Nancy Neon Presents: Corolla DeVille, Lyres, The Have Mercys and Empty Shapes
and on April 17th at TT The Bear's is the New Model Army....Helanie Saad saw them down in Austin earlier this month and said they were fabulous!! And we got a cool message from Dr. Felix Cruel/Jan Crocker, he says: just in time for April Fools Day I dug deep to pull this one out. Dedicated to all the fools out there, we've got the Nervous Eaters from the Club in Cambridge 1979. Along for the ruckus ride on "Degenerate" and "Loretta" are genetic misfits Roy Mental and Curly from the Mental Liberation Army, Barb Kitson & Johnny Angel from Thrills, and Nikki Jarrett from the Lazers. Go Mental with this one
And Keeping with the insanity. I posted The Cramps "The Way I Walk" filmed live at the Napa State Mental Hospital in California from 1978. I swear I see Gregg Riebman dancing on the stage. Cramps....
yes my friends that's it for the news this week...until next time...tata..oh and of course you can always email us

Watts gets a great write up and is on the Classic Rock's magazine accompanying CD.