The BGN News Archive
April 1, 2013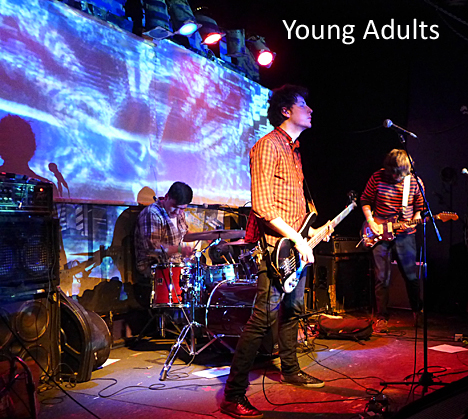 We thought the Young Adults had a lot going for them last time we saw them and decided to see them at TT' on Saturday.
TT's was full and the room with the stage was full during the Young Adults set and thinned out after their set, which told us that the YA are drawing people.
They have just come out with a 5 song EP that captures their strong points. It has printed lyrics which I have been trying to catch seeing them and not getting. Alas, the lyrical points are abstruse but you get the general idea of angst and dissatisfaction with people's actions to other people. In Spectre the first line is "Repetition is your crutch", then they proceed to repeat that and double the next three lines too. That's funny.
With no fanfare, indeed no sign at all they begin the set. You don't get much talk out of these guys. The three man roar reminds me again of MOB and even Busted Statues in their heyday. I can see them playing The Underground in 1981 and fitting in (they do come from Allston). Now, I tack all these Boston band links to them but from what I've read their influences are much wider than that. In the end it doesn't matter. One song has a distinctive rising bass line that Miss Lyn connected to the Buzzcocks and I thought that was true. I wish there were a few more moments like that that gave the ear something specific to hold on to. I'm thinking of the bass here, that's where the opportunity looms to me. The guitarist is meanwhile putting out the sheets of sound and he's a master at that. He's got many tricks to keep that guitbox plastering a wall of sound. The lyrics are sewn in with appropriate volume but you can't catch much specifically. Behind them on this night we had an enhancing light show. That's a nice addition I have been seeing in different clubs lately. The Young Adults deliver big time. We should see more the old school punks at their shows. Where are they?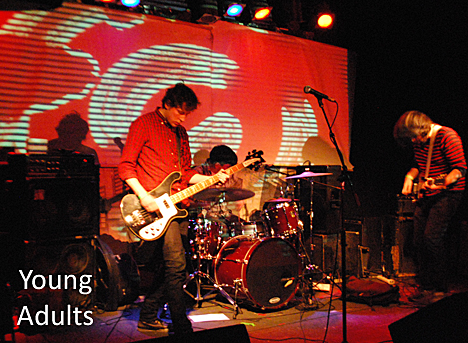 Hey folks there are a number of Norton Records benefits coming up....in Brooklyn, with The Sonics
In Nashville The A Bones and others
In Atlanta with The A Bones and others
And a killer show in Los Angeles with Kim Fowley even
CBGB the movie is coming out in 2013 - can't wait...they talk about people playing the roles of Debbie Harry, Stiv Bators, Joey Ramone and Iggy...WHAT ABOUT JANE COUNTY??? I don't even see her name listed!! Anyway it promises to be a cool film....check out their website....
Nave Gallery Annual Flea Market in Somerville is April 27th Right now they need items donated and you can even drop them off at the convenient Davis Square location....
Hey don't forget Record Store Day is coming up in April on the 20th…get out to one of our local independent record stores...here's a list: RECORD STORE DAY Also on that day What Cheer in Providence RI has the Feelies playing in store!
Oh man this Saturday April 6th has too many awesome things happening!!: At Radio we celebrate Jay Allen's 50TH BIRTHDAY!!! with 11 bands … the Archcriminals will play...also on the bill The Dogmatics, Muck and The Mires, Petty Morals, The Bristols (with special guest Jimmy Birmingham on drums!) The Dirty Truckers, The Other Girls, Underball and even Quest for Tuna........
But then there's another benefit this night, 4/6...over at The Midway...this one is for the family of H David Grophear...who passed away suddenly last October...the show will be featuring the likes of Jason Bennet and The Resistance, Lenny Lashley, Mark Lind and a host of others..so make it over there as well!
But then there's Metal VS Punk Night at The Middle East Up with Razors in the Night, Sexcrement, Transfat and Soul Remnants..... And wherever you decide to go , or go first,
Before you head out to Radio or the Midway .....spend some time in the afternoon listening to the Rick Harte Interview at 2PM (show starts at 1) on WMFO's (91.5) A Crash Course for Ravers.
Also on the 6th is the first of TWO Joe Coughlin Memorials (RIP Joe!!)…this first one is at the AmVets Post 51 in Randolph...the second on is May 11th at the Midway and will feature a bunch of bands...right now the list consists of the Classic Ruins, MOTO, and BJ Snowden. Updates to come!
And April 12th is Mary Lou Lord performance and interview!!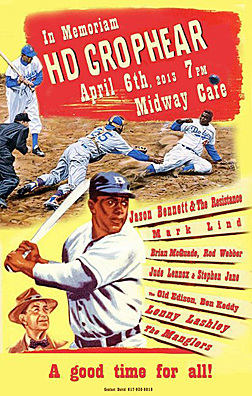 then head over to Radio on 4/12 for an absolutely killer show with Unnatural Axe...who almost never play anymore!! Along with Cleveland Punk band Wet Brain, Dry Hump and MfP.
And it's a sure sign of spring in Boston when the Cal Cali gigs start getting lined up....that means Cal Cali is making plans for his return north! He has three gigs lined up already the earliest is Friday April 26th at The Rosebud its Billy Rath & his Street Pirates, Jetset and Hixx...OK people that is gonna be some crazy evening…whew!
James Straight and The Wide Stance have a new CD coming out! It's called No Loitering and to celebrate they're having their CD Release Party on April 27th at All Asia in Central Sq Cambridge ....also on the bill is Cadillac Heart and Heptet. Go to their Reverbnation page to see a video and listen to some songs!
The Neighborhoods will finally do that R.I. gig at the Met on April 27th...their last two scheduled shows were cancelled due to snowstorms! I mean with climate change and everything I'm pretty sure there will not be snow on April 27th though it may be 95 by then. You can buy tix at the Met website and play their wicked cool virtual record player to hear Prettiest Girl.
May 18th is Cal Cali's Birthday Bash at the Rosebud!! With The Lyres, Fireking and Jetset....YAY Happy Birthday Cal Cali!!
May 23rd Cal Cali goes even further north to Salem for a special gig at the Seaport Café - the Cali Leger Experience will play...
The Middle East Up on Friday May 31th are The 360's, Classic Ruins and Terrible Beauty....time to get out the old calendar and mark it for that one too!
And looks like yes the Rosebud IS open and rockin' until June- Cal Cali (who never rests it seems) has an awesome gig lined up there for Saturday June 15th with The Nervous Eaters, Jet set and Greg Allen's Fringe Religion....
We like this: Eric Hitchinson of Allston has launched a kickstarter project that I'm calling '52 weeks of punk'. The goal is to write, record and release a new, original punk song every week for a year. What we're aiming to do is start with something in the realm of that abrasive old school sound, something between the sex pistols and the dwarves. While we're going to keep that foundation of fast, abrasive punk, we have no intention of turning out 52 tracks that all sound the same. We're going to bring in guest musicians, and try to change things up as much as we can, and still retain that sound we all know and love. This isn't about pre-selling a bunch of albums. the minimum to get early releases on the tracks to just $5. That's cheaper that any show I've been to in years. It's less than I've paid for a lot of albums with just a hand full of tracks.
Lastly old school Punkers The Vibrators have a new CD out and are gearing up for shows in the US for October and November...CD Is called On The Guest List and Special guest appearances by members of Supersuckers, MC5, UK Subs, The Damned, The Stranglers, The Dickies and more! Read about it and pre-order it on Amazon....
EMAIL US AT......misslynbgn@yahoo.com