The BGN News Archive
April 3, 2017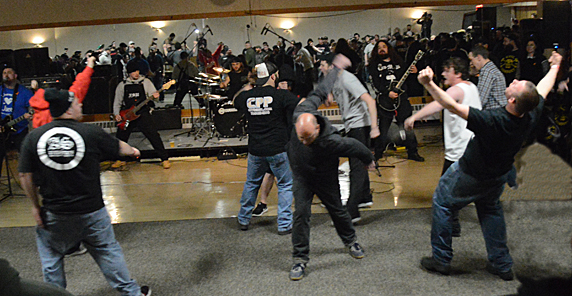 Death Before Dishonor
Photo: Blowfish
A few years ago new groups were naming Ovlov as their favorite band. They were playing the Middle East Up on Thursday, so we had our mission.

Grass is Green
Photo: Blowfish
The club looked sold out as the band before Ovlov, Grass is Green, played. They're local but hadn't played in a while. Initially it seemed the sound was a bit jumbly but we soon could hear that if they were dissonant they weren't disorganized. They all stopped and started on a dime. The songs had their own internal logic. They list all sorts of influences but Capt. Beefheart came to mind a lot. I'm From Dot Too is an example of where we got that idea. I'm From Dot Too Sometimes this arty music can be thin sounding but not with these guys they hit everything hard. All the material was challenging to play and hear. There was never a steady groove to hold on to. I'll give it to the audience, which was all young, they totally got it.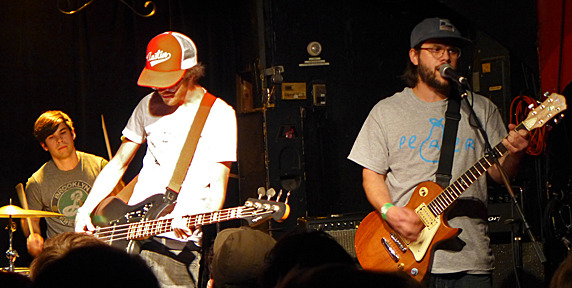 Ovlov
Photo: Blowfish
The crowd did not thin out for Ovlov who played till Midnight and even then no one seemed to want it to end, us too. They were very impressive, the kind of band that could become your essential 'it' band. They sounded like the most modern version of rock without any sidetracking into genres. They take a thick pulsating wall of sound and put a yearning vocal on top. They manage to make it sound monumental and more importantly – meaningful. Familiarity with the songs would have deepened the experience. They are not super catchy but you could catch their differences.
Overall the set was emotional...which is not usual for music at this volume. The band members delivered it all with personality and they had fun on stage. A couple of songs to give you an idea of their sound: The Well and The Great Crocodile In a case like this a room full of young rock fans can show us the way to some new groups.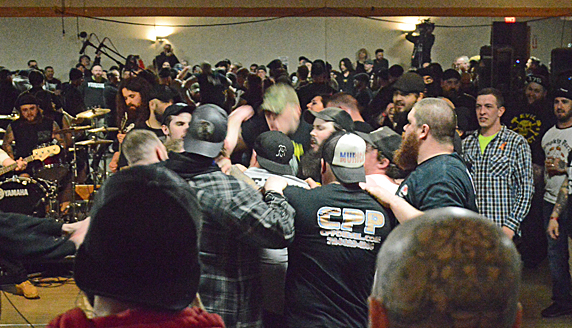 Pile up at Brockton VFW
Photo: Blowfish
We always complain that the South Shore is short on good shows. But Saturday there was a full blown hardcore gig in Brockton. It was run by Brockton Hardcore Punk Shows and we hope that cranks up even more!!
The show was a fundraiser for Kathy Kave who runs The Kave, a club in Maine, to cover her medical expenses. It was at a VFW Post with a larger hall than we usually end up in. There was a big crowd, a few hundred maybe? We missed Lenny Lashley who opened up the show. We got there for two bands: Death Before Dishonor and Reason To Fight.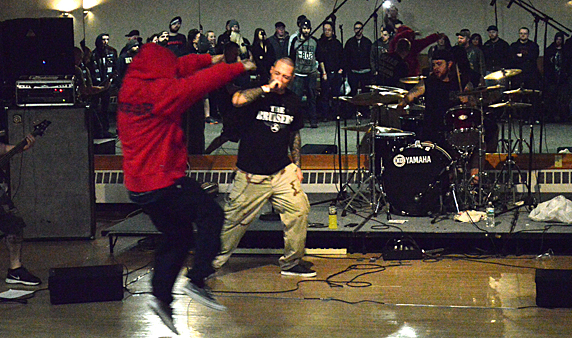 Reason to Fight
Photo: Blowfish
Reason to Fight from Providence was doing a good hardcore set but couldn't get the crowd going. We've seen this before on hardcore bills were they seem to hold back for the headliners. The band was stretched out across a wide stage. It must have been 40 feet between the two farthest players. Looked weird but the sound was good. Their best song was the last called Can't Get Along where they complain, 'everybody's pissing me off'. Hey we know that feeling!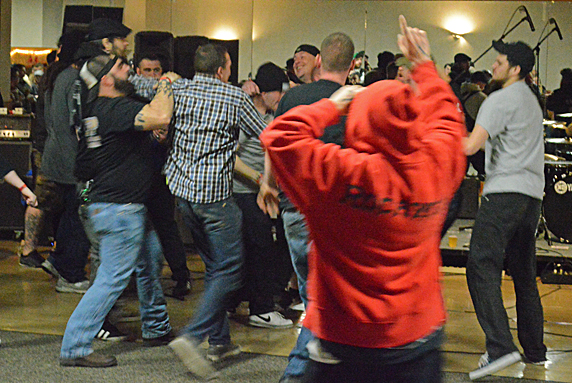 Death Before Disaster
Photo: Blowfish

Death Before Dishonor, is a Boston band. I thought that Reason to Fight was at top volume but these guys upped the volume exponentially. It was a familiar crushing hardcore doom laden roar. It got the crowd going with furious moshing through the whole set. It was a wild site with the large floor in front of the band full of arm thrashing and leg kicking. It looked like a dojo. You can see some of that in the second video below. At times it almost seemed choreographed. We would have better photos but we were too busy trying not to get banged around. There was lots of careening into the crowd at the edges.

It seemed to be all leading up to Wisdom in Chains a band from PA but these groups were good enough for us.
We're hoping that Brockton Hardcore Punk Shows gets more shows going in the area.

Let's hope for more South Shore shows: There is a show at a small pub called Dylan's coming up. (FB page for that gig here) The Forz (now Melody Hotel) has played there. The C Note has had a variety of shows which helps. I never understood why Quincy doesn't have more going on. In any case it felt good to get a big successful hardcore show like this on the South Shore.

And in other news.....

The Forz have a new name: Melody Motel. It's not often that a band does that after gaining a foot hold with their former name. The name change comes after the departure of original band members Anthony Graziano and Ryan Hottenrott. Melody Motel has yet to announce its new line up. But Cole Tyler is still there. They've also have a new single in the on the way. "Catch Her Quick" is set to be released on April 13, 2017. It is their first music offering under their new identity; Melody Motel. Keep up to date on their FB page.

In The Boston Globe this week the question What is the connection between hardcore music and Boston's best kitchens? is talked about. Interesting.....

Poly Styrene of X-Ray Specs is getting a documentary! Her daughter is making the film I Am a Cliche. They have an IndieGoGo page to drum up some cash to cover the cost. Go here to donate and read about it. And read more abou it on Dazed And here's the trailer: I Am a Cliche (I pinched her cheek and told her she was cute when I saw them play at CBGBs!! -Miss Lyn)

An ex-punk rocker, Beto O'Rourke, who already holds office as a Representative in Texas is running for Senator...against Ted Cruz!! Read about it here.

And this week on Facebook……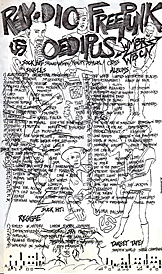 We gave a heads up on Trinary System playing Pipeline on Tuesday on WMBR.
We shared Tim 'Marsman' Downie's post where he displayed the Nervous Eaters promo kit from the late seventies. That was pretty cool to see!!
The Dead Kennedys show at the Rat was a big deal back in the day. The book called The Dead Kennedy's: The Early Years had a paragraph with mostly quotes from Jello Biafra talking about it.
Before the Paradise was the Paradise it was called Dummies for a short while and we posted an ad showing some punk groups playing there.
We all know the widespread influence of Oedipus in the early punk scene. He used to put out single/album lists that would get lots of attention. You wanted to know all the groups he was playing. It seemed very important at the time. We post one of those lists which he called Radio Free Punk.
To see all that check out our Facebook page… https://www.facebook.com/BostonGroupieNews/
Here's some good shows coming up .....
April 3 (Monday) City Mouse, Jenn Lombardi's Lucky United, Mr. Fahrenheit and Dogtooth MA are at O'Brien's
April 8 (Saturday) The Kurt Baker Combo, Soraia, Watts and The Connection at O'Brien's Here's the FB page
April 8 (Saturday) Jodi Jolt and The Volt, State Of The Union, & Nymphidels at All About records in Taunton FB page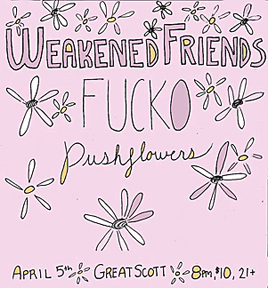 And further out....
April 10 (Monday) Actor|Observer, Sparrows, SuperTeen and No Hands are at O'Brien's
April 10 (Monday) The Very, Justine and the Unclean, The I Want You at ONCE Lounge FB Page
April 11 (Tuesday) Minibeast, Insect Factory, Violet Nox at Out of The Blue Gallery Too (FB page)
April 13 (Thursday) The Rumjacks, Jason Bennett and the Resistance, Michael Kane & The Morning Afters and The Runouts
April 13 (Thursday) Modern English are at The Brighton Music Hall
April 15 (Saturday) The Last Ones are at The Midway with Tsunami of Sound,Trusty Sidekick and Sammy Kay (a PM show)
April 17 (Monday) Terry Malts, Shark Toys with Idiot Genes and Bad Deals at O'Brien's Pub
April 22 (Saturday) Electric Frankenstein, Symbol Six, Hey Zeus and Duck & Cover at O'Brien's Pub
April 22 (Saturday) BLOWW's 7th Annual Blue Ball with special guests Strange Fuzz, Electric Street Queens, and PowerSlut - night time show at The Midway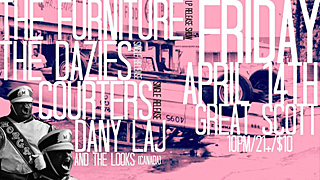 April 22 (Saturday) The Last Ones, Tiger Bomb and Corolla deVille at The Spotlight Tavern in Beverly
April 28 (Friday) The Upper Crust, Benny Sizzler, Devil On Horseback at Once
April 28 (Friday) Lydia Lunch, Hard Nips (Japanese Girl Band), Cassie J Sneider and Nonye Brown-West at Ralph's in Wishtah. FB page Why isn't this show in Boston or Cambridge!?!?
April 29 (Saturday) A special evening of performances at The Met by Throwing Muses, Neutral Nation, and Plan 9, and their inductions into the Rhode Island Music Hall of Fame! Tickets are scheduled to go on sale on February 27!!! For unveiling ceremony and rock inductions day #2 check out the FB page!!
April 30 (Sunday) Jason Bennett & The Resistance, On The Cinder, Michael Kane And The Morning Afters, The Martians - At The Midway - This is a 4PM afternoon show.
May 1 (Monday) PanzerBastard, Poison Rites and Armpits at O'Brien's
May 4 (Thursday) Walter Sickert & the Army of Toys, Scarlet Sails, Radiator King at Once
May 8 (Monday) Indonesian Junk.....who have just released a digital single "Turn to Stone" on Rumbar Records..... are at O'Brien's. HearTurn to Stone here. Also on the bill Jay Allen & The Archcriminals and The Von Traps
May 10 (Wednesday) Zip-Tie Handcuffs, The Mad Doctors, Idiot Genes, Future Spa at O'Brien's Pub...FB page
May 11 (Thursday) Cruel Miracle, The Stops!!!, DiNOLA and The Scrapes are at O'Brien's
May 12 (Friday) Mike Watt (Minutemen) and Meat Puppets are at the Brighton Music Hall Here's the FB page
May 12 (Friday) Rockin' Bob Punk Band w/ Special Guests TBA at O'Brien's
May 13 (Saturday) A Crash Course For the Ravers has Glider on - WMFO 95.1 1-4PM
May 13 (Saturday) DJ Easy Ed presents The Cranktones plus Easy Ed's Record Hop! at The Midway - this is a 4PM show.
May 13 (Saturday) The 5th and Last Joe Coughlin Memorial Show.....we love Joe and will never forget him!!! On the bill: M.O.T.O., Super Special Guest Star, Blue Oyster Coughlin, Classic Ruins and Jay Allen at The Midway!! (9PM show)
May 13 (Saturday) Watch City SteamPunk Festival in Waltham...Website FB Page
May 20 (Saturday) A Crash Course for the Ravers will be featuring The Black Souls & Classic Ruins! Check it out on 95.1 WMFO 1-4PM
May 20 (Saturday) Jenny Dee & The Deelinquents, Muck and the Mires, Vicky and the Vengents at The Middle East Up.
May 22 (Monday) Whoopi Sticks, Fire In The Radio (Philly) and Cook Bag at O'Brien's
May 26 (Saturday) Corin Ashley and Modern Day Idols are at The Plough
May 27 (Saturday) A Crash Course for the Ravers will be featuring the new Greg Allen's Fringe Religion! Check it out on 95.1 WMFO 1-4PM
May 27 (Saturday) A Cal Cali show: Lyres, The Black Souls, Classic Ruins and CalCaliBand You can buy tix here (Only ten bucks!!) FB page
May 27 (Saturday) The Runouts, The Martians, Blame Shifters, Nymphidels at The Midway this is an afternoon show - 4-8PM
May 29 (Monday) Teenage Bubblegums, Jagger Holly, Mongorellis, Jimmy Jacked at Opus Underground in Salem (FB page)
June 4 (Sunday) Birdsongs of the Mesozoic are at Once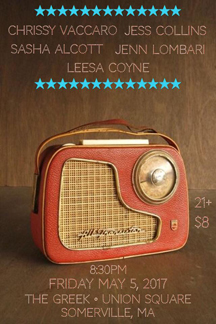 June 4 (Sunday) Jack Grisham from TSOL doing readings and photos plus Jerry's Kids, Stranglehold, PanzerBastard at Once FB page
June 4 (Sunday) GIUDA (from Rome Italy) and Unnatural Ax & The Hi End at Once Tix etc here
June 8 & 9 (Thursday & Friday) Reverend Horton Heat along with Agent Orange, and Flat Duo Jets at Once in Somerville
June 10 (Saturday) Psycho, Conclave, Whoopi Sticks, Gant, Spillers an afternoon 4-8PM show at the Midway
June 14 (Wednesday) Eve Minor (from NYC), DnA's Evolution, The Stigmatics, Doug Linse at The Midway
June 17 (Saturday) A Crash Course for the Ravers will be featuring Anthony Kaczynski! Tony is the consummate musician, he should have some interesting stories to tell and picks to play. Check it out on 95.1 WMFO 1-4PM
June 17 (Saturday) Held Hostage, Point Blank, Infernal Diatribe, Profit Margin at Koto in Salem (FB Page)
June 18 (Sunday) Help Save Out of the Blue Gallery Too - this will be an all day affair (3PM-11PM) with FOURTEEN bands including: Brian Young -WMFO as Emcee plus Thalia Zedek, Fireking, Randy Black, The Knock Ups, Tsunami of Sound, The Stigmatics, State of the Union, Cal Cali Rockin' Trio, The Last Ones, The KENZ (Highland & Kaiser), The Thigh Scrapers and Club Linehan A Go Go ~ 50th Birthday Party for Joe Quinn. Check out the FB page
June 25 (Sunday) Nonzerosum Present: Conflict, Who Killed Spikey Jacket, Cinderblock, Pandemix - ALL AGES, $20, 8:00 PM Doors at the Middle East Up.
July 19 – July 30: The Midway's Dirty 30th Anniversary Celebration Spectacular
September 16 (Saturday) Chameleons VOX At the Middle East Also on the bill: Soft Kill , Way Out and The Milling Gowns FB Page
CONTACT US AT....misslynbgn@yahoo.com -Send us your gig listings, your news and anything else ya got!! You want your CD reviewed?? Contact us for that too.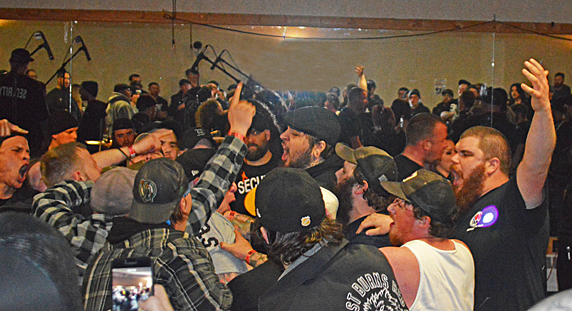 Death Before Dishonor
Photo: Blowfish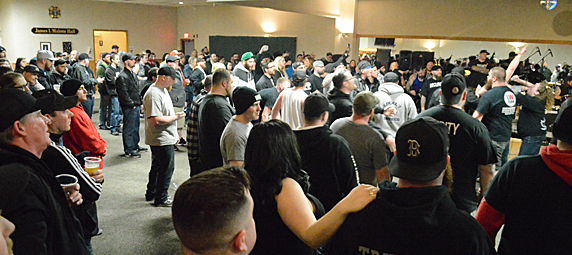 The crowd at the VFW
Photo: Blowfish