The BGN News Archive
March 28,2016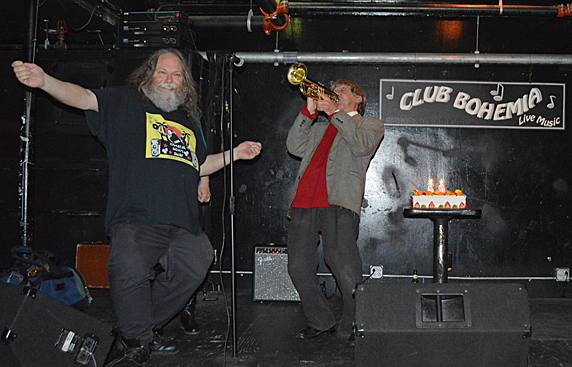 Kenne Highland and Mickey Bliss
Photo: Blowfish
We've gone to a few shows where Bong Wish played first and we missed them only to be told good things about them by people who caught them. On Wednesday at the Middle East Up we made a point to go early and hear them. They have two guitars, drummer and vocalist with no bass. The drummer plays standing up with two drums: a tom tom and a snare and she plays with mallets rather than sticks. This along with the lack of bass gives them a different feel than a run of the mill rock group. The slightly psychedelic music they play suits the instrumental line up. It's moody but gets noisy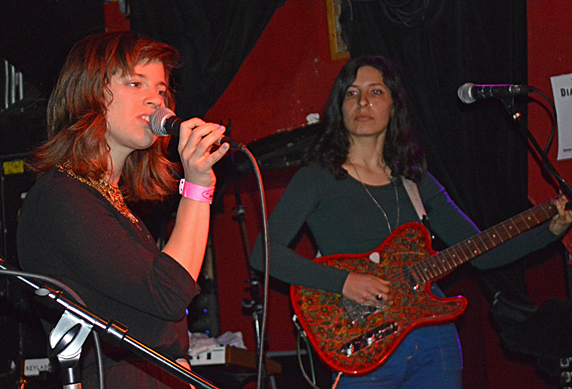 Bong Wish
Photo: Blowfish
I liked them most for breaking out of the musical mold. At one point the guitarist put a capo on the twelfth fret. Yikes, I don't think Albert Collins even does that and he's known for high capo playing. Sure enough the chords played that way have a bright yet open sound that was totally unique. Score one for the innovator. Years ago a stand up drummer would be another eye opener but now we've seen the Konks, the Monsieurs and Ed Schrader's Music Beat do the same. It would be good to see them again to get a better handle on the songs.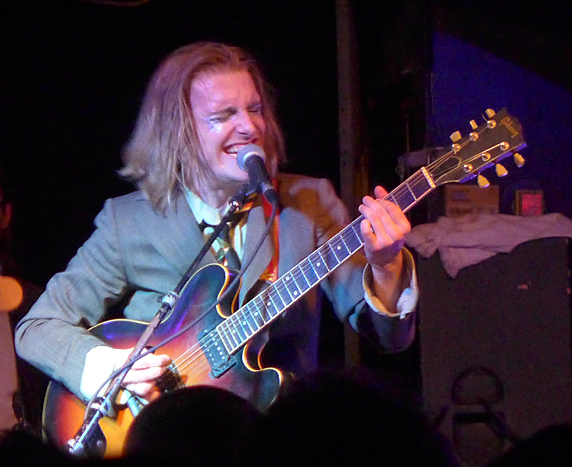 Diane Coffee
Photo: Blowfish
Headlining the bill was Diane Coffee an unknown to me. I checked out some videos and found out that Diane was a man. The videos have popish songs with good production. I was interested but on the fence. The band after Bong Wish was not my type of music. The crowd in the full club was giving them polite applause. I sensed that they were just waiting for the headliner and figuring that they knew more than me, I stayed. Glad I did.
Diane was dressed in a suit jacket and had a large patch of make up around his eyes. For the first few songs I could see the band was excellent and he had a good voice. Then the next song the band got inspired and Coffee started to expand the range of his voice. He has a strong middle and high middle range but then he adds a throaty growl, like a soul singer. He knows it's good and used it for almost every song after. The songs themselves were a step above with melodies he could go to town on and constructions that sounded Motownish and there is also a glam element in there too.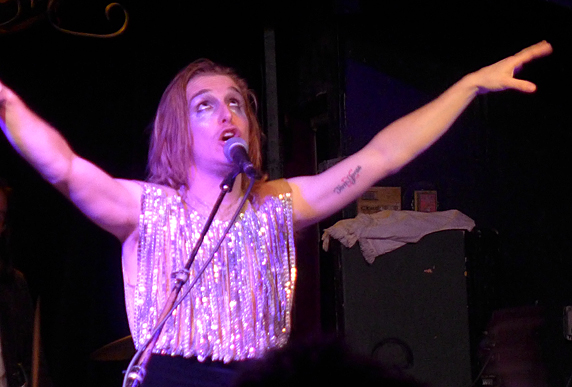 Diane Coffee
Photo: Blowfish
Playing up the soul centric sound he did a song that began with a southern preacher style rant. He sounded like Jerry Lee Lewis on that one. This was great stuff. Then another shocker - He went off stage for a minute and came back in a silver sequenced dress. But that didn't signal a change in any of the material he was doing. He just kept on the same musical track. He just wants to dress up. So figure this; this was someone named Diane who was a man dressed like a woman singing like a soul artist. I'm just reporting. I couldn't make that up.
He did a lot of mugging and theatrics that would normally bother me but the excellent songs and singing contained all the excesses. One song that he emoted the most on had a repeated line, "I can hardly breathe" and that was heart tugging effective.
Bottom line is that this was a great show. I will not miss him in the future. He's only been doing this since 2013 or so. No video or song I could find by him online reflected what I was hearing that night. Even his latest CD which has a ton of production value misses the grit I heard. However listening to that CD here on Bandcamp will show you some of the things he can do.
Turns out that Kenne Highland was such a big baby that his birthday is April 1 and 2, that must have been quite a birth. He celebrated Friday Club Boho at the Cantab and Saturday at the Midway.
We wanted to take in the Drop Ya Mic and Pick up Yer Paint Brush show at Once so we did that first. It was a nice crowd with lots of familiar faces. A wide variety of art by local musicians was hanging on all the walls. Some seemed just tongue-in-cheek fanciful. Lots had music imagery as you would expect and some had actual guitar parts in it like a collage with a guitar pickup in it. The fun here was matching up the art with the musician via the ID sheet they had. That's the whole attraction of the show and that worked. Pieces sold too.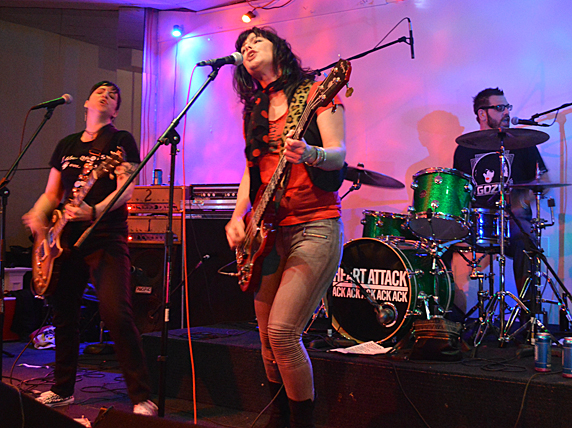 Stars Like Ours
Photo: Blowfish
When we were there Stars Like Ours was on. This is the new group featuring Michelle Paulus and Kristin Holliday and a drummer. In this trio set up you get to hear Michelle sing much more clearly than in the Dents and her other groups. It's all to their advantage. Her singing is clear and expressive and the songs were very appealing. I now want to hear them again to pick up on the few that struck me. The guitarist puts out a good roar and the overall sound is powerful without trying to blow out the back wall. We were suitably impressed. They have a chatty stage patter which is fun to be in on. They told us that originally they were going to call the band John Blout's Hair and they kept to that until they sobered up. Really!! Come on- it's legendary someone really should use that name!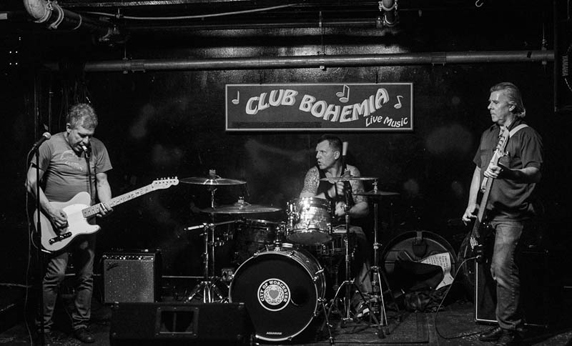 The Classic Ruins
Photo: John Keegan
We had to run out and do a short bar hop to Club Boho/Cantab to catch the Classic Ruins since we haven't heard them in a while. The Ruins go from a trio to a quartet just depending on the circumstances. This night they were a trio. Frank Rowe was in doing his Frank Rowe thing, with the rye comments that we love. He's always rejiggering his set up. For this night he had an Esquire through a new small Fender that was clear with just enough crunch. Highland used it later and it served him well too. Carl Biancucci also did his thing which is to say bassman extraordinaire. It's always a pleasure to see Dave Kawalachek on drums because he never fails to hit with power. Frank did lots of the faves: Nyquil Stinger, 1+1<2, I'm a Wimp etc. It was a good night for the Ruins.
Video - Classic Ruins at Club Bohemia - Nyquil Stinger
Video - Classic Ruins at Club Bohemia - I'm A Wimp
Video - Classic Ruins at Club Bohemia - 1 + 1 < 2
Video - Classic Ruins at Club Bohemia - Geraldine, I Need Money
Then there was a short interlude with a cake for birthday boy Kenne. Mickey Bliss blew Happy Birthday on trumpet as all sang along.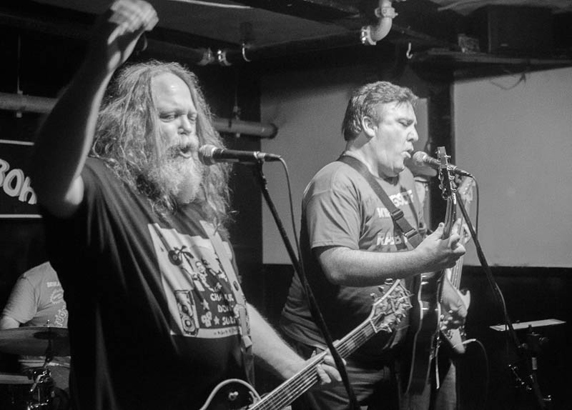 Club Linehan a Go Go
Photo: John Keegan
Then it was on to Club Linehan a Go Go. The nucleus is the drummer, bass player and Mike Quirk who were in a band in high school but now they have added Kenne Highland on lead guitar and John Keegan on Sax.
They play some obscure covers like one of Frank Zappa's original efforts from way back. They played 'Run Run Run' by the Velvet Underground which allowed Keegan to wail a bit and Kenne to wander lyrically . Somehow he's singing 'Going Up the Country' in the middle of it. That's what the guy does. I love that Quirk reads the lyrics and set list on his tablet which is on a stand beside him, that's technology working for you.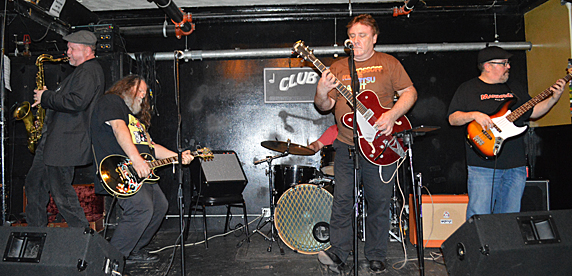 Club Linehan a Go Go
Photo: Blowfish
One of the highlights was when they played 'Black To Comm' by the MC5. After playing the first section they slot into the guitar/bass playing one note and drummer one beat for 10 minutes. You hear minimalist groups or psyche groups to something close to this but not a strait rock group. The steadfast adherence to one note became hypnotic. The beauty of this group is that they have Kenne Highland who has a rolodex of rock in the head and can summon any lyric or lick at will. So as the drone went on Kenne did his thing. This was broken up with Keegan blasting in some sax. At one point he got a bell like feedback sound that was very different from a guitar feedback. It was unearthly and kinda jaw-dropping and he worked that a bit. It was a great addition to the sound.
Like a lot of things in Clubland it was an experience where you are glad to be there because it would never translate to a recorded medium. It's live music at it's best.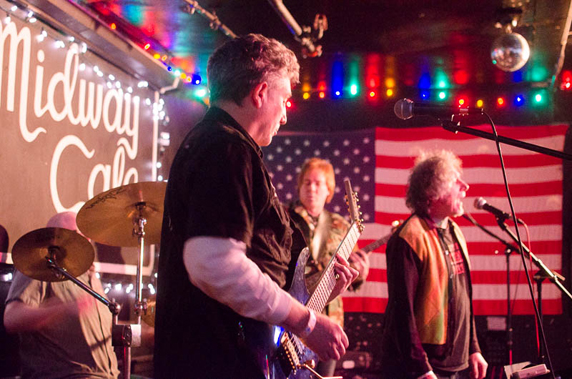 Moose and the Mudbugs
Photo: John Keegan
The second day of Highland birth celebration was the 4 to 8 pm show at the Midway on Saturday. It was a respectable showing. The party was in play with Moose and Mudbugs when we walked in. The placards on the floor indicated that he had done 'Milk Crate Takeover'.
The set ended with '20 Ashford St' a song that does what the Dogmatics' 'Thayer Street' does- it summons up a time and place in Boston Punk history and brings the memories flooding back to you. That Allston neighborhood is still rocking with plentiful and illegal basement shows to this day. It was Moose at his best as he made the song come alive by winging a whole section in the middle where he listed the people and bands that were active back in the 80's; Kenne and the Hopelessly Obscure where in the mix as was Johnny Drainpipe who was in the audience. That song makes you celebrate, remember and rock at the same time.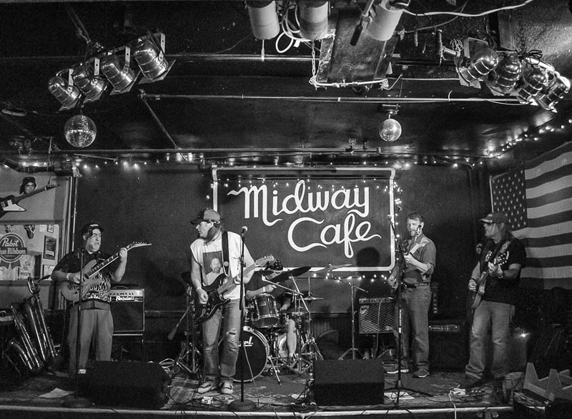 Hixx
Photo: John Keegan
The friendly crowd was in a good mood for Hixx. They turned out to be very funny and a good group for the party day, they proudly declare themselves as trailer trash. They are a sort of northern Lynyrd Skynyrd. The lead singer Jeb declares he's fresh out of Meth rehab and ready to rock. Jeb jokingly insults everyone as the set goes on. He's like Kid Rock's nasty brother.
The music chunks along with a metal sound. There are lots of guitar gymnastics; tapping – check, dive bomb whammy bends – check. To do the full Lynyrd Skynyrd they bring up guest Drew Townsend who completes the guitarathon.
The lyrics are trashy funny. The first song had Jeb complaining, nay yelling at full voice, "Where the fuck is my diner!?". If you didn't get his disappointment with the yelling maybe you got it from the repetition. To Kenne they dedicate the song 'Happy Birthday, Happy Deathday'.
When Jeb asked, "What does it sound like out there" some wag retorted, "Jazz", someone else, " Like polka" and another "Like Poco". There was a lot of laughs to be had during that set. That was fun.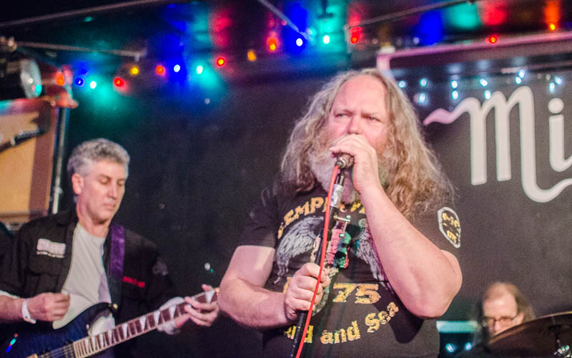 The Two Kens
Photo: John Keegan
Finally Kenne goes on stage. Being in maybe seven outfits currently he decided to go with the Two Kens which is Kenne Highland and Ken Kaiser with Mike Quirk on bass, Matt Burns on drums and John Keegan on percussion and sax. They do Hopelessly Obscure and Africa Korps songs mostly. It's garage-y and Gizmos like. 'She's My Best Bet' is a golden oldie for us punks. The place is in full dancing party mode now. At the end a spontaneous Happy Birthday Kenne wraps things up. Talk about a feel good moment.
That was the end of the birthday party - for us. Kenne may still be celebrating.....
Here's some good shows coming up this week.....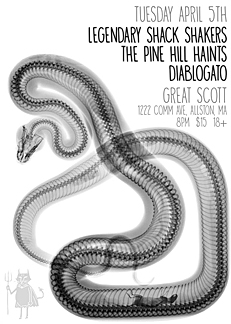 April 5 (Tuesday) The Legendary Shack Shakers, The Pine Hill Haints and Diablogato are at Great Scott
April 7, 8 & 9 (Thurs-Sat) Rock'n'Roll Rumble at Once
April 7 (Thursday) Gail Corcoran is putting on a show at Koto in Salem with Andysocial and The Antidotes, Jagger Holly (members of the Hollywood Blondes and The Spastic Hearts), Mongorellis and Jimmy Jacked
April 8 (Friday) The Middle East Presents: Peter and The Test Tube Babies, Who Killed Spikey Jacket, Nothing But Enemies
April 8 (Friday) Woooo yeah this is gonna be a GREAT show: Little Steven's Underground Garage presents Soraia , The Connection, The Black Souls, Kris Rodgers & The Dirty Gems at The Midway!!
April 9 (Saturday) The 6th Annual Hardcore Cotillion is at The Midway 4-8PM with The FUs, Iron Chin, The McGunks and The Struggle
April 9 (Saturday) Bastards, The Worried, Greg Allen's Fringe Religion and The Sugar Cones at FH13 (That's Firehouse 13 in Provi, RI )
April 10 (Sunday) keepin' on the TTs ritual of a Rockin' Flea Market & Bloody Mary Bash - Once will host this one- 11Am- 4PM -"Tons of vendors selling vintage, vinyl, collectibles, clothing, plants, jewelry, art prints, musical items, basically ALL the cool shit you can't live without" PLus a DJ spinning music all day and much more!! FB page

April 10 (Sunday) Girls Rock Campaign Boston Presents: Ladies Rock Camp Boston 2016 Showcase - The Ultimate Mixtape 2 - 8 PM Doors
April 10 (Sunday) There's a killer matinee show at Firehouse 13 in Provi with The Freeze, The Nervous Eaters, Neutral Nation, Bad Motherfucker, The Scrapes Starts at 2PM Here's the FB page
April 10 (Sunday) Hey Ho Let's Go- the Ramones and the Birth of Punk - retrospective opens at the Queens Museum in New York! (it runs thru July 31)
And further out past this week....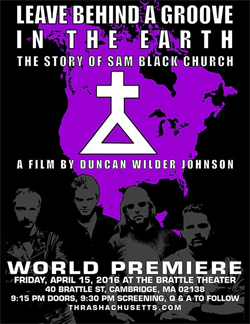 April 15 (Friday) The Sam Black Church doc Leave Behind a Groove in the Earth has its wolrd premier at The Brattle tonight, doors at 9:15PM. (Tickets)
April 15 (Friday) Tsunami of Sound, Moose & the Mud Bugs and Soulidarity are at Sally O'Brien's
April 16 (Saturday) 11AM- 6PM Store 54 Store wide Clearance Sale!!! Bid a fond adieu to the lovely place today! Check out the FB page
April 16 (Saturday) 2nd Annual Pop-Up Record Shop is being held at Brighton Music Hall: "Presented by PBR and Tito's Handmade Vodka and with special support from Small Town Brewery, the Pop-Up Record Shop was started by Do617 to highlight independent New England record labels who deal primarily in vinyl. With many of the larger record stores around Boston focusing on larger exclusive releases this time of year, local record labels tend to get shut out of the process. We have invited some of New England's best labels, small record stores, and vinyl distributors to display their wares in the center of one of Boston's creative hubs. THIS EVENT IS FREE WITH YOUR RSVP!" RSVP here It's 10AM - 2PM all ages!
April 15 & 16 (Fri & Sat) Rock'n'Roll Rumble Semi's at Once
April 16 & 17 (Saturday & Sunday) Store 54 Yard Sale and Clearance Sale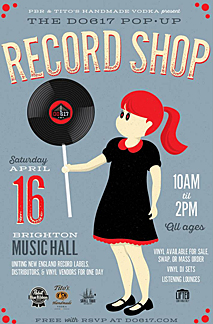 April 17 (Sunday) Wide Eyed Noise Presents: Hardcore Matinee with Swamps, Before I had Wings, Insidious, Kimachi, Distressor -All Ages and 1PM doors folks
April 17 (Sunday) The Freeze, The F.U.s, Silver Screams, Destroi!, Profit Margin are at Koto in Salem. (Here's the FB page) This is Night 1 of TWO nights of the Freeze.
April 18 (Monday) The Freeze, Psycho, Antibodies, The Egos, and Psychic Weight at Koto. (FB page)
April 21 (Thursday ) This should be FUN!: Wok And Roll Karaoke! at Koto in Salem
April 22 (Friday) Rock'n'Roll Rumble Final Show at Once
April 23 (Saturday) The Real Kids with Stop Calling Me Frank and The Knock Ups at the Midway
April 24 (Sunday) There's the "Generic Punk Show" at the Spotlight Tavern in Beverly with Fishhead, Rockin' Bob Punk Band, Barroom Heroes, Sliver Screams, Mongorellis, Screw Cart, Profit Margins and The Off Whites. This is an afternoon s and all ages show- it starts at 3PM
April 28 (Thursday) The Abbey Lounge Reunion!! at Sally O'Brien's Night 1 -Red Zone Cuba 7:40, Classic Ruins 8:20, Triple Thick 9:00, The Charms 9:40, The Decals 10:20, Heavy Stud 11:00, The Drags (NobleRot) 11:40, and The Rudds 12:20 (FB page)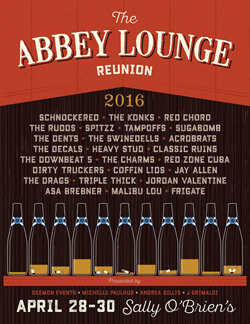 April 28 (Thursday) Kids Like You and Me are hosting a three day music fest this weekend too! Thursday starts at Cantab's Club Boho with Funeral Cone, Gravel, Andy California, Mike Mountain, and G. Gordon Gritty
April 29 (Friday) The Abbey Lounge Reunion!! at Sally O'Brien's Night 2- Frigate 7:00, Jay Allen & Archcriminals 7:40, Malibu Lou 8:20, The Dirty Truckers 9:00, The Swinedells 9:40, The Acrobrats 10:20, Spitzz 11:00, The Tampoffs 11:40 and The Konks 12:20
April 29 (Friday) Kids Like you and Me Night 2 is at The Middle East Up with The Monsieurs, The Prefab Messiahs, Nice GUys , Littlefoot, Scully, Black Beach and Future Spa - lots o'bands this show starts early at 6PM! (event page FB)
April 30 (Saturday) The Abbey Lounge Reunion!! at Sally O'Brien's Night 3 - Schnockered 7:40, Asa Brebner 8:20, The Downbeat 5 9:00, Red Chord 9:40, Jordan Valentine 10:20, Coffin Lids 11:00, The Dents 11:40, Sugabomb 12:20
April 30 (Saturday) Kids Liek You and Me Day 3 is an early show again lots o'bands - Guerilla Toss, URSULA, The Barbazons, Johnnie and the Foodmasters, Kal Mark, Beware the Dangers of a Ghost Scorpion! and Electric Street Queens- this is an early show starting at 3PM (Middle East Up)

April 30 (Saturday) The Upper Crust and Hayley Thompson-King are at Store 54 (FB page)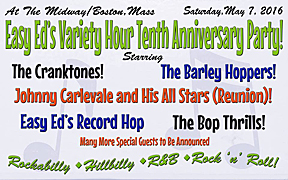 April 30 (Saturday) Michael Graves, Diablogato, 138, The Martians and You Scoundrel are at Once
April 30 (Saturday) The Upper Crust and Haley Thompson King are at Store 54
May 6 (Friday) Sunwatchers, Major Stars, Minibeast, and The Modern Voice at the Midway
May 7 (Saturday) A Crash Course For The Ravers featuring The Cal Cali Band! That's WMFO 95.1 FM 1-4PM
May 7 (Saturday) At the Midway - both Day & Night Shows= ALL DAY!! Easy Ed's Variety Hour 10th Anniversary Party!!! starring The Cranktones, Johnny Carlevale and His Band of All Stars (Special Reunion Show), The Barley Hoppers, The Bop Thrills, Easy Ed's Record Hop and guest DJs and much much more!!!
May 7 (Saturday) Stars Like Ours, Band Without Hands, Violent Mae and Cujo are at O'Brien's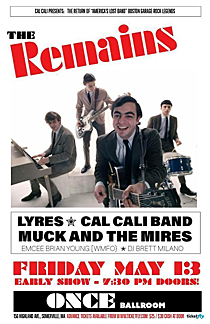 May 7 (Saturday) Jon Macey and his Hummingbird Syndicate will be doing an all acoustic music show at In A Pig's Eye in Salem.
May 8 (Saunday) Dash Rip Rock in town from New Orleans at Store 54. This is an early evening show- 7-9PM
May 13 (Friday) Barry & the Remains, Lyres, Cal Cali Band and Muck & the Mires are at ONCE Ballroom -This show STARTS at 8PM The Remains are on at 9:30.
May 14 (Saturday) We loved him...he was unforgettable so the show goes on...Joe Coughlin Memorial- Johnny & The Jumper Cables and MOTO and Alan Shienfeld doing Stump the Undertaker.
May 22 (Sunday) Kid Congo Powers and the Pink Monkey Birds with Tiger Bomb and The Tarantula Brothers are at The Space Gallery in Portland ME
May 21 (Saturday) A Celebration of Life of Keith Brooks (friend and hardcore music lover) will be at The Midway - on the bill: The Struggle, Honest John, Words Of Truth, CHEECH, Straphangers, and DOT RATS -This show runs from 4PM to Midnight.
May 21 (Saturday) Scissorfight, White Dynomite, Murcielago and Idiot Genes are at Great Scott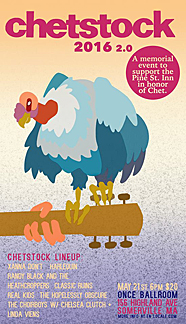 May 21 (Saturday) The Founders, Lizzy Borden Band, Girl On Top, Z company are at PA's Lounge
May 26 (Thursday) It's getting down to the final days - and final shows - at Store 54 and this is one of those- its also a GREAT one!....MiniBeast (featuring Peter Prescott) and the return of Akacod featuring Monique Ortiz, Larry Dersch and Dana Colley....Here's the FB page check for updates
June 4 (Saturday) When Particles Collide are having their vinyl release party along with Aloud at Great Scott.
June 11 (Saturday) A day show 4-8PM with Fireking, Big Giant, The First Supper, and Universe Narrows at The Midway
June 11 (Saturday) The Upper Crust, Thee Fabulous Itchies, The Hi-End and Shiny Beasts are at The Midway - there's a lot going on this night- and the show starts at 8PM -check out the FB page.
July 22 (Friday) Fur Purse, Thalia Zedek, Weather Weapon, Phurnne, Death Cloud at the Midway
CONTACT US AT....misslynbgn@yahoo.com - Send us your gig listings, your news and anything else ya got!!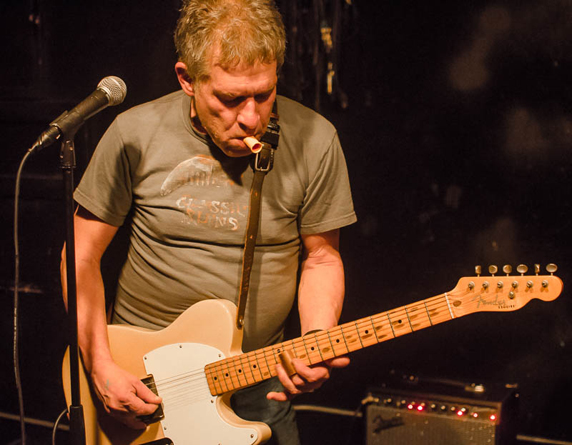 Frank Rowe
Photo: John Keegan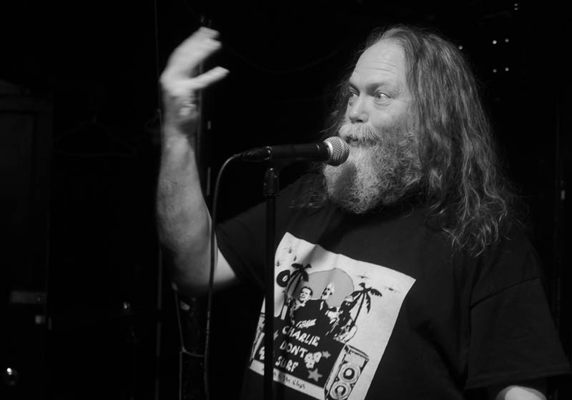 Kenne Highland
Photo: John Keegan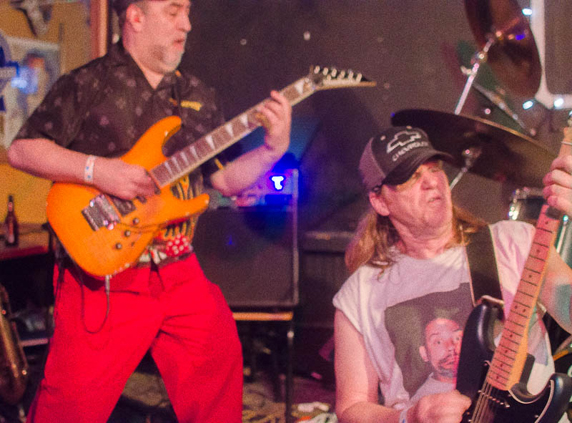 Hixx
Photo: John Keegan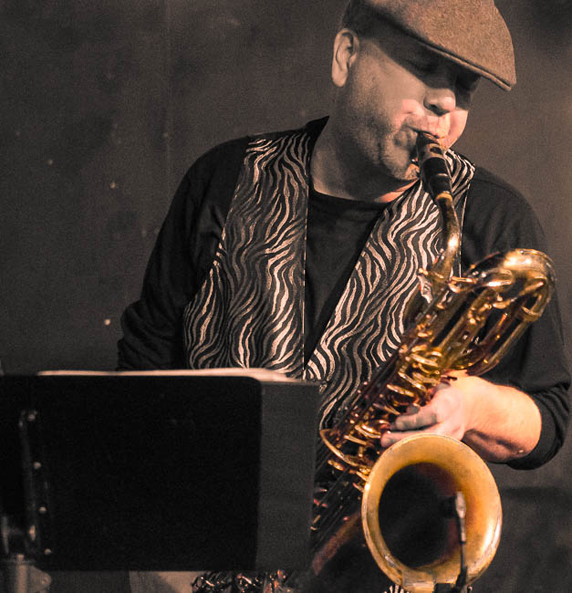 John Keegan
Photo: John Keegan
Ed 'Moose' Savage
Photo: John Keegan