The BGN News Archive
April 5, 2021
Smitt E. Smitty likes to do things big and big describes his next venture, Virtual Video Atomic Fez Fundraiser for Boston - A Benefit for Boston Area Local Music Venues is scheduled for Thursday, May 27. It begins at 8:15pm and goes till – who knows. He has 38 excellent acts listed. It's going to take four guest hosts (Anngelle Wood, Julie Kramer, Bradley Jay, and Skybar Lusardi) to manage this monster. Check it all out here.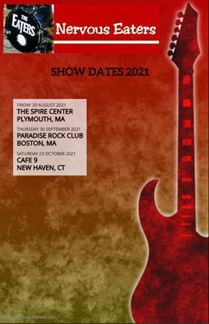 But maybe we can leave behind "virtual" soon coz things are looking up musically out there in the covid world.....Bands are booking gigs now for late summer thinking things will be on the way to normal then.
The Nervous Eaters announced three shows coming up.....Friday August 20 at the Spire Center in Plymouth, Friday September 30 at the Paradise and Saturday October 23 at Café 9 in New Haven.
Perry Farrell is floating the idea of a Lollapalooza in August in Chicago. Article in Spin here: https://www.spin.com/2021/03/perry-farrell-reveals-more-details-about-lollapaloozas-possible-2021-return/
Dusk has The Crank-Tones with The HiFi Lowdowns and The Unknown DJ this coming Sunday, April 11, 2021 at 2:30– 6 PM FB page here.
Also at Dusk - a live outdoor Punk Rock Party on Saturday May 8th @ 7PM with Electric Joey, Lewd and Silver Screams! Here's the FB page.
The Beachcomber in Quincy was torn down this past week. It was sold in 2015 and we knew this was inevitable. It still hits you though, it's been around for a long while. They had a few intermittent rock shows.
It makes us worry about the C Note in Hull, another club near the water. We're hoping that makes it thought the shutdown.
Oh the Humanity released a new video of their song "Never Worse", the third single pre-released of their new album due out April 16. The video's main focus is a man shaped figure that sheds water in what seems like a personification of grief or pain. It's a powerful concept that goes with the emotional turmoil of Oh the Humanity's work.
Guns of Brighton have their third covid diversion video, it's a cover of "Dirty Deeds Done Dirt Cheap" where they get to show off their AC/DC chops. The video is composed of a bunch of stills from shows through the years, the band on stage and with friends from over the years. It's a great idea!! Any band could record a new song or even use and older one and add photos they've compiled over the years.
Red on Red Records is very busy. On April 6 they will distribute "Leave the Light On" by Andrea Gillis and on the next day they will follow with "Boy in a Bubble" by Kid Gulliver.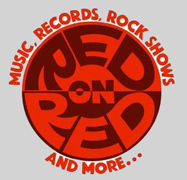 Both of those groups will have new videos in the Red on Red Virtual Showcase on April 16. The Showcase will have never-before-seen videos by The Chelsea Curve, Nightspell, Linnea's Garden, Devil Love, Grey Delisle, The Shang Hi Los, Helen Rose, Thee Holy Brothers, Justine and The Unclean, and more. Get all the info on the Facebook event page here.
The Shang Hi Los will release a video of the song "Stay" off their EP Like a Wicked Bad Habit on April 15.
It took a year but we finally can see what works and what doesn't in live streams. One success has been the live studio feeds. The videos are clear and we hear the benefits from the pro audio set up.
Q Division has had great success on this. This week they had the Mommyheads performing their last album Kings of Pop in its entirety. They play crafted pop that is very Beatle-like in its arrangements at times. The album is on Bandcamp. See the video below.
In 2017 early San Francisco punks, The Nuns, released The Nuns – CBS Demo 1977. We came across this whole recording on YouTube. They cover the Music Machine's "Talk Talk". Give it a listen for a dose of early punk sounds. See the video above.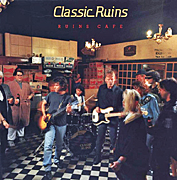 The Presto Records label doesn't jump to the top of your mind when you think of Boston labels but they have some notable groups in their stable like: Miranda Warning, Classic Ruins, Miles Dethmuffen (with Linda Bean Pardee and Ad Frank), Evol Twin, The Visigoths and The Trojan Ponies. They were active from 1989 to 1994. They are going to re-release all their material over a few months on YouTube and Spotify.
Chris Porter started the label to get the Classic Ruins LP Ruin's Café out. He was managing them at the time. Here's an article on Presto and Porter in the Lowell Sun
The next Back Porch Carousel is Sunday April 11 will benefit ZUMIX a charity suggested by Tim Sprague of Crow Follow. ZUMIX helps young people in the areas of music, technology, and creative employment. The guest for the show will be ZUMIX student mentor Pallas. The Facebook event page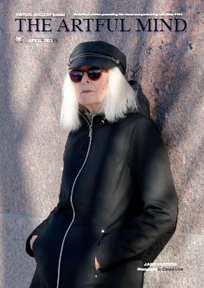 We always knew Jane Hudson from her music with The Rentals and Jeff and Jane Hudson. But these last few years we've seen more of her art and have come to appreciate it ... and her. Now she's on the cover of The Artful Mind artzine with a feature article on Jane and her art inside!
Jane is wonderfully articulate in her discussions of her motivations and interests, as you would expect since she was a teacher at the Museum MFA) school for years.
The Artful Mind Jane Hudson issue is here. Jane's art webpage is here!
Merch is getting fancy! Death Pesos is now offering a Battlesnake Nucleated Pint Glass. The details: "This pint glass will quench your thirst. It features a nucleated ouroboros (snake consuming itself– ed) on the bottom of the heavy glass, and a 24k golden flanged rim."
Wow, we're not worthy! You can purchase the glasses at the Death Pesos Bandcamp merch site
Patti Smith has joined Substack. It's a newish platform. It's like Patreon where you can pay to get onto different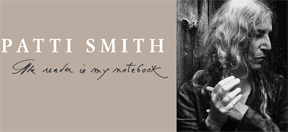 levels of access. She will post some of her weekly writing on the site for anyone to see. Other material will be for subscribers. Here's an article on Lit Hub about it. And here's a write up in Rolling Stone.
Patti Smith will also be performing at the Outdoor Spring Festival at Upstate New York's Kaatsbaan Cultural Park. It's performances and panel discussions to celebrate Bob Dylan's 80th birthday on Saturday May 22, @ 9:30 PM. Patti always has a lot to say about Dylan and has done some notable Dylan covers. This is a FREE streaming event. The Facebook event page is here.
Do you love goth? Do you want to live in Baltimore?…maybe you will when you see this goth house......All black appliances and furniture…to begin with. The back door looks like the entrance to a cemetery. Coffin in the corner? ... check. Crosses in the bedroom? ... check. Spider web banister? ... check. Tacky leather furniture? ...check. Ha ha ha!!!! Check it out and make your offer here.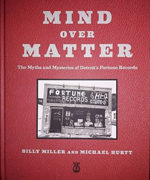 Miriam Linna of Norton Records has been working on Mind Over Matter: The Myths and Mysteries of Detroit's Fortune Records the last couple of years. It's a huge book (weighing five pounds to be exact) started by her husband Billy Miller who has passed away in 2016. With the help of co-author Michael Hurtt, Linna has finally taken up where Miller left off. It's a full accounting of Fortune Records of Detroit. Only two thousand copies were printed and it costs $100.00. So, you have to want it bad. You can buy it at Norton here. And here's a great article on Miriam Linea is on the New Yorker website.
Dice is streaming some interesting live shows.....On Wednesday April 21 there's an Iggy Pop show that was recorded at the Sydney Opera House in 2019. You can get tickets here. They'll be streaming Jesus and Mary Chain live show on Weds & Thurs Nov 17 & 18 as well.
Radio......
This week on Bay State Rock Carmelita played The Chelsea Curve's new song "Girl Cavedog", a few days before its official release. They infuse the song with a lot of their punk influences. We are giving it multiple listens.
Carm started the show with a dynamite Frank Black song we hadn't heard before called "His Kingly Cave". It's a post Pixies gem. She played a song called "Kenmore Square" by Dee Tension who is actually a rapper but he does an excellent job in this non-rap song about the Square. We have to say he nailed it. He obviously lived through it. Is anyone going to write a song about the "new" Kenmore Square …anytime soon? probably not.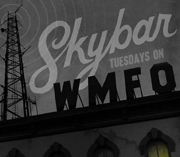 Skybar has a special Rising show this Tuesday (2/6) at 8:30pm on WMFO. He'll be focusing on Red on Red Records and will play all the artists he can; like new material by The Chelsea Curve and Andrea Gillis. Listen here at WMFO.org
This week Linnea Herzog got a five song set on WMFO's Strike the Box show on Thursday's at 12 to 2pm. She played songs by Quick Fix, Fabulous Disaster, Madam Bruja, QWAM and Jason Halogen. They were all new to us and all worthy plays.
WMFO archives the shows. To access, go to the WMFO schedule page here. Hit Strike the Box on the schedule. Then hit "archive" on the next page.
---
Podcasts.......

Above the Basement this week has a 53 minute interview with Oedipus. It's hardly enough to contain his history. He has a lot to say still and speaks about many subjects with enthusiasm. He talks about the tons of memorabilia he has and the common problem of what to do with it. He has every CD ever sent to him, about 17,000, not to mention the vinyl records.
Remember that Oedipus was first a photographer. He has a pile of early photos of Boston punk. All the photos in the Live At The Rat CD/LP are his.
He talks about the early days – a lot. He relates how he ended in Thailand for years.
Kids Like You & Me has JJ Gonson on their podcast this week.
It's ironic that the Gonson has had a very high profile year. She's been in the news because of the Club's travails and final closing during the pandemic. The subsequent video interviews in the Once Virtual Venue platform made her more visible again. Her photos have been used in the Elliot Smith re-release of his second album.
She revealed that she is looking for outside spaces for some pop up shows as she actively looks for space for a permanent club. She thinks inside show will be going concern by October. She outlines the specifics of small/medium/large clubs opening up as time goes on.
---
CDs/ Music...
Shepherdess is on a compilation called Compilations with Cause Vol.1. The "Compilations" will be a monthly series with a wide variety of acts on each album.
The proceeds go to charities that "support and promote the work of those organizations advocating, inspiring and organizing positive social change that upholds diversity, equity and inclusion." For more info go to the Volume 1 page. "Creeper" by Shepherdess has a dark tone with a caustic guitar leading the song. It makes an impression.
Now we are in for a treat because The Chelsea Curve have promised a single a month until they release their album. The first song "Girl Cavedog" came out this week. In the last months before Covid hit The Chelsea Curve seemed to be getting better and better and then that last Whistle Stop show where they knocked us out!!
It's not that The Chelsea Curve have a lot of influences, it's that they infuse their songs with them at every level. "Girl Cavedog" has the overall feel of an indie/punk hit, but we wouldn't try to nail it down specifically. It just has that feel. Wonderful and we have more coming! We can't wait!
CONTACT US AT....misslynbgn@yahoo.com Send us your gig listings, your anything else ya got!! You want your CD reviewed?? Contact us for that too.
---