The BGN News Archive
April 7, 2008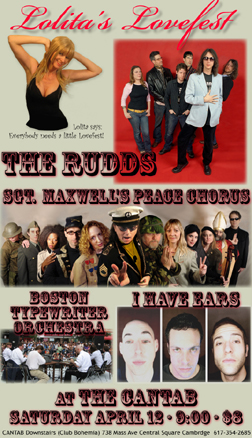 Well they say no news is good news right so this week…there's only music updates..
and wow, we have an AWESOME music weekend coming up folks,
well first of at Church, its FREE Friday night the 11th with the Ramoniacs
and at O'Brien's in Allston there's Pulp 45, The Alrighters, Rock City Crimewave, Jared Thomas Lord and Obscenity Cult
this Saturday the 12th you have your choice of Buried In Leather , Thunderhog, The Throwaways and Refuse Resist again, at O' Brien's
OR
at the Abbey: MOTO, Triple Thick, The Hospital Rats and The Radio Knives…
ALL excellent bands..I mean what more could you ask for????...
well how 'bout this? on Sunday, April 13th, at The Midway its one of those early shows starting at 4PM…and what an incredible line up!!: its MOTO again making the most of their stop here in Boston from Chicago AND…The Midnight Creeps, then The Curses, then The Tampoffs and then The Throwaways!! Man, that's a good gig if there ever was one!!
April 17th at TT The Bear's is the New Model Army….Helanie Saad saw them down in Austin earlier this month and said they were fabulous!!
Friday the 18th Muck and The Mires, Topheavy, The Lights Out, The Crushing Low are at Middle East UP,
.........The Big Dipper reunion happens on April 26 at the Middle East Downstairs. That along with their new anthology CD makes for happy times for us Big Dipper fans.
.....The 30th version of the WBCN Rumble is going on now. Some good and interestiong bands are playing like always....check out the line up. The Rumble is at Harper's Ferry this year.
And because we got such a good response to these videos we're making sure everyone gets to see them (and I also need filler) …check 'em out if you didn't click on 'em last week: (From Jan Crocker) just in time for April Fools Day I dug deep to pull this one out. Dedicated to all the fools out there, we've got the Nervous Eaters from the Club in Cambridge 1979. Along for the ruckus ride on "Degenerate" and "Loretta" are genetic misfits Roy Mental and Curly from the Mental Liberation Army, Barb Kitson & Johnny Angel from Thrills, and Nikki Jarrett from the Lazers. Go Mental with this one
And Keeping with the insanity. I posted The Cramps "The Way I Walk" filmed live at the Napa State Mental Hospital in California from 1978. I swear I see Gregg Riebman dancing on the stage. Cramps....
'til next week I guess……email us with some good stuff huh??