The BGN News Archive
April 7, 2014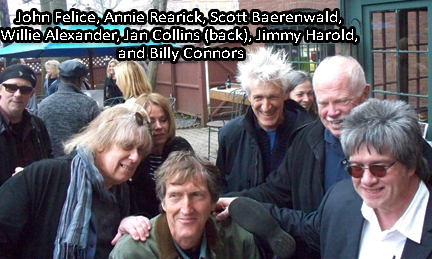 We've had a busy week folks:
Jon Bernhardt has been DJ-ing The Breakfast of Champions on WMBR for 30 years and he's been on the earth for 50 years so to celebrate he had a big show at TT the Bears. It was Barbara Manning, Dump and Bevis Frond. Bevis Frond just does not play that often in the U.S. They did a Terrastock Festival in Boston in 2002. The chance to see them drove the sellout date.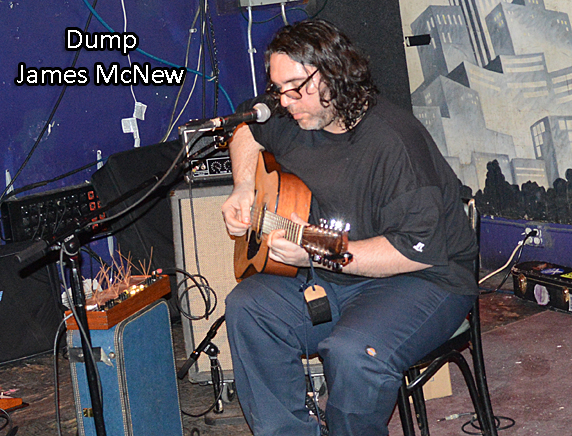 I missed Barbara Manning and walked in on James McNew playing as DUMP his Yo La Tengo side project. He was playing electrified 12 string acoustic guitar boosted with tape loops. I'm not a big fan of loops and it took me a while to warm up to it but I did. This was music you had to give your concentration to. The problem was trying to get to a space where you could see and hear. This was not easy in the jammed club with excessive talking in the bar area.
John Hess was there. He knows Nick Saloman and he played on a tribute CD for Bevis Frond. He also visited Nick in England where Nick now has a record store, Platform One Records. Can you imagine how great that record store must be?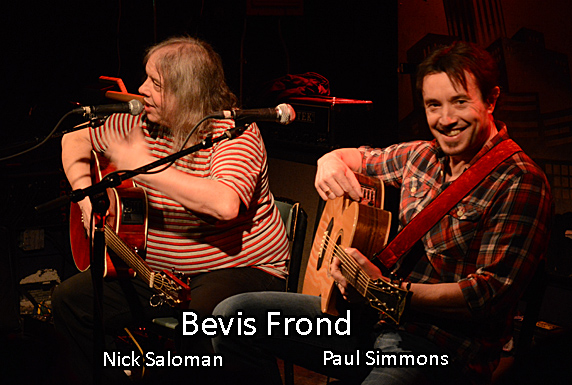 The big disappointment of the night was finding out that there was no band. It was going to be only Nick and one band member, Paul Simmons. The crowd jammed into the listening room for the duo. They were playing two acoustics that were electrified and they had effects so the solos sounded like fuzz driven electrics. Even in this stripped down version you got the Bevis Frond experience. The songs evoked their recorded versions. They both had voices and guitar playing with character.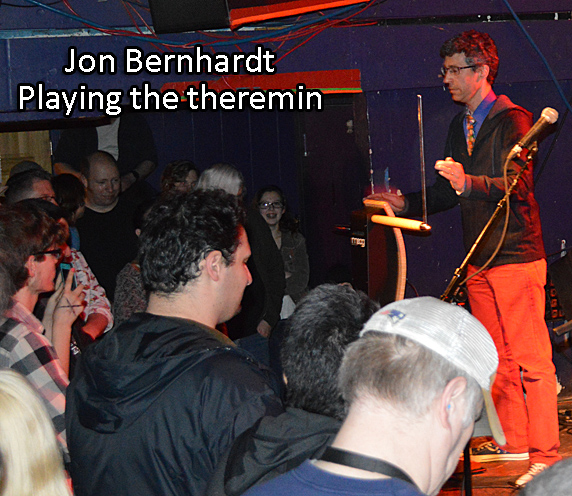 I still had the problem that I was out of the main room thus the full sound and was very uncomfortable. I left after 30 minutes or so. I would say people were getting their money's worth of Bevis especially in the front. Here's a detailed review of the night by the Big Takeover.
And here's a video from Dave Fenichel of Bernhardt playing his Theramin...then some Dump.
The Young Adults were playing the ME up (with the exact set time as Bevis) with a bunch of interesting bands and my mind was on that but even in my discomfort I had to stay for as much Bevis as I could and then it was too late to see the YA.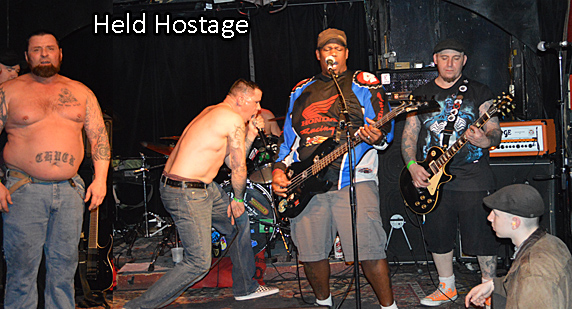 Next up, I hit the hardcore show at the Middle East Up on Friday knowing no one would dare sport an acoustic instrument there. The roar from the stage was not just loud but massively aggressive. It was Held Hostage from RI. In the mosh area was this guy who was wind milling his fisted arms and then jump kicking Bruce Lee style. The singer entreated people to feel free to dance...like you could get anywhere near that guy...but of course people did somehow. It was wild and one of the reasons that hardcore shows are the most exciting in rock. On stage were two shirtless singers and they did the job. They put out an edgy vibe and it was visceral. I loved it.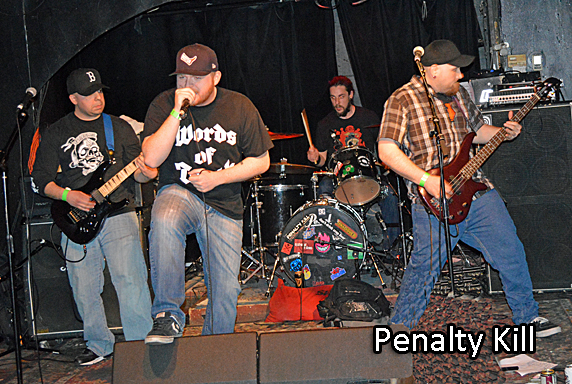 Penalty Kill from Roslindale was generally more of the same. They had a little more metal in their overall sound. Looking around I only saw one person I recognized and that's Swid (we've written about him many times, including last week).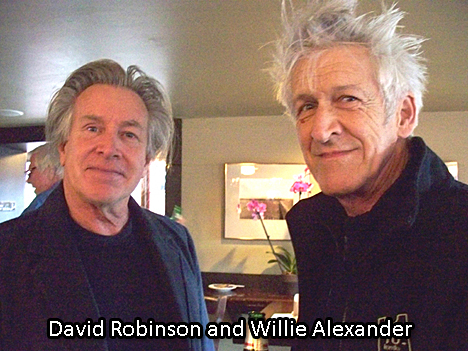 The BGN was invited to a surprise birthday party by Paul Robinson (The Boize) for his brother David Robinson (Modern Lovers/DMZ/Cars) in Gloucester. Miss Lyn makes the north shore trek. Held in a small downstairs room of The DogBar it spilled over onto the patio. It was like a who's who of old school scene there with Billy Connors (Boize, Cadillac Heart) Scott Baerenwald, Jan Collins and Simon Ritt, Jim Harold, Wille Alexander, Dan Kopko and John Blout of Watts, Greg Hawkes, Ralph Fatello, Judy and Richie Parsons, Jon Strymish, Matt Lambert, Jimmy Birmingham, Jimmy Felice AND John Felice, who looked GREAT and said he felt quite well too! Awesome news!! It was like being at a family reunion! We waited for David to arrive and Paul said "He'll either be happily surprised or will want to kill me." I think he felt a little of both but warmed up to the idea as the familiar faces kept on coming. As the afternoon went on Greg Hawkes got up on stage in the music room and did a few songs with his ukulele. He was followed by a set from Watts. It was a great afternoon and David, in the end did thoroughly enjoy it!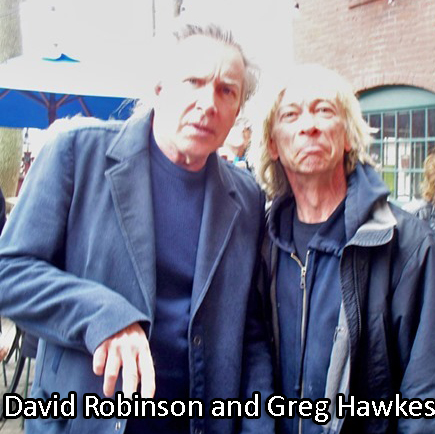 Blowfish still not satisfied with two gigs under his belt head towards the Midway afternoon show to catch some of the advertised 'NY style hardcore' they promised.
The afternoon gig goes from 4 to 8:30. Getting there at 7 PM I catch the last group Urban Waste who are NYC based. I don't care what city they came from I do care that they just brutalize the place for an hour. They were out of breath and sweating after a half hour but never stopped giving 100% the whole time. The singer jumped from the stage at the first song and spent the whole set on the floor singing and slamming in the crowd. The slamming was vigorous as you could imagine. I love when the song starts and you hear the bass pumping and there's that something in the air that seems to say START SLAMMING NOW. For me that means check left and right - am I safe? Today I'm behind the wussy wall that separates the bathrooms from the floor and affords a slam free zone.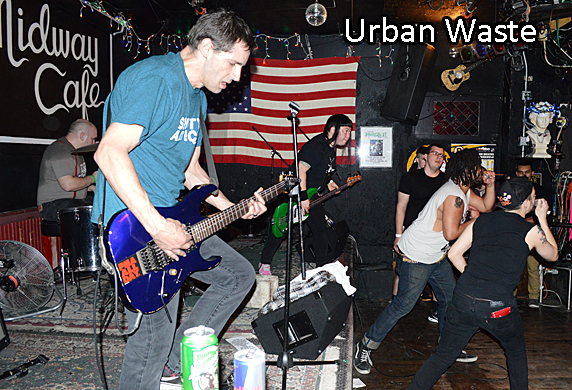 I'm amazed the band has the energy for encores but they do and they end up going old school with Sonic Reducer. This is perfect for me; marrying the punk classic with hardcore power. I leave the club on a high.
It's not over yet coz Blowfish meets Miss Lyn and we head to Central Sq and down the stairs at the Cantab to Club Bohemia for one of our must see acts - Randy Black and the Heathcroppers. There's just enough people to fill the tables and bar chairs as Randy does what we have come to expect; a set of his well crafted songs.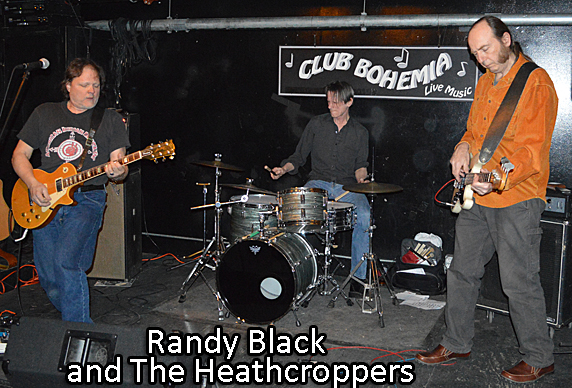 He starts with acoustic but switches to electric guitar after two songs. His songs that we were first exposed to are now familiar and we get a kick as each one of our favorites starts. The song that gave us the biggest impression at that first gig was Sadness Comes in Waves. Randy doesn't play it often and it's not on his CD (we've talked about this song every time we hear it, its that good). Tonight he plays it and it remains the powerful song we remember. It's such an emotional land mine. Randy is emoting as he sings and we are emoting in the audience. I wish this song could be exposed to a wider audience.
We've heard the hardcore this weekend whose weapons are volume and speed now we're getting hit with emotion and subtlety. It's a lesson in the magic of music and the ways it can move you.
And that's the week in music for us.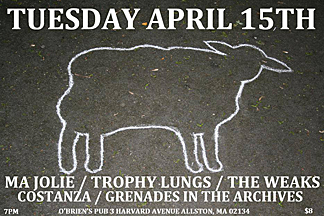 Just as we are posting this we hear that Leee Black Childers, photographer and all-around rock celebrity (associated with Warhol, Bowie, punk, etc.) has died.
In other news Richie Parsons is back from Paris and recording his new disc Honey & Tears. He has Jonathan Paley singing one song and Peter Dayton is doing the cover art. Ken Stringfellow talks about it on his blog too, saying: "This week I've been working on Richie Parsons' album; we recorded 2 songs from scratch; did the bulk of overdubs on a third, and then I've gotten into mixing the rest of the album, which he'd recorded back in the states. Of course, there's always overdubs to do, so I've been adding touches to various songs each day–backing vocals, guitar, keys, percussion. The album is getting kind of a Walker Bros. vibe…this I can dig!"
Rick Harte, of Ace of Hearts Records, tells us that the new Real Kids EP record will be available at Newbury Comics later this week...hound them!!!
...a big congratulations goes out to Andrea Gillis and Mark Pinansky on their nuptials this past week. All the best to you two!! We wish you a very long and happy life together!
And for upcoming shows.....
The Dave Clark Five were one of the best bands ever...now there's a PBS doc about them showing in April! "The Dave Clark Five and Beyond - Glad All Over" first airs THIS Tuesday April 8th at 8PM on Channel 2!! then various times after that. YAY!!
This Friday April 11th is the Rock'n'Roll Rumble Prelims, at TT's, I'm mentioning it coz on this night it's Petty Morals, along with Feints, Summoner and Vary Lummar...good luck ladies of Petty Morals!!!
For you folks up in the Portland, ME scene the Bayside Bowl Uproar happens Saturday April 12th - at Bayside Bowl see three of Portland's most talented artists presenting some of their best original pop & rock songs for your listening & dancing pleasure...Joe Brien, all girl Portland band Tiger Bomb and the Johnny Cremains band
So far there are three shows we know of by Boston punks to support the support the Lieutenant Walsh - Firefighter Kennedy Memorial Fund, the first one is Tuesday April 15th at The Landsowne Pub and playing are The Gobshites (2 member are volunteer firefighters!), The Barroom Heroes and Ricky Rocksteady ( another band TBA soon)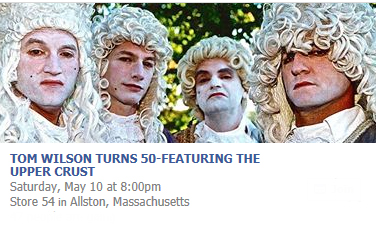 It seems there's never any good shows at Church anymore but on Wednesday April 16th there's a great show with The Swindlers with Answerman, The Skeleton Beats
Just in case you are heading to Brooklyn during this week The Museum of Morbid Anatomy is having a fundraiser on April 16th and they have a Kickstarter Campaign to raise money to omve to a brand new location. But anytime you're in Brooklyn you might want to check this place out!!
The Saturday April 19th at The Cantab gig has changed...Bittersweets are out but instead you get The Darlings, The Funeral Barkers, FoxPass and Emily Grogan...
And again, Boston punks are getting it together to support the Lieutenant Walsh - Firefighter Kennedy Memorial Fund on Tuesday April 22nd at Great Scott AND (because of the amazing response) a second show at The Sinclair on Wednesday April 23rd. Both shows are sold out but here's who's playing: Tuesday at Great Scotts there's Street Dogs, Avoid One Thing (first show in 10 years), Ducky Boys, Lenny Lashley's Gang of One, The Welch Boys, Burning Streets and Duck and Cover. Wednesday at The Sinclair there's Street Dogs, Slapshot, Ducky Boys, and Avoid One Thing. Since both shows are sold out you can donate to the fund here if you'd like.
Thursday April 24th The Koffin Kats are back at O'Brien's along with Ten Foot Polecats,the Radiator Rattlers and Weak Week.
Saturday April 26th at the Midway is The Cheeseburger Eatin' King's Annual Birthday Circus featuring Bad Lieutenants, The FUs, Big Meat Hammer, Rough Francis, The Stand Alones, The Pubcrawlers, Bragging Rights, and Slim Francis
The 4th Annual HardCore Cotillion is Sunday April 27th (5:30-10PM) at The President's Rock Club in Quincy...this is one killer show folks!! You got Kilslug, Jerry's Kids, Taxi Driver, Barroom Heroes, and Keith "Fishead" Knowlton - all for 8 bucks!!
Wednesday April 30th Streight Angular are at O'Brien's...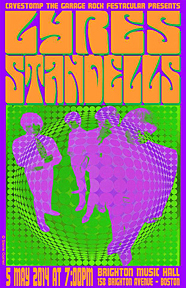 The Cavestomp (Boston) Standells and Lyres at The Brighton Music Hall on Monday May 5th.... You can buy tix here
the Joe Coughlin Memorial Show is at the Midway on May 10th!
At O'Brien's on Saturday, May 10th we got a excellent show with Jittery Jack (their Boston record release show) , Whiskey Kill, Johnny Carlevale and the Rollin' Pins and DiabloGato
Also on Saturday May 10th is a crazy night at Club Bohemia at the Cantab with The Hixxtravaganza - playing are Hixx of course along with Scott Damgaard, Cadillac Heart and James Straight And The Wide Stance
Also on May 10th is a big ole celebration over at Store 54 - Tom Wilson turns 50 and he's celebrating with The Upper Crust playing and its byob...should be quite a night folks!!
Wow this is a very special not-to-be-missed event: At The Regent Theater on Sunday May 11th (7:30PM) - A Boston Film Premiere Event: "Looking For Johnny" - The Legend of Johnny Thunders PLUS The Daughters Reform to Play LIVE! I know they interviewed some Boston rockers for this film, too!
It's a killer weekend over at The Midway on Friday, May 16th with The Other Girls, BrownBooze (featuring Rod van Stoli and Jordan Valentine of BrownBoot!!! she's in town for a couple shows this weekend -see below too) ) and Saturday, the 17th with The Hudson Falcons , The Sprained Ankles, The Black Cheers and Spectacle
OK people mark your calendars for April 17th there's two cool things that night: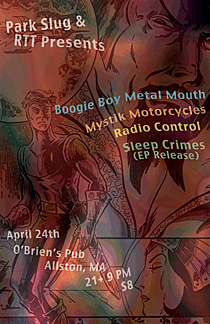 You know it's summer when Cal Cali is back in town and he's back to celebrate his birthday on May 17th at The Tavern at the End of the World with Asa Brebner, Richie Parsons Duo and Emily Grogan
Al Janick's St. Stanilaus Polka Party on May 17th...this year its at Anthony's on Highland Ave sin Somerville and he's got his Plastyczny Ser Orkestra consisting of world famous musicians like , Kevin Hensleyski on Guitar, Matt Burkeski on Drums and Shaun Wolf Wortiski on Bass...along with The Warsaw Marching Accordion Army and the Horny Karkow Horns...and if that weren't enough he also has special guests The Pierogi Triplets (Jordan Valentine & Jenny Dee)!!!
Thursday, May 22 at The Middle East Up......... The Woggles with Muck and the Mires, Lyres - whoa what a show!!!!
Sunday June 1 at The Middle East down is The Cro-Mags, Anti Nowhere League, Taxi Driver and Neighborhood Shit. This is an early show folks, doors are at 6:30PM
The 2nd Annual Rat Beach Party is already well in the planning stages...its set for September 14th& 15th and here's a list of bands so far: Saturday night- Red Parrot Beach Bar starting at 7PM: Hardwired -- Heavy Weddle & Sweet Release -- Severance (or Band To Be Announced) -- JetSet -- Billy Rath & The Street Pirates -- Open Jam to close
Sunday afternoon/evening: Red Parrot Function Room, Beach Bar and Back Room Lounge starting at 12:00 -- The Beachcombovers (Function Room) -- Hardwired (Beach Bar) -- The Boize (Function Room) -- Gino Caira Band (Beach Bar) -- Count Viglione Love & Flame (Function Room) -- Hixx (Beach Bar)-- State of Union (Function Room) -- GraveDancers (Beach Bar) -- The Derangers (Function Room) -- The Workers (Beach Bar) -- Liz Borden (Function Room) -- Kenne Highland Clan (Beach Bar) -- Slow Children (Function Room) -- Pop Gun (Beach Bar) -- Gyro Lula (Function Room) -- Moose & The Mudbugs (Beach Bar) -- Tsunami of Sound (Function Room) 8:30 -- Masters of The Obvious (Beach Bar) -- Red House (Beach Bar) - Real Real Bayou Band (Beach Bar) -- All-Star Jam led by Cindy Daley, formerly of Lovelace.
In August John Lydon hits Boston in a huge production of Jesus Christ SuperStar , he's playing King Herod...man I want to see that show!!
SAVE THE DATE !!!!!! JERI CAIN ROSSI (Of Black Cat Bone) LIVE AT STORE 54 ON AUGUST 7TH 2014 WITH OTHER MUSIC TO BE ANNOUNCED--THE RETURN TO ALLSTON SHOW VERY EXCITING — i
EMAIL US AT.......misslynbgn@yahoo.com