The BGN News Archive
April 8, 2013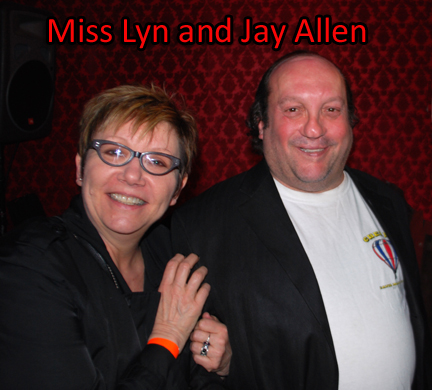 It's no secret that Jay Allen knows how to throw a party. He has had many through the years at his house. Saturday he moved his 50th birthday celebration to a club and had such a lineup of bands that advance tickets sold out. It does seem that later arrivals at Radio did get in but most came early fearing a sell out and it seemed like it was close to that. We've told some of Jay's story in the BGN before (BGN News Archive) . Suffice to say he know lots of people and bands and does great things for charity whenever he can; this night the money from the door (totally $4000.00!!) went to a couple specific charities, and they had several raffles too. There was also a bank of food on the side with a big ole Birthday cake for Jay.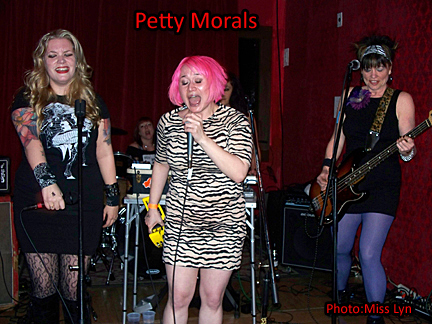 We made sure to get there in time for the first band Petty Morals comprised of former members of Tijuana Sweethearts/Killer Abs these girls are rockin' it, to say the least. Lots of saucy strutting and all around party verve perked up the receptive crowd. I'm glad to see Chrissey Tierney playing in a band again! Anyway, they were the perfect choice for tonight.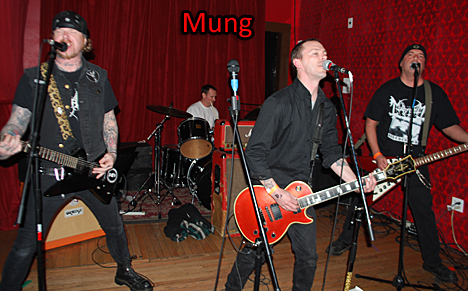 Taped to the P.A. was a list of the bands playing this night but Mung was not on it. All of a sudden there they were on stage and they were great. They were all business; loud and powerful like always. They never seem to miss. They did a cover of MOB's That's How I Escaped My Certain Fate.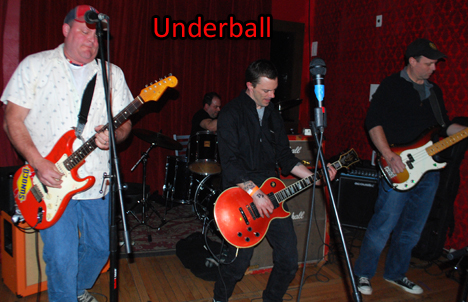 Next up was a real treat - Underball. Less known than other groups it seems, and they got by me back in their heyday (late 1990's) but they are a gem. The thing with Underball is the lyrics. They are very clever and unusual. The obvious example is Toaster Thrower. The girl friend has a propensity to throw small appliances...and he seems to like it. The leader, a bit chunky, said in his introduction, "Gee I haven't seen you guys in a billion sandwiches." They belted it out with the help of Paul from Mung on guitar. Besides Toaster Thrower they did Red Ball Jets a song of lusting for the titled sneakers. Catch those songs and others on their still existing MySpace Page/Underball .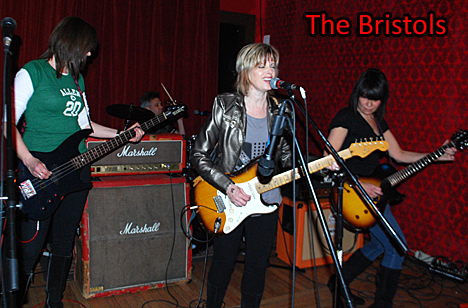 The Bristols were legendary back in their day and still are. Every gig is an event. They've done more North Shore gigs lately but Jay scores them for his party. They have more of a quiet center than most groups tonight. They accent the vocals and have a twangy spaghetti western atmosphere going on. People go out of their way to follow the group and they were getting much attention.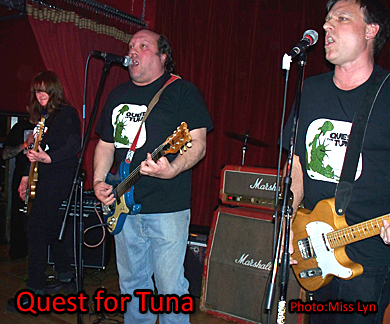 Part of Jay's story is Quest for Tuna. Reunited for the party complete with Justine Covault on bass . They also feature Evan Shore on drums - that was a kick to see. Tuna was some old school garage punk with some odd ball character. It was quality enough to hold its own in this line up. The highlight for me was the last song Alan Hale about the skipper from Gilligan's Island. With Ed Moose Savage holding the lyric sheet and Jay donning a skipper's hat, he sang this paean to Hale with funny verses and a chorus of just yelling Alan Hale through the changes. I say it's a forgotten classic. I can't get it out of my head (as ELO would say).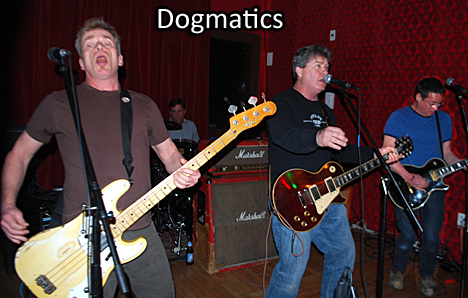 Just say the name, Dogmatics, and I get a warm feeling inside. I love the guys, the band, the songs and I see the sweep of their time on the Boston scene and it makes me reflect. They have a unique spirit that they've had since their inception and it suffuses their material. It's there in Thayer Street - very strong. This night they are in great form and had that spirit on display. They were the highlight of the night for me. They represent some of the best qualities of the Boston scene that Jay embodies also. It's not just notes and noise, its feelings and friends that make a scene. Peter had a pointed comment when he started Teenager on Drugs. He said this used to be funny until he had teenagers of his own. Tempus fugit, so watch out - lesson for the day.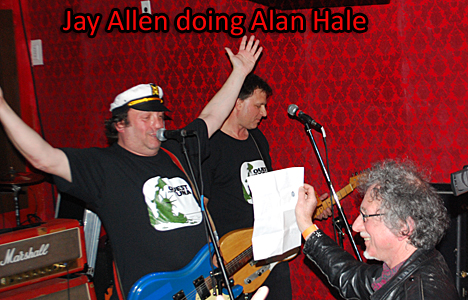 Jay came back on stage to lead his current group Jay Allen and The Archcriminals. With his mother just in front of the stage enjoying the show, he pumps out his strong punk material. All his punk knowledge helps to enhance his song writing and makes it worth a close listen. There is a lot going on in his set.
Party poopers as usual we head out now missing Dirty Truckers, The Other Girls and Muck & The Mires.
List of party goers: ....Sam McAfee, Don Gardiner and Mike Gorham from Left Nut, Chris DeBarge, Allen Lavesque, Julie Ray, Skinny Mike, lots of Abbey folk and the usuals....Bob Colby, Eric Law, Ed Moose Savage, Mitch from Triple Thick, Joanie Lindstrom back from Peru, Meg Ormond from Long Island, Terry Brenner, Kim and Cam Ackland, Tony and Swid from Razors in the Night (made sure to make it over to their gig at the Middle East), even Boby Bear and Anya came out for this event...and as a sure sign of spring...I spotted a Cal Cali......the list goes on and on and on...... Pretty fantastic night, a full club with a festive crowd made for one of the best birthday bashes one could hope for. Happy b-day, Jay.
I've been making A Crash Course for the Ravers on WMFO part of my Saturday routine. This week they had Rick Harte who played a generous amount of material from the vaults that will be a CD soon, only the art work needs be done . There are lots of treasures from MOB, Neighborhoods, etc. Rick had some funny moments as he explained his outsider status at Tufts and how his perplexed son tries to explain to curious neighbors what Rick does for a 'living'. Rick went on to say that he is well on the way to completing a new Real Kids CD. He reassured the listening audience that it is going to happen. Like all things Real Kids these days it's full of drama and expectations.
Ravers archives their shows at MFO.org (look under schedule and then click Crash Course for Ravers) and are worth checking out (although this week's wasn't up as of today 2/7). They are very loosey goosey and lots of fun with a music mix that's local along with a wide range of complementary rock.
Hey folks there are a number of Norton Records benefits coming up this week... This Thursday the 11th In Atlanta with The A Bones and others
This Friday the 12th In Nashville The A Bones and others
This Saturday in Brooklyn, with The Sonics
And a killer show in Los Angeles - also this Saturday - with Kim Fowley even
This Friday!! Radio - 4/12 an absolutely killer show with Unnatural Axe...who almost never play anymore!! Along with Cleveland Punk band Wet Brain, Dry Hump and MfP.
We say on Saturday April 13th we just make a whole day ot it....first up we have MFO's Crash Course for Ravers (91.5) has Mary Lou Lord performance & interview - that 1-4PM...then you can head out to Watertown to Dave Tree's SweeTREE ink (281A Mt Auburn St) for Fool's Paradise a punk art show (7-11PM) with work by Dave Tree, Amy Toxic and Jess Punk
Now if you are in some more southern NE areas you can make it over to a great show at Cherry Street Station (Wallingford, CT) in for a show with TWO Hardcore Punk legends...Yuppicide and The F.U.'s (among other bands) on Saturday April 13th.
The next weekend has an awesome gig to the West out in Wormtown with Lyres & Classic Ruins at Ralph's Diner on Friday April 19 in honor of Mike Z's 39th (again) birthday.
The next day, April 20, Classic Ruins play live on WMFO's
A Crash Course For The Ravers show (that's 1-4)

Hey don't forget Record Store Day is coming up in April on the 20th...get out to one of our local independent record stores…here's a list: RECORD STORE DAY Also on that day What Cheer in Providence RI has the Feelies playing in store!
And to further celebrate Record Store Day and records in general WMFO's Bubbles in the Think Tank show has released a record as in on vinyl...called Eponymously Entitled featuring the likes of The Weistronauts and Mr. Curt/Bird Mancini...among others...the Record Release celebration for this polyvinyl pizza takes place on Friday April 19th at The Midway in JP and it includes all the artists from both Eponymously Entitled and the previous release Petite 7 Inch...including Ed Moose Savage.
And it's a sure sign of spring in Boston when the Cal Cali gigs start getting lined up....that means Cal Cali is making plans for his return north! Friday April 26th at The Rosebud its Billy Rath & his Street Pirates, Jetset and Hixx...OK people that is gonna be some crazy evening...whew!
James Straight and The Wide Stance have a new CD coming out! It's called No Loitering and to celebrate they're having their CD Release Party on April 27th at All Asia in Central Sq Cambridge ...also on the bill is Cadillac Heart and Heptet. Go to their Reverbnation page to see a video and listen to some songs!
The Neighborhoods will finally do that R.I. gig at the Met on April 27th...their last two scheduled shows were cancelled due to snowstorms! I mean with climate change and everything I'm pretty sure there will not be snow on April 27th though it may be 95 by then. You can buy tix at the Met website and play their wicked cool virtual record player to hear Prettiest Girl.
And we have another birthday party on April 27th at The Midway..its the Cheeseburger Eatin' Kings' 40th Bday Bonanza...with a ton of bands including some excellent punk ones like The Damn Broads, Hooks & Sinkers, The Bad Lieutenants and oh, MUNG!!!
May 18th is Cal Cali's Birthday Bash at the Rosebud!! With The Lyres, Fireking and Jetset….YAY Happy Birthday Cal Cali!!
May 20th The Upper Crust are playing a late show (10:30) at The Midway on one of those Monday is my Friday nights...
Thalia Zedek is on a tear- and we're glad ....she now has Come reuniting for their 20th Anniversary (wow has it been that long???) They begin shows in Europe in May...they reissue of "11:11" is on sale as of May 21st (here- Matador Records) and they play the Sinclair on June 27th ,,,Read all about it here.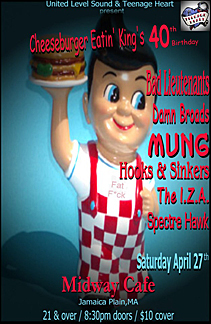 May 23rd Cal Cali goes even further north to Salem for a special gig at the Seaport Café - the Cali Leger Experience will play...
The Middle East Up on Friday May 31th are The 360's, Classic Ruins and Terrible Beauty....time to get out the old calendar and mark it for that one too!
And looks like yes the Rosebud IS open and rockin' until June- Cal Cali (who never rests it seems) has an awesome gig lined up there for Saturday June 15th with The Nervous Eaters, Jet Set and Greg Allen's Fringe Religion....
Here's a very cool blog we can relate to its called Growing Old with Rock'n'Roll by Rick C and in this installments he writes about memories of The Neighborhoods...
CBGB the movie is coming out in 2013 - it promises to be a cool film….check out their website.....
We like this: Eric Hitchinson of Allston has launched a kickstarter project that I'm calling '52 weeks of punk'. The goal is to write, record and release a new, original punk song every week for a year. What we're aiming to do is start with something in the realm of that abrasive old school sound, something between the sex pistols and the dwarves. While we're going to keep that foundation of fast, abrasive punk, we have no intention of turning out 52 tracks that all sound the same. We're going to bring in guest musicians, and try to change things up as much as we can, and still retain that sound we all know and love. This isn't about pre-selling a bunch of albums. the minimum to get early releases on the tracks to just $5. That's cheaper that any show I've been to in years. It's less than I've paid for a lot of albums with just a hand full of tracks.
Lastly old school Punkers The Vibrators have a new CD out and are gearing up for shows in the US for October and November...CD Is called On The Guest List and Special guest appearances by members of Supersuckers, MC5, UK Subs, The Damned, The Stranglers, The Dickies and more! Read about it and pre-order it on Amazon...
EMAIL US AT.......misslynbgn@yahoo.com