The BGN News Archive
April 8, 2019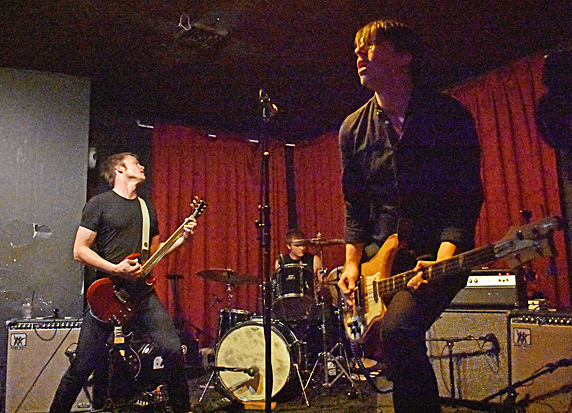 Bad Sports
Photo: Blowfish
Bad Sports brought out the fans to O'Brien's on Thursday. Their garage punk pop concoction brought out local connoisseurs like Joanie Lindstrom, Eric Law, Andrew from the Runouts, two members of Circus Battalion, Lindsey from Whoopi Sticks, and Geoff Palmer from The Connection. Bad Sports have been together long enough to have 4 albums out. Two of the members are also in the OBN III's.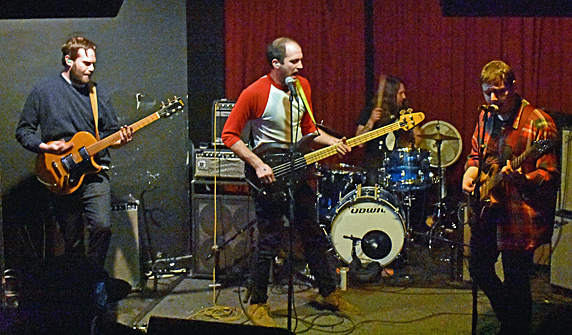 Nice Guys
Photo: Blowfish
Nice Guys opened up. They were much like they were two weeks ago when we saw them at Charlie's Kitchen. We were struck again with how their angular art rock has developed from their garage beginnings. They're real home town band to follow and some people know it because they have fans that go to every Nice Guys show.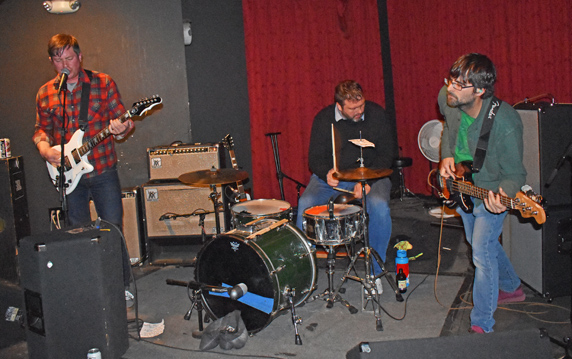 Far Corners
Photo: Blowfish
It was a good lead in for Far Corners from Rhode Island. They are also art rock...Gee, maybe this is a thing now again. They almost never stopped between songs and they were playing hard. They were sweating profusely but they never let it slow them up. The guitarist was hugging the amp with his guitar getting feedback. As he was bringing in the noise the drums and bass were holding things down. The bass player had some short melodic lines that he would repeat during the loose sections. I want to see these guys again just to hear him! Everyone in the band were all tuned into each other which made for a satisfying set.
It was then time for something completely different. Bad Sports would have nothing to do with art rock. They were a more simple garage pop.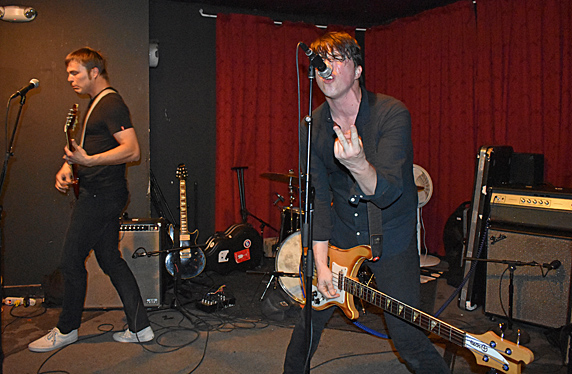 Bad Sports
Photo: Blowfish
From the first song you got sucked into their melodic punk. After half a set it became obvious that they could play these catchy songs forever and every song would be a winner. What was even more amazing was that it was so simple; just regular chords, few solos, and lyrics with lots of repeats in the chorus. It was a mystery in plain sight. It was actually just like the Ramones, not in the sound, but in the plan to make it so simple and catchy that you can't help but love it. The bass player would play just a few notes. He would concentrate on the root and just add an extra note here and there but those notes were the right notes that made the songs click. They had a good stage show with lots of running around.
Eric Law said the last time they played O'Brien's it sold out. You are notified now – catch them next time, you will not be disappointed.
We haven't been to The Rumble in years! In tits fourth decade fwe finally got there again. To us it was a case of them being a victim of their own success. The shows were often sold out and they got so much attention that we never felt the need to cover them. But last year was the first year there was no Rumble. It was very apparent from that situation that they are the source of so many perks for the bands.
We ran into Justine Covault last week at the Once Double Down show and she made the point that everyone was backing out of going to the Rumble like us. So, we changed our minds and there we were on Saturday at Once. We saw all four bands. They don't allow cameras except for a few sanctioned pros, so what we have are all phone photos.
Exit 18 is a band that was never on our radar. They were a young and played very well. Here's their video. To us they sounded mainstream, which is not a crime, but they didn't appeal to us. And that's why we would be lousy judges.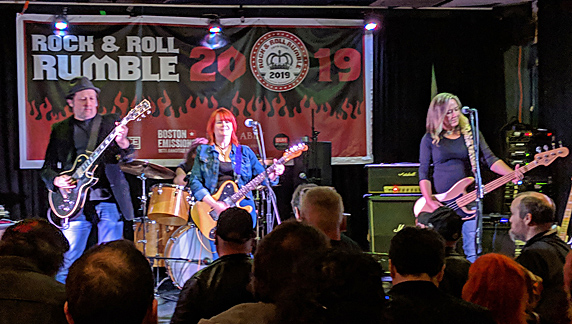 Bad Sports
Photo: Blowfish
Justine and the Unclean were up next. Jay Allen reminded us that both Justine and Janet were in Malachite and they were Rumble runner's up in 1993.
The Unclean put in a good set. Their cool songs were half the show with the band performance being the other. There was some guitar gymnastics by Hanson that we can never get enough of. Jim Janota really let go on the end of "Rock and Roll Blackmail" and that was a great moment to remember.
They began with "I'm In Love With You, Jackass" which was a perfect introduction to what they do. The set had: "Passive Aggressive Baby, "Be Your Own Reason", "Love Got Me Into This Mess", The System Is Set to Self-Destruct" and "Margaritas and Second Hand Smoke".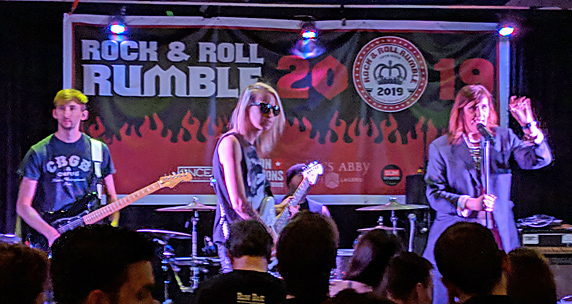 Anngelle Wood (right) introducing Blindspot
Photo: Blowfish
Then it was Blindspot. We saw them play at the Lizzie Bordon and the Axes final show last December. Then it was a duo. For the Rumble they were a trio. Looks like the drummer switched to guitar and they got another drummer to fill in. That switch up made a big difference. They play with a taped background. That tape was less noticeable with the extra person playing and they had a better presence.
Singer/guitar player Alexa Economou was a dynamic front person. She looked super cool with sunglasses as she bounded about the stage and did lots of hand gestures that weren't jazz hands but were moves a dancer would make. It was a good set.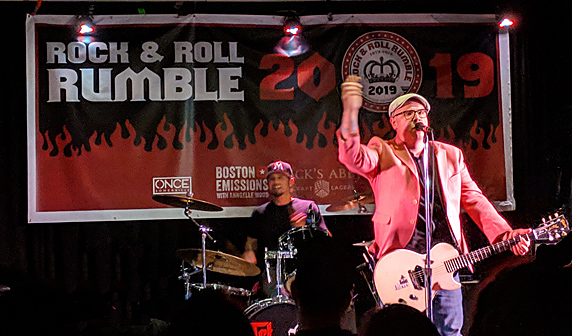 Art Thieves
Photo: Blowfish
The final band was Art Thieves, a band we saw last October. We were impressed by them then. They were unapologetic political punk. That sounded great coming off the Rumble stage. They package their points in short untidy punk bursts. We loved it all and we have to get to more of their shows soon!! They released their album Russian Rats last year.
It turned out that Blindspot won the night. There was a good crowd but far from sold out which made it more comfortable for us. Some people had trouble parking at Once. Eric Law circled for 45 minutes and we had to park a good distance away from the club. We were glad to cheer for Justine and the Unclean and it was a good experience. Brix 'n Mortar won the previous night. Congrats to them!! Maybe we'll start going to more of the Rumble now.
OK we're sounding like a broken record...but we like it...we went to the Midway on Saturday afternoon. It was an Easy Ed show and we always hear that call. It was the Barley Hoppers and Roy Sludge. When we walked in Easy Ed was spinning the records and they are always songs that make you want to know who's doing them. I guess you just have to tune into his WMFO show 6 to 8 pm every other Friday so you can find out some of his choices.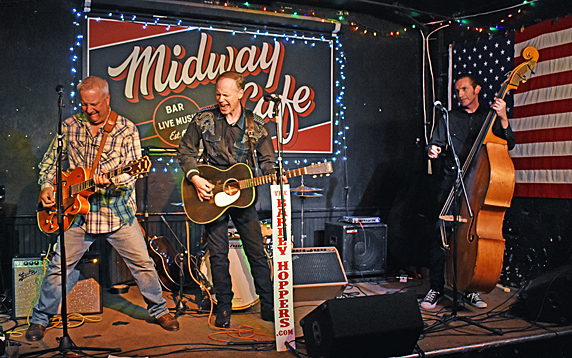 Bad Sports
Photo: Blowfish
The Barley Hoppers got up and did a generous set. Much of the material was familiar to us. "Lonely Town" by Rick Nelson is something we always look forward too. Ray Reniere plays some sweet whammied triads in that. He played a lot in the set, switching from Telecaster to a Gretsch. He plays a little different with each. The steel guitar bends he does in the Tele are show stoppers. With both he thuds out some Johnny Cash style bass lines.
They have an easy downhome swing in the center of everything that typifies their sound. It's easy to forget that they have no drummer. Stan "The Man" Kozlowski plays acoustic guitar and sings. He sings songs that are strongly associated with classic singers but he puts them all across, chameleon like. After a set by these guys it seems like it's all right with the world.
Unfortunately we had to leave before Roy Sludge because we had the Rumble to get to later.
---
And in other news.....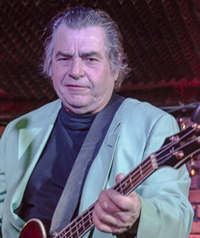 Yet another death this week; Vinnie Earnshaw was the bass player for Greg Allen's Fringe Religion when we first saw him. He later did a solo album called American Dream under the name The Chicago Vin Coalition. His got the name Chicago Vin when he was playing with some blues with legendary acts including Hubert Sumlin.
You couldn't talk to Vinnie for long before finding out he had a long rock history. He and Greg Allen worked with Jerry Nolan of the Dolls in his last project. That record came out in 2013.
Vinnie spent his life in music so it's fitting to go to his CD Baby page and check out some of his songs. Go to "American Dream" and "Hey Little Girl" for the garage and listen to his world weary voice on "Walk Away". In retrospect we wish we had got the whole Vinnie Earnshaw story. You can read his obituary here.
Brian Coleman is doing his second Video Loft on Thursday April 11 at the Coolidge Corner Theater. He's got those crazy retro vids. Things are normal now in comparison to the goings on in the 60' and 80's. He's got a Major Mudd clip in there too. Look at this promo trailer to peak your interest.
We got the new Nervous Eaters CD called Record 10 that will get its release show on April 27 week up in Beverly with Mr. Airplane Man and Corolla DeVille
We have a review of it on our CD Review page. It's a rocking delight. It's a generous 14 songs with plenty of new songs that are in the classic Eaters form. There are a new recordings of "Girl Next Door" and "Last Chance".
We also added a review of Richie Parsons Black Troated Blue. It's been interesting to see Richie go on his second musical track. Who knew that the voice that did Hitler's Brains could inhabit the pop world? This second album continues from where the first left off and gets deeper in songwriting and arrangements.
The Digs have released the music from their final show which was at the Middle East on August 11th, 2017. It's called The Final Show (Most Likely) and it's on Bandcamp. It also includes sets done that night by Hey Zeus, Psychic Dog and the Pickup. The artwork is by Dug McCormack, of Psychic Dog, who is making us think of him as the new Magnus Johnson. He's making recognizable outsider art that is coloring our world.
Oh no, someone is doing a Broadway play on The Ramones. That can't be good!!
A new song of classy synth pop by Adventure Set. It's called Secret Life - Listen here.
Skybar has Brad Marino of Connection calling in on his Rising show on WMFO this Tuesday 8 to 9 pm. Brad is going to talk about his new solo album Extra Credit. The CD release party is Saturday at Sally O'Brien's with Stop Calling Me Frank and Kris Rodgers.
---
Here's some good shows coming up this week.....
April 8 (Monday) VHS Slut 1997, Calyx, Oceanator, Moon Room at Charlie's Kitchen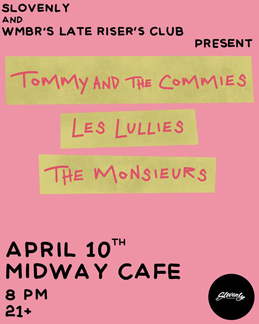 April 10 (Wednesday) Slovenly Recordings presents: Tommy and The Commies, Les Lullies, and The Monsieurs plus DJ Pete Slovenly at The Midway
April 11 (Thursday) The Hideout, The Handsome Scoundrels (AL), CE Skidmore, ITM At The Hong Kong Harvard Sq' 8-Minight
April 12 (Friday) Low Dose, Leopard Print Taser, Labor Hex at O'Brien's
April 12 (Friday) Venom & Mayhem (Twin sisters from Flight Of Fire, ) unplugged doing originals & covers, Corolla DeVille, Doug MacDonald Band - at Tavern at the End of the World.
April 12 (Friday) Brad Marino Band Record Release Show! at the Button Factory Stage Portsmouth, NH. Also on the bill Kris Rodgers and The Dirty Gems - FB page.
April 13 (Saturday) The FU's, Armpits, Citizens Against People, Crux Decussata at The Midway 3-7 matinee show
April 13 (Saturday) Classic Ruins at Tavern at the End of the World
April 13 (Saturday) Stop Calling Me Frank, Brad Marino Band, Kris Rodgers at Sally O'Brien's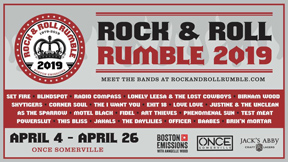 April 13 (Saturday) Rock n Roll Rumble Prelims #6- Baabes (9PM) Jakals, Set Fire, Birnam Wood at Once Ballroom.
April 13 (Saturday) Diablogato, Nick & The Adversaries, Stemwinder at Down The Road Beer Co. 199 Ashland St Everett FB page
April 13 (Saturday) Single Mothers, Rebuilder, Secret Spirit at The Hong Kong
April 13 (Saturday) Taxi Driver, 2Minute Minor, Stoploss, Iron Gag at O'Brien's
April 14 (Sunday) Boston Hassle's Black Market Flea 12-6PM FB page for more info
April 14 (Sunday) A Sunday Matinee with Richie Parsons and Friends: Trick Wallace Trio, Eric Martin Band, Richie Parsons Music, Dave Fredette Duo at The Midway 3-7PM
April 14 (Sunday) It's a Plough and Stars 50th Birthday Mess-Around so check out the FB page, there's a LOT Happening....but Mess is 4-6 as usual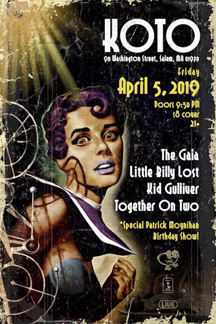 April 14 (Sunday) Kali Masi, Cook Bag, Kato Kaelin at The Hong Kong
And further out we have.....
April 17 (Wednesday) Weak Days, I Wish I Could Skateboard, Giant In The Lighthouse, Elephants at The Hong Kong Harvard Sq
April 19 (Friday) Disaster Strikes, Gizzaards, Rooftops, Hairspray Queen, Myocaster Coypus at O'Brien's
April 19 (Friday) Zombii, Rays Occult, Losers Circle at Thirsty First in Lowell.
April 20 (Saturday) A Crash Course For The Ravers show streams to everyone LIVE Saturdays 1pm to 4pm at and transmits on WMFO 91.5FM Medford. This week we have The Hi-End in to chat, spin tunes, we'll see what else.
April 20 (Saturday) Brave Hands, Notches, Tied to a Bear, The Furniture at O'Brien's
April 20 (Saturday) Junkyard, Derailer, The Hi-End, Demons Alley at Koto in Salem.
April 23 (Tuesday) Battery March, Feedbag, The Laces, Secret Spirit at O'Brien's FB page
April 25 (Thursday) The Big Sway, Oh The Humanity & Coffin Salesman at Sally O's Union Sq FREEEEE as in NO cover.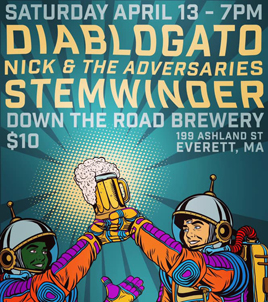 April 25 (Thursday) The Proletariat, Moving Targets, The Northern Skulls at Alchemy Provi RI
April 26 (Friday) Michael Kane And The Morning Afters, Cuidado, and Lenny Lashley at the Thirsty First Tavern Lowell.
April 27 (Saturday) A Crash Course For The Ravers has POP GUN in to play their new stuff! 1pm to 4pm at http://www.wmfo.org/popout_player.php?bitrate=256 and transmits on 91.5FM Medford.
April 27 (Saturday) The Proletariat and Moving Targets at Once
April 27 (Saturday) The Stigmatics, Mongorellis, Thee Sonomatics, Groundlift at Club Bohemia
April 27 (Saturday) Nervous Eaters CD Release, Mr Airplane Man, Corolla DeVille at 9 Wallis Beverly.
May 2 (Thursday) Rawstrum, Gideon Grey, Pinaple Jam at Thunder Road (Rawstrum on first!)
May 3 (Friday) Barrence Whitfield & The Savages w/ Muck and the Mires at The Middle East
May 3 (Friday) Corolla Deville, Stigmatics and Pop Gun at Jeannie Johnston's Pub JP
May 3 (Friday) Choke Up, Keep Score, Depressor, Matt Murphy at The Hong Kong Harvard Sq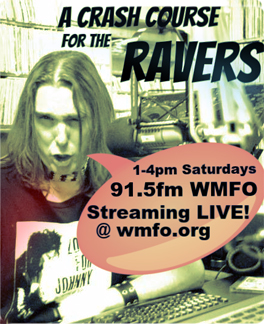 May 3 (Friday) Mad Painter (with Kenne Highland on bass) along with The Fringe, Roll Over White and Shipwrecked at The C Note in Hull.
May 4 (Saturday) It's "LIVE DAY" on WMFO (91.5FM) featuring local acts doing 40 minute live sets all day. Same DJs at their regular times but live music all day. The Cast Irons - 9AM...Anthony Kaczyinski (acoustic) 10AM... Peter Parcek 10:50....Danielle Miraglia w/ Lisa Bastoni 11:45...Lily Black (full band) 12:40PM...61 Ghosts 1:35PM...Will Dailey 2:30...Flight of Fire 3:25....Celebutant (acoustic) 4:25.
May 4 (Saturday) The McGunks, Silver Screams, Revilers, Damnation, Live Nude Girls at The Midway 3-7PM
May 4 (Saturday) Carissa+Cure-Alls, Justine & The Unclean, Tiger Bomb, RunHideFight at Sally OBrien's
May 4 (Saturday) Dial Drive (FL), Loser's Circle, The Runouts at The Hong Kong, Harvard Square FB page
May 6 (Monday) Sneeze, Cult Fiction, Toothbrush, Non- at Charlie's Kitchen
May 7 (Tuesday) Dougie Flesh, Coffin Salesman, Ciderdown, Hannah Jay at The Tavern at the End of the World.
May 10 (Friday) Oh The Humanity, SkyTigers, Tied to a Bear, Shrug Dealer, Weaklings at Uncharted in Lowell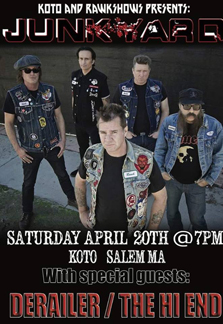 May 11 (Saturday) The Knock Ups, Ila Minori, Erel, Chad Gosselin of The Big Lonesome at The Midway night show
May 11 (Saturday) Back Central, Kind, Distressor, DNZL at Thirsty First in Lowell
May 11 (Saturday) FUs, GLiDER, Classic Ruins, Screw.Cart at KOTO Salem
May 11 (Saturday) Cactus Attack, Diablogato, Jittery Jack & Amy Griffin at the Dover Brickhouse Dover NH
May 13 (Monday) Happy Accidents (UK), Greed Island, Birdwatching, Traders at Charlie's Kitchen
May 15 (Wednesday) Jon Snodgrass, Lenny Lashley, Micah Schnabel at O'Brien's Pub
May 15 (Wednesday) The Blasters with Diablogato and Dead Trains at ONCE Ballroom
May 17 (Friday) Lily Black, Highway Chapel, Thee Fightin' Fish, The Negans at Club Bohemia.
May 17 (Friday) Parlour Bells, Gene Dante and The Future Starlets, and Smitt E. Smitty & The Feztones @ OPUS Underground in Salem,
May 18 (Saturday) Marko And The Bruisers, Color Killer, Shore City, Punk Band - 3-7 matinee at The Midway
May 20 (Monday) Coffin Salesman, Molly Rhythm, Talk Me Off, Double Star at Charlie's Kitchen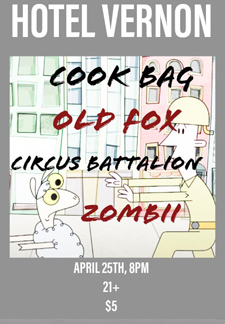 May 24 (Friday) Lo Wreck's birthday with The Downhauls, The Dents, Duck & Cover and Skytigers at Sally O'Brien's
May 25 (Saturday) Lara Hope, Jittery Jack & Amy Griffin, The Demon Seeds at Opus! Salem
May 27 (Wednesday) Natterers, Yooth Decay, SAP at O'Brien's Pub
June 1 (Saturday) Vicky and the Vengents, Muck and the Mires, The Electric Mess at The Midway
June 7 (Friday) 61 Ghosts, Cal Cali Band at Tavern at the End of the World.
June 7 (Friday) Jittery Jack & Amy Griffin at The Book & Bar, Portsmouth
June 15 (Saturday) Thee Fightin' Fish, The Billy Connors Project, A Bunch Of Jerks, Club Linehan A Go Go - 3-7 matinee at The Midway
June 23 (Sunday) Teenage Bottlerocket with Ramona, The Young Rochelles at Once
June 29 (Saturday) The Old Edison, Coffin Salesman, Time & Place, Loser's Circle at The Midway
July 9 (Tuesday) Some Kind Of Nightmare, Losers Circle, Nick Barbarian, And Live Nude Girls at Thirsty First Tavern Lowell.
July 11 (Thursday) 61 Ghosts, Thee Fightin' Fish, Pop Gun at Opus in Salem
August 14 (Wednesday) Deke Dickerson, Bloodshot Bill, Jittery Jack, DJ Easy Ed at Once FB Page
CONTACT US AT....misslynbgn@yahoo.com Send us your gig listings, your news and anything else ya got!! You want your CD reviewed?? Contact us for that too.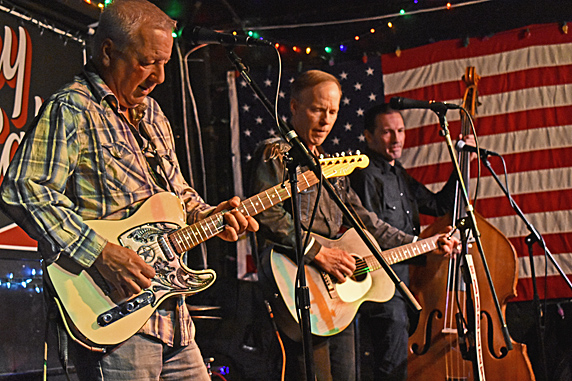 The Barley Hoppers
Photo: Blowfish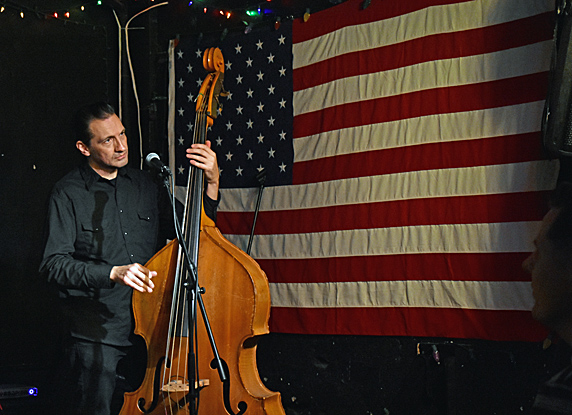 The Barley Hoppers
Photo: Blowfish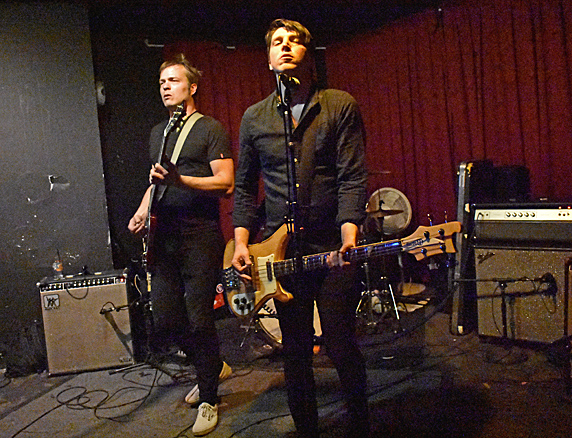 Bad Sports
Photo: Blowfish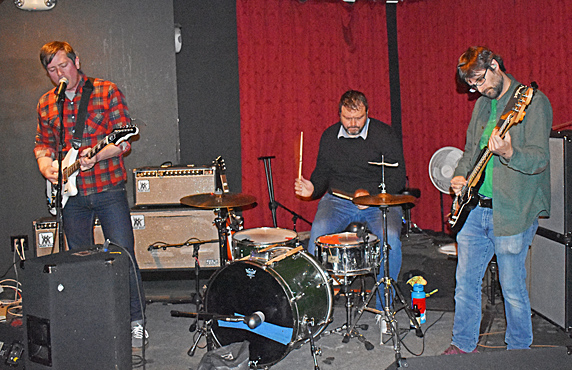 Far Corners
Photo: Blowfish