The BGN News Archive
April 10, 2017
Most people know Jan Crocker from The Billy Goons and his early Boston punk films. He's made those available on his Kino Digital Films website. We were so lucky he was around and filming at that time because those are the only films around that were done at Boston punk ground zero. He's made a move to put in more content that grows from those films. This is making his site a must go to site if you're a Boston punk fan.
His latest posting as of this week is a feature on Boston Punk Flyers and boy is it good. The main anchor is a good length essay by Larry Bangor (Human Sexual Response) that touches all the points about flyer creation, art and influence. If you do any web reading this week it should be that article. It is illustrated with examples but that is just a taste of the artwork posted from five major flyer creators…Dini Lamont (Human Sexual Response), Mark Andreasson (La Peste), Clint Conley (MOB), Pat McDowell/Mark Thorman (Marc Thor Band), Mark Flynn/Magnus Johnstone (Punkt Data), Ralph Fatello (Vinny Band), and Willie Alexander.
| | | |
| --- | --- | --- |
| Willie Loco | Mark Flynn | Dini Lamot |
Larry makes you see that the poster art was from the same well source that produced the graphics in magazines, record sleeves and even badges.
There also is an appreciation of Magnus Johnstone who was influential in a few areas, flyers being just one. We all miss Magnus.
And Jan's a video guy so there a 14 video interviews with some of the major players and others. Go to the site now!! ….Click here to get there.
Congrats to Rumble first round winners…Stars Like Ours, Carissa Johnson, Red Red Rocket, The Rupert Selection, Hey Zeus and Tom Baker and the Snakes

RIP Daryl Frazier aka Billy Nightshade. He was born in Pelican Rapids, MN. He answered an ad for a punk band in Indiana, that was the second version of the Gizmos. He was in the Gizmos from 1977-1981. He then moved to Worcester and with his brother Mark started the band The Unattached here in Boston. Daryl was one of the sweetest and nicest guys. RIP Daryl. Here's a link to the Memorial Folder for Daryl.
| | |
| --- | --- |
| | Daryl Frazier in the Gizmos |
Since we don't have any band reviews for ya here's one from Trash'n'Bang on the State of the Union, New Frustrations, Stigmatics and Only Things show at the Midway this past Saturday 4/1/17. Check it out here!
Here's some good shows coming up .....
April 10 (Monday) Actor|Observer, Sparrows, SuperTeen and No Hands are at O'Brien's
April 10 (Monday) The Very, Justine and the Unclean, The I Want You at ONCE Lounge FB Page
April 11 (Tuesday) Minibeast, Insect Factory, Violet Nox at Out of The Blue Gallery Too (FB page)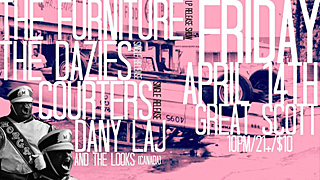 April 13 (Thursday) The Rumjacks, Jason Bennett and the Resistance, Michael Kane & The Morning Afters and The Runouts
April 13 (Thursday) Modern English are at The Brighton Music Hall
April 15 (Saturday) The Last Ones are at The Midway with Tsunami of Sound,Trusty Sidekick and Sammy Kay (a PM show)
And further out....
April 17 (Monday) Terry Malts, Shark Toys with Idiot Genes and Bad Deals at O'Brien's Pub
April 19 (Wednesday) You just can't stop the Messaround!! This week there's a Model Messaround at you guessed it the Model in Allston. There'll be Jay, Justine & Tom Baker but they also have special guest Richie Parsons, Elisa Birdseye, Keith Pierce (Mello Bravo, Party Bois) and and Mr. President himself Ken Kaiser. FB page
April 22 (Saturday) Electric Frankenstein, Symbol Six, Hey Zeus and Duck & Cover at O'Brien's Pub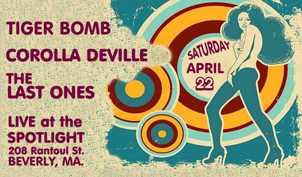 April 22 (Saturday) BLOWW's 7th Annual Blue Ball with special guests Strange Fuzz, Electric Street Queens, and PowerSlut - nighttime show at The Midway
April 22 (Saturday) The Last Ones, Tiger Bomb and Corolla deVille at The Spotlight Tavern in Beverly
April 22 (Saturday) The Gypsy Moths and The Dogmatics are at The New World Tavern in Plymouth
April 28 (Friday) The Upper Crust, Benny Sizzler, Devil On Horseback at Once
April 28 (Friday) Lydia Lunch, Hard Nips (Japanese Girl Band), Cassie J Sneider and Nonye Brown-West at Ralph's in Wishtah. FB page Why isn't this show in Boston or Cambridge!?!?
April 28 (Friday) Former Misfits member Michael Graves is at Firehouse 13 in Provi with Damnation, The Skeleton Beats, Deprived and WolfmanChuc
April 29 (Saturday) A special evening of performances at The Met by Throwing Muses, Neutral Nation, and Plan 9, and their inductions into the Rhode Island Music Hall of Fame! Tickets are scheduled to go on sale on February 27!!! For unveiling ceremony and rock inductions day #2 check out the FB page!!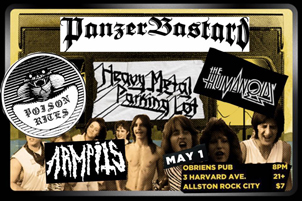 April 30 (Sunday) Jason Bennett & The Resistance, On The Cinder, Michael Kane And The Morning Afters, The Martians - At The Midway - This is a 4PM afternoon show.
May 1 (Monday) PanzerBastard, Poison Rites and Armpits at O'Brien's
May 4 (Thursday) Walter Sickert & the Army of Toys, Scarlet Sails, Radiator King at Once
May 5 (Friday) The Skeleton Beats CD Release Party! at Opus in Salem also on the bill: Nick The Barbarian, Michael Kane and the Morning Afters and The Warning Shots
May 8 (Monday) Indonesian Junk.....who have just released a digital single "Turn to Stone" on Rumbar Records..... are at O'Brien's. HearTurn to Stone here. Also on the bill Jay Allen & The Archcriminals and The Von Traps
May 10 (Wednesday) Zip-Tie Handcuffs, The Mad Doctors, Idiot Genes, Future Spa at O'Brien's Pub...FB page
May 11 (Thursday) Cruel Miracle, The Stops!!!, DiNOLA and The Scrapes are at O'Brien's
May 12 (Friday) Mike Watt (Minutemen) and Meat Puppets are at the Brighton Music Hall Here's the FB page
May 12 (Friday) Rockin' Bob Punk Band w/ Special Guests TBA at O'Brien's
May 13 (Saturday) A Crash Course For the Ravers has Glider on - WMFO 95.1 1-4PM
May 13 (Saturday) DJ Easy Ed presents The Cranktones plus Easy Ed's Record Hop! at The Midway - this is a 4PM show.
May 13 (Saturday) The 5th and Last Joe Coughlin Memorial Show.....we love Joe and will never forget him!!! On the bill: M.O.T.O., Super Special Guest Star, Blue Oyster Coughlin, Classic Ruins and Jay Allen at The Midway!! (9PM show)
May 13 (Saturday) Watch City SteamPunk Festival in Waltham...Website FB Page
May 20 (Saturday) A Crash Course for the Ravers will be featuring The Black Souls & Classic Ruins! Check it out on 95.1 WMFO 1-4PM
May 20 (Saturday) Jenny Dee & The Deelinquents, Muck and the Mires, Vicky and the Vengents at The Middle East Up.
May 22 (Monday) Whoopi Sticks, Fire In The Radio (Philly) and Cook Bag at O'Brien's
May 26 (Saturday) Corin Ashley and Modern Day Idols are at The Plough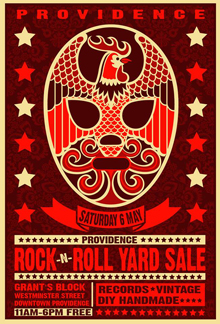 May 27 (Saturday) A Crash Course for the Ravers will be featuring the new Greg Allen's Fringe Religion! Check it out on 95.1 WMFO 1-4PM
May 27 (Saturday) A Cal Cali show: Lyres, The Black Souls, Classic Ruins and CalCaliBand You can buy tix here (Only ten bucks!!) FB page
May 27 (Saturday) The Runouts, The Martians, Blame Shifters, Nymphidels at The Midway this is an afternoon show - 4-8PM
May 29 (Monday) Teenage Bubblegums (Italian Pop Punk), Jagger Holly, Mongorellis, Jimmy Jacked at Opus Underground in Salem (FB page)
June 4 (Sunday) Birdsongs of the Mesozoic are at Once
June 4 (Sunday) Jack Grisham from TSOL doing readings and photos plus Jerry's Kids, Stranglehold, PanzerBastard at Once FB page
June 4 (Sunday) GIUDA (from Rome Italy) and Unnatural Ax & The Hi End at Once Tix etc here
June 8 & 9 (Thursday & Friday) Reverend Horton Heat along with Agent Orange, and Flat Duo Jets at Once in Somerville
June 10 (Saturday) Psycho, Conclave, Whoopi Sticks, Gant, Spillers an afternoon 4-8PM show at the Midway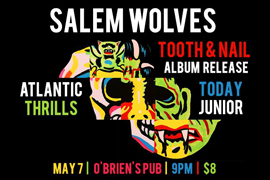 June 11 (Sunday) A Sunday Punk Matinee at the Midway with M.A.T.B. (frm Worcester), Worm, The Hideout and No Good (frm Maine) 4-8PM only $5!!and All Ages.
June 14 (Wednesday) Eve Minor (from NYC), DnA's Evolution, The Stigmatics, Doug Linse at The Midway
June 17 (Saturday) A Crash Course for the Ravers will be featuring Anthony Kaczynski! Tony is the consummate musician, he should have some interesting stories to tell and picks to play. Check it out on 95.1 WMFO 1-4PM
June 17 (Saturday) Held Hostage, Point Blank, Infernal Diatribe, Profit Margin at Koto in Salem (FB Page)
June 18 (Sunday) Help Save Out of the Blue Gallery Too - this will be an all day affair (3PM-11PM) with FOURTEEN bands including: Brian Young -WMFO as Emcee plus Thalia Zedek, Fireking, Randy Black, The Knock Ups, Tsunami of Sound, The Stigmatics, State of the Union, Cal Cali Rockin' Trio, The Last Ones, The KENZ (Highland & Kaiser), The Thigh Scrapers and Club Linehan A Go Go ~ 50th Birthday Party for Joe Quinn. Check out the FB page

June 25 (Sunday) Nonzerosum Present: Conflict, Who Killed Spikey Jacket, Cinderblock, Pandemix - ALL AGES, $20, 8:00 PM Doors at the Middle East Up.
July 19 – July 30: The Midway's Dirty 30th Anniversary Celebration Spectacular
September 16 (Saturday) Chameleons VOX At the Middle East Also on the bill: Soft Kill , Way Out and The Milling Gowns FB Page
CONTACT US AT....misslynbgn@yahoo.com -Send us your gig listings, your news and anything else ya got!! You want your CD reviewed?? Contact us for that too.