The BGN News Archive
April 11, 2011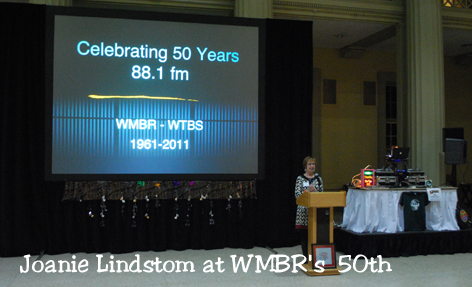 The Boston rock scene has always benefited from being in a college town. It's a constant influx of fans and musicians. Then there is the college radio component that has added to the mix. Saturday was the 50th Anniversary of MIT's station. We mention WMBR on this site primarily because of the long running Late Risers Club but there are many worthy shows on the station that we all listen to. Even with 50 years of history the Late Risers Club does loom large in the WMBR legend. Those late seventies were crazy years for rock and rock radio. That shook up WMBR as well. The LRC transformed the station in many ways, especially the musical content but the punk attitude was jarring to the geeky ruling powers too.
Well, time has passed and all get along pretty good now. The night has speeches by Jon Bernhardt and Joanie Lindstrom as well as a slide show and a clip from Marissa Acosta's film on the LRC, also fantastic food and a great souvenir T-shirt. Lots of the people who you might only know as voices came back to Cambridge to celebrate the station of course yak it up...they love to yak it up!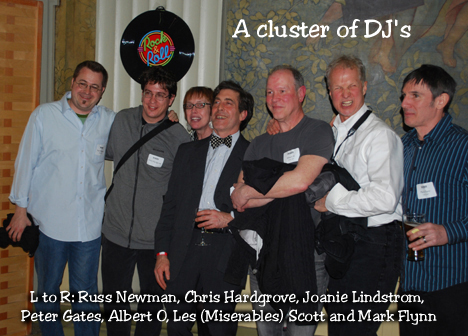 Oh we got a tough choice on Saturday, April 16th a screening of Andy Warhol's film The Velvet Underground in Bostonat Arts Emerson and should be a fantastic thing to see!!
and just down the road from there is ..... The Nervous Eaters, Lyres, and Robin Lane and the Chartbusters at the Royale on Saturday, April 16. ad what to do later? well The Rosebud has another Nicole Tammaro Book Release show with the Scars, The Blue Bloods and The Spoilers and the book is on sale for $14.50 as well.
Thursday April 21 at The Rosebud the Port Charles Quintet is back and from what we hear, better than ever!! They have a new guitarist and Here's a quote from Cam from their first rehearsal "Pete's the best guitarist I ever played with"....so we can't wait to see them!! AND to make it even better they are playing with JJ and Thee Cuban Heels!
and just in Nancy Neon is puttin' on a new show at The Cantab on Friday, April 29th with Kenne Highland opening at 9 then The Apeshits and Sticky Business....
Saturday April 30th & Sunday May 1st is Somerville Open Studios,come see me and my artwork at the Armory, 191 Highland Ave in Somerville
also on Saturday there's an Art Opening Wayne Viens Store 54 as well...with the paintings of Mary Galli, inspired by the readings of Rumi.
The Magic Room has a great line up on Saturday May 21 with James Straight and the Wide Stance, The Cadillac Hearts and The Beach Combovers James Straight is always intense and has a tight band. The Cadillac Hearts with Billy Connors and Rayboy have already recorded some stellar material and promise to be great live and the Combovers have the songs for the summer which should be around the corner.
And in June when all the snow should finally be gone there's some good shows:
It's gonna happen in 2011 though it might as well be 1985. The Dogmatics, The Neats, Band 19 AND Last Stand are playing a show in support of Susan Cibulsky of and Brendan Raftery who will ride in the Pan Mass Challenge this year to raise money for cancer research. The concert, which will also feature DJs Juli Kryslur and Randi Millman, plus The Painted Lights, Mean Creek and other special guests , it takes place Friday June 10 at 9 at the Paradise - it's 16 bucks and well worth the dough, at least one person in each of these bands has lost a loved one or had a loved one who has had cancer.....it will also be played in memory of Boston rock fixture and former WMBR DJ Spencer Gates, Jerry Lehane's father, Tom Johnston's father, Joyce Linehan's mother and in honor of cancer survivors Lehane's mother, and Tom Johnston. This show is produced by Tom Johnston and Joyce Linehan, as it would have been in 1985. (Note from Miss Lyn: I will be thinking of my mother Eunice and my brother Donnie who were lost to cancer and an extra tip of the hat that day to my dad who survived it as well as to my family friend Lea Dumas who just stopped 6 months of treatment for ovarian cancer. ..and then there's our own Helanie Saad who is a breast cancer survivor...)the list goes on and on...and on...
Up in Salem at Dodge Street on June 11th: Corolla DeVille, Nervous Eaters and Satin Kittens!
Email us click click click