The BGN News Archive
April 13, 2009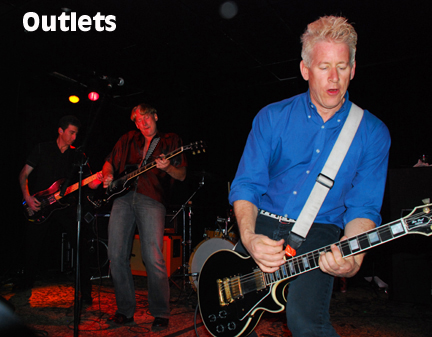 We absolutely HAD to go see the Outlets , Underball, The Wynotts and Jay Allen and The Archcriminals at Church this Saturday and we certainly were NOT disappointed by the show!
Ok I'll be honest, we missed Jay the the ACs but I got to watch them get drunk, and carouse for the rest of the evening and that was fun!
The Wynotts were fun too…I have to say I LOVE Chrissie and her stage presence, the way she dresses, the way she moves and her sort of monotone punk brat vocals. She is a joy to watch in any band she is in.
The Wynotts have some excellent songs though and they have Bob Cenci on guitar and most likely writing the songs, some of which are pretty damn catchy (which is actually a feat these days it seems). Check 'em out at their MYSpace site: Wynotts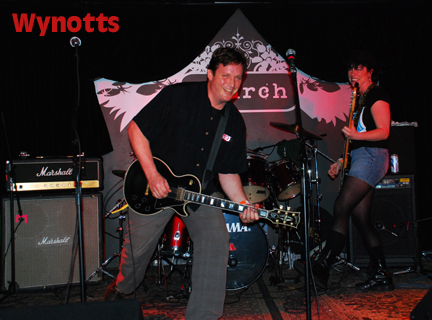 Next up was Underball…the drummer stayed on stage because he is in both bands…Underball is another excellent band….I had a great time listening to my friend the most wonderful Vinny tell me some Underball lyrics, like the lyrics to Cereal and Toaster Thrower which most definitely is a classic, talk about catchy and memorable…it was awesome, go to the Underball site and listen to Toaster Thrower!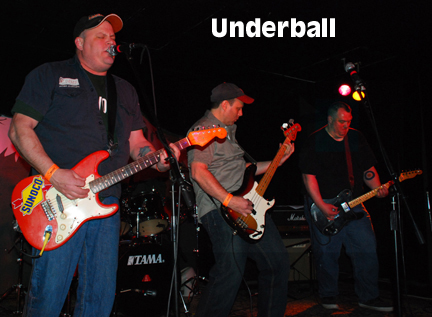 Oh my next up was The Outlets….from the first assault of the strings and the first bash of drums these guys continually delivered an incredibly high-energy, strong and well-played set….am I telling you anything new? No….that's what they always do and that's one of the reasons they are so great!!
Talk about a pleasure to watch…I mean Chrissie is great but I AM a woman so I could go on and on about Rick Barton, I mean talk about a pleasure to watch…on or off stage but anyway you know that too right???...
oh and once we institute the Tight Pants Hall of Fame here on the BGN Rick will be one of the first members inducted!
But I digress….and of course the main source of electric, kinetic, insane energy is Dave Barton....
There are times when I feel like he has soooo much energy in ide he can't do enough to get it out on stage! …
Dave is such an enigma to me…I just can't figure him out. IS he crazy? Is he drunk? Is he on meds? Is he a genius? Has he been kept in a bubble since like 1980 and only let out for gigs?? Besides the fact that he has not aged much, he suffers from a bit of time-warpism with that very strange hair cut and fashion sense but I am probably the only person in town who even bothers to think about that....
Anyway, you can tell he is the center of the band's energy field and more...…they all play off what Dave does and the chemistry is so excellent….there's a mutual, working respect and it all comes off so perfectly….so, yeah, it was a great show, they never disappoint.
I am very glad I went to this gig!
And The Outlets are doing one of their more acoustic sets at The Plough & Star on Friday May 1st…so don't miss it!
Actually it would be interesting to see what Dave is like in that kind of setting!
Oh and you should probably check out their site AND get their release The Outlets Rock 1980...so go check out The Outlets space
So this week, you guys, we got some excellent and big shows coming up on Thursday April 16th at Church we got The Groinoids!!! along with Psycho, An** C***, and others...
This is the Groinoids 30th Anniversary Show, the reunion line-up is as follows: Mongoloid on vocals ( he hasn't been on stage in those thirty years I hear from Big Daddy!) Big Daddy on drums, Larry Kelly and John Darga on guitar and John Kozik on bass. Visit GROINOIDS for more info!!
OK, then on FridayApril 17th at TT's is another big show but of a very different kind… with Muck and The Mires, The Woggles , The Konks and Watts …..
And actually the next night, Saturday, April 18th at TT's is some interesting stuff with The Wooden Birds and Thalia Zedek…..
Also on Saturday, April 18th , at the Middle East UP has great stuff all day:
1PM show with Confront ( this is their 10th anniversary show), Morgan Knockers, The Murder, The Few And The Far, Squallie Greenthumb - and I might add this is also an All Ages show….
then that night they bring in The Fleshtones, Lyres, and The Nouvellas!!
….I'm still gonna mention that I don't think this bill should be in this venue! It upsets me frankly!! They are better than that!! The Fleshtones and Lyres filled up Harper's Ferry last time…so why are they at the ME up this time>? I don't' get it! .,…
May 8th the Damned are at The Paradise…have you read our interview with The Damned from 1977?
We were the first people in the U.S. to interview these insane young men….it was quite and experience…
Also in May, Richard Lloyd and The Sufimonkey Trio are at Church again
also in May Eddie & The Hot Rods are back again.... they too are at The ME UP instead of Harper's Ferry...grrrrrr.
June 6th at O'Brien's are Pulp 45, The New Alibis and The Allrighters - excellent show!!
Also its a the Johnny Angel invasion in June....more on that again later....

OK, there you have it for this week friends....
And you DID check out the Joey Shrine right??? If not, click that link and then tell me what you think… email me huh....????.... Lyn