The BGN News Archive
April 13, 2015
The Sonics at the Brighton Music Hall
Everyone was excited by the Sonics show. There were lots of Facebook posts about the show all week previous to it - the Sonics are ground zero on punk. They found the manic primitive sound on their own. To sound like they did in 1962 and be uncompromising about it took courage. As far as I know they only toured the Northwest and never played Boston before this show in 2015! All we ever got were the records which many Boston punk bands covered, most notably DMZ.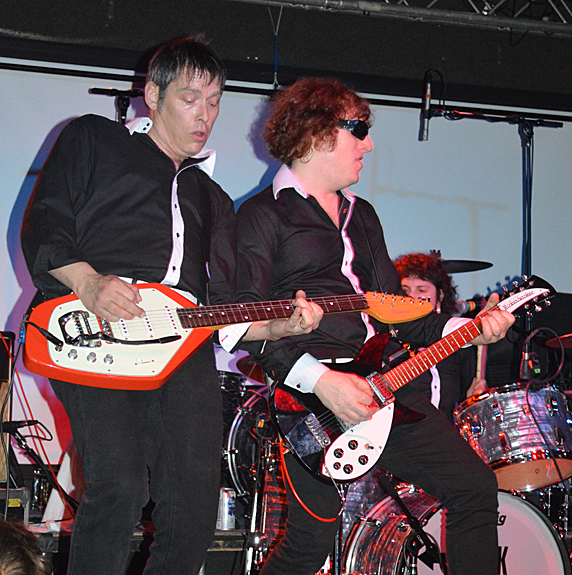 Muck and the Mires at the Brighton Music Hall
The Brighton Music Hall stated the show start would at 7pm but then changed to 6:45pm and the doors didn't even open till after 6. We missed half of Muck and the Mires because of that time change. It was different seeing them up on a 5 foot stage. They looked like rock stars and they did what they do which was rock the house. We've seen Muck in every incarnation of club and stage. I think the time has come for the movie: A Hard Muck's Day, Altamuck or Having a Muck Weekend.
The club at this point was full but not packed.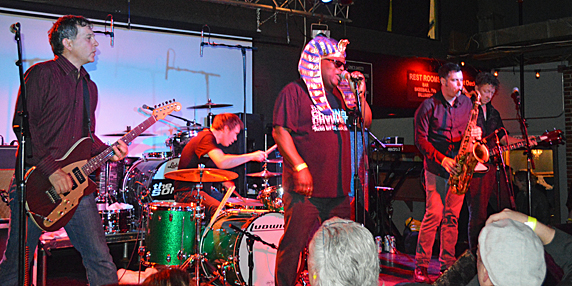 Barrence Whitfield at the Brighton Music Hall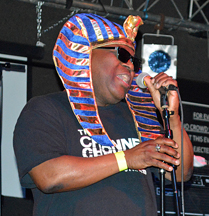 Then Barrence Whitfield & The Savages enter with Barrence wearing an Egyptian headdress. He begins the first song with 10 screams - that's his signature move. It tells you everything you have to know about what's coming up. They play several songs from their latest CD and Barrence announces another CD coming out this summer.
The Savages create the rock and roll primal swamp that only exists in their songs but seems like a real place when they are playing. It's a benign Heart of Darkness where the hurt the happiness gets worked out in stomping song and dance.
Our attention went to Peter Greenberg ex DMZ and Lyres. He lives elsewhere now but back in the day he was a homeboy and was the source of many a good club night. He was born to play this style which not a small part comes from the Sonics. I imagine the Sonics have listened to DMZ's LP (Which I was doing on the way to the gig myself) and thought – these guys are doing what we did. Peter is steeped in the music, he plays with complete authority giving out the perfect tone and touch to what at times are simple riffs that so many others can't deliver correctly. Even with the flamboyant Barrence beside him I still had my eye and ear on Peter.
And what about Barrence? He's another that seems born to do what he does. I think you do have to be born with a voice like that, there's no way to learn that. He does the screaming but then his singing voice has so much character to bring the lyrics home too. That what he did on I'm Sad About It where they brought the mania down a notch and Barrence had a bit of blues in the vocal.
Mainly it was party time front to back and in the end Barrence ended it with about 25 air raid siren quality screams.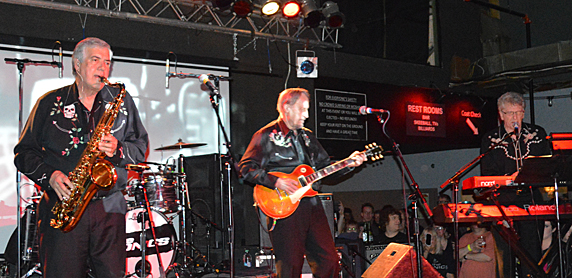 The Sonics: the three original members
I don't think the crowd could take any more warming up. With no one on stage a guitar starts up and then the Sonics take the stage. Videos of Russ Meyer movies are the backdrop, which we thought was a great touch! There are still three original members in the group as far as I know. There are three older guys up front and one younger to the left who is singing and he has that Sonic screech sure enough. And we are off to a set that satisfied this hungry for Sonics crowd. They did the old favorites and the new material which is good too. One was written for them by the Hoodoo Gurus. After all these years they still had the hard edge to them.
At this point the club was packed, and the BMH is bigger than most but not as big as the Middle East Down say. I was up front but it got too packed and sweaty so I moved back to find some space only to discover that there was no space. The crowd went right to the back wall. Wow. Before the show The Sonics on Facebook were directing fans to Providence because the Boston show was sold out. Who was in the crowd? Every one you know.
The gig was satisfying in the way that the Standells gig here was not. This time you felt like you were getting some of the real deal even after all these years. Pretty great.
Earlier in the week I hit the Middle East on Tuesday to catch Bent Shapes. They recorded a cover of the 2x4's Bridgeport Lathe and that's such a cool thing to do that I had to see what was up with this group.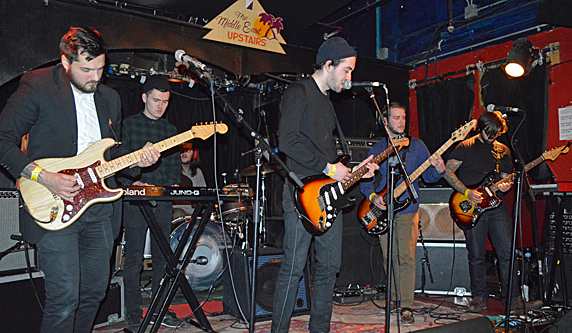 Foreign Tongues
Foreign Tongues opened with a dark and moody set. They mark themselves as indie pop and I would add that they have an 80's electronic vibe in there. It was a rainy day and the down tone of the music fit my mood. They had three guitars and the duties were arranged so there was no overlap. The different tones and registers served to make a big and wide sound. Nicely done there.
The lyrics were equal to the music. Check out Winter Sun here (http://foreigntonguesrock.bandcamp.com/album/glue) They actually come out a bit better recorded.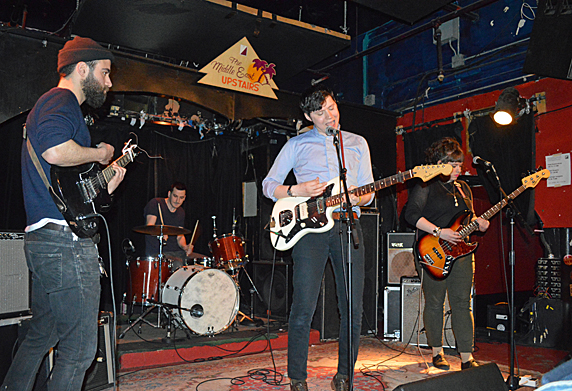 Bent Shapes
Bent Shapes also describe themselves as indie pop and here the label fits exactly. Even the lead singer's button down blue shirt says indie pop. They are half geeky and that shows up in the subject matter of the lyrics as well as the studied guitar lines. Some lyrics were about Facebook, falling in love with an automated phone sales machine and then 50 ways to leave your band.
Their songs began with clear guitar figures but built up pedals to a dirtier sound that had punch. They were no wimps. There were interesting things going on all set and I loved it all. The guitarist jumped into the audience at the end and someone in the audience strummed his guitar for him. They never played Bridgeport Lathe but now that I have heard them I'll be seeking them out again.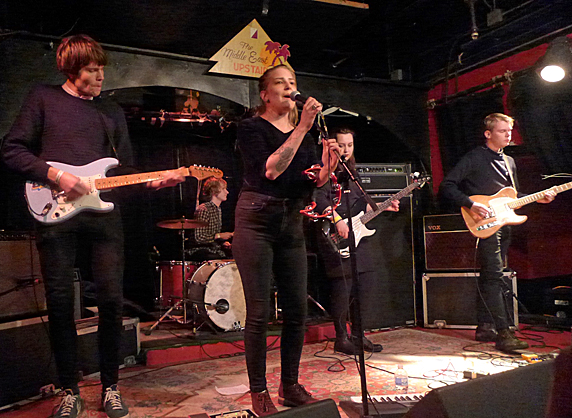 Makthaverskan
From the beginning of the night I was surprised that the club was almost full. It turns out the final group from Sweden had a buzz. They are called Makthaverskan. I saw a video and it looked goth (https://www.youtube.com/watch?v=ByUJkcV0Om8 ) but that's not what they came off as at all. I searched more but could not find any video that brought home what I saw and heard. Listen to the first song on their CD posted here and that's the closest. (http://makthaverskan.bandcamp.com/album/makthaverskan-ii )
The group plays well and gives a backdrop to the singer who has a voice that stopped me in my tracks. It was riveting. I could see the whole crowd being transfixed also. It was a real moment. It felt like this was too good to be in the Middle East Up. Her voice was feminine (but not girly) and full sounding. She could sing pure notes or growl through a section. You could catch the words and when she drove them home it gave you a jolt like you don't often get. Those people that came out for this gig knew it. Me, I found out.
And in other news -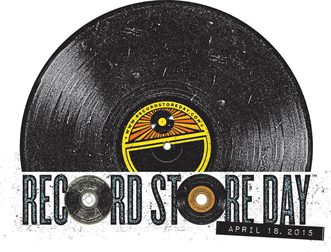 this coming Saturday is Record Store Day so make sure to go out and visit a few independent records stores!! Here's a interesting film on why independent record store are having a hard time surviving I Need That Record!! by Brendan Toller
Here's another film I'd LUV to see that premiered at SXSW and also by Brendan Toller: Danny Says- A Documentary on the Life and Times of Danny Fields. Brings me back to the days of meeting Danny when the Ramones were in town at the Rat and the Club. Always a super nice guy...what a story to be told!! And here's the website for the film...keep checking the listings maybe someday it will get to Boston...or you can pre-order the DVD!!
And speaking of films, here's another one you can preorder and support: Cool Daddio The Second Youth of R. Stevie Moore - from the Kickstarter page: "Genius, seminal, lo-fi legend, grandfather of DIY music, cult icon: all are words frequently used to describe American musician R. Stevie Moore. And yet after 40 years of making music and 400 albums (mostly recorded in his bedroom), only a devoted circle of fans and "rock snobs" remain aware of him. "
The Real Kids are headlining at a music Fest in Chicago this May at the Empty Bottle. That's very cool! See listing below.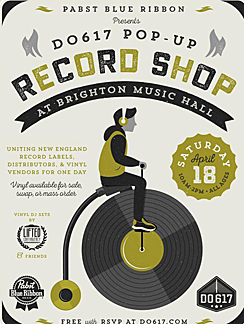 Darkbuster is doing two reunion shows in August at The Sinclair and the first night is already SOLD OUT!! How awesome is that? See listing below. Get your tix here but act fast friends!!
And if you listen to A Crash Course for the Ravers on Saturdays you might want to think about throwing some ducats to their Donation Drive 2015. Please go here to do so: WMFO Donation Drive - donations start at only 5 bucks!! and Brian Young will thank you very much!
This week Miss Lyn is reading Johnny Angel Wendall's Looking for Lady Dee and she's loving it!!: I am so enjoying reading Looking for Lady Dee!! Its like stepping into a time capsule and coming out in 1977- the early 80's. It's written in a a sort of Sam Spade/Alex Droogy voice but its also that smartaleck Johnny Angel voice turned up a few notches. And yes it is basically the story of Thrills but so much more too, its the story of the Boston Music Scene at The Rat, Cantone's, The Space etc from that time period. There's loads of partying drinking screwing and music making and club going. If you haven't gotten it yet it's well well worth the measely $9.99 in hard copy or $2.99 on the Kindle.
So with that said.....here are some shows that are happening this week....
April 13 (Monday) Duck and Cover are at TT's for the Rumble they go on at 11:15.
April 14 (Tuesday) Psychic Dog are at TT's for the Rumble, they also go on at 11:15.
April 18 (Saturday) It's Record Store Day today!!! And there's a Pop Up Record Shop at Brighton Music Hall with a TON of vendors selling their vinyl!! Its put on by the site Do617 and its free you can RSVP here (and see list of vendors) . Doors are at 10AM but it goes all afternoon as well. And it's sponsored by PBR. Don't forget of course all the other awesome record stores in town. There's Store 54 right there in Allston as well. Mr. Music too. And Weirdo Records in Central Sq Cambridge among many others.
April 18 (Saturday)- A Crash Course for the Ravers on WMFO 95.1 1-4PM has long time Boston Globe Music writer Steve Morse!
April 19 (Sunday) It's The 5th Annual Hard Core Cotillion...with Gang Green, Antagonizers ATL, Drug Shock and Beantown Boozehounds and Rockin Bob (Cenci) and The BarRoom Heroes. This is an All Ages 3PM afternoon show. and its at The Midway!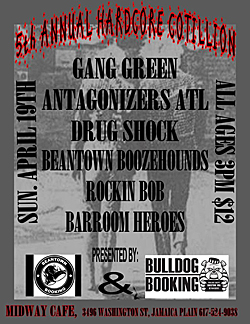 April 19 (Sunday) Thalia Zedek Band, Magic Shoppe and Black Helicopter are at TT's. (Set times are on teh FB event page)
April 23 (Thursday) Endation are at The Middle East up with Harris Hawk, Glacier and Aneurysm
April 24 (Friday) The Upper Crust, The Grannies, White Dynomite and I Am Next are at Cuisine en Locale. You can buy tix for this killer show here.
April 24 (Friday) if you live near Dover, NH you're lucky coz there's a awesome show with NYC legends Thee Casualties and we luv us some Wimpy and you get Wimpy Rutherford & The Cryptics doing a Full Queers set - the Cryptics backing up NH legend and original Queers singer Wimpy Rutherford ...also, he should not have cut his hair,- Rockin' Bob which is Bob Cenci of Jerry's Kids and The FUs & friends playing Jerry's Kids material + more but you also get Shitty Friends we all have some of those right? these guys are from Lancaster, PA and also on the bill are Maine street punks The Earbleeds. its all happening at the Dover Brickhouse. See the FB page and be there.
April 25 (Saturday) A Crash Course for the Ravers on WMFO 95.1 1-4PM has Emily Grogan and The Peasants today
April 25 (Saturday)- Bob Colby Presents Sarah Rabdau & Self-Employed Assassins and The Wrong Shapes at Store 54
April 25 (Saturday) Crazy & The Brains, The Pity Whores, Alex Stern, The Black Cheers and Whoopi Sticks are at The Midway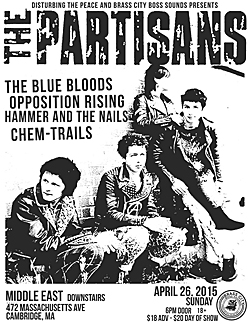 And coming up after this week we have.......
May 1 (Friday) Whiskey Kill and Red Pennys are at Johnny D's
May 6 (Wednesday) here's one to put in your calendars my friends: The Meatmen, Against the Grain and The Humanoids at the Middle East upstairs....(UP??? They sold out the downstairs last time!!) anyway here's the FB event page
May 9 (Saturday) JOEFEST III: The 3rd Annual Joe Coughlin Memorial Concert with M.O.T.O., Johhny & The Jumper Cables - Stump The Undertaker and Lenny Lashley at The Midway
May 9 (Saturday) Tsunami of Sound, My Own Worst Enemy and The Shambolics are at Sally O'Brien's (FB event page)
May 14 (Thursday) John Cooper Clarke is performing at Berklee!! At the David Friend Recital Hall (921 Boylston Street) Click the link to read more about JCC and to buy tickets.
May 15 (Friday) 10th Annual HoZavc Blackout Fest at the Empty Bottle in Chicago with The Real Kids, (they have this description listed: "Legendary 70s Boston Punk/Power Pop band featuring John Felice from the original lineup of the Modern Lovers" also on the bill are Cozy, Platinum Boys and Mama.
May 16 (Saturday) Hixx are at Club Bohemia at The Cantab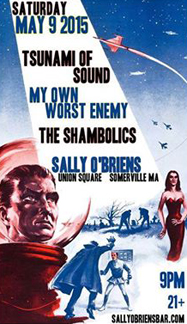 May 16 (Saturday) The Evil Streaks, The Downbeat 5, The Reverb Syndicate (from Ottawa) and The Radiator Rattlers are at O'Brien's
May 22 (Friday) The Brigands and The Black Souls are at the Tavern at the End of the World. FB event page
May 22 (Friday)- You have been warned - Book the flight now: Sleep Chamber!! Doing their only show in 34 years in Tel Aviv, Israel at UTC+02. Not only is this their first show in 34 years - its their LAST SHOW ever.
May 23 (Saturday) Memphis Rockabilly Band is at The Amvets in Randolph and it is a FREE show from 8:30PM to Midnight
(AMVETS Post 51 9 Amvets Lane off Pleasant St., Randolph, MA) Cheap drinks! Big dance floor. Swing dance, slow dance, twist and stroll! Pizza and more. Lots of free parking.
May 30 (Saturday) Reddy Teddy are at the Rhumbline up in Gloucester. .
June 4 (Thursday) Motobunny, The Charms, Watts and Greg Allen's Fringe Religion are at TT's.
July 11 (Saturday) Mudhoney along with White Dynomite will be at The Brighton Music Hall
July 18 (Saturday) Mission of Burma opens for The Foo Fighters and the Mighty Mighty Bosstones at Fenway Park
August 3 & 4 (Monday and Tuesday) Darkbuster returns!! at The Sinclair. Get your tix here but act fast friends!!
August 22 (Saturday) Memphis Rockabilly Band is at the Marshfield Fair. check out the particulars here
and of course The New England Shake-Up! September 25,26,27 2015! Keep yourself updated at their FB page
CONTACT US AT…….misslynbgn @ yahoo.con Send us your gig listings, your news and anything else ya got!!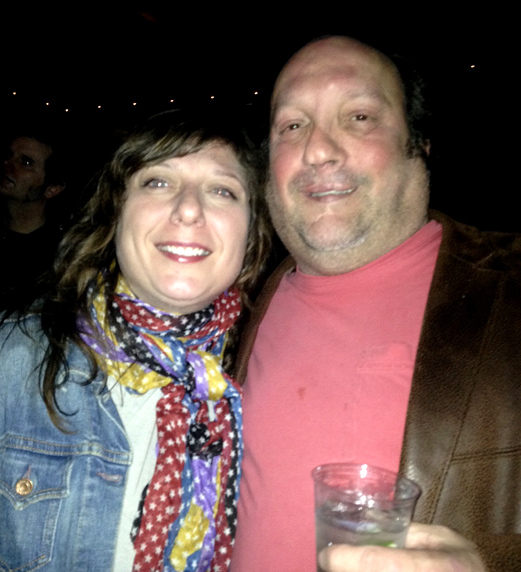 Andrea Gillis and Jay Allen
at the The Sonics
Photo:Miss Lyn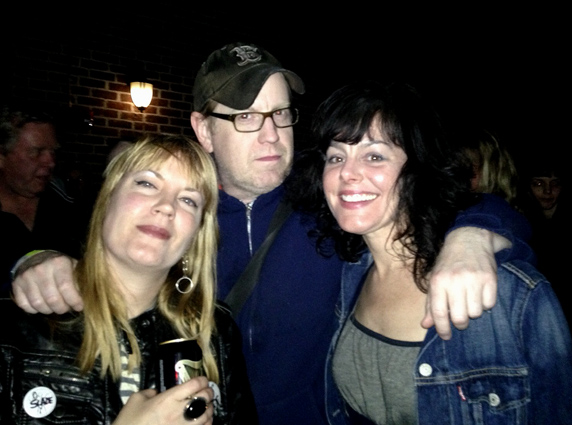 DJ Sarah, Eric Law and Michele Paulhaus
at the The Sonics
Photo:Miss Lyn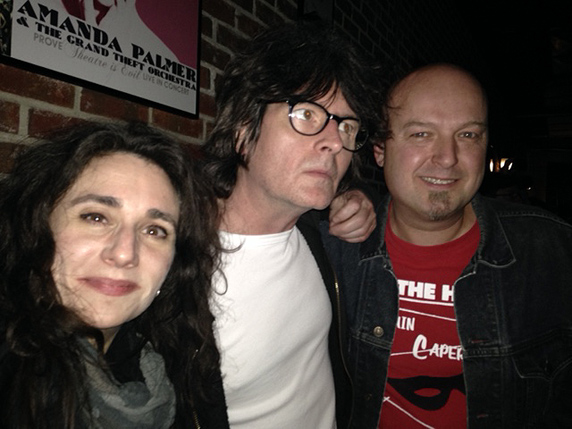 Heather Steward, Greg Allin and Curt Florczak
at the The Sonics
Photo:Miss Lyn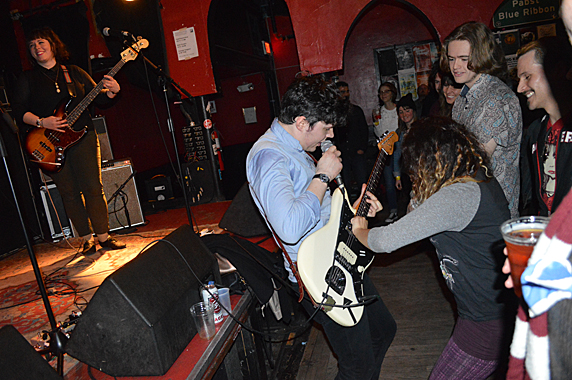 Bent Shapes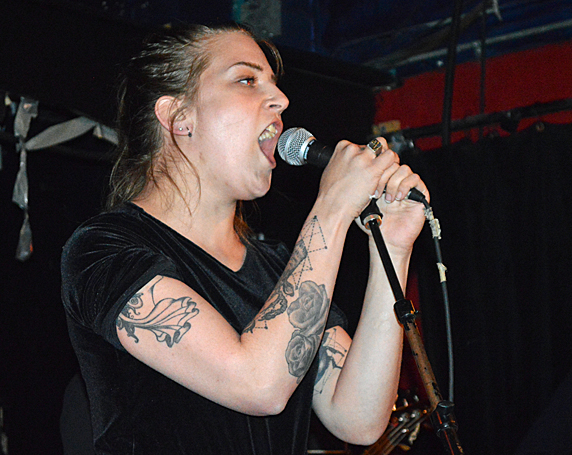 Makthaverskan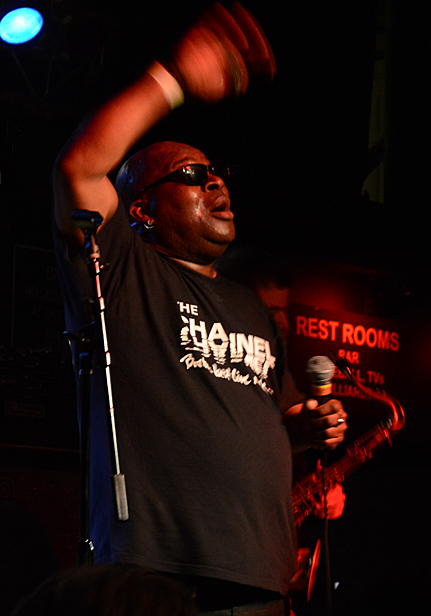 Barrence Whitfield and the Savages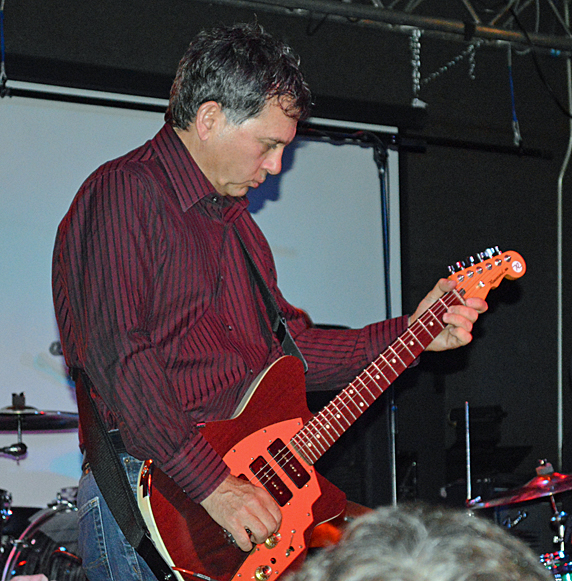 Peter Greenberg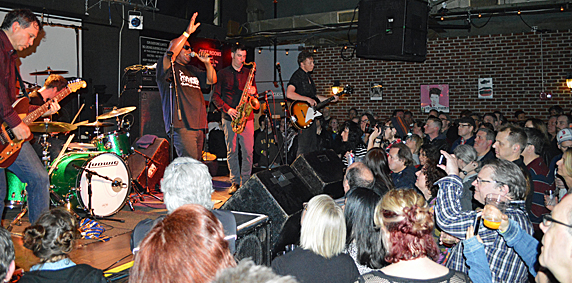 Barrence Whitfield and the Savages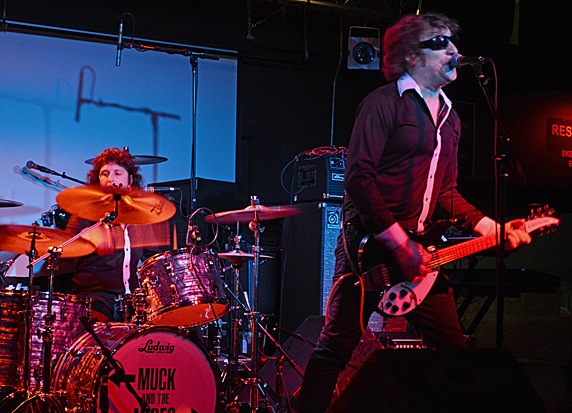 Muck and the Mires at the Brighton Music Hall