The BGN News Archive
April 14, 2014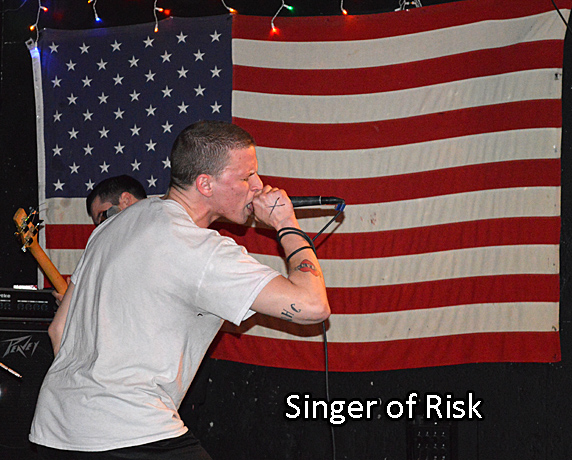 It was back to the scene of the crime this week, that is - back to the Midway afternoon show. This week it acted as an aperitif to a gig at O'Briens.
Not many people at the Midway at all as the band got up to play. I never got their name and I search the bands in the club listing and still couldn't figure out who they were. They were hardcore with a maybe a little metal in there. They were playing in drop D tuning as far as I could ascertain. The lead singer sang from the floor instead of the stage. The group was strong but to me it seemed they could do more and that was proved when a guy who was the lead singer of the next group, Risk, sang a few verses. With him at the helm the group seemed to focus and the energy level went up and the excitement level with it.
There was some drama as the lead singer was disagreeing with the group on the song selection for the set list. The group just started playing the song they wanted and the singer went out the front door. End of set.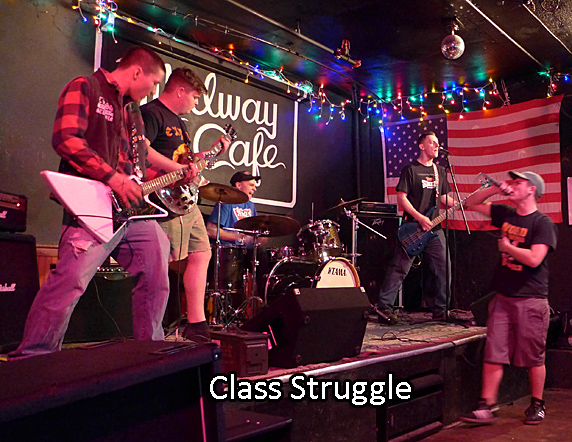 As Risk was setting up I could see who the singer was. He had been bounding across the floor and singing with the previous group. He was a ball of energy. When hardcore groups start playing the initial blast of volume and intensity can almost shock you. That's part of the kick for me. Risk did this big time. The group was very powerful and that singer was putting supernatural power into his vocals. Having that much emotional angst pouring out at you triggers your angst. For three minutes this group had it all. After the song the singer knelt down in front of the drum. I could see he was breathing hard. The guy had given it his all. Even after five minutes he was still drained. I've never seen anything like it. For the rest of the set he couldn't sing a whole song. Half the time crouching in front of the drum he never fully recouped. The audience members sang portions of the songs, sometimes the band who still pumped full bore played with no vocals. I don't blame the guy. For one song these guys were like the Hadron Collider searching for the god particle. I won't soon forget that.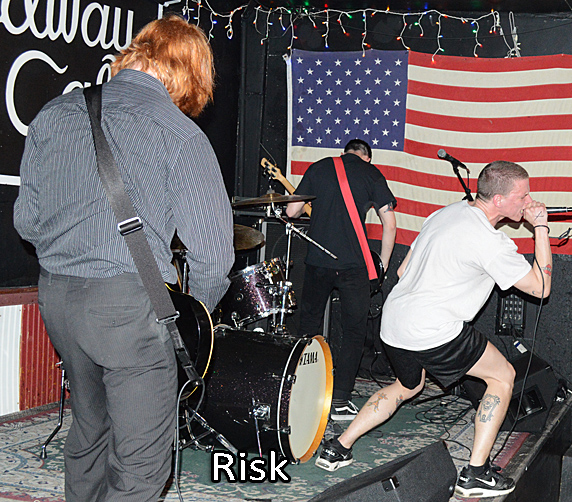 Heading to O'Briens it seemed like everybody in the city was taking advantage of the first Saturday night with good weather this year and were out and clubbing, but they weren't in O'Brien's, it was less than half full. Maybe they were at the Rumble going on across town. Atom Age had opened up and through the night people were talking about that set. They must have done well. They have some worthy songs on their bandcamp page.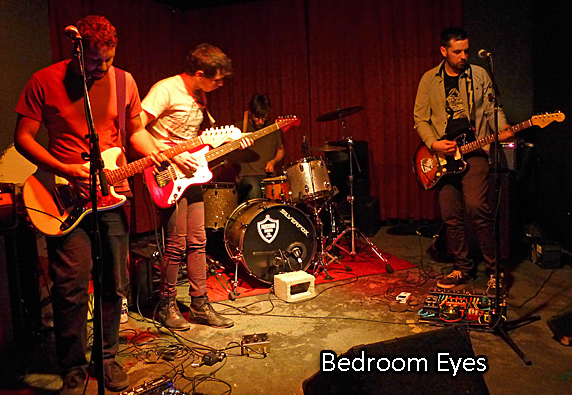 I count about 21 effect pedals on the floor as Bedroom Eyes slips into their shoegazing dream psyche. This is the direct opposite of the hardcore I had just heard but I gave them attention and they slowly drew me in. There is plenty of detail in the guitar work with lots of open strings and alternative fingerings. The two guitarists were doing very different things most of the time which gave the overall sound an expansive effect. A third guitarist was acting as bass. It looked like he might have had heavy gauge strings on and an effects pedal that accentuated the lower end. He was playing somewhere between what a bass would play and a regular guitar and it worked well in context. The drummer was sort of meandering and that also played into the overall sound. We just soaked it in and it was moody and satisfying.
The Suicide Dolls we have seen a few times now. They have elements of psyche also, but theirs is embedded in distinct songs with a much sharper edge. The guitarist, Brian Albano plays with a fuzz like tone most of the time, but it cuts. His vocals are also more upfront and are more declamatory as he sings songs that have stories and are full of real life emotions. The songs sound very full when the bass player, Michelle Montavon, sings harmony. On bass she is strong and melodic when she wants. She's a force on stage with her friendly personality, her odd hairdo she flails around and her cool psyche/punk/goth look. Tonight though, our attention was drawn to the drummer, Matt Covey. He was playing like a happy wild man. He kept the two/four going while adding plenty of tasty fills. Many times he locks on to a bass or guitar figure and mirrors it. He only had three drums but it sounded like a huge set. I don't know how he did that. It was a joy to hear him play and see him smiling and enjoying the whole experience himself. Suicide Dolls are from New London, CT and we're always glad when they make the trip here.
And in other news...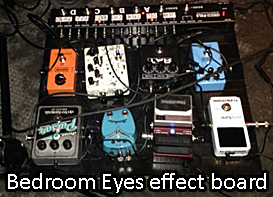 The Screamers had a wild reputation at the dawn of punk. Now there is a Kickstarter to help a movie about the lead singer Tomata Du Plenty.
Dicky Barrett is having a birthday bash at Boston City Hall Plaza...if you want to pay $39 freaking bucks to see the Mighty Mighty Bosstones then OK, do that, I guess...also on the bill are The Gaslight Anthem, Barrence Whitfield and the Savages and there's Phantom Gourmet BBQ so you'll be fed.
Phew!!! there is a new person booking Church now. According to Vanyland it's Jason Trefts of Illegally Blind Productions. Hopefully we will see some shows of a little more of interest going on there soon. Vanyaland is doing well, its an informative site with lots of news stories. They have some former Phoenix personal and they're positioned to be a force. The Phoenix is much missed and a web version of it or something similar would be an obvious and welcome thing to do.
On April 19, Wharf Cat Records will release an authorized reproduction of La Peste's Better Off Dead. The single will be a limited edition and will feature the original tip-on sleeve jacket and "Black Records" imprint on the back. You can pick up a copy for $7.99 at the Wharf Cat Records website click here. A limited number of copies will be put aside for members of the group. Once you order your copy email WCR and let them know you are a member of the La Peste Fanclub on Facebook and your copy will go out in the first wave. You can follow up your order with an email here: wharfcatrecords@warfcatrecords.com.
And for upcoming shows we think are worth mentioning.....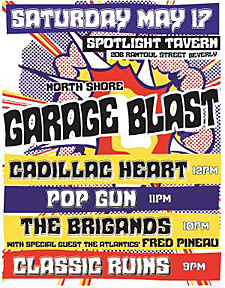 So far there are three shows we know of by Boston punks to support the support the Lieutenant Walsh - Firefighter Kennedy Memorial Fund, the first one is This Tuesday, the Tuesday 15th at The Landsowne Pub and playing are The Gobshites (2 member are volunteer firefighters!), The Barroom Heroes and Ricky Rocksteady ( another band TBA soon)
It seems there's never any good shows at Church anymore but on Wednesday April 16th there's a great show with The Swindlers with Answerman, The Skeleton Beats
The Saturday April 19th at The Cantab gig has The Darlings, The Funeral Barkers, FoxPass and Emily Grogan...
Going west on Saturday April 19 at Ralph's in Worcester it's Mike Z's "Let's Keep The Boy Out Of The Boat" birthday bash, featuring Township,Rationales, and Rotating Strawberry Madonna
And again, Boston punks are getting it together to support the Lieutenant Walsh - Firefighter Kennedy Memorial Fund on Tuesday April 22nd at Great Scott AND (because of the amazing response) a second show at The Sinclair on Wednesday April 23rd. Both shows are sold out but here's who's playing: Tuesday at Great Scotts there's Street Dogs, Avoid One Thing (first show in 10 years), Ducky Boys, Lenny Lashley's Gang of One, The Welch Boys, Burning Streets and Duck and Cover. Wednesday at The Sinclair there's Street Dogs, Slapshot, Ducky Boys, and Avoid One Thing. Since both shows are sold out you can donate to the fund here if you'd like.
Thursday April 24th The Koffin Kats are back at O'Brien's along with Ten Foot Polecats,the Radiator Rattlers and Weak Week.
Saturday April 26th at the Midway is The Cheeseburger Eatin' King's Annual Birthday Circus featuring Bad Lieutenants, The FUs, Big Meat Hammer, Rough Francis, The Stand Alones, The Pubcrawlers, Bragging Rights, and Slim Francis
In Providence RI on Sat April 26 is the A is for Awesome Benefit for the Trudeau Center -its at The Parlour 1119 Main St Provi, and playing will be Lenny Lashley (Darkbuster, Street Dogs), Jenn Kitten (Music), The Red Pennys, The Quahogs...plus: Treats from Bee's Knees / Surfing Movies and its sponsored by The Bucket Brewery - The Trudeau Center in RI works to promote an enhanced quality of life for individuals with developmental- disabilities. so this is a great cause folks...head on over if you can.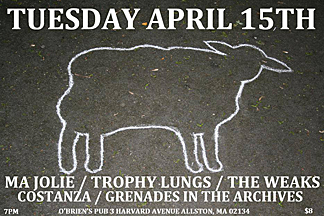 The 4th Annual HardCore Cotillion is Sunday April 27th (5:30-10PM) at The President's Rock Club in Quincy...this is one killer show folks!! You got Kilslug, Jerry's Kids, Taxi Driver, Barroom Heroes, and Keith "Fishead" Knowlton - all for 8 bucks!!
Wednesday April 30th Streight Angular are at O'Brien's...
Saturday May 3rd 1-4PM ....on the radio....Crash Course for the Ravers on WMFO 91.5FM ...has Siobhan Mcauley (Serum, Trojan Ponies) and Boston based producer and composer James Bryan on the show to talk about their new venture Embrionic.
The Cavestomp (Boston) Standells and Lyres at The Brighton Music Hall on Monday May 5th.... You can buy tix here
the Joe Coughlin Memorial Show is at the Midway on May 10th!
At O'Brien's on Saturday, May 10th we got a excellent show with Jittery Jack (their Boston record release show) , Whiskey Kill, Johnny Carlevale and the Rollin' Pins and DiabloGato
Also on Saturday May 10th is a crazy night at Club Bohemia at the Cantab with The Hixxtravaganza - playing are Hixx of course along with Scott Damgaard, Cadillac Heart and James Straight And The Wide Stance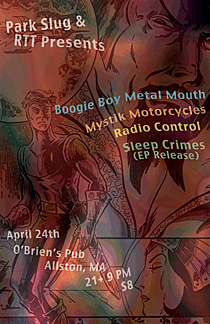 Also on May 10th is a big ole celebration over at Store 54 - Tom Wilson turns 50 and he's celebrating with The Upper Crust playing and its byob...should be quite a night folks!!
Wow this is a very special not-to-be-missed event: At The Regent Theater on Sunday May 11th (7:30PM) - A Boston Film Premiere Event: "Looking For Johnny" - The Legend of Johnny Thunders PLUS The Daughters Reform to Play LIVE! I know they interviewed some Boston rockers for this film, too!
It's a killer weekend over at The Midway on Friday, May 16th with The Other Girls, BrownBooze (featuring Rod van Stoli and Jordan Valentine of BrownBoot!!! she's in town for a couple shows this weekend -see below too) ) and Saturday, the 17th with The Hudson Falcons , The Sprained Ankles, The Black Cheers and Spectacle
OK people mark your calendars for May 17th there's a lot going on that night:
You know it's summer when Cal Cali is back in town and he's back to celebrate his birthday on May 17th at The Tavern at the End of the World with Asa Brebner, Richie Parsons Duo and Emily Grogan
Al Janick's St. Stanilaus Polka Party on May 17th...this year its at Anthony's on Highland Ave sin Somerville and he's got his Plastyczny Ser Orkestra consisting of world famous musicians like , Kevin Hensleyski on Guitar, Matt Burkeski on Drums and Shaun Wolf Wortiski on Bass...along with The Warsaw Marching Accordion Army and the Horny Karkow Horns...and if that weren't enough he also has special guests The Pierogi Triplets (Jordan Valentine & Jenny Dee)!!!
Also on 5/17 over at the Midway in JP is The Beantown Boozehounds, The Sprained Ankles, The Black Cheers and Spectacle.....
And if you are up in the North Shore on May 17th...there's a good show at The Spotlight Tavern in Beverly with Pop Gun, Cadillac Heart, The Classic Ruins and the Brigands.
Thursday, May 22 at The Middle East Up......... The Woggles with Muck and the Mires, Lyres - whoa what a show!!!!
Sunday June 1 at The Middle East down is The Cro-Mags, Anti Nowhere League, Taxi Driver and Neighborhood Shit. This is an early show folks, doors are at 6:30PM
The 2nd Annual Rat Beach Party is already well in the planning stages...its set for September 14th& 15th and here's a list of bands so far: Saturday night- Red Parrot Beach Bar starting at 7PM: Hardwired -- Heavy Weddle & Sweet Release -- Severance (or Band To Be Announced) -- JetSet -- Billy Rath & The Street Pirates -- Open Jam to close
Sunday afternoon/evening: Red Parrot Function Room, Beach Bar and Back Room Lounge starting at 12:00 -- The Beachcombovers (Function Room) -- Hardwired (Beach Bar) -- The Boize (Function Room) -- Gino Caira Band (Beach Bar) -- Count Viglione Love & Flame (Function Room) -- Hixx (Beach Bar)-- State of Union (Function Room) -- GraveDancers (Beach Bar) -- The Derangers (Function Room) -- The Workers (Beach Bar) -- Liz Borden (Function Room) -- Kenne Highland Clan (Beach Bar) -- Slow Children (Function Room) -- Pop Gun (Beach Bar) -- Gyro Lula (Function Room) -- Moose & The Mudbugs (Beach Bar) -- Tsunami of Sound (Function Room) 8:30 -- Masters of The Obvious (Beach Bar) -- Red House (Beach Bar) - Real Real Bayou Band (Beach Bar) -- All-Star Jam led by Cindy Daley, formerly of Lovelace.
In August John Lydon hits Boston in a huge production of Jesus Christ SuperStar , he's playing King Herod...man I want to see that show!!
EMAIL US AT.......misslynbgn@yahoo.com