The BGN News Archive
April 15, 2013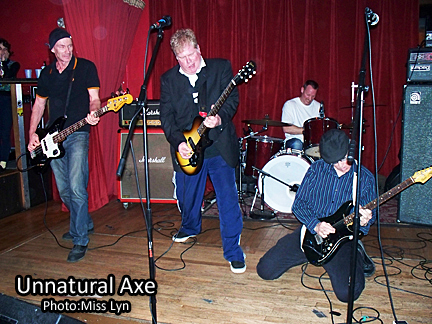 We ran over to Radio this past Friday to see the Unnatural Axe ...hey the place was only maybe half full and that was mostly all young leather jacket clad punks...there was only a small group of Axe fans in the crowd: Judy Wilburn, Eric Law, Mark Davis, Vincent Bratti, Carl Bianciccui, Sue Lamont, Jay Allen and Betsy Sherman! Where were all you guys?????
We caught one song by MfP...the lead singer was throwing himself around- on the floor - through the audience- under a big cloth sign that somehow ended up on the dance floor....they were very heavy punk inspired and Loud!! Then the Axe came on. Of course they were great....Tommy White was wailing some great guitar, Frank's bass is always spot on and the drummer...whew!!! I was marveling at his Bam Bam moves....Richie pined for his "comfy chair" at home…and lamented the days when they practiced all the time, even for their stage moves….but Mr. Parsons delivered the goods as well, despite some serious back issues.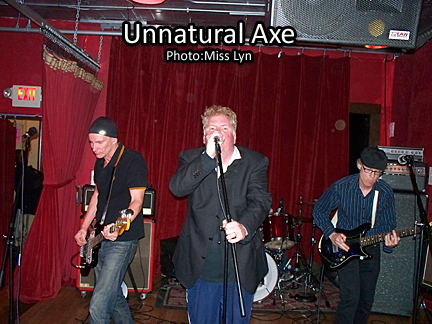 They are saying: "Punk is Dead...Long Live Punk!!!!"...my sentiments exactly....there's Punk being spun over at The Ramrod every Tuesday from 10PM to 2AM ....IT'S FREE and it's a revolving cast of Punk DJs spin new and old, local and international, obscure and classic Punk hits! All vinyl! All Punk! And there's FREE POOL too. How could you go wrong on this one???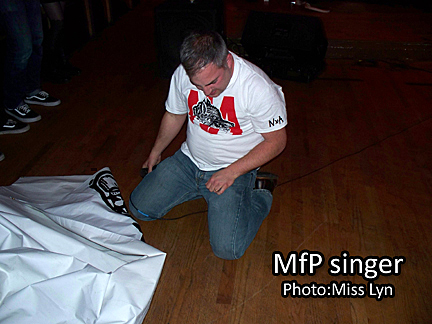 Speaking of long live punk....a new update from Peter Rining about the Live at the Rat CD: "YES - we are getting closer. Jim Harold came in and approved all artwork and everything for the double CD. We are now getting all the typesetting proofread by one of The Noise's top proofreaders (If they wanted a laugh they could have gone for a BGN 'proofreader' HA HA. ) . Once THAT is done - we are going to get a 1 off printed proof of the artwork to make sure the colors etc all look good for the artwork. Then it is off the the presses to be completed and printed (I know I know - everyone has heard that before!) - 1000 CD's will be made. That process should be approx 3 - 4 weeks. hint hint - maybe a CD release party at some point......THANK YOU for being patient. It has only taken 30+ years to get this into a CD format - I figure a few more weeks will not hurt (to make sure it all comes out great) - thank you - Peter Rinnig and Jim Harold" YES A CD Release party would be GREAT!! More news as it comes in....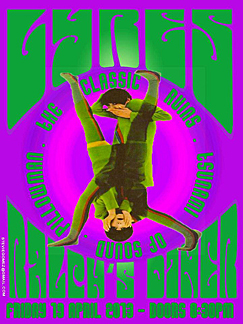 This weekend has an awesome gig to the West out in Wormtown with Lyres & Classic Ruins at Ralph's Diner on Friday April 19
in honor of Mike Z's 39th (again) birthday.
The Cantab Underground or Club Bohemia as we know it is doing something pretty cool during the month of April...on Friday and Saturday evenings -7:30 - 9:30 they are having a performance of Bouncers a stage adaptation of The Friends of Eddie Coyle by Stickball Productions. Cantab as a backdrop for this should be perfect!!
Then on Saturday April 20, Classic Ruins play live on WMFO's A Crash Course For The Ravers show (that's 1-4)

And don't forget Record Store Day is coming up this Saturday on April 20th...get out to one of our local independent record stores...here's a list: RECORD STORE DAY Also on that day What Cheer in Providence RI has the Feelies playing in store!
And to further celebrate Record Store Day and records in general WMFO's Bubbles in the Think Tank show has released a record as in on vinyl...called Eponymously Entitled featuring the likes of The Weistronauts and Mr. Curt/Bird Mancini...among others...the Record Release celebration for this polyvinyl pizza takes place on Friday April 19th at The Midway in JP and it includes all the artists from both Eponymously Entitled and the previous release Petite 7 Inch...including Ed Moose Savage.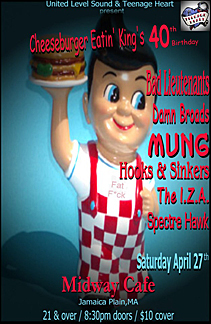 at night 4/20 at The MIddle East Shepherdess is playing along with Hey Ice Machine (ex- Come, and other cool bands) and Viva Viva....
And it's a sure sign of spring in Boston when the Cal Cali gigs start getting lined up....that means Cal Cali is making plans for his return north! Friday April 26th at The Rosebud its Billy Rath & his Street Pirates, Jetset and Hixx....OK people that is gonna be some crazy evening...whew!
Strains of Willie Alexander's "Mass Ave" play through my mind as I tink about Saturday April 27th....
first you have James Straight and The Wide Stance having their CD Release Party at All Asia (334 Mass Ave) in Central Sq Cambridge ...This special evening is for their new CD "No Loitering"-Go to their Reverbnation page to see a video and listen to some songs! also on the bill is Cadillac Heart and Heptet.
And as you walk down Mass Ave you get to "the mirror before The Cantab" (or Club Bohemia) and that's where The Beachcombovers are playing on the 27th and of course they are on at 11PM, after the Bouncers play from 7:30-9:30.
Also on the 27th there's an awesome punk show at Radio with the Pity Whores, the Radicals, Mike Woo's Raging Bone, Tensor and Ivy League
The Neighborhoods will finally do that R.I. gig at the Met on April 27th...their last two scheduled shows were cancelled due to snowstorms! I mean with climate change and everything I'm pretty sure there will not be snow on April 27th though it may be 95 by then. You can buy tix at the Met website and play their wicked cool virtual record player to hear Prettiest Girl.
And we have another birthday party on April 27th at The Midway..its the Cheeseburger Eatin' Kings' 40th Bday Bonanza...with a ton of bands including some excellent punk ones like The Damn Broads, Hooks & Sinkers, The Bad Lieutenants and oh, MUNG!!!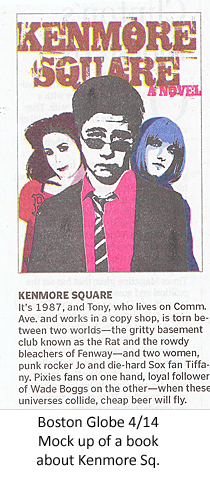 Oh OH OH!!! Cute Japanese Punk rockers!! Miss Lyn is excited!! Radio - April 28th - Thee Mighty Fevers!!!
Tony Savarino has a new band The Savtones and they are at The Plough and Star on Thursday May 2nd!!
This is all new to me but sounds very very cool: Boston Hassle and Bodies of Water have been working together to put on not for profit, philosophically DIY events all over the Boston/Cambridge/Somerville/Brookline area since 2001, ALL AGES whenever possible! Psych, punk, weird, pop, electronic, loud, experimental, and awesome music. And on May 5th at The Democracy Center just outside of Harvard Square at 45 Mt Auburn St they have the legendary Black Pus (who this night kicks off his whirlwind May tour of the U.S.) along with three local bands: Guerilla Toss, Frkse and Designer
Roger Miller's Trinary System is at TT the Bears on May 8. Trinary System consists of Roger C. Miller, guitar & vocal; P. Andrew Willis, bass & vocal; and Lawrence Dersch, drums. They'll be featuring original material and some provocative covers from a range of artists (from Miles... Davis to Morphine). Plus newly-written but not-yet-recorded material, which will hopefully be released by the end of 2013. The band will perform Big Steam, from Miller's 2012 45. No Mission of Burma songs. Opening will be EULA.
May 18th is Cal Cali's Birthday Bash at the Rosebud!! With The Lyres, Fireking and Jetset....YAY Happy Birthday Cal Cali!!
May 20th The Upper Crust are playing a late show (10:30) at The Midway on one of those Monday is my Friday nights...
Thalia Zedek is on a tear- and we're glad ....she now has Come reuniting for their 20th Anniversary (wow has it been that long???) They begin shows in Europe in May...they reissue of "11:11" is on sale as of May 21st (here- Matador Records) and they play the Sinclair on June 27th ...Read all about it here.
May 23rd Cal Cali goes even further north to Salem for a special gig at the Seaport Café - the Cali Leger Experience will play...
The Middle East Up on Friday May 31th are The 360's, Classic Ruins and Terrible Beauty....time to get out the old calendar and mark it for that one too!
Lots o'good stuff in June! Ducky Boys do a Dead End Streets Record Release show on Sunday June 9th with The Swinger Utters , Goddamn Gallows, Welch Boys at Middle East Down...
Thursday June 13th- Johnathan Richman is at The Somerville Theater!! And Tommy Larkins on the drums!
And the Rosebud IS open and rockin' until June- Cal Cali (who never rests it seems) has an awesome gig lined up there for Saturday June 15th with The Nervous Eaters, Jet set and Greg Allen's Fringe Religion..... Also on 6/15 The Middle East Down has The Adolescents, The Casualties, Tenebrae, and Done With You
And we have to wait way too long to see Petty Morals again...their next gig is July 19th at Great Scott in Alslston
Adam Ant back on tour and in Boston at The Royale on August 19th...this time around he's a big ole swamp thang y'all.
If you have an hour click here to watch a video of Willie Alexander's 70th Birthday Party...its pretty great
And lastly...on Saturday April 13th Cindy Budgen posted on Facebook a reminder that much beloved and very much missed, good friend Jeff Wilkinson passed away 20 years ago. RIP Jeff. We will always remember with love!!
EMAIL US AT.......misslynbgn@yahoo.com