The BGN News Archive
April 16, 2012
Well damn it...we went to Radio this past Friday to see the Suicide Dolls and somehow we missed them!!! It was the 13th so there you go.....but we had fun watching and listening to the other bands...kinda....here's the scoop on what we saw: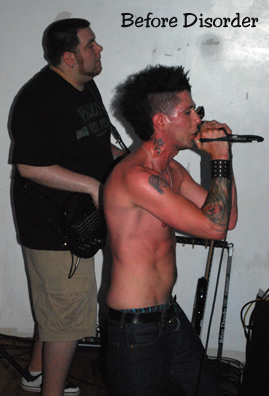 First off as you know ...Radio now has bands playing downstairs, its called Moe 's Lounge now. Everyone loves it; the décor down there is much like your parents' basement in the 70's with brown paneling, cheesy bar. We peeked in and there were just a handful of people and the band was way loud for the small space. It seemed more like band practice than a gig but hey it WAS a gig and that's alright. Meanwhile upstairs we checked out a few bands we didn't know. The first Await Rescue really had their act together. They all had good chops and the singer was very distinctive. They didn't seem to have any punk influence hence no punk sound so that is problematic for us but they got up a good head of steam and the music had power but no song stuck in my head.
We see this guy walking around with an attention grabbing haircut; it's a little long and poofed out like a Mohawk kind of, with the right side shaved off. He reminded me of Joey from Red Invasion only this the way he kept pacing all over the palce but this guy was just looking for attention, I think. He turned out to be the lead singer for Before Disorder and he was a guy who definitely wanted your attention. Once on stage it looked like three years of singing in front of the mirror was coming to fruition this night for him. He strutted, he poised, he stripped his shirt off and he sang in a key about a half step off from where everyone else was . It was like a car wreck, I couldn't take my eyes off the whole proceedings.
The bass player and drummer had it going on so there was something to listen to. I never heard their name before but many people were singing along with a few lyrics so they must have seen them a few times. Go figure! But OK, we're out of it then, right?
Ghost Box Orchestra next up had some nice gear including two matching Fender Jaguars that got my attention as much as the weird haircut guy. They have a template about what they want to do. They play very atmospheric fuzzed out psychedelic landscapes. The mike had maximum echo and endless delay so when the singer even gave it a single syllable it was good for 10 minutes of bouncing repetition. I thought it all worked pretty well.
We went out looking for some loud punk this night so we were a little disappointed but hey, we tried and we love Radio, it's a nice and comfortable experience. Now what's comin' up that might be of interest???
This Wednesday the 19th The Upper Crust will be gracing the stage at TT's its an early show at 8PM...just because they're so special.
This Saturday, April 21st James Straight and the Wide Stance with Cadillac Heart will be at The Magic Room. Third Rail's Richard Nolan will be performing a few songs with Cadillac Heart and Frank Rowe will be doing one of his solo acoustic sets to start the evening.
Now also on the 21st Wayne Viens over at Store 24 is having a "Rent Party" in celebration of Store 54 being open for a whole big long year!! Happy Anniversary Wayne!! So he's got a specila show with the Andrea Gillis Band and Eric Martin and The Illyrians for us all to party to...
On Friday April 27th Tavern at The End of The World , you can find Jay Allen and The Archcriminals...and they serve the most fab Fin de Monde here. ...Over at The Plough on that night is Sourpuss...
The Dirty Truckers are having a big record release party on Friday May 4th at Radio! The bill also includes Muck & The Mires and The Scars...cool!!
Check this out ...The Ducky Boys are playing a FREEEEE show at TT's on Saturday May 5th!! and here's what they have to say about the afternoon: "We've been a band for 17 years and the past 6 months of time has been the best stretch of time in the life of this band. Many of you have rallied behind us to support our new record, Chasing the Ghost, and our new label, State Line Records. In keeping with the ethical theme of State Line Records we have joined forces with TT the Bears and CQ Presents to offer this FREE show. Sure, we could charge a cover charge and make a couple thousand bucks but we're in this for the music and we've got a moment that we'd like to share with you. The show will run from 3pm - 7pm on the afternoon of May 5. The first 250 people in line get in for free. No strings attached. The show is 18+ but children under the age of 18 will be allowed into the venue when accompanied by an adult. The music will start at 3:30pm with our friends, The Old Edison, kicking things off for 30 minutes. Then we'll have a special guest up there from 4:15 - 5:00pm. From 5:15 - 7:00pm will be an extended Ducky Boys set (or maybe two separated by a few minutes for us to catch our breath; we ain't getting any younger here) featuring songs from our entire career up to and including Chasing the Ghost along with songs from our upcoming EP, Chemicals, which will be released as a digital exclusive on Tuesday May 15. This is our way of saying thank you for the great stretch of time. Let's all get together and enjoy an afternoon together with some music as our bond." so my friends I'll see you there!!
May 19th we got a Cal Cali Birthday Party to celebrate at The Rosebud with Lyres. Jetset, Classic Ruins and Tsunami of Sound.
Killer show alert: The Ducky Boys and Rancid (unfortunately its) at The House of Blues on May 21!!! - should be interesting given the recent news about how mosh pits have been banned at that place....
And of course Friday May 24th Manitoba is at Church…from all reports that should be an amazing show people !!!
And The Psychedelic Furs and Pop Gun are at the Salem Performing Arts at The Catholic Center in Salem on May 26th!! Get your tix now coz they are going fast!
EMAIL US AT.......misslynbgn@yahoo.com