The BGN News Archive
April 17, 2017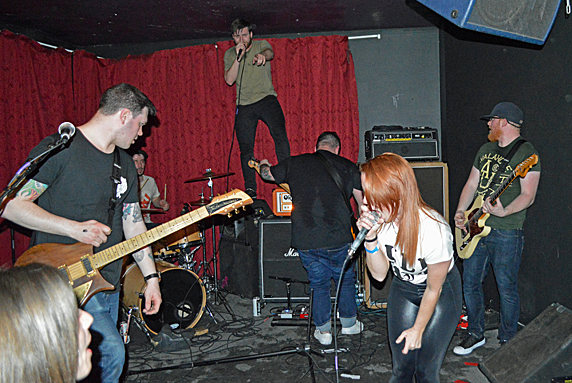 Actor/Observer
Photo: Blowfish
There were a few shows of interest on Monday. We'd been looking forward to the Actor/Observer show at O'Brien's for a while and hit that. We've seen Actor/Observer a twice at Great Scott's. Once. Twice. They have such a powerful show it seemed that small O'Brien's would hardly contain it.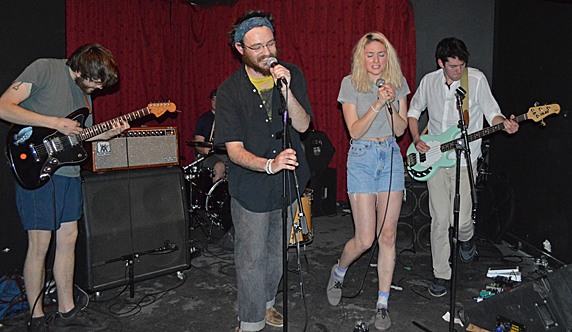 Superteen
Photo: Blowfish
We saw some of Superteen's set. They had a lot of creativity in their music but the singing was not impressive. There is potential there. There is potential there. Video of song by Superteen.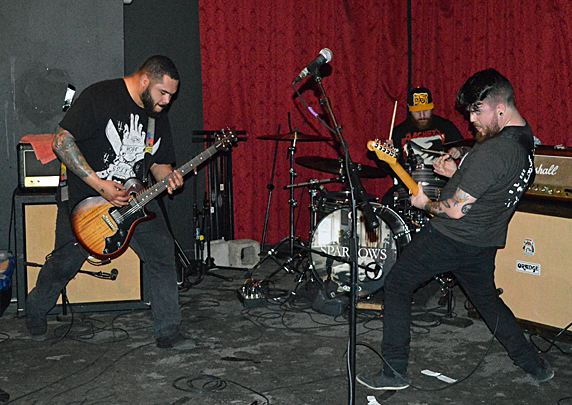 Sparrows
Photo: Blowfish
The Sparrows were from Toronto. They are a trio with no bass. We didn't find out till later but their bass player quit just before tour. Somehow, with the help of pedals, one guitarist supplied a more than sufficient bottom end. Not knowing what to expect we amble up toward the stage. They start up with volume high and jumping around the stage like they are expending pent up energy. It's that sort of moment when you know it's gonna be a great set.
They had a combo of emo in the vocals and hardcore/punk in the instruments which we hear a lot and like these days. Actor/Observer do the same thing. They did a lot a dynamic ups and downs and the guitarist added lots of juicy guitar fills added by pedals. At times he seemed to be doing a tap dance on the pedal board and it was not gratuitous, you could hear the results. Another thing they did. like Actor/Observer. is the jack hammer pounding on the beat. The singing was top of the lung screamo style and that works for us. The set cleared our minds out as we tried to believe this was a Monday. There was only about 35 people there.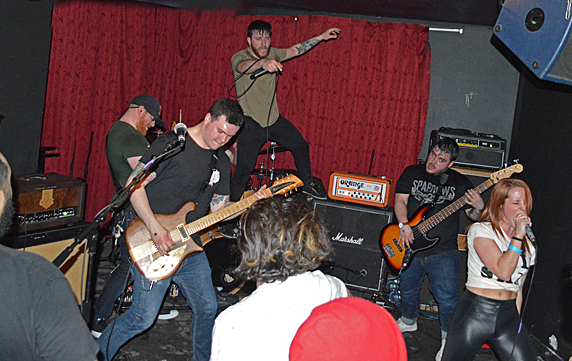 Actor/Observer
Photo: Blowfish
Actor/Observer did a lot of what The Sparrows did but with five musicians. One of those is Greg Marquis on vocals and he one of the most exciting front men on the scene now. The whole band in locked into the same grove and they slam it out mercilessly. The pile driver pounding is visceral. This is not a passive listening experience. These guys grab your whole self, both physical and mental, and put you through the ringer.
The singing by Greg is passionate and stirring. You're an emotional dish rag when it's all over. When Greg was screaming, "too late, too late" like his life depended on it, it was heart rending. This was done as he threw himself into the crowd. We thought O'Brien's couldn't handle the volume but it's also the dramatic power of the vocals that it had to contain.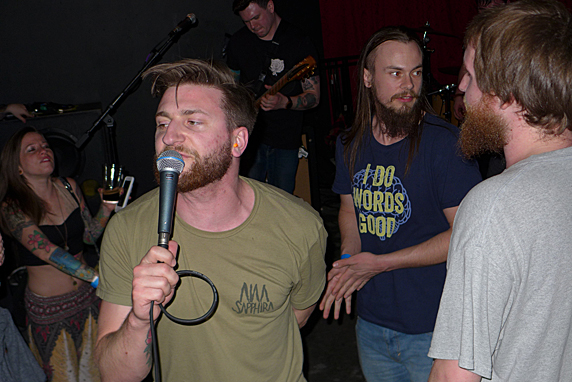 Actor/Observer
Photo: Blowfish
Everyone in the band is a strong player. They don't play simple. One guitarist plays some spacey lines abetted by pedals that float over the din. That gives them a distinctive sound. When a string broke Greg talked about the upcoming song which was about Seasonal Affective Disorder and how that dovetails with real problems and where do you draw the line between what you control and what maybe you don't control. That's a real problem we think, as we put away our Happy Light for the season. After that, the last two songs were very exciting.
The last song had Lauren Kashan from Sharptooth take the mike, adding vocals as Greg climbed the equipment and the crowd was totally involved. It was a scene. Taking all this in and being close to the band was something to remember.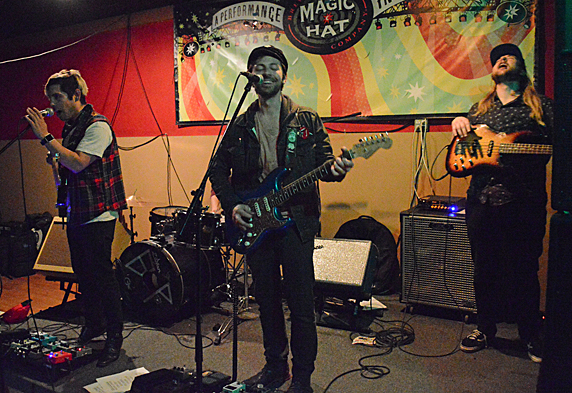 The Silver Mirrors
Photo: Blowfish
Thursday it was just taking a bit of a chance to hear The Silver Mirrors. Their Bandcamp page songs seemed garage and psych oriented. They had a few songs recorded at the Rubber Tracks studio that Converse is using to connect with local musicians and I'm finding a lot of those recordings as I look through band's material. The company's outreach is actually helping the up and coming bands. Hey, it can happen.
Thursday at PA's was a bit sparse, about 25 people up front listening and another 10 sitting in the bar area. It was only a $5.00 cover. The Silver Mirrors immediately came across as garage music rather than psych and that held the whole set. They also seemed genuinely immersed in garage. Not the type of group that sticks a Farfisa up front and gets campy. This band brought up reminders of ? and the Mysterians, The Seeds, The Blues Magoos etc. It's been a long time since I've got that vibe. They say they take from "Regional bands from the 60s, Zombies, Kinks, Eric Burdon, T. Rex. Also more modern groups like Mystic Braves, Foxygen, and Dr Dog."
The Silver Mirrors
Photo: Blowfish
They play like a band from the mid-sixties with full six string chords and conventional chord progressions. They have well stocked pedal boards that still sound like sixties tones. The great thing is that they seem to do what they want. The rock or they don't. They don't seem to know that no one out there quite sounds like them.
They don't seem to pay any attention to what's happened musically the last 40 years or so. Some of the songs rocked. One of them was half funk. They came out with several ballads. They sang in a falsetto a few times. They had a song with blues riffs and soulful singing. It used to be all bands had a blues edge to them but that's been long lost.
The bass player is a monster. He played an extended harmonic section (caught in the middle video above) and did it the hard way where you pluck and damp with one hand.
The only local band I'd compare them to is Ravi Shavi who also go their own way. You never know what you are going to get sometimes. I lived through the era that they evoke and I got a big dose of nostalgia. They're doing the garage rock from the heart and it rings true.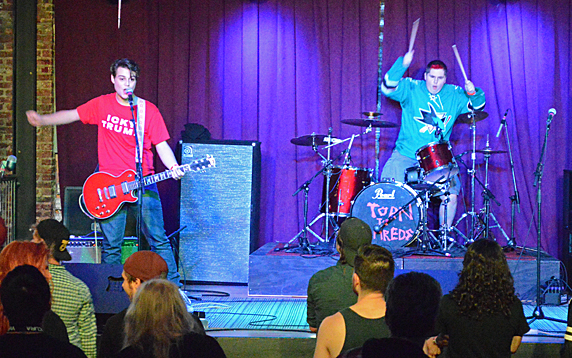 Torn to Shreds
Photo: Blowfish
We headed to Sonia on Saturday more to check out the club than to see any specific group. There were only about 35 people there for the early evening slot. We did catch Torn to Shreds who were a two man group a la White Stripes/Black Keys.
It's an odd experience going into such a new club. Everything is nice. It was right to the bathrooms to take a look at them – spiffy. All remnants of TT's are obliterated. The new arrangement with its five foot raised stage and open space makes you think of a smaller Brighton Music Hall.
There are some wooden benches on the side all taken up by merch tables at this show and a sitting area at the back which is up two stairs in an alcove next to the mixing board.
The audio equipment and the lights are impressive. The sound was perfect. There will be quality sounding gigs at this place. There's lots of bar space. it goes the length of one side. Also there is a coat check right as you come in.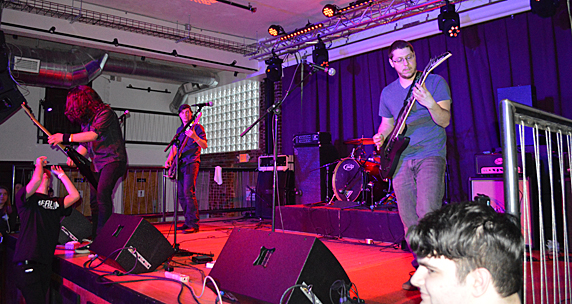 Sonia, showing the block glass in the back
Photo: Blowfish
We love the block glass at the rear wall which is actually part of the original building. We just never got to see it before but if you look at the rear of the building you can see that is there's a lot of it.
They did everything right on this as far as we can tell. We still miss TT's and not for the physical space but the booking. Hopefully Sonia will deliver the goods too.

And in other news.....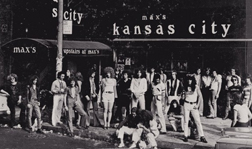 On May 5, Jungle Records will release Max's Kansas City 1976 & Beyond, a double-disc, 40-track compilation that's four times bigger than the original 1976 release. It's a Reissue of the original LP with Rare Tracks including something by Iggy. Read more on Ultimate Classic Rock.com
WOW!! Check this out! Jerry's Kids, FU's and Misfits videos from the Channel from March 20, 1983. These clips are made available from Gallery East productions and Stone Films NYC. Check them out here!!
John Surrette has announced that the follow up to Tomorrow the World will be coming out soon. He's working closely with David Minehan to get it out.
Here's some good shows coming up .....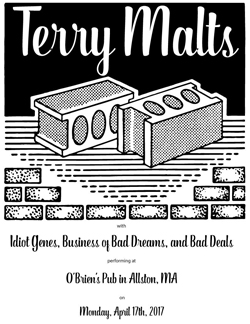 April 17 (Monday) Terry Malts, Shark Toys with Idiot Genes and Bad Deals at O'Brien's Pub
April 19 (Wednesday) You just can't stop the Messaround!! This week there's a Model Messaround at you guessed it the Model in Allston. There'll be Jay, Justine & Tom Baker but they also have special guest Richie Parsons, Elisa Birdseye, Keith Pierce (Mello Bravo, Party Bois) and Mr. President himself Ken Kaiser. FB page
April 20 (Thursday) Streetsweeper, I Am Become Death, Ritual Blade, Bad Boys Club, Z/28 are at O'Brien's
April 22 (Saturday) Electric Frankenstein, Symbol Six, Hey Zeus and Duck & Cover at O'Brien's Pub
April 22 (Saturday) BLOWW's 7th Annual Blue Ball with special guests Strange Fuzz, Electric Street Queens, and PowerSlut - nighttime show at The Midway
April 22 (Saturday) Willie Alexander & The Persistence of Memory Orchestra and Rick Berlin's Nickel and Dime Band are doing a special show at Cape Ann Cinema, starts at 8PM! Buy tix here! Only $12.50 The Cape Ann Cinema & Stage celebrate our 10th anniversary with this amazing night of great music, great wine, and great friends.
April 22 (Saturday) The Last Ones, Tiger Bomb and Corolla deVille at The Spotlight Tavern in Beverly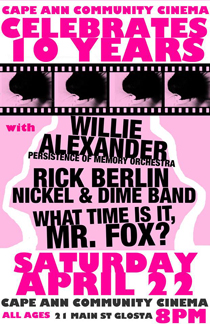 April 22 (Saturday) The Gypsy Moths and The Dogmatics are at The New World Tavern in Plymouth
And further out....
April 28 (Friday) The Low Babies, Kermit's Finger, Loser's Circle, The Grommets at O'Brien's
April 28 (Friday) The Upper Crust, Benny Sizzler, Devil On Horseback at Once
April 28 (Friday) Lydia Lunch, Hard Nips (Japanese Girl Band), Cassie J Sneider and Nonye Brown-West at Ralph's in Wishtah. FB page Why isn't this show in Boston or Cambridge!?!?
April 28 (Friday) Former Misfits member Michael Graves is at Firehouse 13 in Provi with Damnation, The Skeleton Beats, Deprived and WolfmanChuc
April 29 (Saturday) A special evening of performances at The Met by Throwing Muses, Neutral Nation, and Plan 9, and their inductions into the Rhode Island Music Hall of Fame! Tickets are scheduled to go on sale on February 27!!! For unveiling ceremony and rock inductions day #2 check out the FB page!!
April 30 (Sunday) Jason Bennett & The Resistance, On The Cinder, Michael Kane And The Morning Afters, The Martians - At The Midway - This is a 4PM afternoon show.
April 30 (Sunday) Lions Lions, Actor Observer, Dreamer and Son, Too Late the Hero at Sonia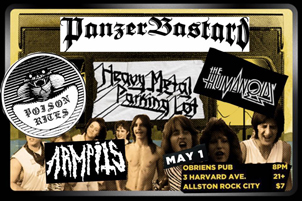 May 1 (Monday) PanzerBastard, The Humanoids, Poison Rites and Armpits at O'Brien's
May 4 (Thursday) Walter Sickert & the Army of Toys, Scarlet Sails, Radiator King at Once
May 4 (Thursday) Everybody knows its The Damned at The Paradise but this night is also Artie Freedman's 60th birthday - be sure to wish him a happy happy when you see him there, he'll be celebrating! Happy Birthday Artie!!
May 5 (Friday) The Skeleton Beats CD Release Party! at Opus in Salem also on the bill: Nick The Barbarian, Michael Kane and the Morning Afters and The Warning Shots
May 6 (Saturday) 3:30-8:30PM- Jam for Jay: A fundraiser for Jay S. Henderson to help with his medical expenses featuring live music by the Henderson's, K.O. Stone Still Here, The Gravedancers, Billy Squire, The Wicked Pissah Band, The Thigh Scrapers, and a 'Burny Sanders Fake News' Jam at the end!! Food will be provided.. 50/50 Raffle. If you are in town for Wake Up The Earth Festival, consider stopping by and catching a couple of tunes and brews!! At The Midway -3:30-8:30PM (FB page) If you can't go and you know Jay via his many bands in all the years he's been around donate please here
May 8 (Monday) Indonesian Junk.....who have just released a digital single "Turn to Stone" on Rumbar Records..... are at O'Brien's. HearTurn to Stone here. Also on the bill Jay Allen & The Archcriminals and The Von Traps
May 10 (Wednesday) Zip-Tie Handcuffs, The Mad Doctors, Idiot Genes, Future Spa at O'Brien's Pub...FB page
May 11 (Thursday) Cruel Miracle, The Stops!!!, DiNOLA and The Scrapes are at O'Brien's
May 12 (Friday) Mike Watt (Minutemen) and Meat Puppets are at the Brighton Music Hall Here's the FB page
May 12 (Friday) Rockin' Bob Punk Band w/ The Lost Riots. Michael Kane & The Morning Afters and Mongerellis at O'Brien's
May 13 (Saturday) A Crash Course For the Ravers has Glider on - WMFO 95.1 1-4PM
May 13 (Saturday) DJ Easy Ed presents The Cranktones plus Easy Ed's Record Hop! at The Midway - this is a 4PM show.
May 13 (Saturday) The 5th and Last Joe Coughlin Memorial Show.....we love Joe and will never forget him!!! On the bill: M.O.T.O., Super Special Guest Star, Blue Oyster Coughlin, Classic Ruins and Jay Allen at The Midway!! (9PM show)
May 13 (Saturday) Watch City SteamPunk Festival in Waltham...Website FB Page
May 17 (Saturday) The McGunks, Pint Killers, The Martians and Taxi Driver - 4PM Show at The Midway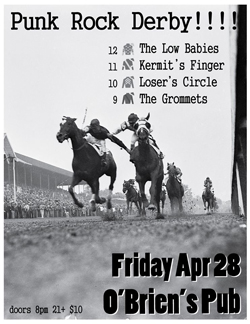 May 20 (Saturday) A Crash Course for the Ravers will be featuring The Black Souls & Classic Ruins! Check it out on 95.1 WMFO 1-4PM
May 20 (Saturday) Jenny Dee & The Deelinquents, Muck and the Mires, Vicky and the Vengents at The Middle East Up.
May 22 (Monday) Whoopi Sticks, Fire In The Radio (Philly) and Cook Bag at O'Brien's
May 26 (Saturday) Corin Ashley and Modern Day Idols are at The Plough
May 27 (Saturday) A Crash Course for the Ravers will be featuring the new Greg Allen's Fringe Religion! Check it out on 95.1 WMFO 1-4PM
May 27 (Saturday) A Cal Cali show: Lyres, The Black Souls, Classic Ruins and CalCaliBand You can buy tix here (Only ten bucks!!) FB page
May 27 (Saturday) The Runouts, The Martians, Blame Shifters, Nymphidels at The Midway this is an afternoon show - 4-8PM
May 29 (Monday) Teenage Bubblegums (Italian Pop Punk), Jagger Holly, Mongorellis, Jimmy Jacked at Opus Underground in Salem (FB page)
June 4 (Sunday) Birdsongs of the Mesozoic are at Once
June 4 (Sunday) Jack Grisham from TSOL doing readings and photos plus Jerry's Kids, Stranglehold, PanzerBastard at Once FB page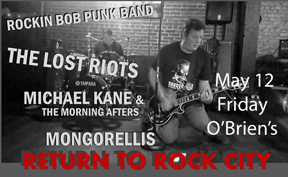 June 4 (Sunday) GIUDA (from Rome Italy) and Unnatural Ax & The Hi End at Once Tix etc here
June 8 & 9 (Thursday & Friday) Reverend Horton Heat along with Agent Orange, and Flat Duo Jets at Once in Somerville
June 10 (Saturday) Psycho, Conclave, Whoopi Sticks, Gant, Spillers an afternoon 4-8PM show at the Midway
June 11 (Sunday) A Sunday Punk Matinee at the Midway with M.A.T.B. (frm Worcester), Worm, The Hideout and No Good (frm Maine) 4-8PM only $5!!and All Ages.
June 14 (Wednesday) Eve Minor (from NYC), DnA's Evolution, The Stigmatics, Doug Linse at The Midway
June 16 (Friday) Kids Like You & Me' s Rama Lama Ding Dong 2017! Featuring.. The Monsieurs, Creaturos, Littlefoot, Germhouse & more! at The Middle East - check out the FB page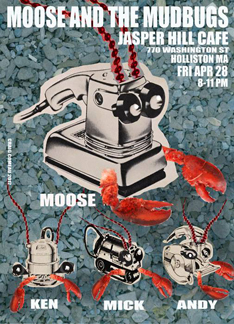 June 17 (Saturday) A Crash Course for the Ravers will be featuring Anthony Kaczynski! Tony is the consummate musician, he should have some interesting stories to tell and picks to play. Check it out on 95.1 WMFO 1-4PM
June 17 (Saturday) Quiggs, Diablogato, Duck & Cover, Loser's Circle at O'Brien's Pub
June 17 (Saturday) Held Hostage, Point Blank, Infernal Diatribe, Profit Margin at Koto in Salem (FB Page) June 17 (Saturday)
June 18 (Sunday) Help Save Out of the Blue Gallery Too - this will be an all day affair (3PM-11PM) with FOURTEEN bands including: Brian Young -WMFO as Emcee plus Thalia Zedek, Fireking, Randy Black, The Knock Ups, Tsunami of Sound, The Stigmatics, State of the Union, Cal Cali Rockin' Trio, The Last Ones, The KENZ (Highland & Kaiser), The Thigh Scrapers and Club Linehan A Go Go ~ 50th Birthday Party for Joe Quinn. Check out the FB page
June 25 (Sunday) Nonzerosum Present: Conflict, Who Killed Spikey Jacket, Cinderblock, Pandemix - ALL AGES, $20, 8:00 PM Doors at the Middle East Up.
July 19 – July 30: The Midway's Dirty 30th Anniversary Celebration Spectacular
July 17 (Monday) Township, The Dents, Love Love and Weather Weapon at The Midway

July 22 (Saturday) DJ Easy Ed Night with The Cranktones, The Barley Hoppers and Fearless Leaders at The Midway!!
August 5 (Saturday) The Silver Mirrors, Instant Shawarma, The Facc-Tones and The Sound Down Cellar at The Midway
September 16 (Saturday) Chameleons VOX At the Middle East Also on the bill: Soft Kill , Way Out and The Milling Gowns FB Page
CONTACT US AT....misslynbgn@yahoo.com -Send us your gig listings, your news and anything else ya got!! You want your CD reviewed?? Contact us for that too.
Sparrows
Photo: Blowfish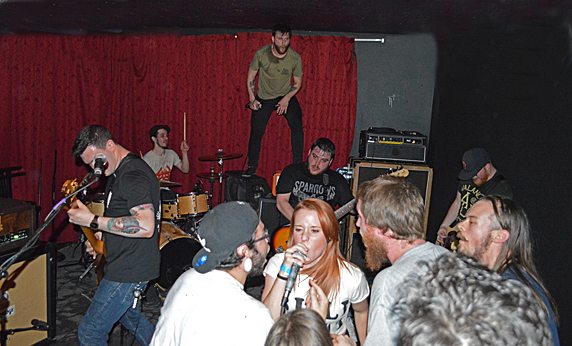 Actor/Observer
Photo: Blowfish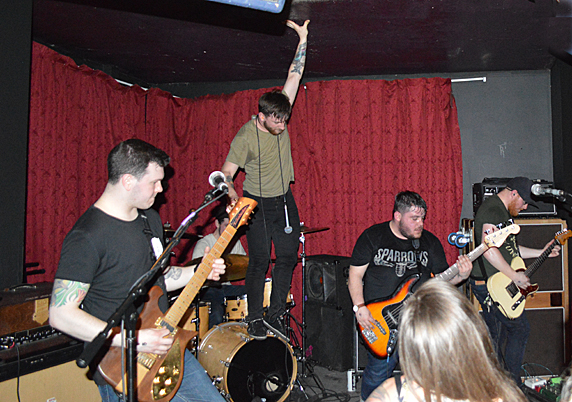 Actor/Observer
Photo: Blowfish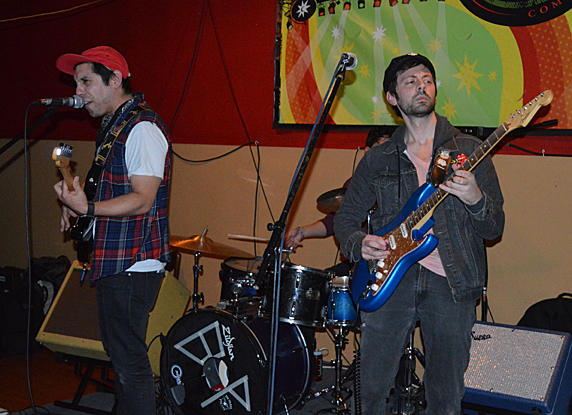 The Silver Mirrors
Photo: Blowfish