The BGN News Archive
April 19, 2010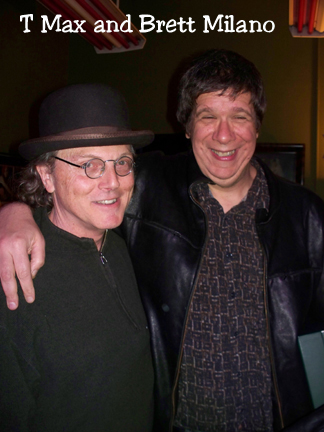 I went with BeatGirl and Michele to T. Max and Des' Brett Milano Roast , at the Magic Room Saturday night. This was my first time at the Magic Room and the place is awesome. It's like hanging out at a party in someone's home. The décor is an eclectic mix of vintage and freaky, it is VERY cool!!!
Comin' out to honor Brett was a decent group of friends, some who knew him before he came to Boston, they reminisced about the days at college when Brett was a writer there as well. Reflecting my own sentiments were a few folks that got up to say "I don't have any 'roasting' to do to Brett but I just wanted to say he is a great and sweet guy." And I must add that Pete Sutton did a fine job of hosting the event.

CLICK for Pictures from the Brett Milano Roast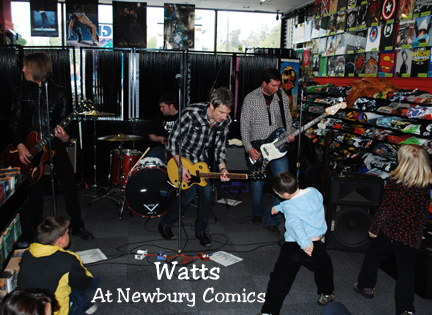 Blowfish says:
This is the first year I didn't have to work on Saturday so I could go to Record Store Day. The whole concept has grown and been embraced by more people. I went to Newbury Comics in Braintree to see Watts and the Dirty Truckers.
There were a good amount of people there, a huge amount for a record store. People were in a good mood and sales were brisk. From the stories it sounded like there were people there all day; early to get the freebies and later to hear the groups. I left after 6pm and there were still a good amount of people left.
Because of the venue it was a different sound coming at you. It sounded more like a band rehearsal room than a club, pretty neat actually.
This is a good idea to give record stores a boost but that they need the boost is not good. When ever I go on a trip I look up the local record stores and lots of you do too (like we see in Joanie Lindstrom's vacation pictures on this site). I hate to think of the day when that will not be possible.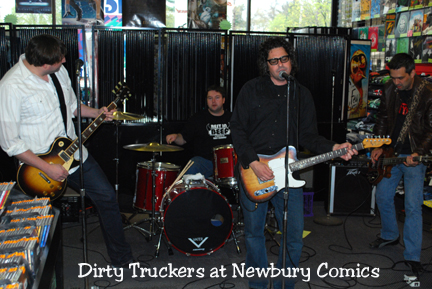 So coming up for music there's ....
This Thursday the 22nd at Precinct is a special show with Jenny Dee& The Deelinquents with Barrence Whitfield & the Monekyhips, Muck & The Mires and special guest Lala Broohs of the Crystals who has been working with Jenny Dee on some new projects! Should be n excellent show!!...
Then the next week there's the Styrene's and The Tampoffs at Church on Thursday April 29th!! .....
May 1st & 2nd....
is Somerville Open Studios and I will be showing all my latest work at Arts @ The Armory at 191 Somerville Ave in Somerville....a 15 minute walk out of Davis Square!
Please come on down to say hello
AND
May 1st is the Johnny D's Reunion at Church!!!
Rick Paige and Doug Melcher present
The Johnny D's Reunion Show
Featuring;
The Turbines in their first reunion in over 10 years, all 4 original members
The Prime Movers In their first show in years.
The Classic Ruins
Moose and The Mudbugs
All original Johnny D's bands, ready to rock one more time..... Just $10
And mark your calendars for this most excellent and fun event: Staffy, of the Marvels & Jesse Drastic and Johnny Black & Carl Biancucci from Johnny & The Jumper Cables/Classic Ruins are teaming up to play The Sex Pistols' "Never Mind The Bollocks" album in its entirety and in song order at Church on Friday July 9,as part of Marsman's LP Tribute Night.
I am making sure that date is open for Church!! So for now that's it....
.... you can email us at: Miss Lyn email......