The BGN News Archive
April 19, 2021
Jen - Shang Hi Los
Red on Red Records had another virtual showcase on Friday. Justine, with Red on Red, was one of the first to collect vids and compile them into a show rather than dealing with a live feed that can get glitchy and kill the flow. This showcase had some premiers and did what it's designed to do – show that Red on Red has quality acts.
It started with the colorful "Scorpion Bowl" video by Justine and the Unclean. The cartoon backdrops that are born of quarantine restrictions become a creative strong point – see, that's how that's done.
Next was the premier of Andrea Gillis' song "Leave the Light On". There aren't many that can deliver a song like Andrea. In this song she gives a subtle nuanced performance on the first line alone that proves her talent. The video is low key and mostly black and white which matches the thoughtful song.
Next Linnea's Garden did up their song "Replacement". It sounds like a 50's tune but the relationship problem is all about now, like all their material. The video works with the pandemic distancing by placing the band members superimposed on black and while spirals that dazzle the eye.
| | |
| --- | --- |
| Linnea's Garden | Simone - Kid Gulliver |
Kid Gulliver gives their current single "Boy in a Bubble" visuals with Simone Berk singing and the background filled with colorful nature and design patterns.
Brad Marino did "Even the Score" from his album Looking for Trouble we talked about that in the news last week.
The Shang Hi Los give their song "Sway" of Kick It Like a Wicked Bad Habit another life with their video.
Set in a doll house it again mines the fifties and sixties musically. This is a video that enhances the song. Dan Kopko plays a chord progression that goes up and down in a mechanical tick tock way and the melody line follows in sync and that generates the song's feel. This is another of Jen D'Angora's quality vocals. She's doing her best singing these last two years.
Nightspell is a later addition to the Red on Red label. Their song "Sea of Thieves" has a distorted messy base yet high clear voices on top and that's a neat thing. It's going to be interesting to hear more of them.
Devil's Love also has a video that made us like their song better, or do we mean "Better Better"..that can get confusing. The video has cameos from other Red on Red artists as they appear in the windows of a building.
| | |
| --- | --- |
| The Chelsea Curve | Red on Red Video |
The Chelsea Curve do a performance video with some added effects for their instant classic Girl Cavedog. It's a song that sounds like it's a hit that you already know and love before you heard it…if you can follow that.
It's impressive how much Red on Red has accomplished in a short time and with all the complications of a quarantine.
Along with Red on Red, Once Virtual Venue had a Friday offering. Once is going to a different city every Friday in April so you can get an idea of the music happening outside of Boston. This week it was Philadelphia.
| | |
| --- | --- |
| This Kills Me | Tiger Castle |
| Dear Forbidden | Once in Philadelphia |
This Kills Me were a punk trio that played in a basement. It was a controlled sound and melodic. We would like to see them on a Boston bill at some point. They played for 20 minutes so you got a good idea of what they were all about.
Tiger Castle were another loud outfit. They performed outside. Their songs were on the quirky side and memorable. We liked the whole set. This was another band we like to see in Boston. There's a good scene in Philly!!
The third band was Dear Forbidden who sounded slower and moodier. They did a switch up here and there.
We have to say Philadelphia's bands looked good to us. Last week Once did the show from Brooklyn and next week features Albuquerque.
| | |
| --- | --- |
| Linda Viens | Randy Black |
Last Sunday was another Back Porch Carousel. Linda Viens started it with a sweet song that benefited with her crystal clear voice. Adam Sherman gave another emotional performance. The low key video set up actually works for him. Randy Black worked up a cover of Blind Faith's "Can't Find My Way Home". Eric Martin put his powerful voice to "Didn't I (Blow Your Mind, This Time) by the Delfonics. Only Eric could take that on.
They released another song that they did collectively called "Last Call Blonde".
The link to the video on Facebook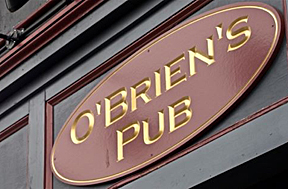 Vanyaland reported that Ryan Agate is leaving his booking position at O'Brien's. He will be replaced by Daniel Carswell who did the booking for Charlie's Kitchen and the Hong Kong in Harvard Square. Daniel is also the bass player for Rebuilder.
Ryan filled O'Briens with lots of punk acts for his 8 year run. Week after week we found ourselves there because that's where punk was. Ryan was often right up front fist pumping to a band.
Carswell is a good fit. The acts at the Hong Kong got us used to making Harvard Square a destination, no easy task. The full story is here
Outside of Boston we're seeing shows being booked now for future dates. Punk in the Park is at the Big Surf Water Park in Tempe, AZ on May 29. Acts include Pennywise, Face to Face, Strung Out, Good Riddance, Voodoo Glow Skulls and Slaughterhouse.
A follow up festival in Orange County, CA on November 6 where Pennywise will be joined by the Dickies, T.S.O.L. and the Vandals among others. Details are here.
The Life is Beautiful Festival is happening in Las Vegas September 17-19 with Green Day and Tame Impala in the line up. Info here.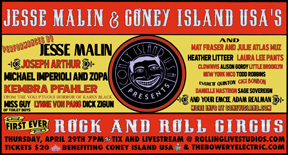 It's been postponed a few times but it looks like the current try for The Zulus show is for September 3 at the Paradise. The Facebook event is here.
Jessie Malin is having a live stream, Coney Island USA Rock and Roll Circus on Thursday April 29. On the bill are Miss Guy of the insane Toilet Boys and Kembra Pfahler of the Voluptuous Horror of Karen Black. Tickets here.
On May 5th there's a live stream video salute to Adam Schlesinger on Rolling Live Videos. Adam of Fountains of Wayne died from Covid last year. 35 musicians are listed to play. Among them is Mickey Dolenz, Peter Buck, Courtney Love, Glenn Tilbrook and (used to be local) Mike Viola. It's a ticketed event for $20.00. Link for tickets.
Baabes are in Zippah Recording Studios recording a new album!! Woo wee, good things coming! More..... until its ready here's a video of Baabes doing Pretty Mug shot. Brian Charles Facebook page.
That Blondie graphic novel, Blondie: Against The Odds, we talked about a few weeks ago is now up for a pre-sale. The price is $99.00! Ouch.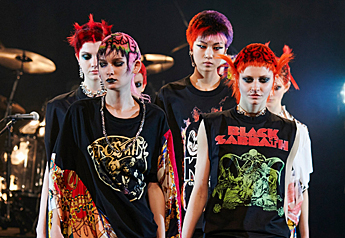 When a magazine like Vogue has a headline - Punk is Back, we say head for the hills. The full headline on their website (Link to Vogue site.) is Punk is Back: Somewhere Jimmy Webb is Smiling. Jimmy, who died last year, was the owner of Trash and Vaudeville in St. Marks Place. Following are models sporting logos for bands that were anything BUT punk: Rolling Stone, Pantera, Kiss and Aerosmith but they're posing in their 'punk' get ups. "Ever get the feeling you've been cheated?" that's what we always feel like. When punk was happening in 1977 where was Vogue then? Any love for punk when it counted? We don't remember any.
The Damned are touring in England in February of 2022 and it's with the original line up!! Holy crap! They must have kissed and made up!!!
They have a short promo video. It's all the support bands saying what a privilege it is to play with The Damned. The video is here.
Color Killer did a fast few songs as a trio this week. They were sounding good as usual and were having fun as they did. They sang a few lines from "I Get a Kick Out of You". Where did they pick that up? The third song in was "Holiday in Cambodia". Most bands can't get this close to the original as they do and they make it look easy. The video can be seen on their Facebook page.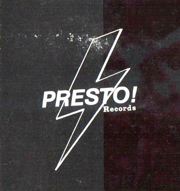 We talked about Presto Records two weeks ago. The reviving record label is having a relaunch party on May 8 at 8:00. They'll have videos by Miranda Warning and Miles Deathmuffin. Chris Porter, the label's head, will talk about the history of the label. There will be some info on the Classic Ruins we're sure. The Ruin's Café LP was the first release on Presto. The event page for the video party is on Facebook.
One of the first live shows in over a year in NYC happened at City Winery with Patti Smith. There is an informative write up on the Showbiz411 website. It makes you wish you were there. They have a video of her singing "Peaceable Kingdom". (Video for that on YouTube is here.)
Cheap Trick, everybody's fifth favorite band (says Rick Nielsen ), has a new album called In Another World. It's reviewed on the Paste website. They do a good job capturing the spirit of the whole album. Read it here.
Podcasts.....
Al Quint gets interviewed again, this time on Kids Like You & Me. He reviews all the early Boston clubs he went to which will be familiar to all BGN readers. As always the early punk and hardcore days are of so much interest.
Al talked about a common (at least to us) situation – the way people view your punk fixation. They know it's unconventional and you have to square that with your work mates or family.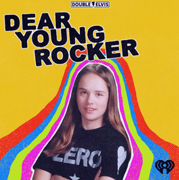 There's a newish podcast called Dear Young Rocker which uses playing punk rock to help people with gender issues. As they say it, "The podcast…profiles a young teen seeking relief from the anxiety, body issues, and pent up aggression of adolescence and a way to connect to others through rock music."
It's gratifying to see punk used this way and more generally that there are creative efforts like this using current platforms like podcasts to help reach people. See more about this show and listen to some episodes on this webpage Dear Young Rocker.
Above the Basement interviews Juliana Hatfield this week. In the discussion Juliana claims she's not prolific but if she isn't she's certainly productive. She has a steady stream of albums. She talked about how challenging the Olivia Newton John material was. She says the music had a combination of complexity and range that made that cover album very hard to do. She said she's getting used to the live steams she's been doing at Q Division.
Skybar promises to kick the music all banging this week. Knowing him most will be local too. Catch him on Tuesday nights at 8pm on WMFO. you can listen on the web HERE.
CDs/ Music.....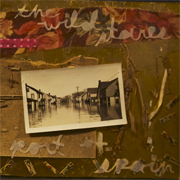 Early Boston art rockers Wild Stares put out the album Automatic Writing Machine, from some unfinished material, last October. That was very much welcomed at the time. Now they've released Port of Spain, an album that was recorded decades ago! Two record companies that wanted to release it went bankrupt. Finally giving up the search for bankruptcy number three they are releasing it themselves.
This is a time capsule of art rock. It's dark, deep, angular and intense. They throw in oddball tonalities almost randomly. Hearing it now gives you another perspective on the genre and its effects.
The album has a sound that jumps out. That's a good recording job, they understood this band. It's a crime this wasn't released when it should have been.
We like "Safe", the low simmering of "Paralyzed", and the adventurous "Strange Call" which gets frantic at the end with cries of "It's so difficult".
"Cloudfoot" has a soft beginning which makes the sudden appearance of a coruscating guitar even more jarring. The guitar cuts a swath all the way through the song. Listen to that below.
The really hard punk and hardcore groups have been missing from the music during this last year. This Oh the Humanity self-titled release helps to fill the gap for us now. It hits hard all the way.
"Future Killer" has powerful lyrics that talk about America's role in the world. We are used to Oh the Humanity talking about personal issues. They are opening up their scope here.
The False Positives have a crunching garage rocker called "Doing It Wrong All Over Again". They figure that even if they could live life over they would do the same crap again. The song has a fiery solo by Zulu Rich Gilbert, guitarist for hire. The False Positives have 8 songs on their Bandcamp page this one the best to our ears.
There's a new Johnny Thunders compilation out called After the Dolls 1977-1987.
There is no sense that the Thunders attraction is dying down even after all these years. The album has 19 of his best and famous tracks. It comes with a second DVD featuring a conversation with Marky Ramone and a video of "Get off the Phone". You can get it here.
CONTACT US AT....misslynbgn@yahoo.com Send us your gig listings, your anything else ya got!! You want your CD reviewed?? Contact us for that too.
---