The BGN News Archive
April 20, 2009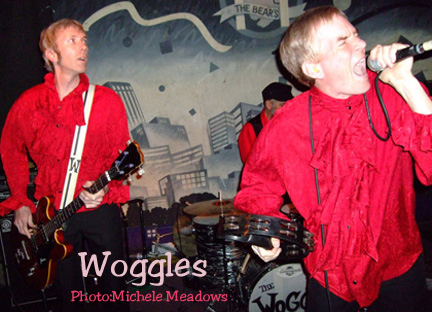 This past weekend Blowfish and I went to TT's to see Watts, The Konks, Muck & The Mires and The Woggles. Well, Watts were a surprise to me, they were very very good. The drummer had to run over to the Middle East immediately after his set to play with his other band The Dirty Truckers in their Rumble set! But he didn't hold back at all during Watts.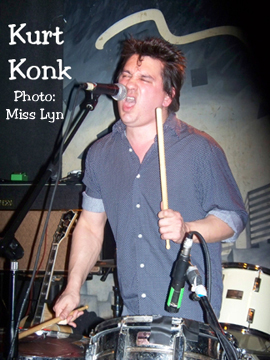 The Konks were great too. I love The Konks...they were amazing at The Abbey Close Show and they are always fun and Kurt is mezmerizing up there. Decibel Dennis was there and he said "These guys would have fit right in at The Rat years ago!!" And I had to agree, he is correct on that one...in fact they even covered Suicide's Ghost Rider, to close out their set and I remember seeing Suicide at The Rat. I wish The Konks were more...raw and punk and almost dirgy. They pull stuff like blues and pop and a bit of rockabilly into their sound and I wish it was more... I dont' know, even more different from everybody else. I KNOW they could pull it off and it would set them miles apart from every other band in town. I mean they are already on their way there but that would DO it! Either way I do enjoy them none-the-less, the fact is I love what they do now but that's what I wish I could hear from them.
Well, Muck & The Mires were up next and what can you say about them except they always do an awesome set....my only complaint; they play out too much. I know that's hard when you love doing what you do the way the Mucks do but they are just too available to see like every single weekend it feels like!! Of course their songs are great....up came "Doreen" and I thought "Oh no!! Now this song will be stuck in my head for WEEKS!" it is SO catchy, well written and memorable.
Next up were the Woggles....sorry Woggles fans but these guys totally creeped me out. They made me feel very uncomfortable...and that is very weird for a band to make one feel that way...but there was just something about them, and those stupid shirts (which everyone was complaining about), the super sparse stage set and them, the guys in the band...and I mean the next night was the Fleshtones...they do it right as far as I'm concerned. We left after a couple Woggles songs.
Click for more photos of Woggles/Watts/Konks/Mucks
Now the next night was the Fleshtones...and guess what?: I stayed home!! But our roving reporter BeatGirl was on the scene and sent us some info and pics. Now it seems the Lyres did one of their most awesome sets Saturday night: she reports "Lyres were the stellar performance of the night. I've seen them 1 or 2 times before(tee-hee) but OMG they were incredible!" Well they have it in 'em , no doubt about that. So there you have ti for our weekend past....
Click for more photos of the Fleshtons/Lyres
Now what's coming up?
The Outlets are doing one of their more acoustic sets at The Plough & Star on Friday May 1st…you don't want to miss that!
The next night is a special Jonathan Richman "Tribute" at PA's Lounge (345 Somerville Ave, Union Square) on Saturday , May 2 . it s to support the Somerville Arts Council who wrote in their press release: " Jonathan Richman's songwriting spans four decades and includes hundreds of Rock n Roll songs in many styles. Our bands aim to please by performing selections from each, including the proto-punk rock of "Roadrunner" to the 1950s rock influenced "Ice Cream Man" as well as the rockin' child-like wonder in "Abominable Snowman in the Supermarket" . Doors are at 8:30 and its 8 Bucks...bands doing Richman songs will include: Ponies in the Surf, The Double-Stops, Young and Old, Lou and Emily and The Thick Shakes just to name a few.
That very same weekend May 1st, 2nd and 3rd is Somerville Open Studios my friends and I will be settin' up shop at The Armory in Somerville at 191 Highland Ave to show my all new artwork!! Please come on over, its equidistance between Davis Sq and Union Sq....you can take a bus or walk (15 minutes) or drive, they have a parking lot. Please come drop in at the Armory and visit me!!
Open Studios site
Me on SOS site This link includes a MAP so you know how to get there!!
My art site: MISS LYN ART OK, enough about me.....on to the music....
the Semi-Precious Weapons are at The Middle East Down this Friday April 25th with Shiny Toy Guns ...
then Monday , April 27th you can catch Mad Sin, Sasquatch and the Sick-a-billys, and the Alrighters at the Middle East Down
OH! We have a tough decision to make on May 8th my friends.... the Damned are at The Paradise... but we also have in May Eddie & The Hot Rods along with The Classic Ruins at The Middle East UP....hmmmm, that's a tough one!!! I'm leaning toward Eddie & The Hotrods, they were really good last year!!
And looks like there may be another cool place in Union Square Somerville doing shows: Bull McCabe's has Squallie Greenthumb doing a record release show on Wednesday May 13th...so check out Squallie for all the info and dates and order the disc!!
Also in May, Richard Lloyd and The Sufimonkey Trio are at Church again
June 6th at O'Brien's are Pulp 45, The New Alibis and The Allrighters - excellent show!!

Also its a the Johnny Angel invasion in June....more on that again later but until that you can go to their Blackjacks site and listen to some new music and see some viddies too!! ....
SO, I don't' get it, the Murder Junkies are going on a 7 week tour and they aren't coming to Boston...more later....I need to finds out why!...But in the mean time check out their site to see where they ARE going
OK, there you have it for this week friends....
email me huh....????.... Lyn