The BGN News Archive
April 21, 2014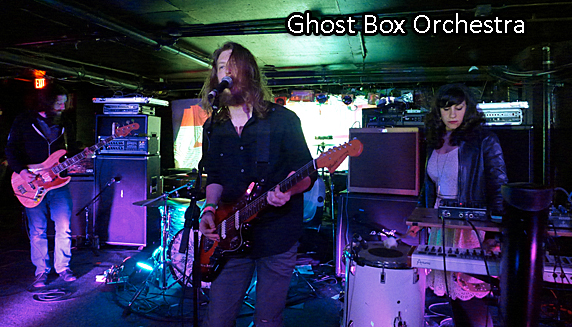 I loved Doug Tuttle when I saw him at the Hasselfest and he was on the bill of psyche bands at the Middle East Down on Saturday 4/19. Unfortunately they played on time and had a short set and we were late and missed them. Doug used to play in MMOSS from New Hampshire. Here's a link to a song from his just released CD. If you listen to that you can hear its 60's psyche sound.
Now, what about that? What's the idea of listening to that style now? Ripped of its social, political and lifestyle origins, does it make sense to play it? Those questions were on my mind as I listened to Ghost Box Orchestra and Loop. For me it is a viable musical direction. It seems to work in the current zeitgeist. I don't pretend to know why exactly but I feel the computer and the parallel web universe, not to mention game and Sim worlds, may put the mind in the right space for psyche music.

We had seen Ghost Box Orchestra at Radio (previous BGN review) and liked them. This night they commanded a much bigger stage and the music was big enough to fill the space. The lead singer was a dramatic focus. They had a backdrop with psychedelic films that added to the ambiance as they poured out their atmospheric songs. Tons and tons of echo on the vocals and all sorts of effects on the instruments created spacy tapestries. The synth player played some simple linear riffs that gave just enough to hold on to. I found it very satisfying.

The club was full but not jammed but there was a noticeable uptick in people when Loop were scheduled to play. I was unfamiliar with the English band whose history goes back to 1986. Others knew, and they included a few WMBR jocks including Bob Dubrow, Sue Safton and Mistress Laura of Bats in the Belfry. One thing was obvious from a fast sound check; they were going to be LOUD. Loop's main base is a short repetitive riff; they are just a few notes or two chords. They play over that with some sharp acid guitar or effects laden guitar. They had a much darker tone than Ghost Box had. We didn't stay for the whole set but if I was more comfortable I would have. The ME down is not a great place when it's crowded, the view of the stage is pretty bad unless you fight your way to the front and this night we just weren't up for that.

And in other news... Happy 28th Wedding Anniversary to Richie and Judy Parsons!!!!!!

Punk the Capital is a documentary being done on early Washington DC punk scene 1977-1980. Miss Lyn and Kenne Highland lived there during that time and there was a lot of great bands areound then!! The Afrika Korps are in featured in there along with The Slickee Boys and many others, check out the site and after you read about Punk the Capital scroll down to the great links to other cool films on punk!!!

The Screamers had a wild reputation at the dawn of punk. we remind you to check out the Kickstarter to help a movie about the lead singer Tomata Du Plenty.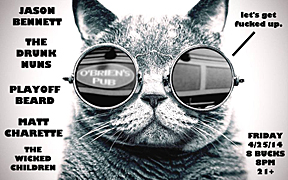 Another reminder: Wharf Cat Records has released an authorized reproduction of La Peste's Better Off Dead. The single is a limited edition and features the original tip-on sleeve jacket and "Black Records" imprint on the back. You can pick up a copy for $7.99 at the Wharf Cat Records website click here. A limited number of copies will be put aside for members of the group. Once you order your copy email WCR and let them know you are a member of the La Peste Fanclub on Facebook and your copy will go out in the first wave. You can follow up your order with an email here: wharfcatrecords@warfcatrecords.com.
And for upcoming shows we think are worth mentioning.....
Boston punks are getting it together to support the Lieutenant Walsh - Firefighter Kennedy Memorial Fund this Tuesday April 22nd at Great Scott AND (because of the amazing response) a second show at The Sinclair on Wednesday April 23rd. Both shows are sold out but here's who's playing: Tuesday at Great Scotts there's Street Dogs, Avoid One Thing (first show in 10 years), Ducky Boys, Lenny Lashley's Gang of One, The Welch Boys, Burning Streets and Duck and Cover. Wednesday at The Sinclair there's Street Dogs, Slapshot, Ducky Boys, and Avoid One Thing. Since both shows are sold out you can donate to the fund here if you'd like.
Thursday April 24th O'Brien's has Boogie Boy Metalmouth, Mystic Motorcycles, Radio Control AND...one of our faves: Sleep Crimes, who is celebrating their CD release...with a song that made it to our Top Ten list ...go have a listen to their song I Pledge My Love
Kelly Davidson is celebrating another of her 6th installment in her Rock Parents photo series on Friday April 25th at The Jamspot in Somerville ...(its kinda off Prospect Street near Union Square click here for directions) Anyway Kelly is an awesome photographer and a really nice person and we think this project is a great idea. It celebrates the many Boston rockers who are paretns. See you there folks!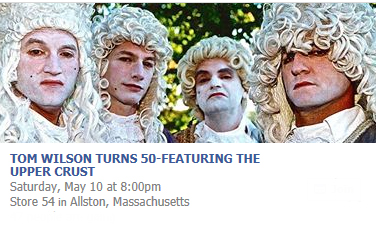 Now this is gonna be a great show!!! At O' Brien's this Friday the 25th: Jason Bennett, another one of our faves: The Drunk Nuns, Playoff Beard, Matt Charette and The Wicked Children - this is worth it just to see The Drunk Nuns folks, they are currently the Number One band on our Top Ten list with their song F-Town!!
Whew there is a total hardcore matinee show at The Middle East UP on April 26th: The Breakfast Club Hardcore Matinee: Finisher, Meek is Murder, The Austerity Program , I am become Death, Aminals, and Suffer on Acid - This is an all ages show and the doors at at Noon!!
Saturday April 26th at the Midway is The Cheeseburger Eatin' King's Annual Birthday Circus featuring Bad Lieutenants, The FUs, Big Meat Hammer, Rough Francis, The Stand Alones, The Pubcrawlers, Bragging Rights, and Slim Francis
In Providence RI on Sat April 26 is the A is for Awesome Benefit for the Trudeau Center -its at The Parlour 1119 Main St Provi, and playing will be Lenny Lashley (Darkbuster, Street Dogs), Jenn Kitten (Music), The Red Pennys, The Quahogs...plus: Treats from Bee's Knees / Surfing Movies and its sponsored by The Bucket Brewery - The Trudeau Center in RI works to promote an enhanced quality of life for individuals with developmental- disabilities. so this is a great cause folks...head on over if you can.
Another gig on the 26th is Moose and the Mudbugs out in Worcester at Ralph's with Bee's Knees and Loose Salute.
The 4th Annual HardCore Cotillion is Sunday April 27th (5:30-10PM) at The President's Rock Club in Quincy...this is one killer show folks!! You got Kilslug, Jerry's Kids, Taxi Driver, Barroom Heroes, and Keith "Fishead" Knowlton - all for 8 bucks!!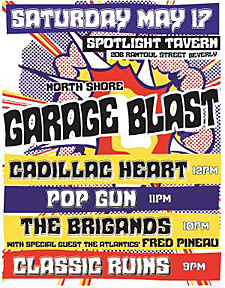 Also on Sunday the 27th 3-5PM is a fun event: Scavenge The Square- Central: a day of exploring the fun spaces of Cambridge's Central Square. We will taste some locally made treats, explore favorite haunts, and end at a The Phoenix Landing. All scavenger hunt participants will be entered to win fun prizes from local businesses.
Wednesday April 30th Streight Angular are at O'Brien's...
Saturday May 3rd 1-4PM ....on the radio....Crash Course for the Ravers on WMFO 91.5FM ...has Siobhan Mcauley (Serum, Trojan Ponies) and Boston based producer and composer James Bryan on the show to talk about their new venture Embrionic.
After you listen to crazy Crash Corse you can head to the Midway for the Cranktones. This is another in an increasingly long list of cool rockabilly gigs at Midway. Cranktones CAN PLAY. If you are an instrumental fan like me you will love to hear there version of The Shadows' The Savage
The Cavestomp (Boston) Standells and Lyres at The Brighton Music Hall on Monday May 5th.... You can buy tix here
What we knew as Joe Coughlin Memorial Show, and who could forget Joe Coughlin??? is now dubbed Joe Fest...and its Joe Fest II at the Midway on May 10th! And the bill is an awesome one, bands Joe would love and who loved Joe... M.O.T.O., Alice Highland, Classic Ruins and Roy Sludge doing his Stump the Undertakers Organ .....a good time will be had by all and its all in Joe's honor!!
Also on the 10th at The Middle East Up is a good show with The Devil's Twins, Petty Morals, Adam PC, and PowerSlut - this is an early show with doors at 7PM!!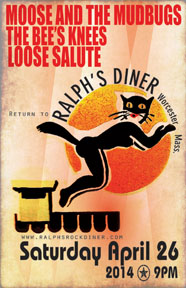 At O'Brien's on Saturday, May 10th we got a excellent show with Jittery Jack (their Boston record release show) , Whiskey Kill, Johnny Carlevale and the Rollin' Pins and DiabloGato
Also on Saturday May 10th is a crazy night at Club Bohemia at the Cantab with The Hixxtravaganza - playing are Hixx of course along with Scott Damgaard, Cadillac Heart and James Straight And The Wide Stance
Also on May 10th is a big ole celebration over at Store 54 - Tom Wilson turns 50 and he's celebrating with The Upper Crust playing and its byob...should be quite a night folks!!
Wow this is a very special not-to-be-missed event: At The Regent Theater on Sunday May 11th (7:30PM) - A Boston Film Premiere Event: "Looking For Johnny" - The Legend of Johnny Thunders PLUS The Daughters Reform to Play LIVE! I know they interviewed some Boston rockers for this film, too!
It's a killer weekend over at The Midway on Friday, May 16th with The Other Girls, BrownBooze (featuring Rod van Stoli and Jordan Valentine of BrownBoot!!! she's in town for a couple shows this weekend -see below too) ) and Saturday, the 17th with The Hudson Falcons , The Sprained Ankles, The Black Cheers and Spectacle
OK people mark your calendars for May 17th there's a lot going on that day:
The famous Q Division Yard Sale...this one'll be the 4th Annual...is coming up on May 17th...lots of music gear and local musicians at this thing..... its on from 10AM- 2PM.
You know it's summer when Cal Cali is back in town and he's back to celebrate his birthday on May 17th at The Tavern at the End of the World with Asa Brebner, Richie Parsons Duo and Emily Grogan
We know you've missed the Bob Colby shows that were at The Cantab on Thursdays and at The Rosebud before that...well Bob's back at it and on May 17th at Wayne Viens' Store 54 his first show there will feature Slowdim and Incinerator. Bob says: There may also be a short opening set, we'll tell you about that when we know more. We're glad to see you back Bob!!
Al Janick's St. Stanilaus Polka Party on May 17th...this year its at Anthony's on Highland Ave in Somerville and he's got his Plastyczny Ser Orkestra consisting of world famous musicians like , Kevin Hensleyski on Guitar, Matt Burkeski on Drums and Shaun Wolf Wortiski on Bass...along with The Warsaw Marching Accordion Army and the Horny Karkow Horns...and if that weren't enough he also has special guests The Pierogi Triplets (Jordan Valentine & Jenny Dee)!!!
Also on 5/17 over at the Midway in JP is The Beantown Boozehounds, The Sprained Ankles, The Black Cheers and Spectacle.....

And if you are up in the North Shore on May 17th...there's a good show at The Spotlight Tavern in Beverly with Pop Gun, Cadillac Heart, The Classic Ruins and the Brigands.
Thursday, May 22 at The Middle East Up......... The Woggles with Muck and the Mires, Lyres - whoa what a show!!!!
Saturday, May 24 at 6:00pm The Spot Underground (101 Richmond St, 2nd Floor, Providence, Rhode Island 02903) has punk extravaganza going on. It's featuring Boston and Providence hardcore with DYS, The FUs, The Loud Ones, Words Of Truth, Honest John, Penalty Kill, Futile Justice
Sunday June 1 at The Middle East down is The Cro-Mags, Anti Nowhere League, Taxi Driver and Neighborhood Shit. This is an early show folks, doors are at 6:30PM
The 2nd Annual Rat Beach Party is already well in the planning stages...its set for September 14th& 15th and here's a list of bands so far: Saturday night- Red Parrot Beach Bar starting at 7PM: Hardwired -- Heavy Weddle & Sweet Release -- Severance (or Band To Be Announced) -- JetSet -- Billy Rath & The Street Pirates -- Open Jam to close
Sunday afternoon/evening: Red Parrot Function Room, Beach Bar and Back Room Lounge starting at 12:00 -- The Beachcombovers (Function Room) -- Hardwired (Beach Bar) -- The Boize (Function Room) -- Gino Caira Band (Beach Bar) -- Count Viglione Love & Flame (Function Room) -- Hixx (Beach Bar)-- State of Union (Function Room) -- GraveDancers (Beach Bar) -- The Derangers (Function Room) -- The Workers (Beach Bar) -- Liz Borden (Function Room) -- Kenne Highland Clan (Beach Bar) -- Slow Children (Function Room) -- Pop Gun (Beach Bar) -- Gyro Lula (Function Room) -- Moose & The Mudbugs (Beach Bar) -- Tsunami of Sound (Function Room) 8:30 -- Masters of The Obvious (Beach Bar) -- Red House (Beach Bar) - Real Real Bayou Band (Beach Bar) -- All-Star Jam led by Cindy Daley, formerly of Lovelace.
In August John Lydon hits Boston in a huge production of Jesus Christ SuperStar , he's playing King Herod...man I want to see that show!!
She doesn't wait for the good weather, she leaves the bad weather to vacation on the west coast. That would be Joanie Lindstrom on her latest trip to Seattle, San Diego and Los Angeles.
EMAIL US AT.......misslynbgn@yahoo.com