The BGN News Archive
April 23, 2012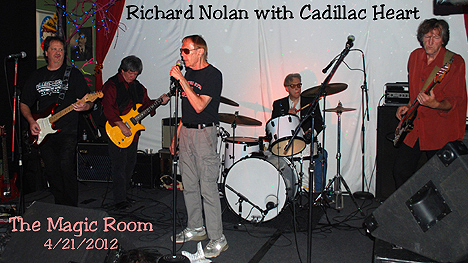 This Saturday past we headed over to the Magic Room. This did had a lot of elements indicating an interesting night: The groups were some of our favorites (Frank Rowe, Cadillac Hearts, and James Straight and the Wide Stance), the comfortable club (The Magic Room) and the first time on stage for Richard Nolan after his stroke.
We got to talk to Richard between sets. For those not on Facebook, Richard's posts have been very upbeat and that's the way he was tonight. Depressed? Discouraged? No way. He is doing everything he can to get back to full speed. He already has taken several trips to Hawaii ( Oahu ) since his stroke. He talks pretty good, just a few halts now and then and he is definitely ready to sing.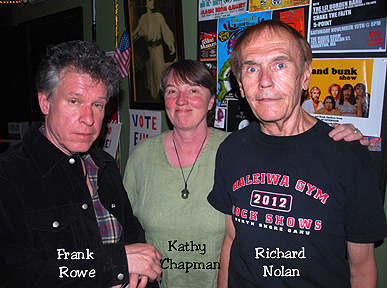 And there are plenty of people here to show support for Richard. There's some ex-Third Rail members in the audience; Chuck Myra (also of the original Marc Thor Band) and Don Gildea; and in the band tonight (Gary Soprano). Of course there are so many ex-Third Rail members that any medium sized group would contain one or two. HA HA!!
You can go to this BGN Richard Nolan interview for loads of info and an exhaustive list of all those former band members.
Also in the crowd were Renee Devine, Paul Robinson from the original Boize, Lenny Scolotta (Boys from Nowhere) and Ron Scarlett. Even Danny McCormack (former Lyres and Honorary BGN Editor) was there and I haven't seen him out on a long time!!.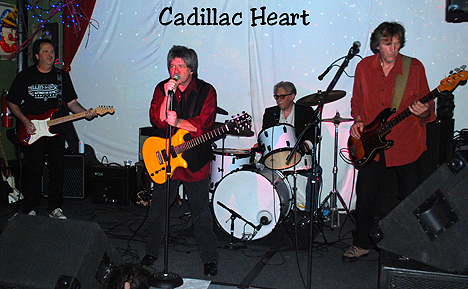 As usual we had too much going on to get to the club early so we missed most of Frank Rowe's solo set. He was his wry self and the lyrics were funny as always. Cadillac Heart were on second. A lot of the material is from their CD. Richee Johnson has taken the drumming seat vacated by Rayboy. That means they are still four veteran rockers who know what they're doing. They sound even stronger than last time, they are definitely a little louder and looser and that's a good thing. Gary Soprano was doing his 'thing' which is to say roaring creative leads played with abandon. What great songs these guys have.
Soon it's Richards time to join the stage. People are a little nervous and apprehensive. Can he pull it off?.....Soon enough we see he CAN. He sings better than he talks. He does three Third Rail songs - "I Knew the Preacher", "It's Over Now" and "Take That!". Gary Soprano of course knows these inside and out. The crowd is very vocal and supportive. It's inspiring and its Third Rail material and that's great. Cadillac Heart do a few more songs including my fave "Fed Up" and that's a set.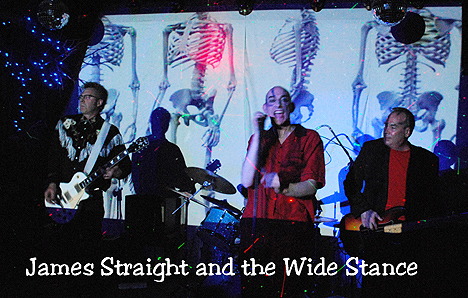 James Straight and the Wide Stance and the Magic Room were made for each other. The Wide Stance gets the video backdrop and The Magic Room gets a theatrical group that displays the room's stage and décor in the best light. They come charging out of the gate and never stop. The videos in the back screen are even more elaborate than the last time I saw them. They had a lot of Divine courtesy of John Waters going on behind them during the set. The Reverend Joe Fagan is playing his snow white faux Les Paul via Japan . He says it's cheap and the light strings rattle on the frets but the tone coming out of the very small Marshall is dirty and delightful. He should never play a good guitar I would say. James Straight is so good it's scary. He's got great gestures, stage presence and a classic stage persona. What makes them great is all that on top of the rhythm section which is undeniably one of the tightest units around. They have it all together.
Now, how do they get more attention? What's the next step? Maybe they should have done the Rumble. I don't know. It's the same thing with Cadillac Heart. Maybe that's just the world we live in now. Thank gawd for the internet which enables the groups to get there music out there for those who seek it. We didn't have that back in the day.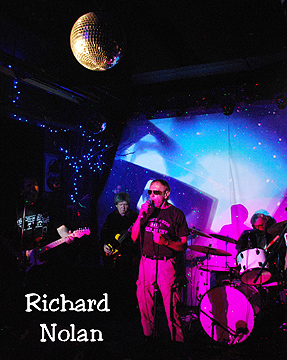 Now on to what's coming up:
This Friday April 27th has a few good shows to choose from: at the Tavern at The End of The World you can find Jay Allen and The Archcriminals Over at The Plough on that night is Sourpuss....and at Toad is JJ and The Cuban Heels. On Saturday the 28th Jenny Dee & The Delinquents are at The Plough.
The Dirty Truckers are having a big record release party on Friday May 4th at Radio! The bill also includes Muck & The Mires and The Scars....cool!!
Check this out ...The Ducky Boys are playing a FREE show at TT's on Saturday May 5th!! The first 250 people in line get in for free. No strings attached. The music will start at 3:30pm with The Old Edison, kicking things off for 30 minutes. From 5:15 - 7:00pm will be an extended Ducky Boys set. SO this is an early show and sounds like one not to be missed, these guys are awesome!! <
May 12th there's a rock & rockabilly night at The Midway when WMFO's DJ Easy Ed presents with The Roy Sludge Trio, The Two Tones, The Garnet Hearts and Easy Ed's Record Hop- Ed spinning cool music between sets.
May 19th we got a Cal Cali Birthday Party to celebrate at The Rosebud with Lyres. Jetset, Happy The Clown and The Titantics.
The Ducky Boys and Rancid are at The House of Blues on May 21 - should be interesting given the recent news about how mosh pits have been banned at that place....
And of course Friday May 24th Manitoba is at Church....from all reports that should be an amazing show !!!
And The Psychedelic Furs and Pop Gun are at the Salem Performing Arts at The Catholic Center in Salem on May 26th!! Get your tix now coz they are going fast!
Check this out...Boston's best Bass Player Carl Biancucci, has crossed the pond and has been taking over Europe, starting with the UK!! On June 6th his UK band The Shot Glass Killers are opening up for the Brian James/Rat Scabies (BOTH original Damned members) show at the 100 Club! WOW Carl!! Let's get a whole posse of Boston rockers over there for that show!!
and Johnny Angel is coming back to Boston again in July both tthe 6th & 7th to be exact. He's putting on the "First (And Maybe Last) Annual Johnny Angel Hootenanny At Radio" with a load of awesome bands: WATTS, Robin Lane, Mary Lou Lord, Darling Pet Munkee, 360's, Noggin and Eric Martin/Illyrians. AND Johnny will be playing music from IT! (his latest CD and band click on the link to here the songs, buy the CD and read some info!) .
EMAIL US AT.......misslynbgn@yahoo.com