The BGN News Archive
April 23, 2018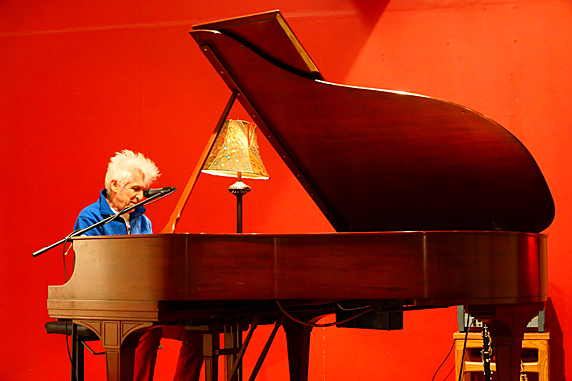 Wille Loco Alexander at Third Life Studios
Photo:Blowfish
---
Catch up time here: John Keegan was up in Portland on Saturday April 14th to see a show at the Bayside Bowl. It was Tiger Beat, Muck and the Mires and Crunchtime. He somehow had time to sample the famous Portland cuisine for a dinner and then a band breakfast the next morning. Click the photo below for the story and photos.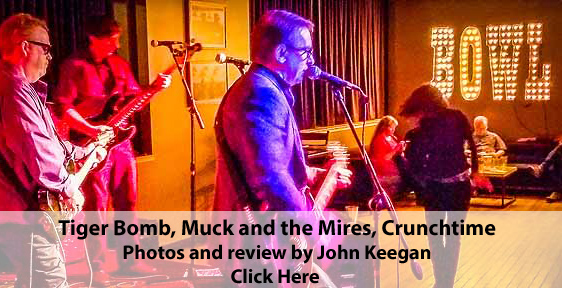 This week on Thursday at O'Briens was a hardcore bill with Lessener, Taxi Driver, Sick Minds, & Faux News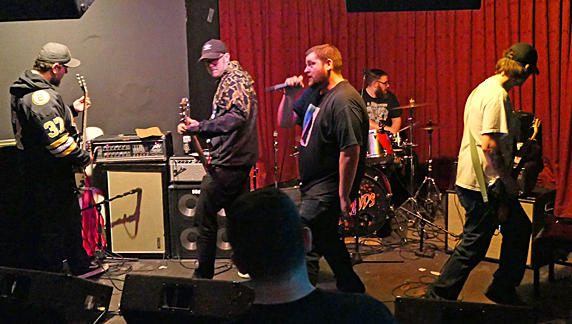 Faux News
Photo:Blowfish
We just saw a song and a half by Faux News. They were having fun on stage and the music was hitting hard and the lyrics seemed like they were saying something. We did capture one song on video - see below.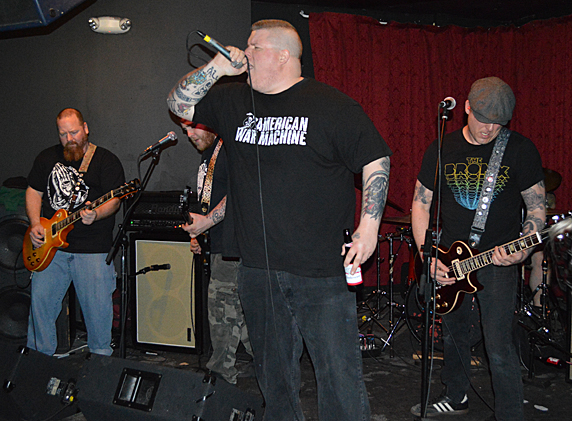 Taxi Driver
Photo:Blowfish
We've seen Taxi Driver a few times so we knew what to expect. They did some sledge hammer hardcore at a fast but not super fast pace. Danny the lead singer was an imposing front man. He was roaming the floor in front of the stage which the next two singers did also.
Taxi Driver has been together since 2010. They've played on bills with many popular hardcore acts. We saw them with The Anti-Nowhere League in 2014. They give you that complete hardcore submersion feeling where you are overwhelmed with the volume and intensity. Listen to them on Bandcamp.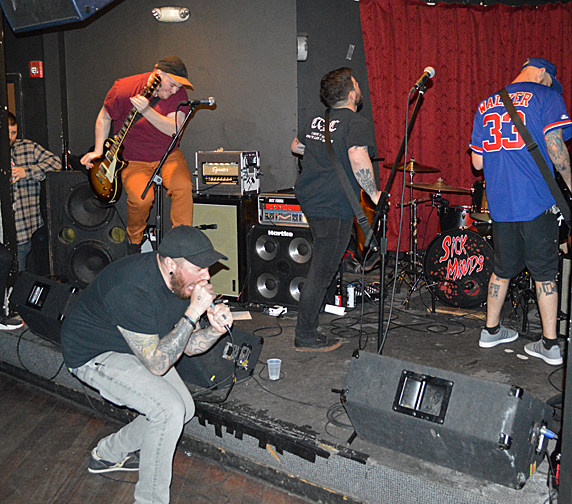 Sick Minds
Photo:Blowfish
That whole feeling was continued and enhanced with Sick Minds. The music was even more uncompromising and the lead singer was putting all his energy into the singing - yelling at full volume. It was a guess if he could do it a whole set. He did, but he was panting like crazy near the end. Tommy the drummer of Taxi Driver did double duty by playing with Sick Minds too. So, he kept up the frantic pace for two sets.
We are always impressed with the dedication of most hardcore groups, there's no walking through a set with this music.
Lessener continued the hardcore but broke a string after the first song. Knowing we were doing a multi-night stretch of clubbing we bailed.
When we hear a multi set of hardcore like this night we walk out feeling like we've been beaten up a bit. It's a physical as well as mental thing.
The next night was a complete turnaround. It was Willie Loco, Randy Black and Mark Chenevert in Somerville. Mark set up this cozy show at Third Life Studios. It's across the street from Sally O'Brien's and closer to the Union Square intersection. You don't see it till you are right on it. It's a simple square room which had about 40 chairs. There were about 20 people there. We were expecting more. In the front of the room was a grand piano that Willie had played and expressed a desire to do a show with, so, there we were.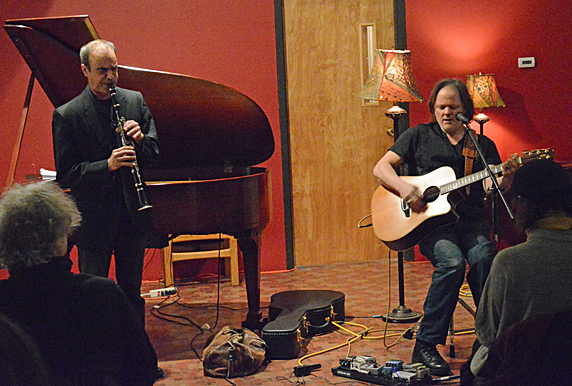 Mark Chenevert and Randy Black
Photo:Blowfish
Randy Black began playing a set with amplified acoustic and accompanied by Mark on clarinet. Randy has a lot of technique and doesn't just strum chords which makes his acoustic sets more rewarding. He does finger picking and hybrid picking as well as moving chord forms up the neck with open strings.
His arrangement of "Everybody's Talking" flowed like a river. One of his own songs called something like "Time More Slowly" had lyrics that resonated like prose. Randy works to make his songs go deeper. All his songs rewarded the close listening made easier in this setting.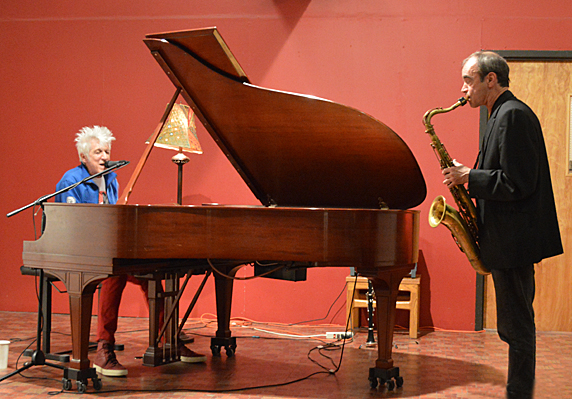 Willie Loco and Mark Chenevert
Photo:Blowfish

Willie started his set with a song called "Spring", maybe hoping that would happen soon. The words were by Vincent Ferrini. Willie has an album of Vincent's material: Vincent Ferrini's Greatest Hits as Interpreted by William Spence Alexander.

He did "Gravelly Hill" from the Dog Bar Yacht Club CD which had words by Charles Olsen (American Poet that lived in Gloucester). Here's a YouTube video of it.

He revealed that the song "Gin" was inspired by the Bee Gees song "Words".

As the songs went on you could appreciate the beauty of that quality piano. There were times where the sound had a concert hall feeling. In this intimate setting you could almost X-ray Willie's playing style. There's so much in there, obviously rock (of all eras) but also stride, boogie woogie, jazz, Latin, Cecil Taylor, blues and something...lets call it freeform....that keeps things interesting. He also had a song with chords borrowed from the Rites of Spring, so you can add classical music into the mix.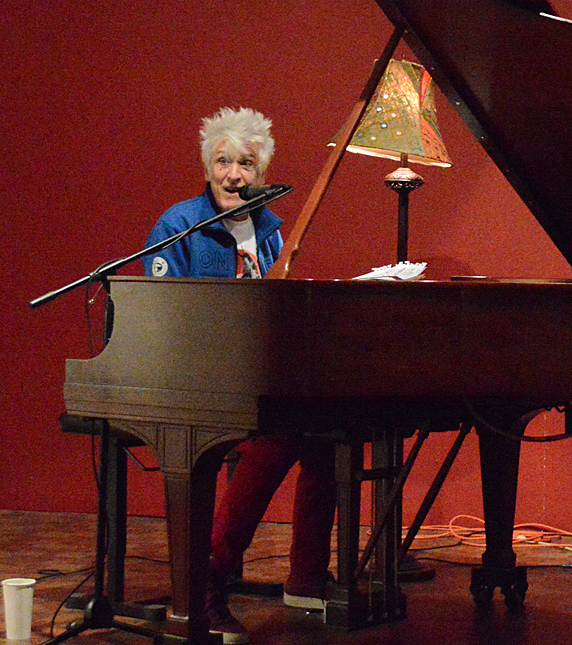 Willie Loco
Photo:Blowfish
You could also see the virtues of Mark Chenevert. He has a grasp of multiple music genres and disciplines as well. He's with Willie the whole way and even pushing things further with an eastern scale that Willie wouldn't dare go near and leading the dynamics of the songs when he wanted. He added another layer to Randy's set also. Things are simply better with Mark in the mix. No mystery why he's the go to guy in these situations.
Willie did "Bass Rocks" (great sax by Mark), "Gin", "Shopping Cart Louie" ('He survived the Germans, but not the kids." ) and "Kerouac". He told a lot of stories in between songs. He apologized for "babbling", but that was the exact right thing to do in that setting.
We don't get a lot of Willie shows in town these days. They might do this again. Hopefully more people will show up.
Also on Friday, Jiblantos, Shiny Beasts, and Black Souls rocked up a house party away from home at the Tavern at the End of the World.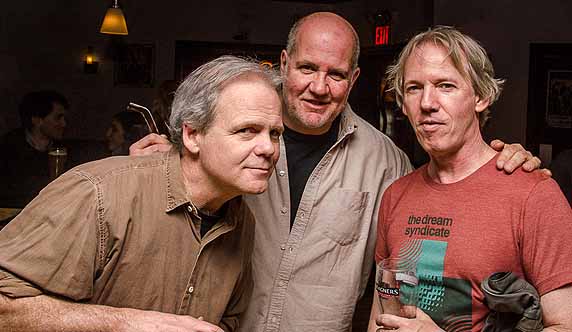 Two Jiblantos and a Shiny Beast
Photo:John Keegan
Jiblantos warmed up the room with their retro mix of sax, violin, guitar spazzmatazz. In a move worthy of Kenne Highland they segued from the last tune, Don Van Vliet's Zig Zag Wanderer, into a keep your seat intro for Shiny Beasts.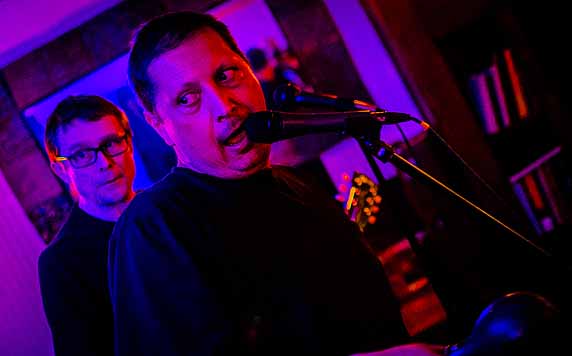 Henry - Shiny Beasts
Photo:John Keegan

Speaking of Shiny Beasts, they were in crispy form. The Mitch/Henry vocal overlap fits together like jigsaw pieces. Greg 2 sets up the edge on lead. From "Feral Cats" to "A Girl Like You" to "Drive All Night" catchy hooks, pushy choruses, rhythm section kickin' up a ruckus.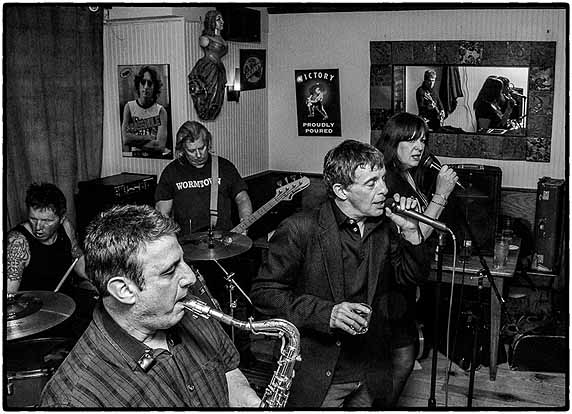 Black Souls
Photo:John Keegan

The Cam and Kim, Classic Ruins graft called The Black Souls is starting to take. The deep-cut covers, the rocked up r & b, the Ruins, Cam's harmonica, Kim's back up and lead vocals, and especially Brian Worsley's King Curtis sax had the late night crowd boppin' and dancin'. "Sally Goes Round the Roses" is an inspired call. "Venus" was ragged and right. "Charlie Brown" was a riot with Frank going low on "why you always pickin' on me."

The next night we moved on to the Middle East Up. Muck and the Mires were opening up for the Bush Tetras. The Bush Tetras used to play the Underground a lot. Mark Davis used to do sound for them there. He was at the Middle East and saw the sound check and said before the show that they sounded just like they did back in the day.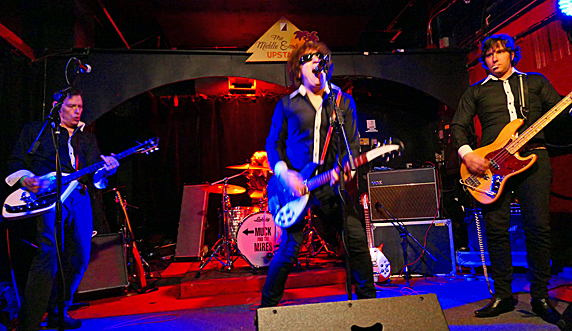 Muck and the Mires
Photo:Blowfish
We never saw Muck and the Mires even get on stage before they launched into the first song and started the avalanche of songs that seems to not stop till the very end of the set. They do it every time, and we love it every time. We thought this was the best set of theirs that we ever saw, but that's what we always think. Does that mean they are indeed getting better every time or probably it's just the immediacy of getting bombarded by the great songs and the joyful rock and roll delivery. How can you not love this band?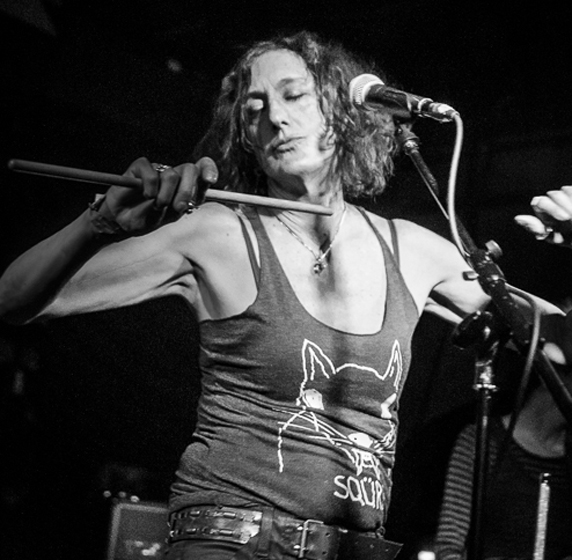 Bush Tetras
Photo:John Keegan
The Bush Tetras were post punk and considered part of the 'no wave' bands from NYC. The song "Too Many Creeps" was a staple of college radio in 1980. We never saw them in their Underground appearances and were interested in getting a measure of them now. A lot of others did too, it was good to see the club fill up for a band like this.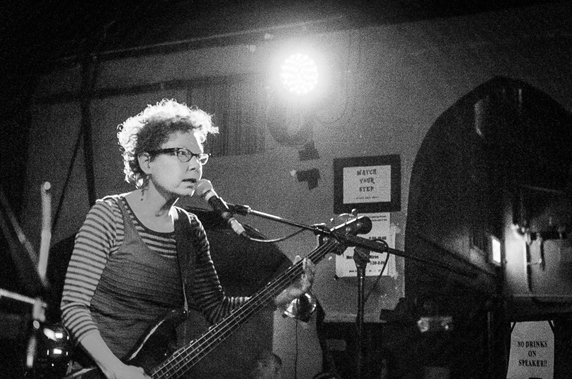 Bush Tetras
Photo:John Keegan
The overall sound did evoke the art rock genre that was prevalent in punk in the early 80's. It was jerky and fragmented which would have bothered us back when we wanted straight punk but now sounds just fine. The thing that kept everything together was Val Opielski's prominent bass, it was up front and constant. That steadfast and repetitive nature gave a hypnotic feel to the whole set. Singer Cynthia Sley was the visual focus. She gyrated and shook, messed up her hair and used her long arms to punctuate the lyrics. Original guitarist Pat Place had a ton of effect peddles and delivered slicing, atmospheric guitar sound throughout the set. It weaves together with the bass and drums to create their unique sound.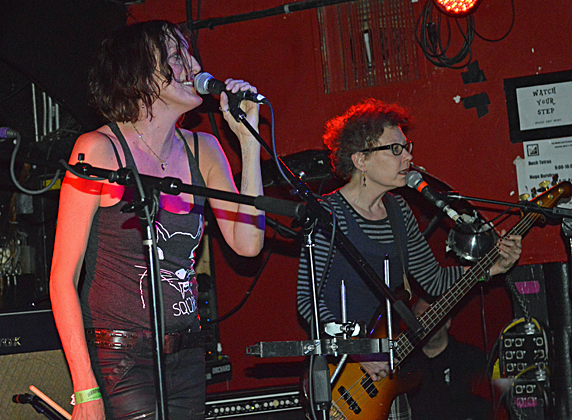 Bush Tetras
Photo:Blowfish
The crowd gave them a big reception and the band seemed to appreciate the response. Some times there are issues with reunions. This one felt right and was very welcome. In our case it brought us around to their music. We really did miss out not seeing them back in the day.
Between Muck and Bush Tetras setsm Hugo Burnham (Gang of Four) was DJing. Though we were not in the room much of the crowd stayed for the music and were dancing too!
More band photos below the show listings
---
And in other news.....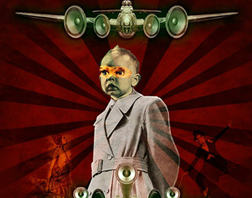 Killing Joke's - 40th Anniversary Tour hits Boston on Sept 11 at the Paradise. Check out more on the FB page.
Greg Allen's Fringe Religion's drummer is moving to Arizona so they're looking for a new drummer if anyone is interested.
We talked to Mr. Curt at the Willie Loco show at Third Life. He gave some more information on a subject he mentioned in his Crash Course for the Ravers interview a few weeks back. He worked with LaPeste during their early days. He did several recording sessions. Now, just like his tape of The Kids resulted in a release on Crypt Records, those recordings may show up on a compilation album on La Peste being put together by Curtis at Tang. Peter Dayton is listening to those tapes and deciding if they should be released. Mr. Curt said that Peter once thought that the tapes didn't reflect what they eventually decided to do as a group. That's something to wait for.
Tang also has a limited vinyl release called Boston Hardcore 1989-1991.
Phil'n'Plash is part of a big Chicago photo show called the Co-Pro Photo Show. It's spotlighting 20 Chicago photographers. It started Friday and goes till next Saturday 4/28.
The Neighborhoods at the Ocean Mist in RI on June 9, Tickets
Time to fall in love with "Doll Eyes" by Tom Baker and the Snakes all over again. They just released a video of the song, done by Duncan Wilder Johnson. The Snakes have been played four weeks in a row on Underground Garage. They have great songs performed by stellar musicians, they deserve the attention. Check it out here.
---
Here's some good shows coming up this week.....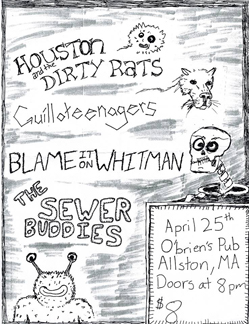 April 23 (Monday) Game Night for Girls Rock Campaign Boston! at The Aeronaut Brewing Company This is a fundraiser for Girls Rock so there is a sliding scale suggested donation of $10-$15. Bring our own games to share and food if you want to eat! 6-9PM FB page
April 25 (Wednesday) The Guilloteenagers, Houston & The Dirty Rats, Sewer Buddies, Blame It On Whitman at O'Brien's
April 27 (Friday) Pete Cassani (acoustic), Greg Allen's Fringe Religion, MOTO, Billy Connors Project at Tavern at the End of the World
April 27 (Friday) Bad Luck 13, Full Blown Chaos, Enrage, Grudgeholder, One Less Scumbag, LHB at Maximum Capacity Chicopee. MA FB page
April 27 (Friday) Revilers Antibodies Worm MATB Braindeth Nick Nobody(acoustic) at The C Note in Hull
April 28 (Saturday) Cranktones and DJ Easy Ed at The Midway. Early 4:00 PM Show!
April 28 (Saturday) Salem Wolves, Mercy Union, The Offseason at O'Brien's Pub
April 28 (Saturday) Booze&Glory, Antagonizers ATL, Brix'n Mortar, Pint Killers at Hardcore Stadium on Bishop Allen Drive Cambridge 7PM - Midnight FB page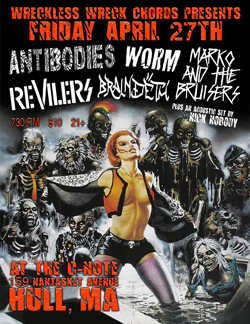 April 28 (Saturday) Shrink Ray, Yes, Commander, The Big Lonesome and Courters at The Midway
April 28 & 29 (Sat & Sun) The 4th Annual East Coast Block Party in Salem NH- loads of great bands like Highway Chapel, ,Tried & True, Cloater, The Stigmatics, Drunken Uncle Inc, Seismis Pulse and that's just day 1!! Check out the FB pages for more info and directions FB Day 1 FB day 2
And further out we have.......
April 30 (Monday) Loser's Circle, NO HANDS, Secret Spirit, DNZL at Charlie' s Kitchen
May 1 (Saturday) Rock and Roll Trivia w/ Erin and Brett at The Sinclair (FB page)
May 5 (Saturday) Taxi Driver, Neighborhood Shit, Out Live Death, Alouth, DNZL at The Midway - a 4-8PM show
May 5 (Saturday) Kal Marks, Black Beach, Rong, Pleaser at O'Brien's Pub
May 6 (Sunday) The Dirty Truckers take over Atwoods 4-6PM
May 6 (Sunday) Kelly Davidson's Rock Parents #7 Photo Show at Once 5-9PM with music by John Powhida International Airport, The One Smith and Walter Sickert & the Army of Broken Toys. FREE! FB page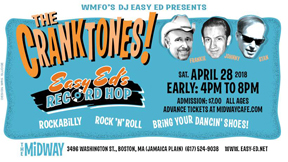 May 6 (Sunday) Punkcake is hosting it's Flat Out Flea and Punk Rock Open Mic at Ralph's in Worcester. 12-5PM Here's the FB page.
May 9 (Wednesday) Hoods, Death Before Dishonor, Set Your Anchor, Scars of Deceit and Distressor! at Hardcore Stadium (Bishop Allen Dr Central Sq) 7PM!
May 10 (Thursday) Maple Mars w/Corin Ashley and Richie Parsons at the Tavern at the End of the World
May 10 (Thursday) Elseware, Slum Raisons and Greg Allen's Fringe Religion at Once
May 10 (Thursday) Mickey Rickshaw and Buster Shuffle at Thunder Road
May 11 (Friday) Pale Monsters, Stars Like Ours, Magen Tracy and the Missed Connections, Dana Osterling of CIVIC at O'Brien's Pub
May 11 (Friday) Loser's Circle, K.C.U.F., Dial Drive (FL), You Scoundrel at The Midway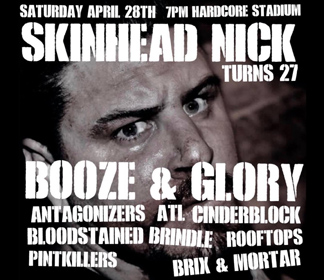 May 11 (Friday) One Less Scumbag, The Great War, Brix'n'Mortar, Chasms at The Chit Chat Lounge in Haverhill MA FB page
May 11 (Friday) The Hudson Falcons are at Askew in Provi, RI FB page here.
May 12 (Saturday) Roy Sludge at Atwood's, early 4PM Show
May 12 (Saturday) M.O.T.O., Color Killer, The Sprained Ankles, Sewer Buddies, Time Out Timmy for a 4-8PM show at the Midway
May 12 (Saturday) Clever Girls, Night Nurses, Dark Wing, Today Junior at O'Brien's
May 12 (Saturday) WEMF presents – Stigmatics, Vanishing Point, Crunchtime and Greg Allen's Fringe Religion at PA's Lounge
May 12 (Saturday) The Nervous Eaters with Justine and the Unclean, The Gala, The Hi-End at The Midway 8pm show
May 12 (Saturday) WEMF Night with The Stigmatics, Crunchtime at PA's Lounge
May 12 (Saturday) Stray Bullets, Coffin Salesman, Girth Control, DNZL at Club Boho/Cantab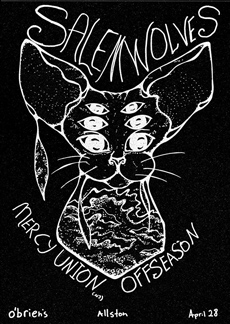 May 12 (Saturday) Watts, The Dents, We Can't Work It Out at Sally O'Brien's
May 12 (Saturday) Crimespree, Pruf, Crossthreads at The 13th Floor Music Lounge in Florence, MA
May 13 (Sunday) Ski Bunny, Happy Little Clouds, Yes Commander at The Dark Horse Public House in Somerville
May 13 (Sunday) Buster Shuffle, Mickey Rickshaw, The Pourmen, Threat Level Burgundy at Alchemy in Provi, RI - 7-11PM
May 14 (Monday) Salem Wolves w/the Very Reverend, LE Yikes, SURF CLUB, the Maxims at Charlie's Kitchen
May 16 (Wednesday) Sean Patrick Carney (of The Scandals) with special guests Michael Kane and the Morning Afters, The Callouts, and Coffin Salesman at the Midway
May 17 (Thursday) Tsunami Bomb, Diablogato at Once
May 19 (Saturday) The Facc-tones, A Bunch of Jerks, Sugar Cones, Charlie Don't Surf at The Midway
May 19 (Saturday) A Crash Course For The Ravers 1pm to 4pm on 91.5FM Medford. featuring Simon Ritt talkin' 'bout Johnny Thunders!
May 19 (Saturday) Kingsley Flood, Glenn Yoder & The Western States, Andrea Gillis at Once - music starts at 8PM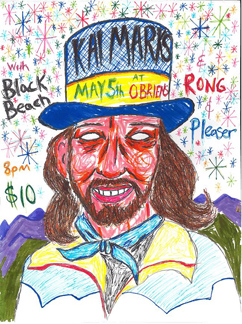 May 19 (Saturday) The Knock Ups, State of the Union, The New Frustrations, The Imposers at The Midway- early show 4-8Pm
May 19 (Saturday) WAAF Presents: Punk In Drublic Festival with NOFX, Bad Religion, The Interrupters, Mad Caddies, Bad Cop Bad Cop at Campanelli Stadium in Brockton, MA FB page for more info/directions
May 19 (Saturday) Celebrate Sue (Miniachello's) 50th Birthday!! at Sally O'Brien's celebrate Sue with friends and family and food and drink and cake and, of course, MUSIC! A stellar lineup of bands and special guests is in store. More details to come on that, although a few surprises will be kept under wraps. FB page for updates
May 20 (Sunday) It time again for Slimedog's 22nd Birthday Party. The line up is Kermit's Finger, The Lost Riots, The Revilers, Uncle Spud, and Time Out Timmy. Linnea Svedka will play between sets. All that and FREE PIZZA too! Starts at 4PM.
May 20 (Sunday) The Crank-tones (Record Release), Jittery Jack and DJ Easy Ed at Great Scott this is a 2PM show start
May 20 (Sunday) Red Hare, Sweet Jesus (Last Show), Holy Hands, Silver Screams are at AS220 in Provi, RI FB page
May 20 (Sunday) The Proletariat are at Alchemy in Providence RI FB page This show is FREE and All Ages.
May 24 (Thursday) Thrust Club with Dump Him & Sapling at Once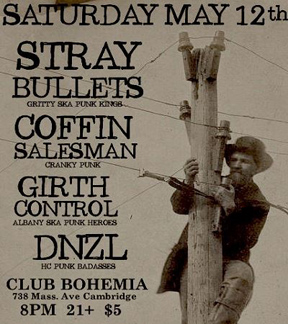 May 25 (Friday) Whore Paint, E (record release), Arch Cape at The Midway
May 27 (Sunday) The Four Point Restraints, The Guilloteenagers, Surprise Party, American Affairal (Jess & Tom of Man Trouble) at ZuZu
June 2 (Saturday) The Black Souls, Crunchtime & Guests, do a Midway Cafe Matinee 4-8PM
June 2 (Saturday) Sheer Terror, Nothing But Enemies, Brando, American War Machine at The Middle East - this is an early show 5:30-10:30
June 3 (Sunday) The FUs, Working Poor USA, The Straight Eights, Worm at The Midway for a 4-8PM show
June 9 (Saturday) The Neighborhoods at the Ocean Mist in RI on June 9, Tickets
June 10 (Sunday) Tokyo Tramps, Jody Moore, Billy Connors Project, Club Linehan A Go Go atThe Midway for a 4-8 PM show
June 13 (Wednesday) doing their G.G. ALLIN 25th Death Anniversary Tour the Murder Junkies are at Cafe Nine in New Haven CT FB page
June 13 (Wednesday) Supersuckers, Speedealer, Salem Wolves are at Alchemy in Provi, RI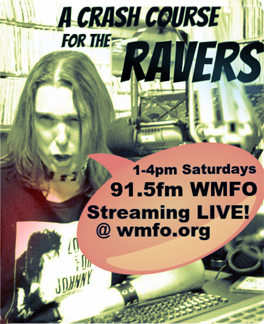 June 14 (Thursday) The Dickies (40th Year Anniversary) w/ The Queers, Duck & Cover and Cookbag at The Middle East FB page for tix etc
June 16 (Saturday) GLiDER Live on Radio 91.5FM CrashCourse for the Ravers! wmfo.org stream 1-4PM
June 16 (Saturday) The Nervous Eaters, Justine and the Unclean, Stop Calling Me Frank are at Thunder Road
June 16 (Saturday) GBH with Pinata Party are at The Middle East Down.
June 17 (Sunday) Micah Schnabel, Live Nude Girls, Olde Boy, Amy Griffin at O'Brien's Pub
June 20 (Wednesday) Reverend Horton Heat, Big Sandy, Lara Hope & The Ark-Tones at Alchemy Provi RI
June 22 (Friday) Greg Allen's Fringe Religion, Pop Gun, Muck and The Mires and 138 at KOTO in Salem
June 22 (Friday) Tied To A Bear, Duck &Cover, The Von Traps, Sonic Libido at Opus in Salem
June 23 (Saturday) Gene Dante And The Future Starlets, Parlour Bells, The Gala, Smitt E. Smitty and special guest DJ, Gang of One (Hugo Burnham formerly of Gang of Four) at Once - 8:15PM show time!
June 23 (Saturday) Mr. Airpane Man, GLiDER, Andy California, Shiny Beast, Thigh Scrapers at Club Boho/The Cantab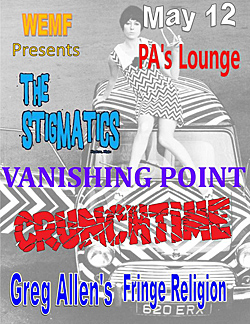 June 24 (Sunday) The Adolescents, Electric Frankenstein and Duck & Cover at Brighton Music Hall
June 29 (Friday) Nervous Eaters, The Gamma Goochies, Euphemia at Geno's in Portland, ME
June 30 (Saturday) Goddamn Draculas, Jason Bennett and The Resistance, Art Thieves at Middle east Up 6:30 PM show
July 1 (Sunday) G.G. ALLIN 25th Death Anniversary show with The Murder Junkies, Smoking Triples, Jonee Earthquake, They Hate Us, Malcolm Tent at The Dutch Treat Franconia NH Here's the FB page
July 7 (Saturday) Pajama Slave Dancers (reunion) with special guests Trusty Sidekick, Grey Matter (ft. Eric Gaffney), and The Weisstronauts
July 8 (Sunday) Step 13, Genuine Rust, The Martians, Cry Havoc at the Midway for a 4-8PM show
July 11 (Wednesday) The Goddamn Gallows, The Koffin Kats, Viva Le Vox at Alchemy in Provi, RI
July 12 (Thursday) Koffin Kats, The Goddamn Gallows, Viva Le Vox at The Middle East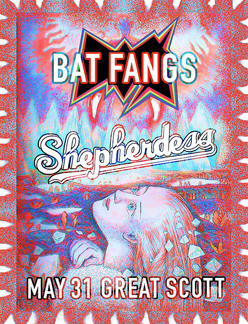 July 13 (Friday) Last Ones and CalCali Band are at Tavern at the end of the world. (Rick must be back from his Grand Tour!)
July 14 (Saturday) il Mostro, Psychic Dog, The Laces, Jim Healey for a 4-8PM show at the Midway
August 8 (Wednesday) The Blasters come back to ONCE
August 13 (Monday) Agent Orange, Fea, and more at Ralph's Diner in Worcester FB page
August 16 (Thursday) Agent Orange w/ FEA, Zero Holds at Alchemy in Provi, RI
September 9 (Sunday) Slim Cessna's Auto Club and Kid Congo Powers at Once - music starts at 8:30
September 11 (Tuesday) Killing Joke on their 40th Anniversary Tour at the Paradise FB page
CONTACT US AT....misslynbgn@yahoo.com Send us your gig listings, your news and anything else ya got!! You want your CD reviewed?? Contact us for that too. .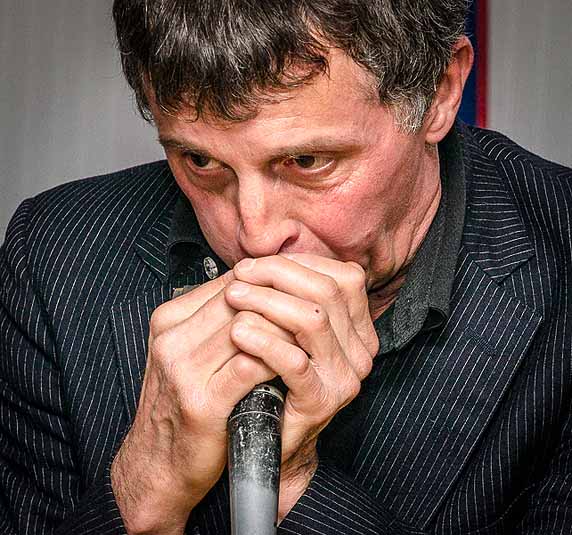 Cam - Black Souls
Photo:John Keegan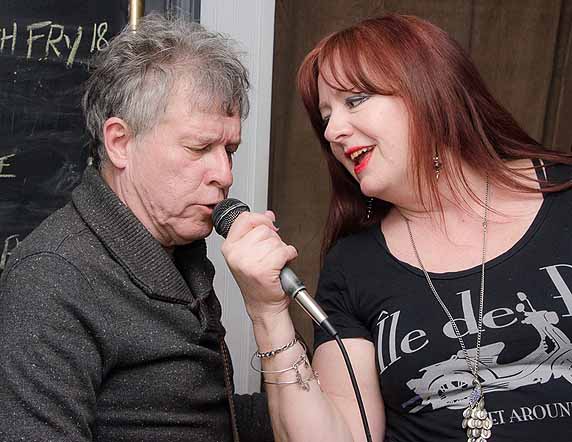 Frank Rowe and Kim - Black Souls
Photo: John Keegan
Carl and Greg
Photo: John Keegan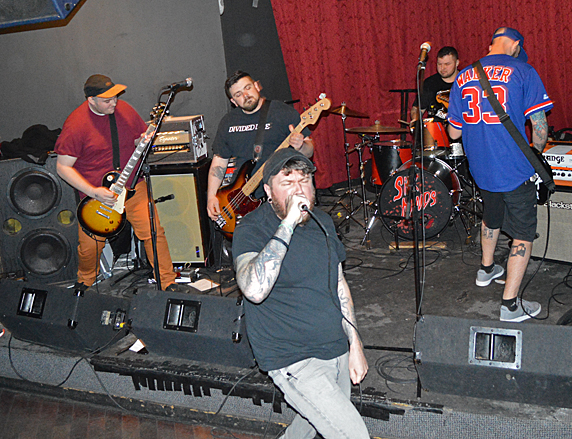 Sick Minds
Photo: Blowfish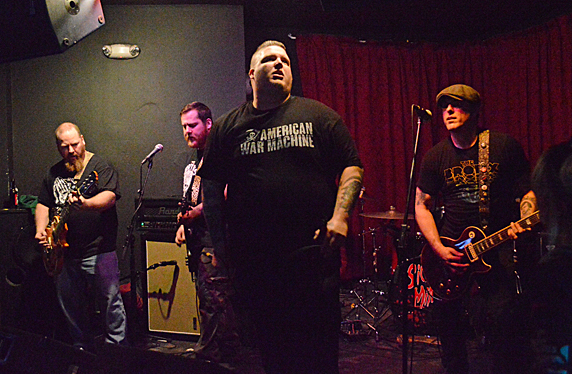 Taxi Driver
Photo: Blowfish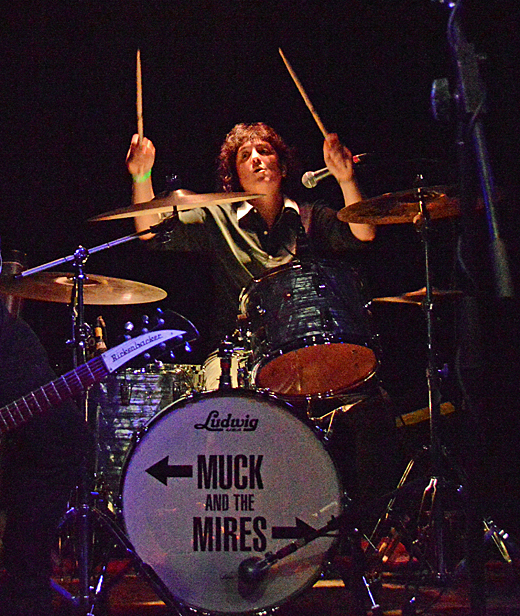 Linda - Muck and the Mires
Photo: Blowfish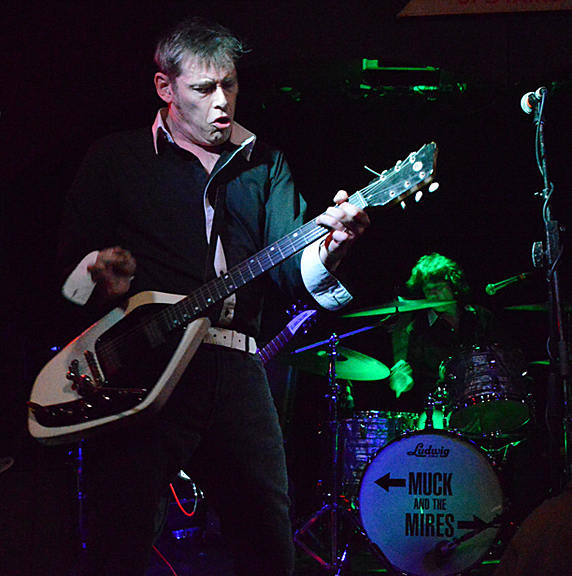 Pedro - Muck and the Mires
Photo: Blowfish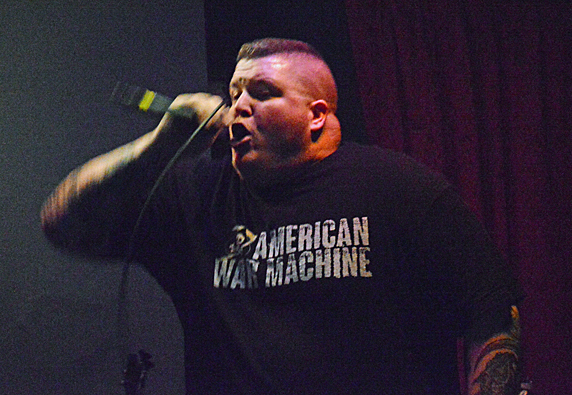 Danny - Taxi Driver
Photo: Blowfish