The BGN News Archive
April 25, 2011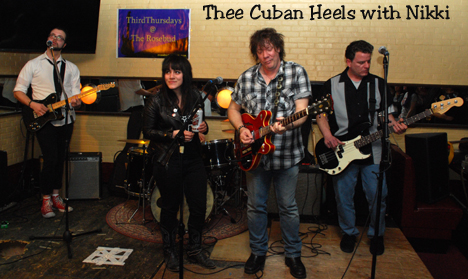 And Blowfish gives us the lowdown on the gig at The Rosebud on Thursday past.....
Thee Cuban Heels worked their way from their Kickstarter plea to CD completion to this debut night. I'm still sorting out the sounds and feelings I'm getting from these guys. I was slow to understand that JJ's influences went way beyond punk. He has taken in Gabor Szabo as well as the New York Dolls. There must be some good conversations between band members during practice as they shuffle their musical ideas into the songs. All these guys are on equal footing. You have to be to pull off instrumentals that sound like Booker T and the MG's and get just as much dancing and applause as a song with vocals. Sometimes when I'm listening I feel like those early days during Lyres' gigs when I didn't know if a song was a cover or an original. Some songs I now know are originals I still find hard to believe are not some long lost rocker brought back to life.
All these thoughts are swirlling in my mind as they do their set. JJ only half jokingly apologies for the vocals and indeed that's a weak point but it also makes it real and un-Idol like and that's the way we like it. I can yap forever but now they have the CD out and you can hear yourself. The CD does capture lots of what they are trying to do. Thee Cuban Heels CD at Green Mist Records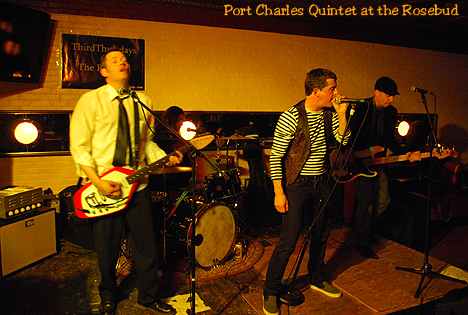 The runaway train that calls itself the Port Charles Quintet is on stage next. Tonight they have changed guitarists. Pete from the Ape Hangers is now swinging the axe. He is a much more fluid player than Greg and that shows up to their advantage during a song like "My Pledge of Love" where he stretches out a bit and adds some emotion into a song that wants it. For the most part they just crank out the covers the way we have come to love. I'd love to hear them do a whole set of just Paul Revere and the Raiders alone.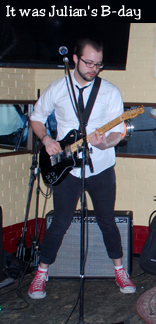 As always during the set we turn to each other and just mouth "Dennis" and you know to turn your ear to the drums where McCarthy is constantly laying down the most interesting stuff you can't imagine why isn't everyone doing this? When you know it's because it's Dennis and only he can. Meanwhile the mike stand is whirling around and Cam Ackland is engineering this baby at top speed and in complete control.
It's a great bill and the people are dancing like Saturday night even though its Thursday. These Thursday nights are being put on by long time booker and pop lover Roy, another guy we are lucky to have around.
Nancy Neon is puttin' on a new show at The Cantab on Friday, April 29th with litehouse on at 10 PM, OTP at 11 PM and Sticky Business who are pop pop POP.....
Saturday April 30th & Sunday May 1st is Somerville Open Studios, Noon to 6 PM both days, come see me and my artwork at the Armory, 191 Highland Ave in Somerville
Also on May 1st is another Marky Mayhem benefit - at All Asia 5-11pm - On the bill are The Hendersons, Girl on Top, Hixx, Syphlloids & special guests - the club debut of preteen sensations, the Hitchikers featuring Andy and Jeffrey Abbott!!
Saturday May 7th has an awe show at Precinct - Marsman presents The Port Charles Quintet and Lyres, that's a great match!!
The Magic Room has a great line up on Saturday May 21 with James Straight and the Wide Stance, The Cadillac Hearts and The Beach Combovers James Straight is always intense and has a tight band.
Cadillac Heart is ramping up for their May 21st debut gig at the Magic Room by letting out some of their recording efforts. With Rayboy as drummer they get to use his studio and know how to crank out some really neat material. They have a song called "Nothin's Gonna Change" that has Scott Barenwald on lead vocal and it's a sweet pop ditty. They have the smarts to scoop up "Andrea Knows" written by Rick Coraccio. That can be heard on their ReverbNation page.....Link to ReverbNation/Cadillac Heart.
Some excellent stuff coming up in June!:
The Dogmatics, The Neats, Band 19 AND Last Stand are playing a show in support friends who will ride in the Pan Mass Challenge The concert, which will also feature DJs Juli Kryslur and Randi Millman, plus The Painted Lights, Mean Creek and other special guests , it takes place Friday June 10 at 9 at the Paradise - it's 16 bucks and well worth the dough
Up in Salem at Dodge Street on June 11th: Corolla DeVille, Nervous Eaters and Satin Kittens!
but in Boston on June 11th The Real Kids are playing at Rich Mirsky's cd release event at The Midway!! This is an afternoon show - 2-6PM and also on the bill are Rich Mirsky in his band Heavy Sirip, and Cum's Chris Brokaw doing a solo set
Ralph Fatello the original surf punk has another two DVD's covering the last year in NE surf. We have a review here. Ralph is three months from completing the feet of surfing every day for a year to help a charity inspired by Molly a cancer victim. If you want to step up to plate and give, go to SURF FOR MOLLY.
Email us click click click