The BGN News Archive
April 25,2016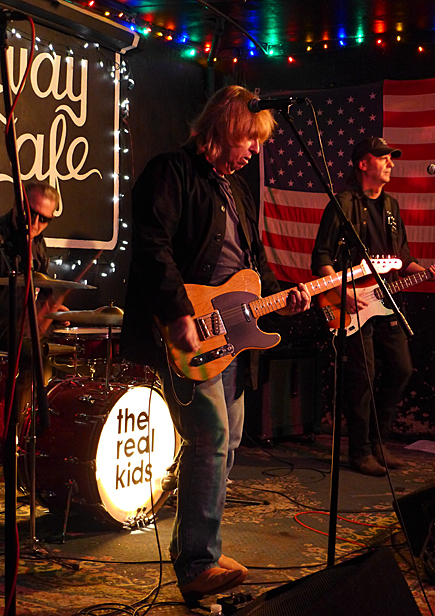 Real Kids
Photo: Blowfish
Going to see the Real Kids is like a religious obligation to us, we just gotta do it. So, we were at the Midway on Saturday and were able to catch the whole bill.
The Knock Ups are a trio currently. John Surette has moved on. We saw them with John a year ago ) The overall sound is different as a result, it's more punky and raw. At the helm is Gretchen Shea who has as strong a voice as she has a personality.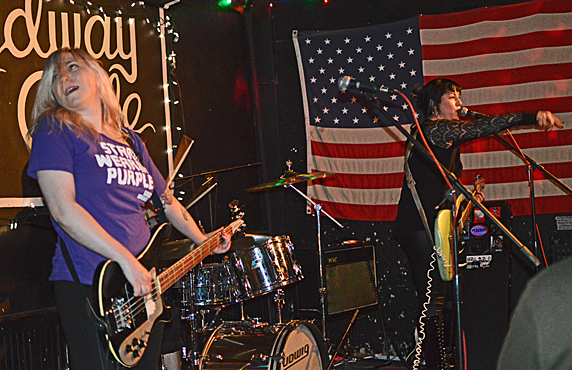 Knock Ups
Photo: Blowfish
The songs they're releasing on line got my attention and they did the same thing seeing them live to. I loved the song called "The Anti-beard Beard Song (Paul Weller's Blues)" where they make it plain they "don't like your facial hair". ( Video of them playing it at this year's Rumble ) Their final song was sort of their signature - Knock You Up which hits hard. We had their song Dionysius in our Top Ten for a while.
I think any set where you walk away with songs in your head is a good set. They had that and really delivered a lively show too. They play around often and you should check them out.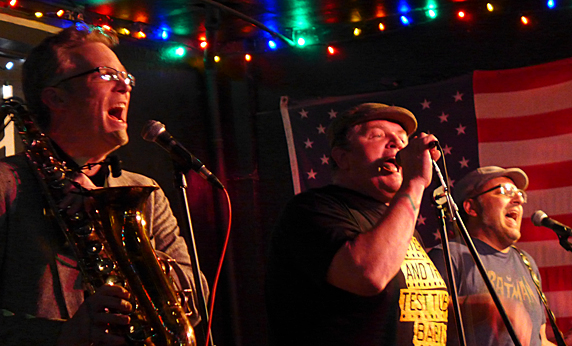 Stop Calling Me Frank
Photo: Blowfish
Number one, Stop Calling Me Frank has the name: funny. Live they have that underlying humorous attitude as they take care of business - and business is pumping out some old school garage rock. Mitch from Triple Thick/Shiny Beasts says they are on the same track as Barrence Whitfield and The Swinedells. Sure enough you could hear that and the sax player was, in fact, in a later version of the Swinedells.
The group is Lennie Donohoe, vocals, Eddie Barese, drums, Dave Forbes, guitar, Terry O'Malley, sax, Danny Caspariello, bass, and Jeff Ousbourne, other guitar.
They remind me of the pre-punk English pub rock bands. SCMF's influences are also pre-punk.
They illustrated that with the bruising cover of the Dictators' Stay With Me, and Creedence's Fortunate Son (after they had a group huddle on the key). During that the lead singer (wearing a Peter and the Test Tube Babies shirt) was getting red faced putting in the effort.
Stop Calling Me Frank
Photo: Blowfish
Their own songs have several paeans to drinking. The final song was called Whale Baby. I'm not sure if they are playing with the whale/wail homophone or what, and at the end the chant of "Save the whales, save the whales", was that an environmental sentiment? I was liking the bizarre uncertainness of it all. Another effort of note was My Girlfriend is an Axe Murderer from Wisconsin. This video shows the on stage energy they put out.
Our video of SCMF doing Fortunate Son
Our video of SCMF doing Everytime I See Her.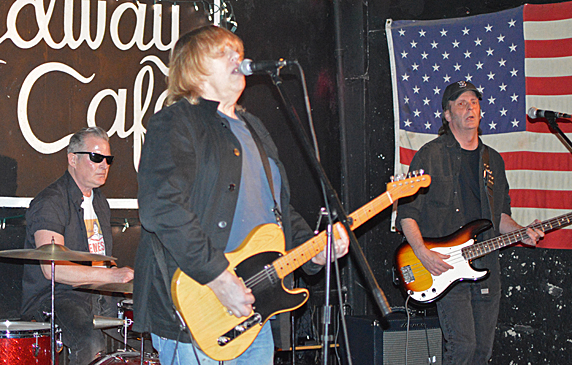 Real Kids
Photo: Blowfish
Finally it was the Real Kids with the club finally on the full side. The lineup was the same as last time John, Billy, Dickie with Judd on drums.
They started out strong, with playing and singing all on target. The first song was Better Be Good - the song that laid down the rocking facts as John saw them in 1976 and they never changed. If any group could just play that one song and put across its full import they would have a career. As it is it's just one of the many that the Real Kids have like it.
They continue playing some of the songs from the stellar Shake…Outta Control album: She Don't Take It, Shake Outta Control. Cole picks up the 12 string for Don't Talk to Strangers and a few more.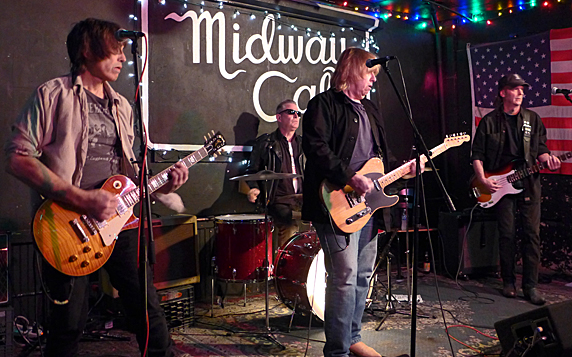 Real Kids
Photo: Blowfish
At this point John excuses himself for a time out. Sure enough he looks pale. It's no secret that John is battling health issues. He came back but looked like he was struggling. He managed to do a few more songs like All Night Boppin but then had to cut the set short but not without throwing in one brand new song. The crowd was cheering the group the whole way and stayed through the short rest period too. It was just over a half set that was very good despite John's health issues.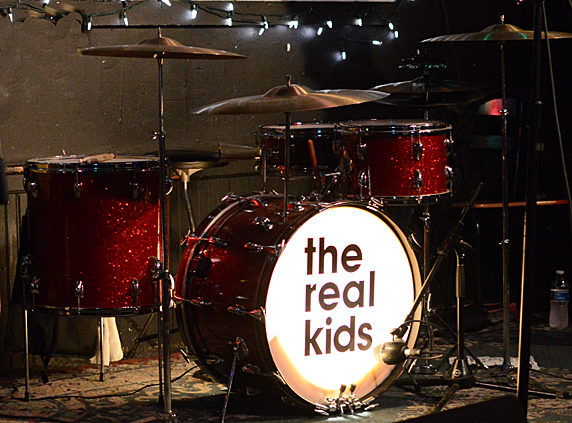 Photo: Blowfish
I've come to admire John more and more as I see him soldier on through the pain and ill health. It's easy when you're young to do the rock and roll thing but it takes character to do what John is doing at this stage. He reflects us now as he reflected us 40 years ago. I see myself and other long time punkers also going through life's challenges. We love this scene we're involved in and continue on, pushing aside age, bad feet, bad hips....and what have you.
It was some Real Kids magic there despite the shorter set. That's why I don't miss them ever.
And in other news ...

Of course we are ALL devastated by the death of Prince this past week. People have been posting constantly on FB and conversations have been had everywhere with everyone about it. Saturday The Kock Ups bass player wore a purple t shirt enscriobed with "Start wearing more purple" in honor of Prince. And now we learn what an amazing humanitarian Prince was...helping out so many people in so many wonderful and deeply useful and meaningful ways....really really RIP Prince Rogers Nelson!!! We will miss you SO much!
Here's is a video of Maria Bartiromo talking about her friendship with Joey Ramone that led up to the song Joey wrote for her.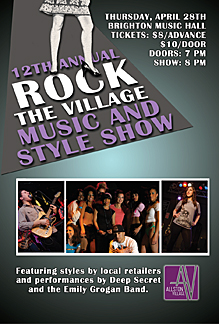 This Thursday!! Check out the 12th Annual Rock the Village Music & Style Show live at the Brighton Music Hall, featuring musical performances by: The Emily Grogan Band and Deep Secret AND ....A fashion show featuring all local stores and designers, DJ Prescribed Vinyl spinning between sets, plus guest speakers, food and the celebration of Allston Village Main Streets in our community! Tickets are $10 in advance $12 at the door....but there'll be a limited amount of EARLY BIRD tickets for $8, so act quickly and get yr tix here!!
Lydia Lunch is coming to the Middle East in May as part of Thought Bomb (see more info below) on May 28th- a show where eccentric writers, stand-up comics, illustrators, etc. get the chance to perform a story and then do a karaoke song
Today Junior's last album Ride the Surf was just a digital release. Now they are going backwards beyond the CD and vinyl and have made a cassette version. It's available on their Bandcamp page..
London is having a whole year of punk retrospective events: "Throughout 2016, London will host gigs, exhibitions and events to commemorate 40 years of punk's ongoing influence through fashion, film, photography, design, literature and of course music. - See more here Let's all check the air fares!!! Time to GO!!
And speaking of being just so fashionably punk: You're just using your guitar straps for holding up your guitar? How yesterday. Neiman Marcus is now displaying a line of guitar straps for handbags! And they are affordable for everyone...prices start at $995. as in almost one big thousand. You can buy a freaking guitar for that price...and get lessons!! WTF???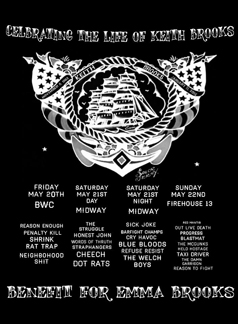 The local hardcore community is lined up for a Celebration of Keith Brooks at the Midway May 20th, all day 4PM - 1AM at The Midway on the 21st...then again at Firehouse 13 on May 22. One of the best things about it is that they are doing everything they can to raise money that day for Emma, Keith's daughter. It's a good time to show up. They have already raised $385.00 on the Go Fund Me page And here is the FB page for the shows check out all the great bands playing these shows!!
"Keith Brooks was a huge supporter of the local hardcore, punk, and oi music scene. If you have been to a show in the Boston/Providence area in the last few years, chances are that you moshed with Keith. He touched a lot of people and this is our chance to both celebrate the life of a friend we lost, and show that love to his family. this will be a benefit show with the money going into a fund for his daughter. More info on that as well as raffles and other things will be added to this page as they are solidified."
So it looks like Thunder Road is gettin' a little edgy.....June 18 they have The Dwarves, The Queers, White Dynomite, and Decent Criminal...this is a GOOD thing!!!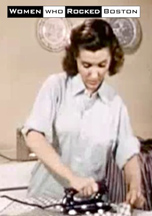 Andrew Szava-Kovats has made it a project that after he does a film he follows it up with a book. That's what he has done with Women Who Rocked Boston. The beauty is that he adds more material in the books. Thus over the transcriptions of the interviews from the movie he has added 20 pages of photos. He also has a whole section on fanzines, showing Miscarriage, Dirt, and a few Boston Groupie News'. Andrew also reproduced our game from 1982 called Clubland. It's all there the board and the cards along with the rules. We always loved that game.
He wraps things up with the list of Boston Clubs through the years that we have on our site now BOSTON CLUBS. So this book is a must have for anyone who has been on the scene here for these odd 35-40 years!! You can buy it here - and it's super cheap at $11.99 for a treasure trove of info and memories!!
The JOEFEST going again this year - 4th ANNUAL JOE COUGHLIN MEMORIAL CONCERT featuring Classic Ruins. John Powhida MOTO and Electric Sludge...Here's the FB page
Now, as we old schoolers get on in years we start to think about 'end of life issues" well even if you want to have a living memory for your loved ones....AndVinyly is the "perfect resting place for vinyl lovers. And if you can afford those guitar strap purse straps you can afford this too!!
Here's some good shows coming up this week.....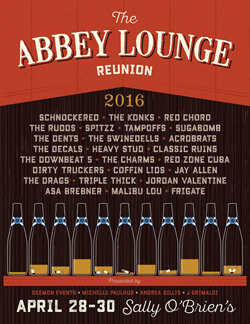 April 28 (Thursday) The Abbey Lounge Reunion!! Finally it's here- at Sally O'Brien's Night 1 -Red Zone Cuba 7:40, Classic Ruins 8:20, Triple Thick 9:00, The Charms 9:40, The Decals 10:20, Heavy Stud 11:00, The Drags (NobleRot) 11:40, and The Rudds 12:20 (FB page)
April 28 (Thursday) Kids Like You and Me are hosting a three day music fest this weekend too! Thursday starts at Cantab's Club Boho with Funeral Cone, Gravel, Andy California, Mike Mountain, and G. Gordon Gritty
April 29 (Friday) The Abbey Lounge Reunion!! at Sally O'Brien's Night 2- Frigate 7:00, Jay Allen & Archcriminals 7:40, Malibu Lou 8:20, The Dirty Truckers 9:00, The Swinedells 9:40, The Acrobrats 10:20, Spitzz 11:00, The Tampoffs 11:40 and The Konks 12:20
April 29 (Friday) Kids Like you and Me Night 2 is at The Middle East Up with The Monsieurs, The Prefab Messiahs, Nice GUys , Littlefoot, Scully, Black Beach and Future Spa - lots o'bands this show starts early at 6PM! (event page FB)
April 30 (Saturday) The Abbey Lounge Reunion!! at Sally O'Brien's Night 3 - Schnockered 7:40, Asa Brebner 8:20, The Downbeat 5 9:00, Red Chord 9:40, Jordan Valentine 10:20, Coffin Lids 11:00, The Dents 11:40, Sugabomb 12:20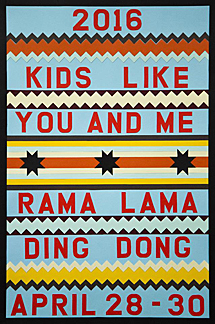 April 30 (Saturday) Kids Like You and Me Day 3 is an early show again lots o'bands - Guerilla Toss, URSULA, The Barbazons, Johnnie and the Foodmasters, Kal Mark, Beware the Dangers of a Ghost Scorpion! and Electric Street Queens- this is an early show starting at 3PM (Middle East Up)
April 30 (Saturday) The Upper Crust and Hayley Thompson-King are at Store 54 (FB page)
April 30 (Saturday) Michael Graves, Diablogato, 138, The Martians and You Scoundrel are at Once
April 30 (Saturday) The Upper Crust and Haley Thompson King are at Store 54
And further out past this week....
May 1 (Sunday) Bob Mould is at the Paradise
May 5 (Thursday) Randy Black and The Heathcroppers are at the Tavern at the End of the World. No cover!
May 6 (Friday) Two Saints CD release, at the Spotlight Tavern in Beverly With The Black Souls and Greg Allen's Fringe Religion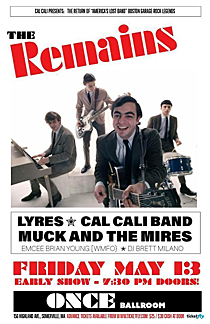 May 6 (Friday) Sunwatchers, Major Stars, Minibeast, and The Modern Voice at the Midway
May 7 (Saturday) A Crash Course For The Ravers featuring The Cal Cali Band and Barry & The Remains will be on the show as well!! That's WMFO 95.1 FM 1-4PM
May 7 (Saturday) At the Midway - both Day & Night Shows= ALL DAY!! Easy Ed's Variety Hour 10th Anniversary Party!!! starring The Cranktones, Johnny Carlevale and His Band of All Stars (Special Reunion Show), The Barley Hoppers, The Bop Thrills, Easy Ed's Record Hop and guest DJs and much much more!!!
May 7 (Saturday) Stars Like Ours, Band Without Hands, Violent Mae and Cujo are at O'Brien's
May 7 (Saturday) Jon Macey and his Hummingbird Syndicate will be doing an all acoustic music show at In A Pig's Eye in Salem.
May 8 (Sunday) Dash Rip Rock in town from New Orleans at Store 54. Also on the bill The Titanics!! This is an early evening show- 7-9PM
May 12 (Thursday) UYB (formerly Up Your Bucket + members of Kilslug & AxCx) along with Positive Negative Man and (DJ) Spo are at The Cutting Room in Providence RI (FB PAGE for more info)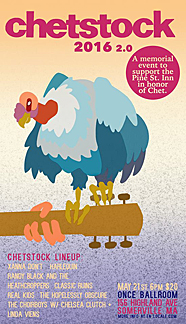 May 13 (Friday) Barry & the Remains, Lyres, Cal Cali Band and Muck & the Mires are at ONCE Ballroom -This show STARTS at 8PM The Remains are on at 9:30.
May 14 (Saturday) We loved him...he was unforgettable so the show goes on...Joe Coughlin Memorial- Classic Ruins, John Powhida,MOTO and Alan Shienfeld doing Electric Sludge.
May 21 (Saturday) Chetstock 2016 2.0...at Once Lounge...this time we get Harlequin, Xanna Don't (with Peter Phair, Kevin Patey, William M. Hoar III, and Jay Arcari) , The Real Kids, Randy Black, Classic Ruins, The Hopelessly Obscure, Choir Boys and Chelsea Clutch and Linda Viens
May 21 (Saturday) Quenby and the West of Wayland Band, Shiny Beasts and Hambone Skinny are at the Tavern at the End of the World. No cover!
May 21 (Saturday) A Celebration of Life of Keith Brooks (friend and hardcore music lover) will be at The Midway - on the bill: The Struggle, Honest John, Words Of Truth, CHEECH, Straphangers, and DOT RATS -This show runs from 4PM to Midnight.
May 21 (Saturday) Scissorfight, White Dynomite, Murcielago and Idiot Genes are at Great Scott
May 21 (Saturday) The Founders, Lizzy Borden Band, Girl On Top, Z company are at PA's Lounge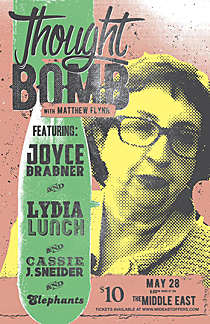 May 22 (Sunday) Kid Congo Powers and the Pink Monkey Birds with Tiger Bomb and The Tarantula Brothers are at The Space Gallery in Portland ME
May 26 (Thursday) It's getting down to the final days - and final shows - at Store 54 and this is one of those- its also a GREAT one!....MiniBeast (featuring Peter Prescott) and the return of Akacod featuring Monique Ortiz, Larry Dersch and Dana Colley....Here's the FB page check for updates
May 28 (Saturday) Thought Bomb with Matthew Flynn featuring Lydia Lunch, Joyce Brabner, Cassie J..."Thought Bomb with Matthew Flynn is a show where eccentric writers, stand-up comics, illustrators, etc. get the chance to perform a story and then do a karaoke song with the aid of a live band." Here's the FB page
June 2 (Thursday) Kilslug, Psycho, Horrible Earth, Deathtaker and Mad Gasser of Bostoon at O'Brien's. Mark yr calendars for this one folks, it should be a show you'll not soon forget.
June 4 (Saturday) When Particles Collide are having their vinyl release party along with Aloud at Great Scott.
June 5 (Sunday) GREAT all Punk show at The Midway with the Nervous Eaters, Fast Times, Interfectum, and Jumper!...and they're keepin' it in the family with this show...Eater Alan Hebditch's son Nick is in Fast Times!!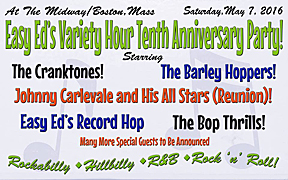 "> June 11 (Saturday) A day show 4-8PM with Fireking, Big Giant, The First Supper, and Universe Narrows at The Midway
June 11 (Saturday) The Upper Crust, Thee Fabulous Itchies, The Hi-End and Shiny Beasts are at The Midway - there's a lot going on this night- and the show starts at 8PM -check out the FB page.
June 18 (Saturday) Thunder Road has The Dwarves, The Queers, White Dynomite, and Decent Criminal Get tix here.
June 27 (Monday) Pere Ubu at The Sinclair
July 11 (Monday) Guided by Voices are at The Paradise
July 22 (Friday) Fur Purse, Thalia Zedek, Weather Weapon, Phurnne, Death Cloud at the Midway
October 15 (Saturday) The Upper Crust, Hickoids, The Grannies & Devil On Horseback at Once
CONTACT US AT....misslynbgn@yahoo.com - Send us your gig listings, your news and anything else ya got!!
Real Kids
Photo: Blowfish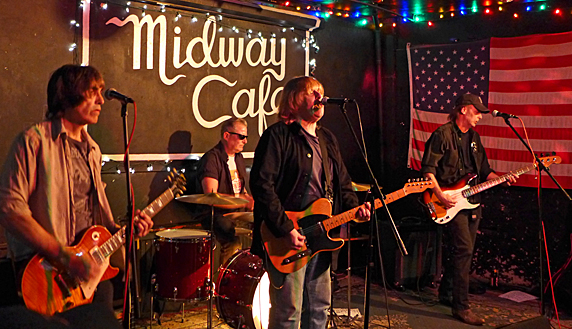 Real Kids
Photo: Miss Lyn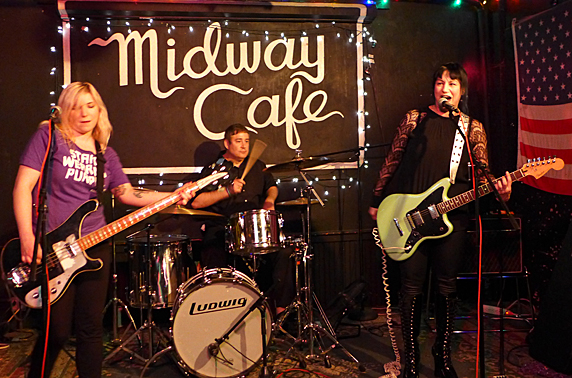 Knock Ups
Photo: Blowfish