The BGN News Archive
April 27, 2009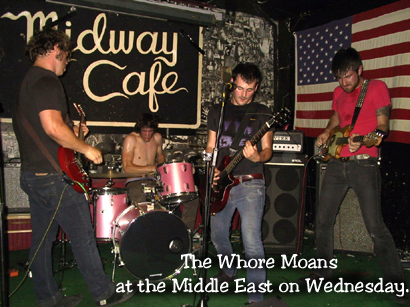 So I'm talking about what's coming up in music coz I've been a home-body this week….
Right off this mid-week on Wednesday its the very good, punky and young The Whore Moans at the Middle East.
My error previously about the Outlets at The Plough, it's actually Dave Barton of The Outlets doing an acoustic set at The Plough & Star THIS Friday May 1st…still will be interesting no doubt!!!
The next night there's a lot goin' on! ….
There's a special Jonathan Richman "Tribute" at PA's Lounge (345 Somerville Ave, Union Square) on Saturday , May 2 . it s to support the Somerville Arts Council . Doors are at 8:30 and its 8 Bucks…bands doing Richman songs will include: Ponies in the Surf, The Double-Stops, Young and Old, Lou and Emily and The Thick Shakes just to name a few.
Also on Saturday March 2nd , the Hudson Falcons are at All Asia for TWO sets….3 in the afternoon with Tommy and the Terrors, Blood Stained Brindle, The Scars and The Aces and again at 9PM with Jason Bennett & The Resistance…
And over in JP on Saturday the 2nd there's a Punk Rock ALL AGES show at 3:30 PM at the Midway featuring Strike Orange, Gas Attack, The Allston Pants, Merrimack Butt Pirates, and a bunch of others….then later that night you can catch The Johnny Black Trio and Classic Ruins at The Midway….
Also this weekend Saturday and Sunday May 2nd and 3rd, 12Noon to 6PM each day is Somerville Open Studios and I will be settin' up shop at The Armory in Somerville at 191 Highland Ave to show my all new artwork!! Please come on over, its equidistance between Davis Sq and Union Sq…you can take a bus or walk (15 minutes) or drive, they have a parking lot. Please come drop in at the Armory and visit me!!
Open Studios site
Me on SOS site This link includes a MAP so you know how to get there!!
My art site: MISS LYN ART OK, enough about me…..on to the music….
Thursday May 7th The New Alibis are at Great Scott's in Allston along with The Deadly Sins and Wicked Whiskey…..
OH! We have a tough decision to make on May 8th my friends…. the Damned are at The Paradise… but we also have in May Eddie & The Hot Rods along with The Classic Ruins at The Middle East UP…. Then on Saturday, May 9th Sidewalk Driver is at TT's in Central Square. They are always entertaining in a very odd way!
And looks like there may be another cool place in Union Square, Somerville doing shows: Bull McCabe's has Squallie Greenthumb doing a record release show on Wednesday May 13th…so check out Squallie for all the info and dates and order the disc!!
Saturday, May 15th , Richard Lloyd and The Sufimonkey Trio are at Church again along with FoxPass and Brett Rosenberg…..
June 6th at O'Brien's are Pulp 45, The New Alibis and The Allrighters - excellent show!!
Also its a the Johnny Angel invasion in June....more on that again later but until that you can go to their Blackjacks site and listen to some new music and see some viddies too!! ....
SO, I don't' get it, the Murder Junkies are going on a 7 week tour and they aren't coming to Boston…more later….I need to finds out why!...But in the mean time check out their site to see where they ARE going
OK, there you have it for this week friends....
email me huh....????.... Lyn