The BGN News Archive
April 27, 2020
Preacher Jack with Willie Loco
Sadly we have lost another...The Legendary boogie woogie piano man Preacher Jack has died from Covid 19. We knew him these later years from his interactions with Willie Loco in his digs up in Gloucester and environs. But Prescher Jack had a very long history as an amazing piano player. Here are two clips of Preacher Jack: Ready To Rock... and ... His 69th Birthday
On a positive note: Marianne Faithful has recovered from the corona virus!!
| | | |
| --- | --- | --- |
| Gretchen | Justine | Jay Allen |
| Cold Expectations | Heather Rose in Clover | Linda Bean Pardee |
The WhistleStop Virtual Mess Around did a great job on their special show last Sunday. Rather than try to sync up acts on the fly they prerecorded the acts and then added some great graphics and intros in between. The production values were a step up. The big plus: no dead time. They went from act to act each doing one song each. It was a winning strategy and should be repeated by them and others.
The line up: Justine Couvault, Linnea Herzog, Lynda (Tiger Bomb), Cold Expectations, Linda Bean Pardee, Heather Rose in Clover. Gretchen (The Knock Ups), Simone and David (Kid Gulliver), Tom Baker and of course Jay Allen. Linda did her song with just a bass and in her laundry room; Justine in her living room; Jay in his '70's style basement rec room and . Simone Berk had David Armillotti's accompaniment via a computer in back of her. Here it is on You Tube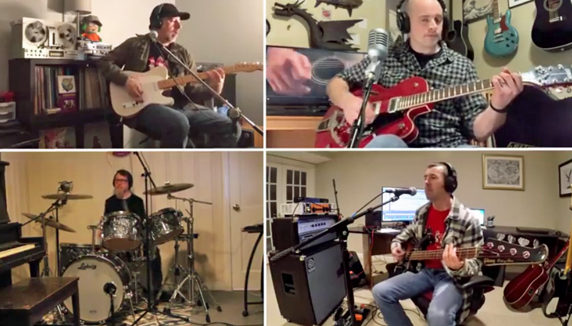 Glowbox
Glowbox, who are an impressive group anyway, did a bang up job covering Wings' "Band on the Run" that they posted on Facebook this past week. They did it with all four band members separated but up on screen. "Band on the Run" has that first line that resonates so much today, "Stuck inside these four walls…"
We miss seeing them live. Our minds go back to this video of them at Union Tavern in November 2019.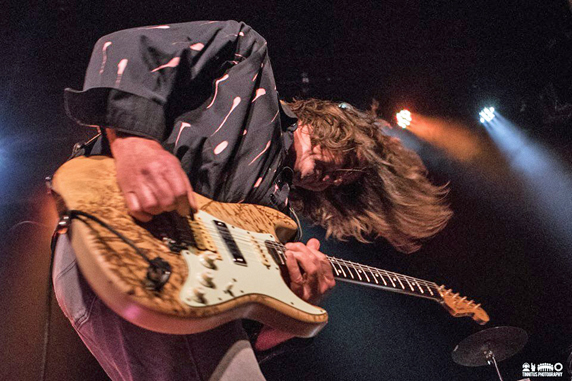 Roger Miller
Transmuting the Prosaic, the Roger Miller installation at the Brattleboro Museum of Art was closed because of Covid-19. It actually was open for just one day. That was going to be one of our day trips, damn it!!! Miller has always had an interesting artistic component in his music. Outside the music the dadaist influences are even more pronounced.
Because you can't see the exhibit it's worth your while to read the interview about the exhibit: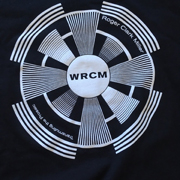 In Part One Roger talks about his manipulation of vinyl records. Read Part One here. One of the things he did was print the lyric sheet to Signals, Calls, and Marches right onto the vinyl record. And the twist there is that the lyrics in the record consisted of the words in alphabetical order.
In Part Two Miller talks about "Davis Square Symphony" where he filmed "Davis Square from five different angles in the four different seasons. Each season has its own harmony: spring is the most consonant, winter the most dissonant." He arbitrarily assigned instruments and notes/chords to people, bikers cars and buses. Read Part Two here. To quote Roger "The mundane world of street traffic is transformed." That video is 15 minutes and is on YouTube - watch Roger did this with money from a Kickstarter campaign and a grant from the Somerville Arts Council.
Everyone has always held Roger is high esteem and he has made us more proud of him with this thoughtful and creative art installation. We're been stuck at home for six weeks but even only being able to read about this has elevated our spirits. In conjunction with the show there are a few items available to purchase, including a t-shirt and a CD.
Steve Cataldo has a career spanning interview in Ugly Things Magazine this month. It's 15 pages long. Steve was interviewed by Jonathan Paley. The BGN, and Rick Harte, supplied some of the photos. The early pre-Nervous Eaters days are very interesting and much more extensive than we knew. We never can get enough of the Eaters punk era stories and there always seems to be more of them as there are here. You'll have to purchase the print Issue #53 to read it, you can do that here: Ugly Things.com.
Color Killer got a mention in the Globe on Tuesday April 21. It was all about the success of their song "Down with Corona". Meanwhile they released a version of Crocodile Rock, a song they covered in their Facebook live session. See it here. They also released "Rocket Ship" a cover of a Spastic Hearts song. How they can be so productive during this period is a wonder.
The Back Porch Carousel, is a small group of musicians dedicated to raising money for local venues during this difficult time. On a May 3rd they are having a fund raiser for The Tavern at the End of the World. It will happen on Facebook. You can see it here along with instructions for making donations. The Back Porch Carousel includes Randy Black, Adam Sherman, Linda S. Viens, Sarah Levecque and Peter Zarkadas. The Tavern @ the End of the World is such a great place and we hope it doesn't see its own end and we lose it after the current crisis.
The Once Virtual Venue will start on May 1:"The programming will range from music to comedy, yoga, tutorials, and more." They haven't given a link to it but we will pass it along when they do. (And here is the Go Fund Me site to support Once's Virtual Venue)
May Line-up: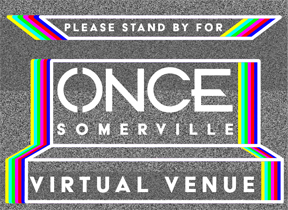 5/1 Virtual Venue Launch Party with DJ Flaccid & DJ Sir Rich Wentworth 8PM
5/2 Black Widow Yoga 11AM
5/3 ONCE Broadcast Bingo with Boopsie Commons 3PM
5/7 Billy Hough: 21st Century Blues 7:30PM
5/8 No Small Children 7:30PM
5/9 Couchfest - Jill McCracken, Blindspot, Sur5ill 2PM
5/9 Dark Spring Boston Presents Pilgrims of Yearning, Kelly Spyglass and Goddess Gloss 5PM
5/14 Sophia Belle of Home Despot 7:30PM
5/15 Dave Derby of the Dambuilders 7:30PM
A lot of us are looking for a way to help people during these times. Here's the Boston/Cambridge Musician's Relief Fund,
The goal: "The Boston-Cambridge Area Coronavirus Musicians Relief Fund is an emergency assistance fund that provides a resource to help local full time musicians who receive their sole income from performing music. Money will be distributed to those in need at the first of each month. The amount will be determined by how much is raised during that month. We are currently helping 20 full time musicians and their families."

Bandcamp is waiving their fees and letting all music acts keep the profits for the sale of their music on Friday May 1 like they did a while ago. They are hinting that more such efforts are in the works. This is great news for independent musicians. Bandcamp. We link to the site a lot because it's an easy access platform with no subscriptions like Pandora or Spotify.
Motel Black have released the live EP Live on Pipeline It's available now on motelblack.bandcamp.com . All proceeds for this release will be donated to relief campaigns including the Boston Artist Relief Fund that help artists and people working in our arts community financially impacted by the covid situation. They say: "With Bandcamp we will actually see the profits and be able to turn around and pass them on. This is our small way of trying to help those who have helped us. Please share if you can."
Live on Pipeline! was recorded with Jeff Breeze on WMBR 88.1 FM in Cambridge on 2/25/2020. Songs performed span three Motel Black releases: Two from their new record (TBA), one from A Commonwealth Songbook (2016), and three from Culture Shock EP (2018). The band is also continuing work on a new studio release slated for this year.
The Hired Men have more O'Halloran's (three) than you can shake a stick at and there are those that have probably done that. It's a very folky/acoustic affair with a gaggle of musicians. They do a version of Buddy Holly's "Oh Boy". "Oh Boy" is here….. Rum Bar Records just released a 12 song Free album compiling a bunch of their practice recordings. "It's kinda like a 'demo tapes' release for a live-band that never had a legit recording" Practice Recordings - Free Curbside Album and The Hired men website.
The Dazies have a new song out: It's a Beautiful Life is a reflective semi Dylan style song. It's has more production values than a lot of their previous material. It almost gets as parochial and direction driven as Jonathan Richman; as in lines like, " …down on JFK Street over the Anderson Bridge take a left on Storrow and your off!" Here it is on Bandcamp: It's a Beautiful Life
Boy, did we love The Cry!! Here's two times we saw them: June 2012 and September 2015. We haven't heard from them in a while as we were happy to see a new album by band member Tommy Ray called First Hits Free. It seems like a one man show with him doing most of the music making. It's impossibly poppy without being wimpy, like The Cry. Buying info is on The Cry website and here it is on Bandcamp
Brian Young got his A Crash Course for the Ravers show up on Outbreak DJ's site again. He actually went an extra hour. He'll be there next week at the same time 1 to 4 pm on Saturday. It's easy to hear it stream, just go to their site Outbreak DJs and hit the Mobile Player or the Popout Player.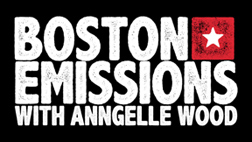 Anngelle Wood of Boston Emissions did a fine job interviewing Sasha Alcott of When Particles Collide on Zoom. It's a half hour discussion. It's gets to the reality of trying to get money to live, the reality of trying to create and finding a way to share their music. It holds interest all the way through. Listen here.
Things felt a little better being able to listen to Joanie Lindstrom on the WMBR Late Risers Club this past Thursday. Like most of the DJ's she's recording the show at home. You can catch her next Thursday and hear last week's show in the WMBR archive. JOANIE!!!
The Ace of Hearts Story; 40 Years of Recording 1978-2018 which we reviewed in detail a few weeks ago is available on Spotify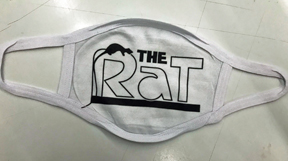 Peter Rinnig of QRST has made some cool face masks with The Rat logo for your Covid 19 protection!! Get 'em at the QRST site.
It's become obvious after weeks of this shutdown that some people are going to create and push out music no matter what. One of those people would be Nat Freedberg who has been on a very productive streak lately. Stuck in a room – he records. Here's his latest "Goodbye My Love".
Al Quint posted a Spotify list of Boston Punk Classics. It's 18 songs. No argument at all with the choices. Check it out here: Al's Boston Punk Classics.
South Shore legend Jay Henderson of Red House did a solo birthday celebration set live on Facebook on Wednesday night. It can be found on Edwin Sumpter's Facebook page here.
Bad Seed Teevee - They say it's 24 hours of Nick Cave & The Bad Seeds. We didn't test it, maybe you will, it's videos, interviews, live performances and more: Bad Seed TeeVee On the page there are a ton of great links as well!
Green Day covers "That Thing You Do" as a tribute to writer written by Adam Schlesinger who died from Covid 19 recently. It's on You Tube here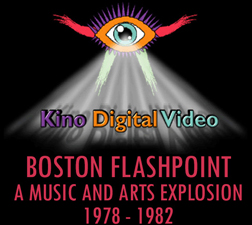 The second instalment of the Kinodv series is here, it's two big hunks of live Human Sexual Response from Streets in 1982. View it on the Kinodv website. It takes about two seconds after hearing Larry Bangor's voice to whip you back to the day and the whole trip that was HSR.
Iggy Pop released his version of Family Affair, the song by Sly and the Family Stone. His low voice is close to Sly Stone's these days. He shares this about the song: To all Poptimists! "[this track] made me feel good and it was good company and I hoped I could put it out and it would be good company for someone else too" Listen here.
This last week's edition of The Damned Show video series was about The Damned appearing on the British sit com The Young Ones and the subsequent excess drinking in the green room. Here it is on You Tube Another one is 10 minutes of Monty Oxymoron reading from his memoirs. He talks about meeting Captain Sensible and in the telling covers his life at the time going to a most interesting club with many an oddball character. That's here on You Tube
The concept is insanely awesome – Glenn Danzig sings Elvis!!! It almost seems like a prank, but no, it's true. Here is "Is It So Strange" on Youtube. But it's not just one song, he has a whole album. It's available on Amazon and a ton of other platforms.
And with that some circle is now complete and the world ends. Goodbye!!
---
Here are some upcoming online performances (thanks to Amy Prohaska's list):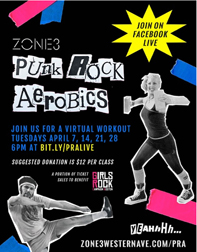 Sunday, 4/26: Beeef, The Dazies (playing Bob Dylan covers) and Bad Larrys to benefit Shay's Pub(@DeepCutRocks) Instagram Live, 7p
Tuesday, 4/28: Punk Rock Aerobics Facebook Live, 6p
Wednesday, 4/29: When Particles Collide Facebook Live, 6p
Also
Wednesday, 4/29: John Hovorka Live At Home acoustic solo set on Facebook.
---
Here are some shows to look forward to after things are hopefully back to normal....maybe.....
June 5 (Friday) Booze & Glory (punk/Oi - U.K.), The Drowns, Battery March at Great Scott
June 6 (Saturday) Straight Johnny, The Cretins, Electric Joey, Bad Sandy, Thigh Scrapers at The Midway 3-7PM matinee
June 6 (Saturday) Jay Allen and the Arch Criminals Record Release Show at The Square Root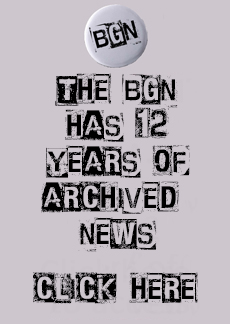 June 13 (Saturday) Lyres and GLiDER at ONCE Lounge early 6:30-9PM show
June 13 (Saturday) Sugar Cones, Diablogato, Bunch of Jerks at The Square Root
June 14 (Sunday) Fourth Annual Out of the Blue Art Gallery Benefit FB page for more info as it comes.
June 27 (Saturday) Stop Calling Me Frank, Nat Freedberg, Brad Marino at The Square Root
June 28 (Sunday) The Amplifier Heads, The Thigh Scrapers, 1.4.5., The Stigmatics at The Midway 3-7PM matinee
July 3 (Friday) Andrea Howlett's X-Ray Specs Tribute Show at The Square Root
July 18 (Saturday) The F U 's, GLiDER, Screw Cart at 9 Wallis Beverly
August 10 (Monday) (moved from 4/6/20) The Knock Ups, blindspot, Gene Dante & the Future Starlets at Charlie's Kitchen
September 4 (Friday) The Zulus at The Paradise
September 17 - 21 The New England Shake-Up! Year Seven! in Framingham FB page
CONTACT US AT....misslynbgn@yahoo.com Send us your gig listings, your anything else ya got!! You want your CD reviewed?? Contact us for that too.