The BGN News Archive
April 28, 2008
Some pictures of the Big Dipper reunion...........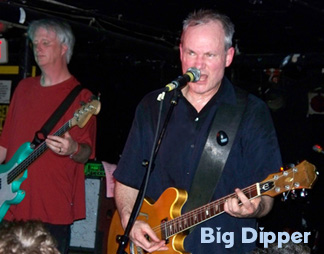 So the BGN took a little outing Saturday night and went to the Big Dipper Reunion at The Middle East down...gee the place did not reek of total bathroom smell, so that was good, they still need to work on their air conditioning though
...but Big Dipper was awesome to say the least. The place was packed and the fans were rabid. Big Dipper's is/was one of those sort of art rock bands but with a sense of humor too which is important. I kept hearing a mix of brit 80's bands musically but American sensibility in the lyrics. These guys still have it and they sounded well-practiced and really together!
The crowd went nuts at the end when they called for Fertile Virgins to make up their "chorus" on stage, every one jumped on the stage, not a virgin among them I am sure but it went well and got the crowd going even crazier. They did TWO encores too, because people wanted it...that's something I have not seen in a while. They did an hour and a half set and every song was great!
Thursday, May 1st at The Plough and Stars, Reid Paley is doing a solo show, this should be an awesome show my friends, head on over....
now in a whole different vein The Semi Precious Weapons are over at TT The Bears in Central Sq.....THAT should be a trip well worth it!!
But wait at the Middle East up on Thursday the 1st are Sasquatch and The Sick a billies...quite a night!!! AND then the Stumbleweeds are at The Plough on Saturday the 3rd.....
For a special treat, on May 9th , it's Slim Jim & The Mad Cows at O'Brien's along with The Sad Wings of Destiny....
Thursday, May 15 at Church is the "A andC.."Reunion with Kilslug and Psycho...whoa, what a bill,
Then, at Church again, on May 23rd another excellent show with Red Invasion, The New Frustrations and Crimson Ghosts...
So there you have it, stuff coming up and until next week...see ya...email US its just a click away....