The BGN News Archive
April 28, 2014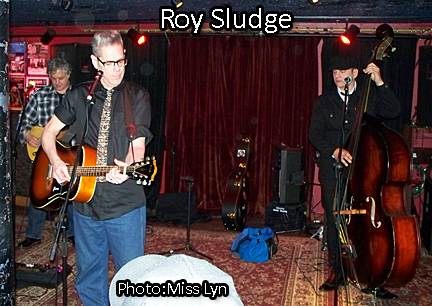 Last Sunday April 20th Miss Lyn and Kenne Highland headed over to the Lizard Lounge to see The Roy Sludge Trio. What a pleasure it is to watch and hear this band. Three really talented guys doing some old time country music but we know they have the punk sensibilities as well. I mean come on "Too Drunk to Truck" is of course a play on the title of the Dead Kennedy's tune. "Roy Sludge" Alan Sheinfeld is also a really funny guy and his stage patter is as good as the music. I always look forward to both. And on this Easter Sludgeday, while doing a deadpan cover of "Hear Comes Peter Cotton Tail", he mentions "this is the closest we'll ever get to hip hop" - ya had to be there I guess, but it was knee slapper at the time!....He peppers the whole set with some pretty funny remarks and relates to the audience really well. Very endearing for sure. And his voice! He's got a killer baritone that reaches some pretty amazing depths. It's rich and full and he can has a masterful control of his breath as he stretches out a note for what seems like 5 minutes if he wants to!! Duke Levine's guitar playing is fast and spot on. I imagine he can play anything, any kind of music, (just check out his bio) but he sure does country right. Jim Haggerty on the stand up bass is a lesson on how to finesse that thing. Besides some regular plucking he pats and strokes the strings and gets some great sounds going to add some healthy bottom to the sound. No drummer here...(Maybe they need some spoons though! Yes Kenne Highland is correct in his review of this set in his Kenne at Large column, I was in fact playing air spoons!)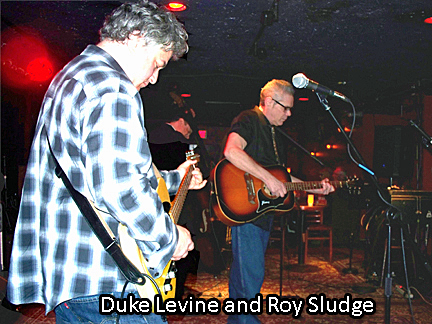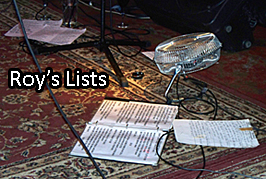 The set up in the Lizard is strange, there's no stage really. So the band plays in the middle of the room with tables set up all around them. We had a table on the side of the band, right next to - as in a foot away from- Duke Levine. So I could see stuff I don't normally see. Being so close it was great to watch them playing and interacting and Alan had something like SIX LISTS set up on the floor around his mike stand: a binder of lyrics, a set list...and who knows what else....fanatical!!...or a little OCD? I don't know but whatever he needs to do what he does is OK by me. The end product is definitely worth it!! So folks every Sunday is a Sludge Sunday at The Lizard Lounge so head on over for a entertaining set you will surely enjoy - a lot!!
Blowfish went out earlier this week: Thursday night I was edifying myself in Kendall Square at a lecture called High Speed Photography: A journey from Edgerton to Oefner. It was a feast for the eyes and afterwards a true feast as they had an expansive array of foods and wine...all free. This edifying can be filling too.
Afterwards it was late enough to think - "club time!!" So I hit O'Briens where Sleep Crimes was opening the night with their CD release party. The CD has the song we keep going on about - I Pledge My Love. So I grabbed that ( you can grab it on BandCamp) and saw the Sleep Crimes set. They have fun on stage and the lyrics too are very humorous. They have a song about Elliott Smith that goes into some strange territory. Sometimes they seem to be heading in a Violent Femmes or even a Happy Flowers vein but they have lots of hard rock influences and then they cover the Who. It's all very schizo. I do some high speed photography myself and catch them as they drop one by one to the floor. Photos are at the bottom of the news.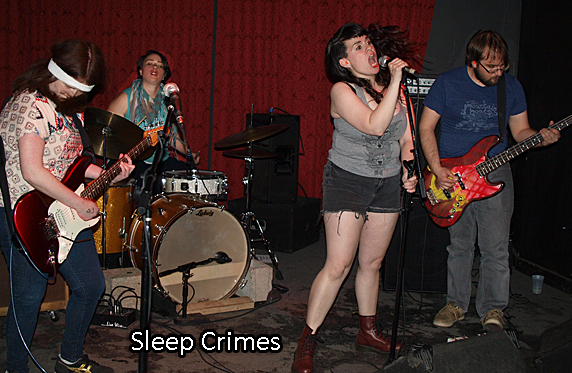 On Friday TT's is sold out for the Rumble finals that Goddamn Draculas win. The Rumble continues to hold the interest of the Boston rock populace and generates lots of good attention for the groups. But that's all too obvious for me as I head to O'Brien's with The Drunk Nuns in the lineup. Even though Allston streets were full of people and there was a line down the block for the Common Ground, O'Brien's was only a third full.
Playoff Beard from Pittsburg was rocking but the crowd was not very responsive. That was the case with the Drunk Nuns too, who did lots of jumping around with verbal and physical provoking to get the audience involved. Result - not much. But the band did its best and they had some fun. I was checking over my initial impression from last December and these guy are still just as good. The songs are written better than most. They played one brand new song called Craigs List Lover. The lyrics came from a real ad and while singing it, the singer read right directly from the ad on his iPhone. Life recording from the night of Craigs List Lover.
Here's hoping the next gig is a little more lively on the audience end.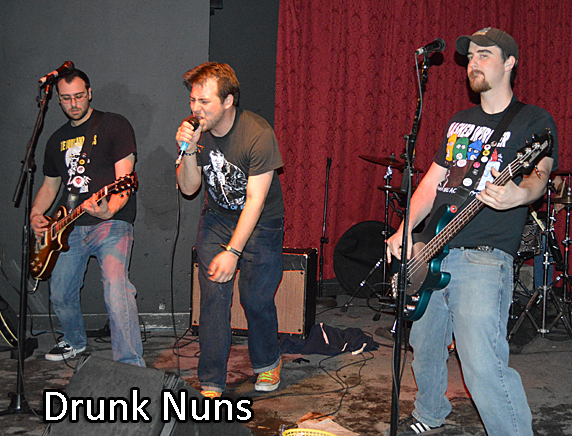 Miss Lyn got all excited because 20,000 Days on Earth was playing at the Brattle Theater as part of the Boston Independent Film Festival. So we headed over to check it out. This is a film...a "moc-doc" about a day in the life of Nick Cave on what was supposed to be his 20,000th day, since he is now 54. Of course it's all staged but there was no script. It was really cool to watch Nick Cave just being a guy, seeing his shrink, eating pizza with his kids and at practice with the band in the studio. Warren Ellis is also a strong presence in the film...I never realized how much of a part he had in the creative and studio process with Nick Cave. And speaking of the creative process there's lots of talk about that and other insights as well. We were given little ballots and asked to rate the film on a scale from zero to five by tearing out the number we thought best reflected our opinion on it. We both chose tore out the three. It was informative, funny at times and entertaining...and visually it was pretty amazing but it dragged on, it felt a lot longer than 93 minutes. I guess I wanted something a little different.
And in other news...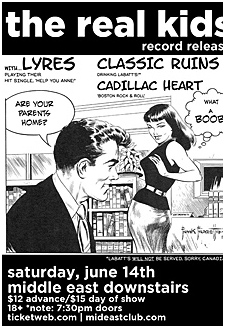 Oh crap...bad news about the Radio space…its not going to the "trio of rockers; Frontmen Joe Chehade of the Life Electric and Dan Nicklin of OldJack, along with their manager Crystal Margolis" as previously reported…ugh - NOT- its going to the Paint Nite people, that sucks for us.
Last year The Late Risers had a low key 36th anniversary at the Middlesex On tap, especially for the event, was a new an IPA, called Left of the Dial by Notch Brewery (named in honor of the show). It was a limited batch but it ended up being popular enough that the Notch Brewery is making it available locally for a much longer period. The launch of the brew is going to be at hipster central; State Park in Kendall Sq. this very Monday April 28 (9-11 AM) with a few jocks which will include Joanie and Mully from the LRC. They will be going old school and spinning only 45's. It's a thirst quenching punk fest.
Watts are opening again for Cheap Trick at the Hampton Beach Casino on June 5.
We finally get to see Dave Minehan with The Replacements since they are on the bill for the Boston Calling Show in September (5,6 & 7) later this year!
And a big congrats to one of our faves Petty Morals for being runners up in the Rumble!!! You go girls!! And those "friendship" stickers were a great idea!! Luv it.
Go to Ace of Hearts records to get your copy of the really amazing Real Kids record - go here!! (Read Blowie's review here) And mark your calendars for a killer show on June 14th when the Real Kids, Lyres, Cadillac Heart and Classic Ruins rock the us and the Middle east down!!!
Be forewarned my friends Rico Petroleum and Mark Kennedy have formed a new band- Screw Cart. They state proudly: "Former members of Kilslug & Upside Down Cross, Toecutter, Ointment, and Noble Rot. Making Boston noisier since 2013." Check out their facebook page and we look forward to some gigs coming up in the future.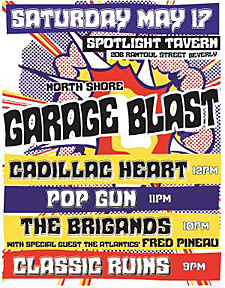 a couple of reminders: Punk the Capital is a documentary being done on early Washington DC punk scene 1977-1980. Miss Lyn and Kenne Highland lived there during that time and there was a lot of great bands around then!! The Afrika Korps are in featured in there along with The Slickee Boys and many others, check out the site and after you read about Punk the Capital scroll down to the great links to other cool films on punk!!!
If you haven't gotten the La Peste release here's a link at: Wharf Cat Records La Peste's Better Off Dead.
And for upcoming shows we think are worth mentioning.....
This Wednesday April 30th Streight Angular are at O'Brien's...
This Saturday May 3rd, At the Midway its another great DJ Easy Ed production with "Rockabilly Legends" The Cranktones and The Barleyhoppers.
And guess what else happen son May 3rd...its Jim Harold's birthday! Have a great one Jimmy!!
Finally!! Next week...The Cavestomp (Boston) Standells and Lyres at The Brighton Music Hall on Monday May 5th.... You can buy tix here
What we knew as Joe Coughlin Memorial Show, and who could forget Joe Coughlin??? is now dubbed Joe Fest...and its Joe Fest II at the Midway on Saturday May 10th! And the bill is an awesome one, bands Joe would love and who loved Joe... M.O.T.O., Alice Highland, Classic Ruins and Roy Sludge doing his Stump the Undertakers Organ .....a good time will be had by all and its all in Joe's honor!!
Also on the 10th at The Middle East Up is a good show with The Devil's Twins, Petty Morals, Adam PC, and PowerSlut - this is an early show with doors at 7PM!!
At O'Brien's on Saturday, May 10th we got a excellent show with Jittery Jack (their Boston record release show) , Whiskey Kill, Johnny Carlevale and the Rollin' Pins and DiabloGato
Also on Saturday May 10th is a crazy night at Club Bohemia at the Cantab with The Hixxtravaganza - playing are Hixx of course along with Scott Damgaard, Cadillac Heart and James Straight And The Wide Stance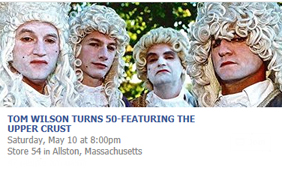 Also on May 10th is a big ole celebration over at Store 54 - Tom Wilson turns 50 and he's celebrating with The Upper Crust playing and its byob...should be quite a night folks!!
Sunday May 11th - get all your Mother's Day stuff out of the way early coz, first - it's a great day to go see The Roy Sludge Trio at The Lizard Lounge - music starts at 4 and goes til 6:30. plan on dinner while watching some great music then second head over to...
The Regent Theater at 7:30PM for A Boston Film Premiere Event: "Looking For Johnny" - The Legend of Johnny Thunders I know they interviewed some Boston rockers for this film, too! one being Simon Ritt. We know him now for being in The Darlings but he was also in the notorious band The Daughters and they are getting together to do an exclusive set at the film premier. So it should be quite an event folks!
It's a killer weekend over at The Midway on Friday, May 16th with The Other Girls, BrownBooze (featuring Rod van Stoli and Jordan Valentine of BrownBoot!!! she's in town for a couple shows this weekend -see below too) ) and Saturday, the 17th with The Hudson Falcons , The Sprained Ankles, The Black Cheers and Spectacle
OK people mark your calendars for May 17th there's a lot going on that day:
The famous Q Division Yard Sale...this one'll be the 4th Annual...is coming up on May 17th...lots of music gear and local musicians at this thing..... its on from 10AM- 2PM.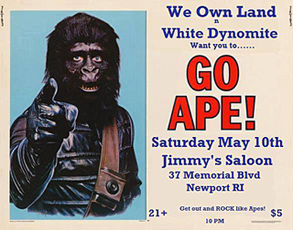 You know it's summer when Cal Cali is back in town and he's back to celebrate his birthday on May 17th at The Tavern at the End of the World with Asa Brebner, Richie Parsons Duo and Emily Grogan
We know you've missed the Bob Colby shows that were at The Cantab on Thursdays and at The Rosebud before that...well Bob's back at it and on May 17th at Wayne Viens' Store 54 his first show there will feature Slowdim and Incinerator. Bob says: There may also be a short opening set, we'll tell you about that when we know more. We're glad to see you back Bob!!
Al Janick's St. Stanilaus Polka Party on May 17th...this year its at Anthony's on Highland Ave in Somerville and he's got his Plastyczny Ser Orkestra consisting of world famous musicians like , Kevin Hensleyski on Guitar, Matt Burkeski on Drums and Shaun Wolf Wortiski on Bass...along with The Warsaw Marching Accordion Army and the Horny Karkow Horns...and if that weren't enough he also has special guests The Pierogi Triplets (Jordan Valentine & Jenny Dee)!!!
Also on 5/17 over at the Midway in JP is The Beantown Boozehounds, The Sprained Ankles, The Black Cheers and Spectacle.....
And if you are up in the North Shore on May 17th...there's a good show at The Spotlight Tavern in Beverly with Pop Gun, Cadillac Heart, The Classic Ruins and the Brigands.
Thursday, May 22 at The Middle East Up……… The Woggles with Muck and the Mires, Lyres - whoa what a show!!!!
Saturday, May 24 at 6:00pm The Spot Underground (101 Richmond St, 2nd Floor, Providence, Rhode Island 02903) has punk extravaganza going on. It's featuring Boston and Providence hardcore with DYS, The FUs, The Loud Ones, Words Of Truth, Honest John, Penalty Kill, Futile Justice
Sunday June 1 at The Middle East down is The Cro-Mags, Anti Nowhere League, Taxi Driver and Neighborhood Shit. This is an early show folks, doors are at 6:30PM
The 2nd Annual Rat Beach Party is already well in the planning stages...its set for September 14th& 15th and here's a list of bands so far: Saturday night- Red Parrot Beach Bar starting at 7PM: Hardwired -- Heavy Weddle & Sweet Release -- Severance (or Band To Be Announced) -- JetSet -- Billy Rath & The Street Pirates -- Open Jam to close
Sunday afternoon/evening: Red Parrot Function Room, Beach Bar and Back Room Lounge starting at 12:00 -- The Beachcombovers (Function Room) -- Hardwired (Beach Bar) -- The Boize (Function Room) -- Gino Caira Band (Beach Bar) -- Count Viglione Love & Flame (Function Room) -- Hixx (Beach Bar)-- State of Union (Function Room) -- GraveDancers (Beach Bar) -- The Derangers (Function Room) -- The Workers (Beach Bar) -- Liz Borden (Function Room) -- Kenne Highland Clan (Beach Bar) -- Slow Children (Function Room) -- Pop Gun (Beach Bar) -- Gyro Lula (Function Room) -- Moose & The Mudbugs (Beach Bar) -- Tsunami of Sound (Function Room) 8:30 -- Masters of The Obvious (Beach Bar) -- Red House (Beach Bar) - Real Real Bayou Band (Beach Bar) -- All-Star Jam led by Cindy Daley, formerly of Lovelace.
Watts are opening again for Cheap Trick at the Hampton Beach Casino on June 5.

Echo and The Bunnymen are the the Paradise August 14th!!! I saw them at the Paradise a gazillion years ago...like I dont know 1978 or something. If you were there you may remember that there was an upset in the audience right in front of the stage and Ian McCulloch was leaning down and saying to a couple guys in the audience "Don't be a bully boy..." That was because I was up there and some guy behind me grabbed my ass in a particularly rude way, I turned around and saw him pulling his hand away and slapped him across the face. He in turn blamed it on his friend standing next to him and they started fighting - like duikeing it out! Ian came over and started yelling at them. Anyway I haven't seen them since....looking forward to this show!!
In August John Lydon hits Boston in a huge production of Jesus Christ SuperStar , he's playing King Herod...man I want to see that show!!
EMAIL US AT.......misslynbgn@yahoo.com
Sleep Crimes goes for a nap onstage.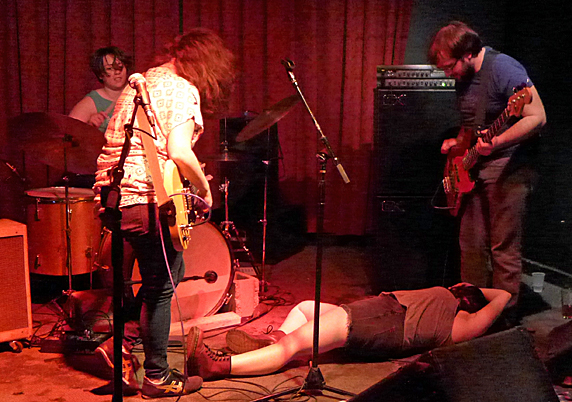 One down.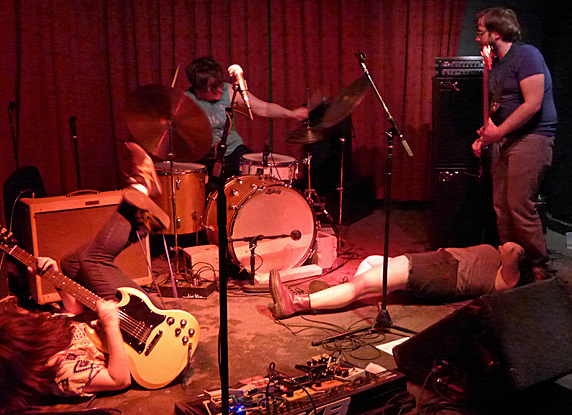 Two down.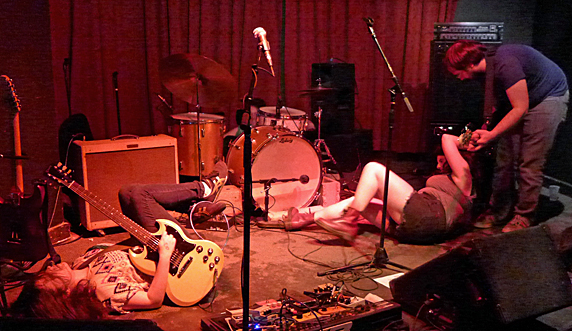 Three down.