The BGN News Archive
April 29, 2013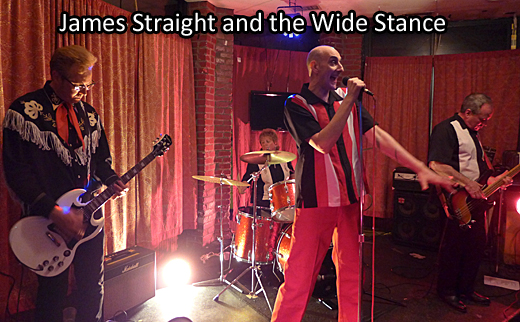 We both headed out this past Saturday night Miss Lyn to see The Bouncers play at The Cantab and Blowfish to All Asia then the Cantab. :
The Bouncers play chose a perfect setting at Club Bohemia at The Cantab. One of the guys that works at the Cantab found out about the play being set to perform locally and worked to get it perfomed there. Good move - it really helps set the mood.
Before the play went on I mentioned the actors in their suits reminded me of the bouncers I saw all over Edinbourg Scotland and in London...huge, tough and suited up lookin' like gansters. Turns out this is the most performed play in the UK- I can understand why- Its a funny and frank reminder of the reality of nights out over there. Same here I guess but I'm telling you they party HARD over there!
The Bouncers descend upon the stage to a deluge of disco and during the night portray four guys who have seen it all and done it all! They also switch gears in seconds to become four girls out to the disco for a birthday with the intent of course of finding some 'love'. Then back to Bouncers then to totally trashed drunken mates dowin' 20 pints throughout the evening. There's emotional monologues, under lying tensions, sad bitter truths and lots of drunkenness and low - low-life but along with that there's lots and lots of well deserved laughs...the play- and the actors were extremely entertaining. Of course it being the Cantab it was hot and uncomfortable in there...after the play we pooped out and split, originally intending on staying to see the Beachcombovers.
James Straight and the Wide Stance did their social networking best to get up the excitement for Saturday's CD release party. They were rewarded with a healthy and enthusiastic crowd at the All Asia. I forgot how much I like the All Asia. They are moving soon to Prospect St and that should give them a high profile for a while.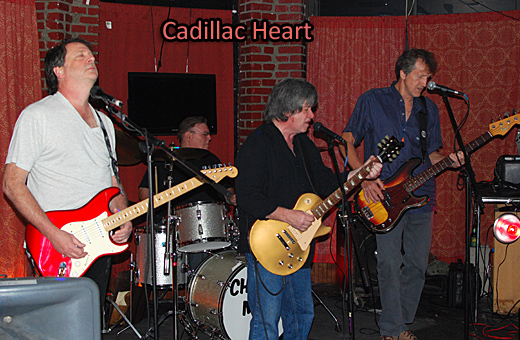 Cadillac Heart opened up. They are amazing just to contemplate; all four players have been in bands since at least 1975, most longer. How's that for boggling the mind? The surprise tonight is Chuck "Angel" Myra on drums. He was in Marc Thor, Willie Loco, Third Rail and the rock-a-billy BRMC amongst other bands. The main benefit of this group is that it gets to show Billy Connors song writing. "Ecstasy" a song the Paley Brothers covered is a highlight tonight as well as "Nothings Gonna Change" sung by Scott Baerenwald. They do several older (60's and 50's) rockers that allow Gary Soprano to whip up some guitar antics. He's a neat combo of technique and carefree abandon that makes for sparkling solos. Thank your lucky computer age that you can hear some of these songs on the Cadillac Heart's Bandcamp page.
James Straight and the Wide Stance seemed itching to get on. They put on their usual entertaining show that has become familiar to those who have been following them. This night the closeness and the enthusiasm of the audience add to the mix. The CD is out and captures this batch of songs well. More than ever I can see that Joe Fagan on guitar is a master of riff rock. Many times the song's center is a six note riff that the rhythm section makes sure to ride on. It's catchy and driven by the groove. I just love this stuff. Everyone there ate it up and they got some encores. One being "Under My Wheels" by Alice Cooper that was an allusion to the recent happenings in Boston. The Stance are doing things right. They just need good gigs and a bigger audience which they are trying to figure out how to do.
After The Wide Stance it was 11pm so I did a bar hop by heading to the Cantab to see The Beachcombovers. I thought Miss Lyn would be there turns out she headed home after the play. As I walked through Central Sq with a light jacket the winter chill was not in the air anymore, after hanging around a bit too long this year. The Combovers' first seasonal gig was a harbinger just like the peepers and the crocus.
When I descended into the Cantab and opened the door it was steamy and odiferous. What the hell was going on in here? With The Beachcombovers playing I tried to think of the smell as a low tide occurrence. Not a big crowd here tonight but The Beachcombovers did their thing and quite well too. They get better all the time and their latest tune Kitemare is their best yet. An original with solid melody lines and all the surf antics you could want. They have a warm feel to their playing and stamp all the covers with their personalities. The drummer has a relaxed technique that gives every tune an easy swing and between him and the variety of rhythms the group employs prevent any sameness from creeping into the all instrumental music. A very enjoyable set.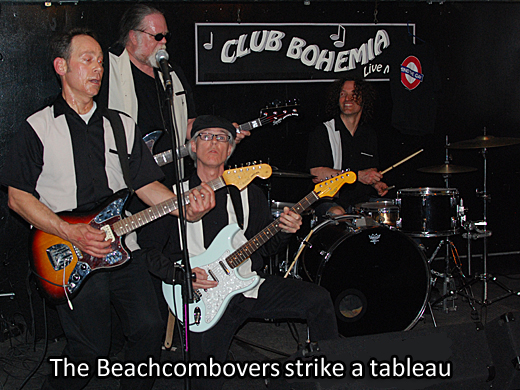 This was my first night rocking after the Marathon happenings and was glad to know that things can continue on. As I walked from one club to the other I saw the buses had "Boston Strong" alternating with their route info. You wonder when things you never dreamed of upset your life, and the city, what you will do. Now we find out.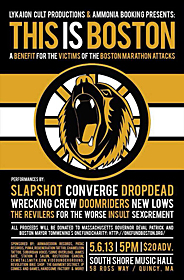 At the Wide Stance gig Joe Fagan introduced me to Chris Atwood a DJ at the Marshfield based WATD (which stands for We're At The Dump- that's where they are situated). His Friday night show called The Alternative plays punk and new wave hits. He's had the Wide Stance as a guest and a few other locals. He's had an all Boston punk show that got a good response. The South Shore has always been short in all things rock so it's nice to see Chris doing the punk thing in a place where it's needed. All South Shore groups should connect with Chris.
Ok we're done with April and its on to May....here's what's coming up:
Muck & The Mires have a very cool show coming up on Friday May 3rd at Precinct...they share the stage with The Sites, Soul legends from Detroit as well as The Dirty Truckers and The Kurt Baker Band
Awesome show coming up May 4th with the Revilers, Tailgunner, Subsystem and Vapid Dissent at The Elks Lodge in Central Sq Cambridge (55 Bishop Allen Dr) it's a 7:30 - Midnight show...
Roger Miller's Trinary System is at TT the Bears on May 8. Saturday May 11 is the Joe Coughlin Tribute night at The Midway...a celebration of the man and his bday still goes on....yeah!! On the bill are The Classic Ruins, BJ Snowden, MOTO and others....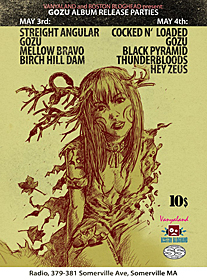 May 18th is Cal Cali's Birthday Bash at the Rosebud!! With The Lyres, Fireking and Jetset....YAY Happy Birthday Cal Cali!!
May 20th The Upper Crust are playing a late show (10:30) at The Midway on one of those Monday is my Friday nights...
May 23rd Cal Cali goes even further north to Salem for a special gig at the Seaport Café - the Cali Leger Experience will play...
The Middle East Up on Friday May 31th are The 360's, Classic Ruins and Terrible Beauty....time to get out the old calendar and mark it for that one too!
Keep in mind ....there's Punk being spun over at The Ramrod every Tuesday from 10PM to 2AM ...IT'S FREE and it's a revolving cast of Punk DJs spin new and old, local and international, obscure and classic Punk hits! All vinyl! All Punk! And there's FREE POOL too. How could you go wrong on this one???
On May 16th Unnatural Axe are in Chicago for the Black Out Fest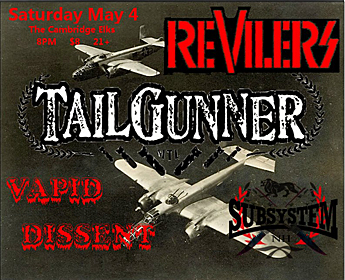 Lots o'good stuff in June! Ducky Boys do a Dead End Streets Record Release show on Sunday June 9th with The Swinger Utters , Goddamn Gallows, Welch Boys at Middle East Down...
Thursday June 13th- Jonathan Richman is at The Somerville Theater!! And Tommy Larkinon the drums!
And the Rosebud IS open and rockin' until June- Cal Cali (who never rests it seems) has an awesome gig lined up there for Saturday June 15th with The Nervous Eaters, Jet set and Greg Allen's Fringe Religion....
Also on 6/15 The Middle East Down has The Adolescents, The Casualties, Tenebrae, and Done With You
And we have to wait way too long to see Petty Morals again...their next gig is July 19th at Great Scott in Allston
Adam Ant back on tour and in Boston at The Royale on August 19th...this time around he's a big ole swamp thang y'all.
From Steve Nelson and the Music Museum Of New England team: "The soil here in New England can be rocky and unyielding, but this region is remarkably fertile ground for music. Since 2007 the Music Museum Of New England has recognized and honored our musical heritage, so we are proud to unveil the all-new MMONE website at mmone.org. Check it out. With a better layout, more visuals and increased functionality -- searches! comment boards! -- there's plenty you'll find to like and more to learn about New England artists, places and personalities. Let us know what you think, and spread the word. After all, it's your museum, too! MMONE couldn't have come this far without your support, suggestions, Facebook "likes" and comments and retweets. So keep doing what you do, and we'll keep growing MMONE for you."
If you have an hour click here to watch a video of Willie Alexander's 70th Birthday Party...its pretty great
EMAIL US AT......misslynbgn@yahoo.com