The BGN News Archive
April 30, 2012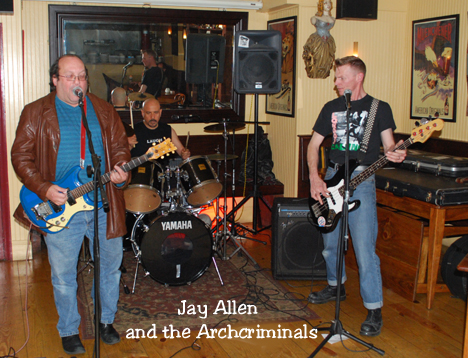 We had to go the end of the world to see Jay Allen and the Archcriminals on Friday, The Tavern at The End of The World that is. And truth be told that's about the event horizon for we parochial Bostonians, one wrong turn you're in Medford ?...Charlestown ? I don't know, that's why we stay in the metro area.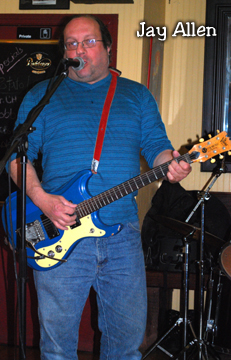 Jay Allen is a sort of unlikely rocker. Flash: he's got none. Fashion: well, not much. He's just a down to earth punk rocker that just loves the music and has been a faithful fan of the scene for 30 years. We see people trying all sorts of things to impress. Jay just does the punk thing and it works - end of story.
Through the years we've seen Jay at TONS of gigs. He seems to know everybody and everybody knows him. If there is a benefit for someone he's there and helping. Any movie or event that's punk oriented, he's there. He does a lot of solo gigs doing punk cover tunes. All this we know, but we didn't know his back story. So we cornered him on Friday and interrupted his lobster roll with bacon for some questions.
He grew up in Pennsylvania just north of Philly and came to Boston in 1981 to go to B. U. and ended up next door neighbors and fast friends with Evan Shore (Muck and the Mires). His entrance to punk was a gig "that changed my life!!" at Metro on September 14, 1981 with The Ramones, The Classic Ruins and 1.4.5. Soon he's in Quest for Tuna with Evan. That group lasted till about 1989, later he was in Bosley. In the last few years he put together the Archcriminals.
The Tavern is a comfortable place. There's all sort of beers for the brew-holics. (Yeah Fin du Monde!!! ML). They serve food that looks good but I've never had any. There is a bar room and a music room. The stage is front of a door where the bartender has to push a band member aside in the middle of a song to get into and then return with cases of beer or occasionally a slop bucket. The PA system is controlled by the drummer - who being in the rear of everybody has no idea of where the volume should be. They do what they have to. You want a slick experience you can pay $35.00 for a ticket and get a crevice check at the door at the House of Blues. Also there is a parking lot out back, sweet.
The opener was Jesse Ahearn of The Ramblin' Souls, doing folk, he's got a good voice. A group called Spinoff followed - I just couldn't figure out what they were trying to do. They were sure having a good time but the guitarist should have been in a totally different band. He was so out of place musically!
The Archcriminals opened up with The First Time by the Boys one of my all time favorite songs. Jay plays a Mosrite the same model as Johnny Ramone but Jay gets an even dirtier sound out of it. No Mosrite is made to get squeals like that; I assume the amp is contributing a lot. The drummer (Larry Litigot from Penis Fly Trap and bass player (Henry Ryan from The Skels and The Sprained Ankles) are very good. This is a tight trio with no weak points. As the songs fly by I'm wondering if they are obscure covers because Jay would know a lot, if not they are well written originals. As it turns out they are originals. It's all punky and loud and we love that. Is that too much to ask for when we go out to see some rock? Sometimes it seems like it is. The Archcriminals finish up with a Dictators cover. The Tavern has a 2am close so it's about 1:30am at that point and we don't mind a bit.
Now on to what's coming up: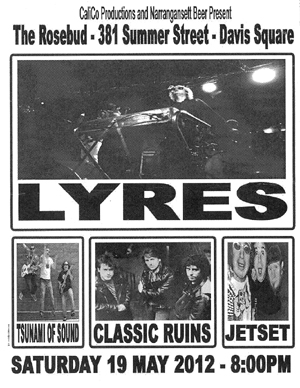 This Tuesday May 1 The Acro-Brats will be playing the May Day/International Workers' Day (Benefit for Occupy Boston) show at Great Scott in Allston. Bands (first to last): The Fake Boys, Brunt of It, The Acro-brats, Stray Bullets (reunion show!) and Burning Streets
Miss Lyn (click to see my work!)is doing her annual Somerville Open Studios show....this year she is in Davis Square at 88 Winslow Ave, -(click for map) it's a 2 minute walk from the subway, just off the bike path behind the Right Way store. PLEASE STOP BY !!
The Dirty Truckers big record release party is this Friday May 4th at Radio! The bill also includes Muck & The Mires and The Scars....sounds like a good one!!
and this Saturday May 5 is the The Ducky Boys FREE show at TT's !! The first 250 people in line get in for free. No strings attached. The music will start at 3:30pm with The Old Edison, kicking things off for 30 minutes. From 5:15 - 7:00pm will be an extended Ducky Boys set. SO this is an early show and sounds like one not to be missed.
Saturday, May 12th there's a rock & rockabilly night at The Midway when WMFO's DJ Easy Ed presents with The Roy Sludge Trio, The Two Tones, The Garnet Hearts and Easy Ed's Record Hop- Ed spinning cool music between sets.
Sonny Vincent is coming back to town!! He's playing P.A.s Lounge (Union Sq) on Friday May 18th!! With his new band The Bad Reactions which features members of Ex Humans, Carbonas, and The Sorrows. They'll be playing select Testors songs and works from Sonny's extensive solo career. This is his first time back in the states since he was at the Middle East (and on a special radio appearance on WMBR) in 2003. (Check out our page on him from that tour here!!! ) http://www.bostongroupienews.com/SonnyVincent.htm
And the next night Saturday May 19th we got a Cal Cali Birthday Party to celebrate at The Rosebud with Lyres. Jetset, Classic Ruins and and Tsunami of Sound. And Brett Milano will be spinning songs between sets too! Gots ta stop by and say Happy Bday to Cal Cali!!
The Ducky Boys and Rancid are at The House of Blues on May 21
And of course Friday May 24th Manitoba is at Church....from all reports that should be an amazing show !!!
And The Psychedelic Furs and Pop Gun are at the Salem Performing Arts at The Catholic Center in Salem on May 26th!! Psyched for this show!!!
Check this out...Boston's best Bass Player Carl Biancucci, has crossed the pond and has been taking over Europe, starting with the UK!! On June 6th his UK band The Shot Glass Killers are opening up for the Brian James/Rat Scabies (BOTH original Damned members) show at the 100 Club! WOW Carl!! Let's get a whole posse of Boston rockers over there for that show!!
and Johnny Angel is coming back to Boston again in July both the 6th & 7th to be exact. He's putting on the "First (And Maybe Last) Annual Johnny Angel Hootenanny At Radio" with a load of awesome bands: WATTS, Robin Lane, Mary Lou Lord, Darling Pet Munkee, 360's, Noggin and Eric Martin/Illyrians. AND Johnny will be playing music from IT! (his latest CD and band click on the link to here the songs, buy the CD and read some info!) .
EMAIL US AT......misslynbgn@yahoo.com