The BGN News Archive
April 30, 2018
Actor/Observer
Photo:Blowfish
---
Monday at the Middle East was the return of The Lillingtons. It doesn't seem like it has been as long as it has but it was May of 2014 when we saw them last. It was the same venue, they had the same guitars, it was the same arm raising crowd and the same mayhem in the mosh pit.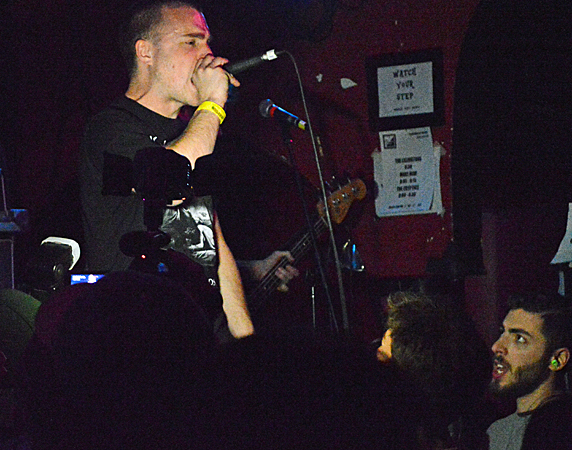 Cryptics
Photo:Blowfish
The Cryptics from Dover, NH opened up. They do hardcore but have just a little more melodic action going on that individualizes the songs. They also pay attention to the lyrics while they don't skimp on pounding it out. Those are characteristics of the Lillingtons too. And it did seem that the two bands on the bill were very compatible with the Lillingtons, we figure they picked them. The crowd was with them with some group singing and moshing.
The Cryptics covered "Everlasting Love" by T.S.O.L. which is sung by Wimpy (who was at the show) on the album. Their new album Make Me Digital is on Bandcamp. We like cut three, "All Lawsuit, All the Time"
Make War
Photo:Blowfish
Make War looked like they would be hardcore. Turned out they had a lot more melodic content to be simple hardcore and it veered to emo. Their overall sound was like hardcore but with those strong vocals taking the attention time and again. We would seek them out in the future to hear those songs again. Check out some songs on their website…. The audience gave The Cryptics and Make War attention but there was no doubt that they were there for the Lillingtons.
Lillingtons
Photo:Blowfish
The Lillingtons are a dependable group, they deliever every time. Since 1999 they have put out their catchy punk. It's sort of like the Ramones; the lyrics are fun but the music is a serious punk crunch. They sang about UFO's , Dairy Queen and X-Ray Specs.
Their fans knew all the lyrics and we heard them sung by everyone standing around us. The front of the stage was a crush of fans fist pumping to the choruses. They were getting smashed into by the mosh pit strays and crowd surfers. The pit was open for the whole set. This was an hour long celebration more than a concert. The same fans come out every time for this group, like we did. Once you experience this you get hooked. For the last song they brought up young punk Lincoln who plays in a group from the North Shore. That was quite a sight – see the photo. The night was over around 11:30; nice, especially on a Monday. That was a weekend worthy show by far.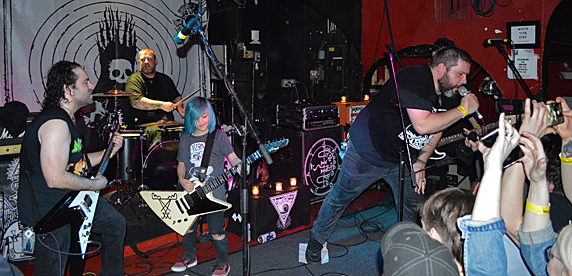 Lillingtons and Lincoln
Photo:Blowfish
On the last song young punk Lincoln from a Northshore group joined the Lillingtons. That was a wild sight. The next generation of punks was not in the wings - it was on stage.
On Friday John Keegan headed north- Salem continues to expand its venue list. The Petty Morals minus JC and Ivahna did the unplugged at the roadhouse-feel Far From the Tree cider house. The assortment of local brew ciders was varied and tasty. The room was packed. The crowd dug into the apples and the band. Chrissy, with LoWreck on percussion, alternated relatively short sets with the unwired PM's. Chrissy put the bite into her rocked up girl with guitar and tambourine opportunities. When you love the full-band, electric, you have to remember to take the Petite Morals unplugged on their own charming merits. The scale was intimate, and the band was loose. It was like a house concert; friendly, talkative, lots of laughs and impromptu singalongs. It's always a pleasure to hear Tai let loose on her perfect for pop soprano. If you walked in from the neighborhood on a whim to try the hard cider, you would a flipped for the band.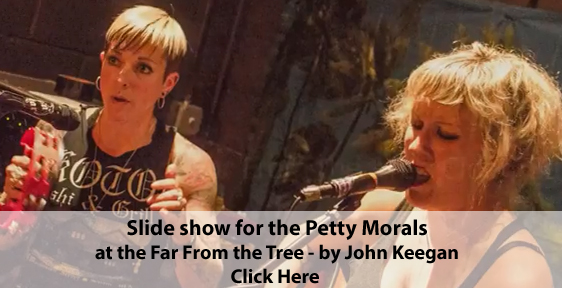 At Sonia- Actor/Observer, Valleyheart, No Hope/No Harm, & Funeral Attire
Saturday it was our first time at Sonia with their new liqueur license. It was definitely, a livelier atmosphere. People used to leave and go around the corner to another of the Middle East clubs to get a drink and then rush back. It's better now.
This was Actor/Observer's welcome back show. They had just completed a 10 city tour mostly in the Northeast. They set up the bill so it was all like minded bands.
Funeral Attire
Photo:Blowfish
A quick listen to Funeral Attire was all it took to show up early to hear them. They had the screaming vocals framed with the aggressive band backdrop that also marks Actor/Observer. The overall sound was impressive, as were all the bands on the bill. We're putting some of that down to Sonia's sound system but it was also the bands. They were all good players.
The guitarist in Funeral Attire strummed aggressively or picked rapidly during all the songs from beginning to end. That, with the rest of the band playing busy and the screaming vocals give you that aural attack that never fails to make an impression , at least for us. Everyone in the band said how happy they were that people showed up early for this 6pm show. The club was about half full.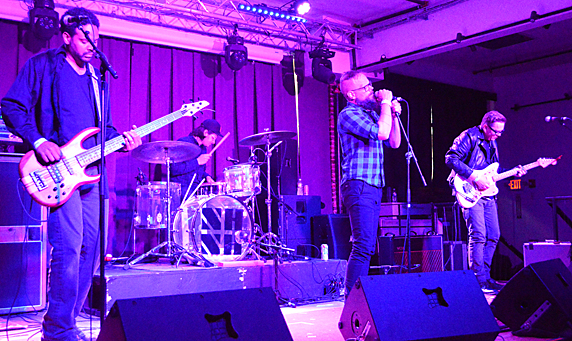 No Hope No Harm
Photo:Blowfish
We had seen No Hope/No Harm at Great Scotts a year ago where they played with Actor/Observer. They presented some new material and those songs were the best in the set. The lead singer is a compelling front person. The lead guitarist also helped by sharing the vocal and those interchanges were some of the best moments. We liked the intimate setting of Great Scotts that worked for No Hope/No Harm but they had no problem giving a hard hitting performance with their stage presence and new songs.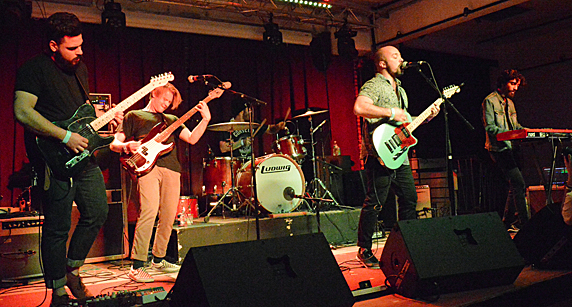 Valleyheart
Photo:Blowfish
Valleyheart are from Beverly. They had more traditional influences in their songwriting that tipped them in an area that didn't appeal to us as much. Their set was a persuasive one in it's way. They had well written songs that were arranged elaborately. The guitarist was a main cog in this. He played his pedal board like a Moog Synthesizer. He was duping the vocal lines, adding colorful sound backdrops, doing horn like lines in between just regular rhythm work. They had a song marking the Forth of July that built up to heroic proportions. That was one good band.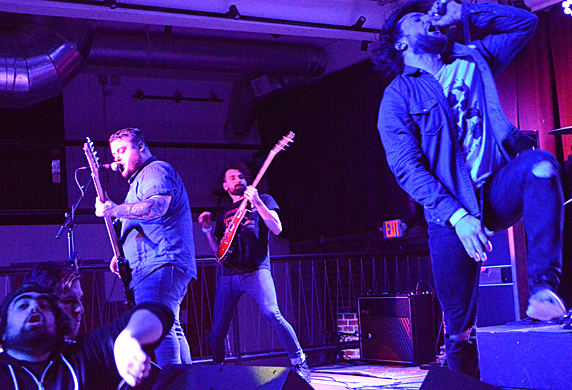 Actor/Observer
Photo:Blowfish
Even after hearing three good bands, the first massive whomp from Actor/Observer went to another level. The power of the sound alone made you want to step back. Sonically and emotionally they seem like they are coming for you. They have a new guitarist and that made some difference, maybe not one a casual listener would notice but having seen them a few times we could notice a difference.
They did that full band bomb on the downbeat that felt like Thor had put the hammer down. Then there was Greg on the main vocal who roamed the stage until the stage was too limiting and then jumped to the floor. He's a one man mosh pit as his top of the lungs vocals wreak emotional havoc. He puts so much energy into the performance that he was sweating like crazy after two songs and kneeling to catch his breath.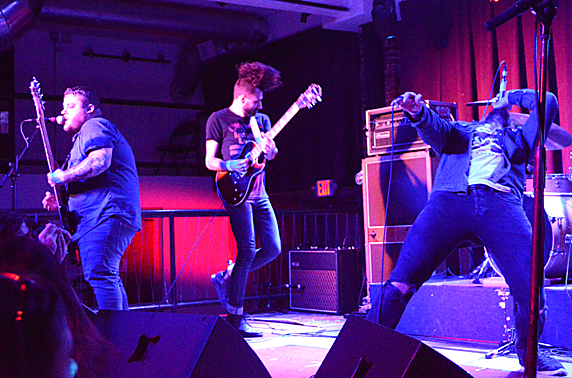 Actor/Observer
Photo:Blowfish
He's mentioned 'problems' he's had but this was the first time we've seen him openly admit he has depression. He said he is now taking pills that have helped but also realizes that he has a lifelong issue that will always need attention. We think it's only good to get these issues into the light of day. Maybe someone there will take Greg as a role model and get similar help. Of course he then sang a song written about his situation and that was a killer.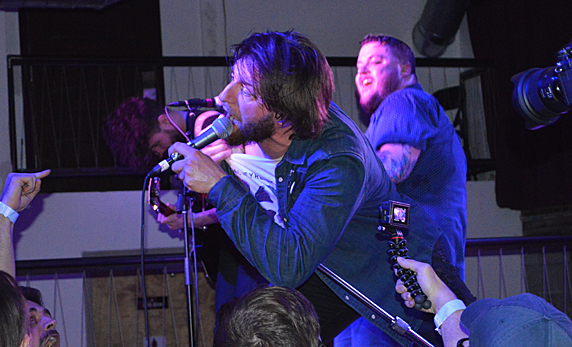 Actor/Observer
Photo:Blowfish
Actor/Observer has always been a band we related to just in a live setting. This show we scooped up the recorded material and will see how all this transcribes in that medium. As always we suggest you catch this group that we think is one of the best in town.
More band photos below the show listings
---
And in other news.....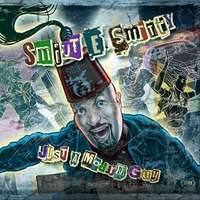 Drummer and scene personality Smitt E. Smitty has his new album up on CD Baby. It's called Just a Modern Guy.

There's 19 days left ot go on the Kickstarter for - The Gizmos Documentary: A history of Bloomington, Indiana's rock n' roll pioneers as told by members spanning the group's four generations. Give now and inflect the Gizmos on the world forever!! Everyone needsd more Kenne Higland, right??

Barrence Whitfield's new album is getting the love on Little Steven's Underground Garage. In Boston that show is on WROR 105.7 on Sunday night from 10pm till 12pm. Also the Coolest Song of the Week two weeks ago was the Kurt Baker Combo's "So Lonely" from his new album Let's Go Wild. The song is a cover from a sixties group.

Mark Davis sent some photos of Asa Brebner at Sally O'Brien's. He reports that Sally's has done some expected renovations. They actually have expanded the room 10 feet on one side. Link to Marks photos.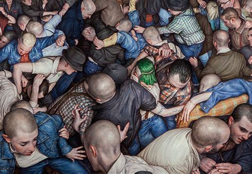 Someone had to do it. Dan Witz (born 1957) is a Brooklyn, NY based street artist and realist painter that does paintings of mosh pits. They look like photos. Check 'em out here. He also does portraits of people in smart phone glows that look like Caravaggio's. Dan Witz's paintings have been shown in galleries throughout the US and Europe.
Lizzie Borden and the Axes got some attention in the Globe on Thursday– indirectly. Someone is a story about Company One Theatre in Cambridge was wearing one of their shirts.
We do post things on Facebook that don't make it to this website so make sure youcheck out our Facebook page also.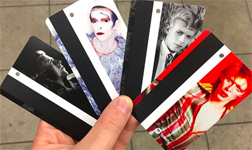 Recently we posted about the NYC Subway system issuing David Bowie images on their cards.

There was a story about The Damned finally having their first top ten album ever! Only 41 years after they started.

We shared John Surette's cool story of hanging with the Jam for a day when they were on the same bill at the Channel.

And we do a weekly post of the Punk Past where we look at what was going on up to 40 years ago. Hey, we've been around that long too.

Ritchie Parsons is in the recording process of his next album. He's getting help from Ken Stringfellow of the Posies like last time.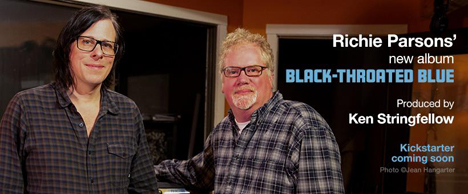 ---
Here's some good shows coming up this week.....
April 30 (Monday) Loser's Circle, NO HANDS, Secret Spirit, DNZL at Charlie' s Kitchen

May 1 (Tuesday) Rock and Roll Trivia w/ Erin and Brett at The Sinclair (FB page)
May 3 (Thurday) Luicidal (ex-Suicidal Tendencies), Infernal Diatribe, Covered In Bees at Gino's in Portland ME
May 4 (Friday) Life Partners, Black Helicopter, Ringtail, the modifierS at the Midway
May 5 (Saturday) Taxi Driver, Neighborhood Shit, Out Live Death, Alouth, DNZL at The Midway - a 4-8PM show
May 5 (Saturday) Kal Marks, Black Beach, Rong, Pleaser at O'Brien's Pub
May 6 (Sunday) The Dirty Truckers take over Atwoods 4-6PM FB page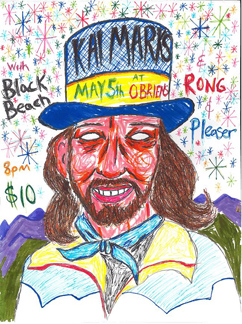 May 6 (Sunday) Kelly Davidson's Rock Parents #7 Photo Show at Once 5-9PM with music by John Powhida International Airport, The One Smith and Walter Sickert & the Army of Broken Toys. FREE! FB page
May 6 (Sunday) Punkcake is hosting it's Flat Out Flea and Punk Rock Open Mic at Ralph's in Worcester. 12-5PM Here's the FB page.
And further out we have.......
May 9 (Wednesday) Hoods, Death Before Dishonor, Set Your Anchor, Scars of Deceit and Distressor! at Hardcore Stadium (Bishop Allen Dr Central Sq) 7PM!
May 10 (Thursday) Maple Mars w/Corin Ashley and Richie Parsons at the Tavern at the End of the World
May 10 (Thursday) Elseware, Slum Raisons and Greg Allen's Fringe Religion at Once
May 10 (Thursday) Mickey Rickshaw and Buster Shuffle at Thunder Road
May 11 (Friday) Pale Monsters, Stars Like Ours, Magen Tracy and the Missed Connections, Dana Osterling of CIVIC at O'Brien's Pub
May 11 (Friday) Loser's Circle, K.C.U.F., Dial Drive (FL), You Scoundrel at The Midway
May 11 (Friday) One Less Scumbag, The Great War, Brix'n'Mortar, Chasms at The Chit Chat Lounge in Haverhill MA FB page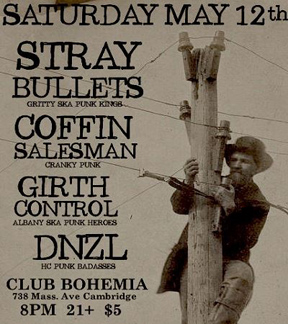 May 11 (Friday) The Hudson Falcons are at Askew in Provi, RI FB page here.
May 12 (Saturday) It's Porchfest in Somerville and there are a TON of great bands playing on porches all over town. Check out the website and the MAP For example 4-6PM The Boxed Wine Collective featuring featuring solo sets and collaborations from Magen Tracy, Sue Minichiello and Josh Pickering (of Sue's Guitar), Mayte Antelo (of Gold Blood & Associates), Erica Mantone (of Bikini Whale, Gold Blood), Emily Grogan, Chuck Ferreira (of Eddie Japan, Aloud), Michelle Paulhus (of Stars Like Ours, The Dents), Rodrigo van Stoli (of Officer), and more. You can expect originals and covers, and maybe even an all-star jam!....anbd then there's Jittery Jack also 4-6PM...Happy Little Clouds, Love Love, The Jiblantos (with John Keegan!) Lily Black,
May 12 (Saturday) Roy Sludge at Atwood's, early 4PM Show
May 12 (Saturday) M.O.T.O., Color Killer, The Sprained Ankles, Sewer Buddies, Time Out Timmy for a 4-8PM show at the Midway
May 12 (Saturday) Clever Girls, Night Nurses, Dark Wing, Today Junior at O'Brien's
May 12 (Saturday) WEMF presents – Stigmatics, Vanishing Point, Crunchtime and Greg Allen's Fringe Religion at PA's Lounge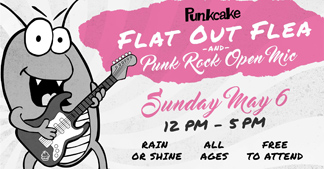 May 12 (Saturday) The Nervous Eaters with Justine and the Unclean, The Gala, The Hi-End at The Midway 8pm show
May 12 (Saturday) WEMF Night with The Stigmatics, Crunchtime at PA's Lounge
May 12 (Saturday) Stray Bullets, Coffin Salesman, Girth Control, DNZL at Club Boho/Cantab
May 12 (Saturday) Watts, The Dents, We Can't Work It Out at Sally O'Brien's
May 12 (Saturday) Crimespree, Pruf, Crossthreads at The 13th Floor Music Lounge in Florence, MA
May 13 (Sunday) Ski Bunny, Happy Little Clouds, Yes Commander at The Dark Horse Public House in Somerville
May 13 (Sunday) Buster Shuffle, Mickey Rickshaw, The Pourmen, Threat Level Burgundy at Alchemy in Provi, RI - 7-11PM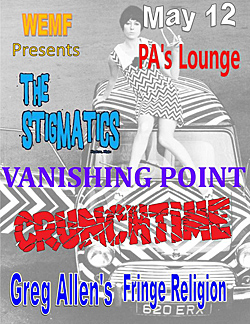 May 14 (Monday) Salem Wolves w/the Very Reverend, LE Yikes, SURF CLUB, the Maxims at Charlie's Kitchen
May 16 (Wednesday) Sean Patrick Carney (of The Scandals) with special guests Michael Kane and the Morning Afters, The Callouts, and Coffin Salesman at the Midway
May 17 (Thursday) Tsunami Bomb, Diablogato at Once
May 18 (Friday) The Facc-tones, A Bunch of Jerks, Sugar Cones, Charlie Don't Surf at The Midway
May 19 (Saturday) A Crash Course For The Ravers 1pm to 4pm on 91.5FM Medford. featuring Simon Ritt talkin' 'bout Johnny Thunders!
May 19 (Saturday) Kingsley Flood, Glenn Yoder & The Western States, Andrea Gillis at Once - music starts at 8PM
May 19 (Saturday) The Knock Ups, State of the Union, The New Frustrations, The Imposers at The Midway- early show 4-8Pm
May 19 (Saturday) WAAF Presents: Punk In Drublic Festival with NOFX, Bad Religion, The Interrupters, Mad Caddies, Bad Cop Bad Cop at Campanelli Stadium in Brockton, MA FB page for more info/directions
May 19 (Saturday) Celebrate Sue (Miniachello's) 50th Birthday!! at Sally O'Brien's celebrate Sue with friends and family and food and drink and cake and, of course, MUSIC! A stellar lineup of bands and special guests is in store. More details to come on that, although a few surprises will be kept under wraps. FB page for updates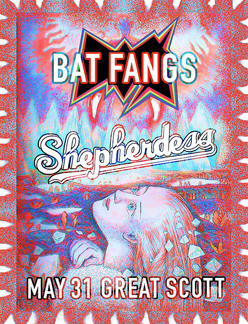 May 20 (Sunday) It time again for Slimedog's 22nd Birthday Party. The line up is Kermit's Finger, The Lost Riots, The Revilers, Uncle Spud, and Time Out Timmy. Linnea Svedka will play between sets. All that and FREE PIZZA too! Starts at 4PM.
May 20 (Sunday) The Crank-tones (Record Release), Jittery Jack and DJ Easy Ed at Great Scott this is a 2PM show start
May 20 (Sunday) Red Hare, Sweet Jesus (Last Show), Holy Hands, Silver Screams are at AS220 in Provi, RI FB page
May 20 (Sunday) The Proletariat are at Alchemy in Providence RI FB page This show is FREE and All Ages.
May 24 (Thursday) Thrust Club with Dump Him & Sapling at Once
May 25 (Friday) Whore Paint, E (record release), Arch Cape at The Midway
May 27 (Sunday) The Four Point Restraints, The Guilloteenagers, Surprise Party, American Affairal (Jess & Tom of Man Trouble) at ZuZu
June 2 (Saturday) The Black Souls, Crunchtime & Guests, do a Midway Cafe Matinee 4-8PM
June 2 (Saturday) Sheer Terror, Nothing But Enemies, Brando, American War Machine at The Middle East - this is an early show 5:30-10:30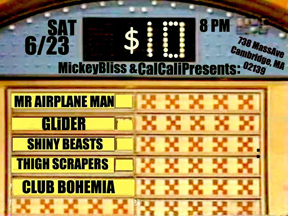 June 2 (Saturday) Worshipper, Sidewalk Driver, Flight Of Fire, Blood Built Empire at Sonia
June 3 (Sunday) The FUs, Working Poor USA, The Straight Eights, Worm at The Midway for a 4-8PM show
June 3 (Sunday) Gang Green and Taxi Driver at Alchemy in Provi RI also a matinee 2-6Pm
June 9 (Saturday) The Neighborhoods at the Ocean Mist in RI on June 9, Tickets
June 10 (Sunday) Tokyo Tramps, Jody Moore, Billy Connors Project, Club Linehan A Go Go at The Midway for a 4-8 PM show
June 13 (Wednesday) doing their G.G. ALLIN 25th Death Anniversary Tour the Murder Junkies are at Cafe Nine in New Haven CT FB page
June 13 (Wednesday) Supersuckers, Speedealer, Salem Wolves are at Alchemy in Provi, RI
June 14 (Thursday) The Dickies (40th Year Anniversary) w/ The Queers, Duck & Cover and Cookbag at The Middle East FB page for tix etc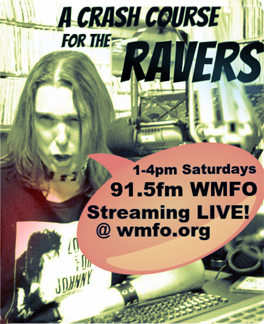 June 15 (Friday) Robert Gordon is at the Greasy Luck Brewpub in New Bedford, MA opening is Johnny Barnes & The Nightcrawlers. FB Page
June 16 (Saturday) GLiDER Live on Radio 91.5FM Crash Course for the Ravers! wmfo.org stream 1-4PM
June 16 (Saturday) The Nervous Eaters, Justine and the Unclean, Stop Calling Me Frank are at Thunder Road
June 16 (Saturday) GBH with Pinata Party are at The Middle East Down.
June 17 (Sunday) Micah Schnabel, Live Nude Girls, Olde Boy, Amy Griffin at O'Brien's Pub
June 20 (Wednesday) Blk Squirrl Record Release with special guests Andy California and Sundog at The Midway
June 20 (Wednesday) Reverend Horton Heat, Big Sandy, Lara Hope & The Ark-Tones at Alchemy Provi RI
June 22 (Friday) Greg Allen's Fringe Religion, Pop Gun, Muck and The Mires and 138 at KOTO in Salem
June 22 (Friday) Tied To A Bear, Duck &Cover, The Von Traps, Sonic Libido at Opus in Salem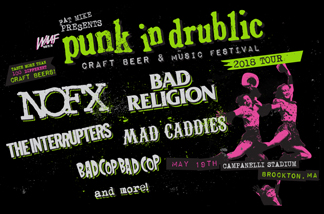 June 23 (Saturday) Gene Dante And The Future Starlets, Parlour Bells, The Gala, Smitt E. Smitty and special guest DJ, Gang of One (Hugo Burnham formerly of Gang of Four) at Once - 8:15PM show time!
June 23 (Saturday) Mr. Airpane Man, GLiDER, Andy California, Shiny Beast, Thigh Scrapers at Club Boho/The Cantab
June 24 (Sunday) Opposition Rising Boston Record Release Show! with Not A Part Of It, Infernal Diatribe, Neighborhood Shit, DNZL 4PM matinee show at the Midway
June 24 (Sunday) The Adolescents, Electric Frankenstein and Duck & Cover at Brighton Music Hall
June 29 (Friday) Nervous Eaters, The Gamma Goochies, Euphemia at Geno's in Portland, ME
June 30 (Saturday) Goddamn Draculas, Jason Bennett and The Resistance, Art Thieves at Middle east Up 6:30 PM show
July 1 (Sunday) G.G. ALLIN 25th Death Anniversary show with The Murder Junkies, Smoking Triples, Jonee Earthquake, They Hate Us, Malcolm Tent at The Dutch Treat Franconia NH Here's the FB page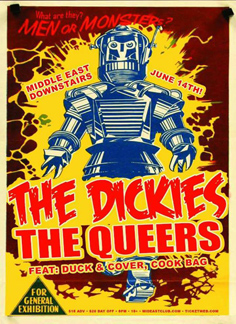 July 7 (Saturday) Pajama Slave Dancers (reunion) with special guests Trusty Sidekick, Grey Matter (ft. Eric Gaffney), and The Weisstronauts
July 8 (Sunday) Step 13, Genuine Rust, The Martians, Cry Havoc at the Midway for a 4-8PM show
July 11 (Wednesday) The Goddamn Gallows, The Koffin Kats, Viva Le Vox at Alchemy in Provi, RI
July 12 (Thursday) Koffin Kats, The Goddamn Gallows, Viva Le Vox at The Middle East
July 13 (Friday) Last Ones and CalCali Band are at Tavern at the end of the world. (Rick must be back from his Grand Tour!)
July 14 (Saturday) il Mostro, Psychic Dog, The Laces, Jim Healey for a 4-8PM show at the Midway
August 4 (Saturday) Descendents w/ A Wilhelm Scream & Pavers at State Theatre, Portland, Maine FB page
August 8 (Wednesday) The Blasters come back to ONCE
August 13 (Monday) Agent Orange, Fea, and more at Ralph's Diner in Worcester FB page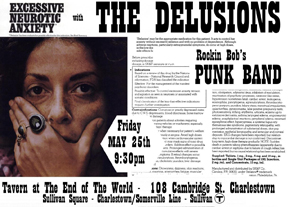 August 16 (Thursday) Agent Orange w/ FEA, Zero Holds at Alchemy in Provi, RI
August 24 (Thursday) Lyres, Glider, Pop Gun, Knock Ups at Koto in Salem
September 9 (Sunday) Slim Cessna's Auto Club and Kid Congo Powers at Once - music starts at 8:30
September 11 (Tuesday) Killing Joke on their 40th Anniversary Tour at the Paradise FB page
October 27 (Saturday) The Descendents w/ Teenage Bottlerocket at The Palladium in Worcester FB page for tix etc
CONTACT US AT....misslynbgn@yahoo.com Send us your gig listings, your news and anything else ya got!! You want your CD reviewed?? Contact us for that too.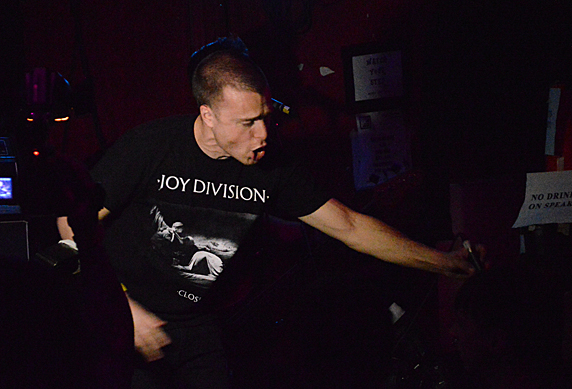 Cryptics
Photo:John Keegan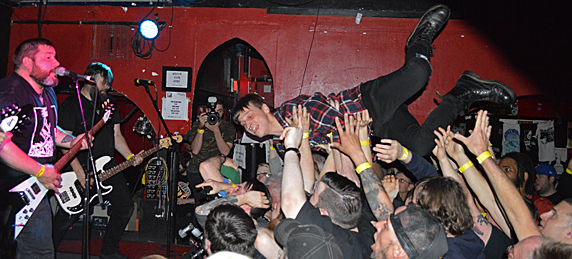 Lillingtons
Photo: John Keegan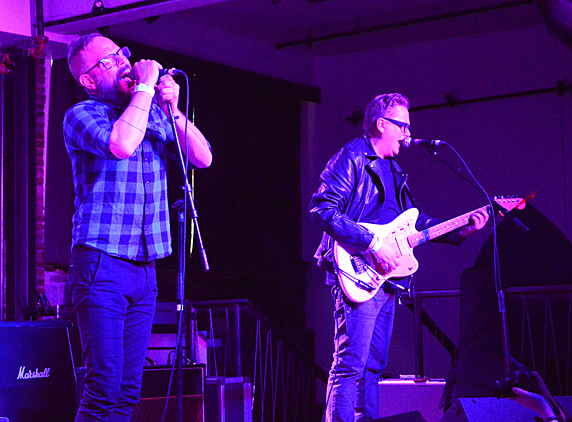 No Hope No Harm
Photo: John Keegan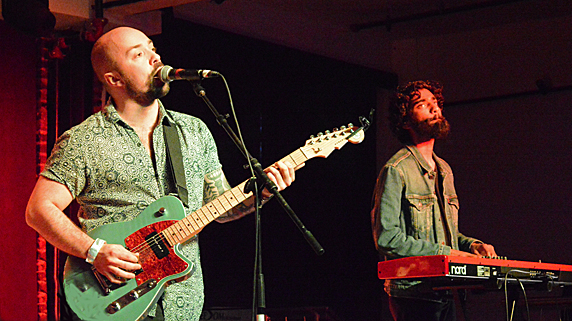 Valleyheart
Photo: Blowfish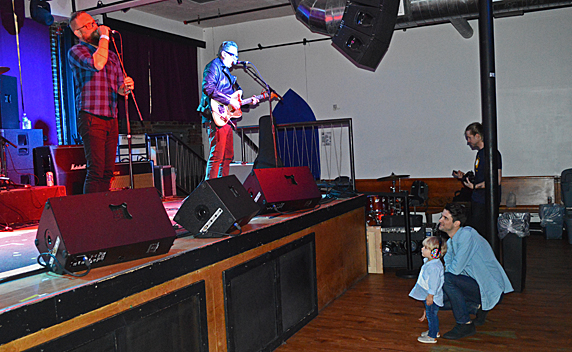 Another young punk at Sonia
Photo: Blowfish