The BGN News Archive
May 2, 2011
Monday we just got the word that Marlo died. Marlo was a main cog in the Boston scene in the late seventies booking Cantones and the Space. She was sick for a while. Carmelita has some info on her Facebook page the main thing to know at the moment: Visiting hours Thursday, May 5th 4-5:30 and Memorial Service 5:30-6:30 at Nordgren Memorial Chapel in Worcester, 300 Lincoln Street. Flowers can be sent to the funeral home, or donations to UMass Memorial Hospice service in the name of Marlo Darlene MacDonald.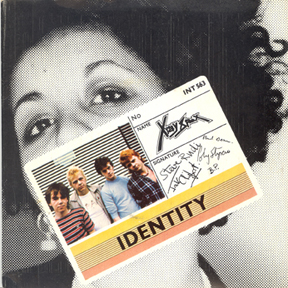 RIP Poly Styrene. It was a shock to hear the news at the same time I realized that just hearing her name loads your mind with the whole shebang, the whole effect of her. It always did from that first scream "I say, OH Bondage, UP YOURS". Her voice riveted on top of that jagged sax fueled band sound took you over. It was designed to be over the top and it was, as it was totally unique. We were looking for new, raw, rule breaking sounds in 1976 and Poly Styrene fit the bill. You could NEVER think of someone singing like that untill the very moment you heard her. Even now that X-Ray Specs record occupies its own world. It's one of the great moments in punk. Thank you, Poly, all we can do is listen and wonder how you did it.
As we start out the summer, you will have the entire summer until September 5 to see THE RECORD Contemporary ART and VINYL at the ICA. We all love the vinyl, too much we know, but who cares. These artists do some way out stuff with the black patties. Also the ICA is FREE THURSDAY NIGHTS.
THE RECORDContemporary ART and VINYL
Congrats to John Powhida International Airport for winning the Rumble. If anyone can parley the win he can. He's ready to rock. His feet are running before they hit the ground.
Nikki Sixx from Motley Crue is doing a book signing at the Barnes and Nobles at BU on Friday May 6 at 7PM. You see a lot more of the Write n' Roll going on.
If you don't have a job or don't care how you feel when you show up to workThursday morning you can catch some righteous rockabilly at the Paradise with the Reverend Horton Heat on this Wednesday night. He'll make you sweat and wear you out with yelling.
Saturday May 7th has an awe show at Precinct - Marsman presents The Port Charles Quintet and Lyres, that's a great match!!
The Midway is coming up with some neat shows here and there. On Saturday May 14 they are going completly TIKI in music, drinks and food. They will have surf music by the Fathoms! Then Tiki drinks and in the food area they will be serving pulled pork sandwiches.
Then out of the blue they have the Thinking Fellers Union Local 282 on Tuesday May 10. They haven't played Boston for 10 years and now they play on a Tuesday? How does this happen?
One thing I like about the Midway - they have Sunday gigs that start a 4pm. On May 21 the Electric Mummy are playing. If they wern't dead already they would suffocate in those wraps....Electric Mummy at the Midway video.
It's been a long way from that first onslaught of angry punks and who's still standing? One is Elvis Costello who does a show on May 20 at the City Center/Wang Theatre. He's not so angry anymore but I guess either are we.....but you know the Radio, Radio is still horrible.
The Magic Room has a great line up on Saturday May 21 with James Straight and the Wide Stance, The Cadillac Hearts and The Beach Combovers James Straight is always intense and has a tight band.
Cadillac Heart is ramping up for their May 21st debut gig at the Magic Room by letting out some of their recording efforts. With Rayboy as drummer they get to use his studio and know how to crank out some really neat material. They have a song called "Nothin's Gonna Change" that has Scott Barenwald on lead vocal and it's a sweet pop ditty. They have the smarts to scoop up "Andrea Knows" written by Rick Coraccio. That can be heard on their ReverbNation page.....Link to ReverbNation/Cadillac Heart.
Some excellent stuff coming up in June!:
The Dogmatics, The Neats, Band 19 AND Last Stand are playing a show in support friends who will ride in the Pan Mass Challenge The concert, which will also feature DJs Juli Kryslur and Randi Millman, plus The Painted Lights, Mean Creek and other special guests , it takes place Friday June 10 at 9 at the Paradise - it's 16 bucks and well worth the dough
but in Boston on June 11th The Real Kids are playing at Rich Mirsky's cd release event at The Midway!! This is an afternoon show - 2-6PM and also on the bill are Rich Mirsky in his band Heavy Sirip, and Cum's Chris Brokaw doing a solo set
Email us click click click