The BGN News Archive
May 3, 2021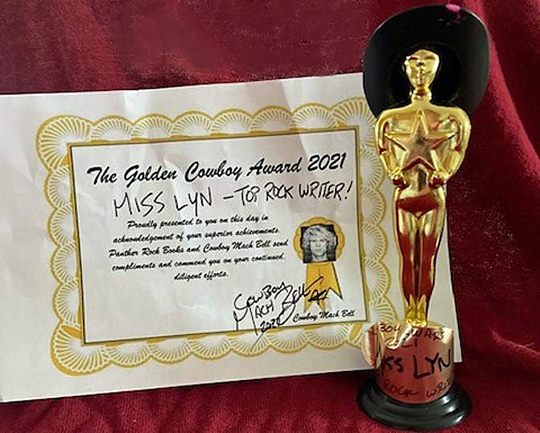 Miss Lyn and Blowfish win Top Rock Writers
at the Cowboy Awards
After 46 years the BGN 's time was up…we finally won an award!!!!!
Miss Lyn and Blowfish won the Top Rock Writer Awards in Cowboy Mach Bell's Cowboy Award show!! WOW!!
It may not be as well-known as the Academy Awards but the show was way more entertaining…no contest there. We give kudos to envelope girl Kennedy O'Neil who added the glamor and guffaws. What the Cowboy Awards didn't have in celebrity and prestige it made up in brevity. It was 15 minutes long. See the video below. Other winners were: Radio Personality -Marian Ferro, Best Book Store – Amazon, Instagram - Oasis in the Night, Photographer - Michael Pellegrin, Social Media Influencer – Tony Jones.
We couldn't be there to collect the Golden Cowboy so, rightfully, Her Majesty the Queen of England picked up the precious statues for us.
Here's what makes us great writers: Mach Bell's book (and Kindle version and Audio) Once a Rocker Always a Rocker can be ordered from Amazon (another winner!) here.
Mach will be at the Northeast Comic Con in Foxboro on July 2 to 4....Tickets!!
Things are opening up! Governor Baker has proposed outlines for businesses to resume post Covid. Bars can open on August 22 (in Boston) and indoor singing can start as of June 1st. That means live gigs!!! Of course there are restrictions:
"Singing will be permitted indoors with strict distancing requirements at performance venues, restaurants, event venues and other businesses"... and ... "Bars, beer gardens, breweries, wineries and distilleries will be subject to restaurant rules with seated service only, a 90-minute limit and no dance floor."

Bowery Boston is getting back to booking. Their calendar has shows resuming on as of August. The Residents are at the Sinclair on August 31st. Tickets.
Connecticut and Rhode Island are opening in May. Some Boston club owners are crying unfair. Here's a article on that.
Somerville and Jamaica Plain are looking to get their PorchFests rolling again. Somerville is planning on doing it in the Fall rather than the usual May date. Jamaica Plain is hoping for an August date. They want a mixture of live and streaming events. They make a good point when they say they want not only to be cognizant of any restrictions in place but also people's "comfort levels in the wake of the pandemic". After a year wearing masks and avoiding crowds getting used to not wearing a mask and getting close again even if all restrictions are lifted will feel weird. Read more about Porchfest here.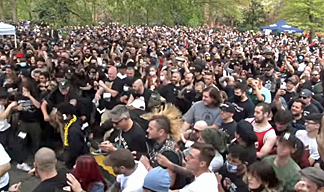 Then there was the NYC Tompkins Square Park free hardcore show on April 24. It turned out to be huge and there was a lot of post-concert flak. Groups playing were Madball, Murphy's Law, Bloodclot and The Capturers.
They had a permit for the show but there were Covid guideline restrictions. Those were blown away as the estimated two to three thousand descended on the square. There was full blown moshing going on. Social distance? Facemasks? No and no.
Another issue was when Springa (SSD) joined Murphy's Law on stage with a shirt that said "Black Flag Matters". That unleashed a social media shit storm, as it should. Here's a link to a video showing Springa singing with Murphy's Law. There's another show planned for May 8, but that may not happen now.
Photos and videos of the event are here on the Gothamist.
Hard Times magazine poked fun at the whole mess with an article titled –"New York Hardcore Scene to Organize Benefit Show for Victims of Last Benefit Show"
The big punk rock extravaganza Punk Rock Bowling looks like it's going to happen this year on September 24 to 26. In Las Vegas of course and will include Devo, Circle Jerks, NOFX, Lunachicks, Lawrence Arms, Anti Flag, Queers, The English Beat and on and on. Tickets
Now to other stuff......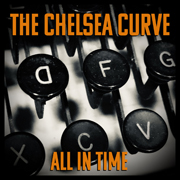 This week The Chelsea Curve delivered on their Singles Club where they promise a song a month until their next album is finished. This time around it was "All In Time" ... And OMG what a song it is!! Just the intro is to die for, it sounds like a primo punk single from the seventies. All the details of the arrangement as it goes on do the same thing really. The descending bass line in the intro comes back stronger for the chorus and it grabs you every time and you wait for it to come around.
The vocal is full of inflections that individualize the lyrics to the melody. We saw The Chelsea Curve a few times but this is still a surprise for us. It must be that they really know how to arrange a song in the studio that make them pop in the recording phase. Dynamite.
The Guns of Brighton do "Strutter" by Kiss for their forth video in their series. These guys are having a ball doing these. This was an excuse to wallow in Kiss merch. They look like they mocked up an axe shaped guitar.
One thing these videos have proven is that the band knows how to play their rock influences. This is the stuff you don't realize when you just see a band play in a club. These videos give us an idea of what lurks just under the bands own sound.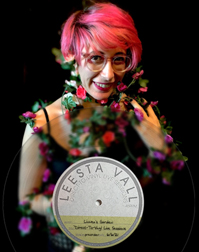 Linnea's Garden is doing a Direct to Vinyl live recording! This is set up by Leesta Vall Sound Recordings. For $25.00 you can ask for one of five Linnea's Garden songs to be recorded just for you and it will be recorded directly to vinyl – it will be unique.
They describe it thus: "Our limited edition lathe cut record releases are made on a modified antique record cutting lathe from the 1950's. Each record is handmade, one at a time, in real time, by a real person."
Here's a chance to get in on a one-time thing that will be a sure fire collectable. Get in on the action here!
But we have a question for Linnea: do hippocampal pyramidal cells respond to non-spatial stimuli? Actually that the question John O'Keefe (Nobel Prize in Physiology in 2014) asked in the Journal of the American Physiology Society. He referenced one of Linnea's papers in his article. (Which you can read here) Linnea is a systems neuroscientist when she isn't rocking up the house.

Barry Marshall and his brother Kevin will be doing a livestream on May 17. Barry is describing a list of songs that will be like a career overview. He will play Marshalls' songs all the way back from 1977 and up to the current date. Barry has recorded and played with a wide variety of acts and he has stories. Some of those he told on the Rat Tales Podcast. That can be heard here. ... Rat Tales. The livestream can be accessed on Barry's Facebook page ... and YouTube channel.
Rawstrum did a live stream at the Midway on Friday. This show had a better audio/visual than their last show here. It's another indication that the Midway has improved their live stream quality.
The second song had a strong riff that stuck out, not a common thing with Rawstrum. All the songs seemed better structured, it's less noise oriented than we remember. The vocals were clearer than we've ever heard from Rawstrum. The singer still digs deep into his vocals and puts a lot of screamo energy into it. This is one of the high energy, loud bands we crave to hear now after a year without it.
This week Once had its one year anniversary of Once Virtual Venue. J.J. Gonson did as much as anyone could in this quarantine year. Once Virtual Venue kept their presence up, the content kept things interesting.
This week they ended their month long 'virtual tour' to different cities every Friday with some music from Albuquerque. We were most interested in the indie band Prism Bitch. They stamp things with their individuality; quirky singing, and they keep up the energy and have fun doing it all.
Once Virtual Venue did what they set out to do with this series: they gave us a look into some other cities scenes without us leaving the house. Prism Bitch can be seen at the 47:30 mark on this YouTube video.
Short Cuts.........

Do you listen to the Late Risers Club? If you do they have a very short survey for you to take… here… TAKE the survey!
Red on Red Records revealed that The Jacklights are back in Woolly Mammoth recording.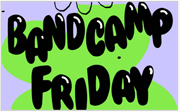 The next Bandcamp Friday is May 7. That's the day Bandcamp waves all fees and lets the music makers keep the profits. That's the day you want to get in there and buy. Details here.
Hardwired will be doing a live stream to benefit the C Note down in Hull on May 15 from 7 to 8pm. Facebook event page here.
Martin Atkins of PIL, Pigface and Brian Brain is good at organizing and getting things done. Now, he's started the idea of having a PPIM Museum - Post Punk & Industrial Music Museum. He's even better at doing merch. He has a t-shirt ready to raise funds. We are all for these projects because if they succeed others may get the idea to do similar punk oriented museums and collections.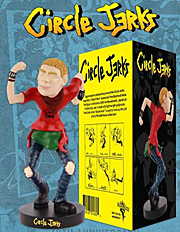 Right now it does seem like just an idea and t-shirt but we will see if it gets to the next step. Info is here.

The Circle Jerks now have a limited edition (1000 made only) figurine of 'Skank Man'. Available here for $34.99.

Kid Gulliver were doing a video shot this week. That is one hard working band.

The Vitamin record Recordings 1981 that just got released, received a write up in the Bandcamp page titled "Best Punk on Bandcamp: April 2021". Read the Bandcamp article here.

Podcasts............

Kids Like You & Me got the man of the hour Daniel Carswell who just got the job of booking O'Brien's. They ask the obvious question which is if Daniel is booking O'Brien's then who will book Charlie's Kitchen/Hong Kong that Daniel used to do. Carswell says that as of now no one really knows when or if shows will be happening, so no decision has been made. Daniel isn't booking any shows before September as of now. He has a realistic and practical view of how the reintroduction of the scene may happen.

CDs/ Music...................

All those in the know got that Rick Coraccio Anthology in the mail last week. Rick was in the Lyres and there is a lot of the Lyres sound in these songs. This is real Boston garage rock with some of the best players in town. All the musicians on this album have a long history in the scene. All the songs were written by Rick and that's quite an accomplishment considering their consistency. "Heaven Is Falling" is haunting as few songs are.
You can get the album here.

One of the neat things about the new Cheap Trick album is that it's Cheap Trick…familiarity can be a good thing. The same applies to the new Freeloader material from Nat Freedberg. "Under the Influence" is the latest song. It's got all the earmarks of Nat's musical stylings. And like Cheap Trick we can listen forever. "Under the Influence of You" has that AC/DC sound Nat comes close to, and that half talk/half singing thing.

The Dents will release their new album on June 3. Rum Bar is doing their usual teaser routine and have one song titled "Homeless" on Bandcamp now. "Homeless" is a Holly Beth Vincent (Holly and the Italians) song from 1993. This is a big change-up for The Dents. It's a dark song. The main feature is a thudding bass that creates an ominous atmosphere. The bass never lets up for the 5:50 minute song. It seems to tell the thoughts of a homeless man. It's a well done recording which bodes well for the rest of the album.

Here's some good shows coming up (live stream and actually LIVE!! we wish there were more) .....
---
May 8 (Saturday) Special 1-Hour Edition of On The Town with Mikey Dee with Oh Hello Boston. 7-8PM. FB page.
May 21(Friday) 1 to 5pm and May 22(Saturday) 10 to 2:30pm Boston Rock City: Explore Wikidata and Learn about Local Music (this is an online event) help search for info around the Arthur Freedman Collection for the Harvard & Boston Public Libraries. For info and to register in advance: Here.
May 16 (Sunday) Back Porch Carousel - Benefit for Tunefoolery Facebook event page
May 22 (Saturday) Diablogato and The Devils Twins at The Porch in Medford (Tix and info here)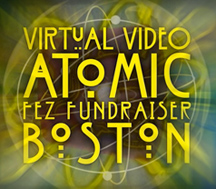 May 27 (Thursday) Virtual Video Atomic Fez Fundraiser for Boston - A Benefit for Boston Area Local Music Venues starts at 8:15PM.
The beneficiaries are: ONCE, The Midway Cafe, The Jungle, The Square Root, Sally O'Brien's, The Magic Room, O'Brien's Pub, and KOTO, with more to be added. And the list of performers and special appearances is LONG!!! Read more - and donate- here. and watch for the BGN spot along the way!!
May 28 (Friday) The English Beat are at the House of Blues.
May 30 (Sunday) Color Killer with The Prozacs - a free, live Facebook event. FB page.
June 17 (Thursday) M8 with Motel Black - this is a LIVE show 40 people - Max. Masks and social distancing required
June 17 (Thursday) Color Killer at Union Common Marlborough Ma @ 7PM. outdoor show.
June 18 (Friday) E w/ Omoo Omoo at Nova Arts in Keene, NH. FB page
August 14 (Saturday) Kid Gulliver has a Record Release Party at Dusk in Providence. It is not listed on the Dusk Facebook page yet but here's a link.
September 3 (Friday) The Zulus rescheduled show at The Paradise - doors 8PM, music 9PM. FB event page
CONTACT US AT....misslynbgn@yahoo.com Send us your gig listings, your anything else ya got!! You want your CD reviewed?? Contact us for that too.
---