The BGN News Archive
May 5, 2014
Right after we wrapped up last week's news on Sunday, Blowfish took off to Quincy and hit the Presidents Rock Club for the 4th Annual Hardcore Cotillion: It was almost 8 pm and Jerry's Kids were ready to crank up. I found a place where I hoped to be safe from the moshing I knew was coming.
Jerry's Kids were in great form and had a receptive audience. It was wild and wooly. Lots of energy on stage and in the pit. Lots of crowd singing, hand pumping and beer spilling. This was everything you could hope for and then to have it in Quincy/South Shore on a Sunday was just perfect.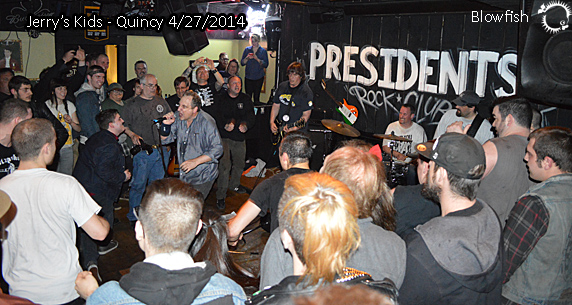 Bob Cenci had the presentation of the King and Queen of the Cotillion, the King being Larry Lifeless. Larry is a world unto himself. Just seeing him walk around the club in purple Crocs was entertaining.
I haven't seen Kilslug in a few years. I know they had played NY recently. I talked to Bigdaddy Slug and he said they play NYC once a month. They are gigging more often than ever it seems. Tonight it showed because they sounded together. They love the sludge but now the riffs seem more defined and the tempo not so slow as I remembered it to be. A big plus is drummer Biggdaddy who knows what to do with the slow tempos, giving accents on the cymbals not by 'crashing' them but hitting them just enough to give some color without the dissonance. The riff based songs gave you something to hold onto as Larry Lifeless did his thing. Larry is the Harvey Pekar of Hardcore. He kvetches in a whiny voice or he gives blood curdling screams. "I hate the world," he confides a half dozen times and punctuates with a sweeping, "fuck everything."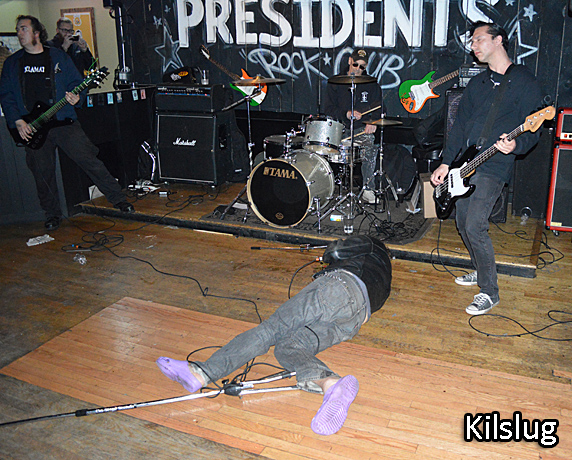 One song was equal parts of rolling on the floor and screaming like a fork was in his eye. After that he declared, "don't worry I have health coverage." Then I notice his nose is bleeding. You can see that in one of the photos. The group seemed to love the positive audience response and I think they snuck in a few extra songs and ended going over by about 20 minutes. Larry thanked everyone and even gave a, "I love you."
That's entertainment as the people say. I loved it all.
…and now for something completely different... as we trudge to the Midway the next Saturday to hear some rockabilly. The Midway has cool hardcore shows on Saturday afternoons and then have been featuring Rockabilly at night. Again we mention how great the booking is here now! We love this place. This night is a DJ Easy Ed night and that always guarantees great music not only from the bands but between sets too as Easy Ed plays one choice vintage 45 after another! One outrageous ditty he spun was Surfin' Hootenanny by Al Casey & The K-C-Ettes.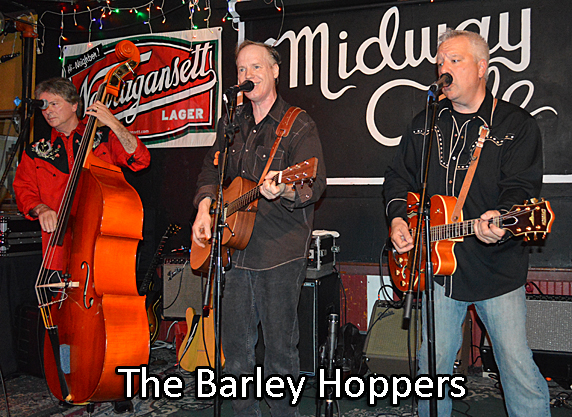 The Rockabilly fans are a friendly flock and they love their music. Tonight they sell out the small club easy. The Barley Hoppers have the Cranktones drummer, Stan Kozlowski singing lead and playing rhythm guitar. Stan at one point mentioned "At least I dont have to argue with the durummer" ...and with no drummer the rhythm is still very strong which is a testament to the ability of the standup bass player. They play the Rockabilly straight up and do it with ease. The set was are half covers and half originals. One standout was Lonesome Town the Rick Nelson song where the guitarist hit the guitar fills on the nose. The slow moody piece prompts some slow dancing up front. Wow, slow dancing.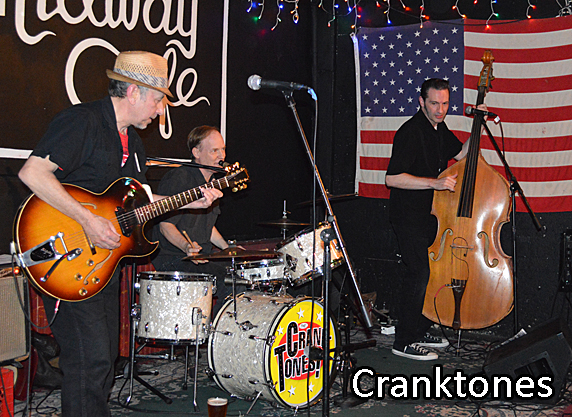 Just hearing this group satisfied my rockabilly fix but tonight the buzz was about Cranktones playing again....and its been a long time! The lead man Frank Blandino has been around a long time playing this stuff back in the day. The crowd is primed for the group and responds with energy from the beginning to the end. Frank himself is a card and dances to the records playing before he begins and pantomimes a few laughs. When he gets the microphone he tells some corny jokes that add the good feeling in the air. The Cranktones are not simple rockabilly, that's just one arrow in their quiver. They play instrumentals and older obscure rock songs that evoke the late fifties and early sixtes. They once do an instrumental of Please Please Me via Link Ray (like the Classic Ruins do too) that marks 1964.
Blandino plays with lots of finesse. He plays lots of different chord voicings, chord extensions and single lines that veer into jazz territory. One of the songs would have served to fill up three or four issues of Guitar Player with lessons. The drummer and bass players are younger but are right with him and help giving that feeling that you're getting the real deal here. Super fan John Funke was up in front, on the dance floor, singing along to every song and dancing like a crazy man! Cheryl Crane was up there dancing with him for a song or two. Frank thanked Mr. Funke for playing some of their songs on his show Backwoods (WMBR 88.1, 10AM-Noon) earlier in the day. It all added up to a fun feel and another well spent night at the Midway.
The lesson for the week: there's more than one way to rock.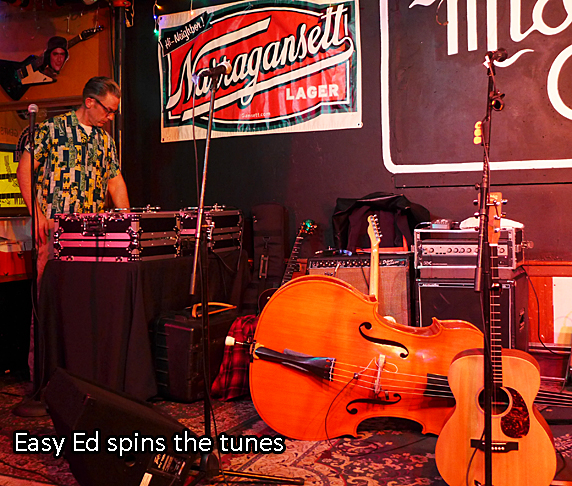 And don't forget you can listen to "Easy Ed's Variety Hour" (now two hours), on WMFO 91.5, alternating Friday from 6-8PM!! His shows are also available as a free podcast on iTunes; so you can subscribe and get automatic downloads or go to WMFO's site to lsiten to all the archived shows!
Meanwhile this week John Keegan was at Ralph's in Worcester and he saw Ed Moose Savage and the Mudbugs, Loose Salute and Bee's Knees...REVIEW OF ED MOOSE by John Keegan CLICK.
And in other news...
Someone's putting together a new film about punks and they're looking for "real punks" or people that play them on tv....for the cast. Here's what they're claiming in their Craig's List ad: "If you like punk, the film "Suburbia", grindhouse/exploitation films, or just like to act or produce films, we're doing what you've been waiting your whole life to be a part of. Seeking actors and actresses, real punks and skinheads for speaking and non-speaking roles, and the list goes on. Respond with contact info, resume, headshots, etc. and be a part of our PUNXPLOITATION film reminiscent of "Suburbia" and "Street Trash"." So you punks uot there...go to it! Click on the link to get to the ad, they are saying there are still spots available!! WMFO DJ Brian Young has been cast in the film already! He says he's going to be leader of "The Homeless"
Husker Du's Bob Mould has a new song. Listen here. He's doing a DJ show at The Sinclair May 16th (see below)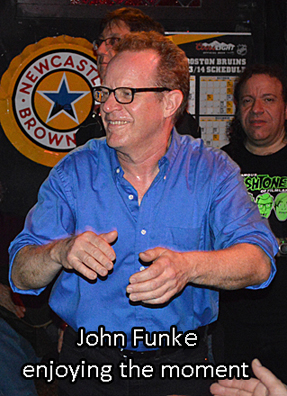 There does seem to be a new venue shaping up for some possibly good shows, well new to us anyway...RedStar Union in Kendall Square has been having music and now they are starting to have some bands that are on our radar. So this is an awesome unfolding to us!!
And for upcoming shows we want to mention.....
of course Monday night is the Standells at the Brighton Music Hall and for you guys up north The Standells are at The Dover Brick House on Wednesday May 8th with Watts and The Connection. Both great bills!!!
This Thursday, May 8th Jay Allen and The Archcriminals...are at the Tavern at the End of the World also on the bill are Natalie Flanagan Band as well as A Bunch of Jerks.
Wow this coming Saturday May 10th is just packed full of great shows!!
First off Crash Course for the Ravers on WMFO 91.5FM 1-4PM has The Guns of Brighton as guests, so start the day off right tuning in to the show.
First there's a 7Pm show at The Middle East Up with The Devil's Twins, Petty Morals, Adam PC, and PowerSlut
down the street it's a crazy night at Club Bohemia at the Cantab with The Hixxtravaganza - playing are Hixx of course along with Scott Damgaard, Cadillac Heart and James Straight And The Wide Stance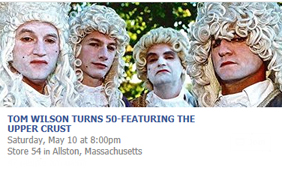 then there's Joe Fest II at the Midway on Saturday! And the bill is an awesome one, bands Joe would love and who loved Joe... M.O.T.O., Alice Highland, Classic Ruins and Roy Sludge doing his Stump the Undertakers Organ .....a good time will be had by all and its all in Joe's honor!!
over at O'Brien's on Saturday, May 10th we got a excellent show with Jittery Jack (their Boston record release show) , Whiskey Kill, Johnny Carlevale and the Rollin' Pins and new band DiabloGato (Jesse Kenmore is drummer for this band)
across the street is a big ole celebration over at Store 54 - Tom Wilson turns 50 and he's celebrating with The Upper Crust playing and its byob…should be quite a night folks!! doors are at 8PM
and Randy Black and The Heathcroppers are at the Tavern at the End of the World along with Vikki Porter. The Heathcroppers will do two sets- one at 9:30 and one at 11:30.
And up in north country there's a great gig at The Dover Brickhouse with The Unseen [1st time in NH in ages], Slapshot [Boston HC legend, new album coming soon], The Jabbers [Original NH punk rock est 1977], The Cryptics [New LP out now], East Beast [Brutal HC, new record dropping soon], Red Tape [NH LP release show!]...and Crystal Methodist [CD Release show] - note that this is a matinee show- it starts at 3PM!!
and north but not that north is another good show on 5/10 at The Spotlight Tavern in Beverly with Corolla Deville, The Flipsides and The Charms and all for only 5 bux!!!
Sunday May 11th - get all your Mother's Day stuff out of the way early coz, first - it's a great day to go see The Roy Sludge Trio at The Lizard Lounge - music starts at 4 and goes til 6:30. plan on dinner while watching some great music then second head over to...
The Regent Theater at 7:30PM for A Boston Film Premiere Event: "Looking For Johnny" - The Legend of Johnny Thunders I know they interviewed some Boston rockers for this film, too! one being Simon Ritt. We know him now for being in The Darlings but he was also in the notorious band The Daughters and they are getting together to do an exclusive set at the film premier. So it should be quite an event folks!
Thursday May 15th at RedStar Union is the Andrea Gillis Band and others rounding out the bill.
Friday May 16th Bob Mould is doing his DJ show called Punk Rock Fancy at The Sinclair at 10:30PM.
It's a killer weekend over at The Midway on Friday, May 16th with The Other Girls, BrownBooze (featuring Rod van Stoli and Jordan Valentine of BrownBoot!!! she's in town for a couple shows this weekend -see below too) ) and Saturday, the 17th with The Hudson Falcons , The Sprained Ankles, The Black Cheers and Spectacle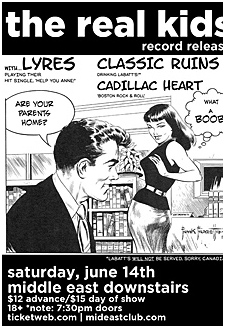 OK people mark your calendars for May 17th there's a lot going on that day:
The famous Q Division Yard Sale…this one'll be the 4th Annual...is coming up on May 17th...lots of music gear and local musicians at this thing….. its on from 10AM- 2PM.
You know it's summer when Cal Cali is back in town and he's back to celebrate his birthday on May 17th at The Tavern at the End of the World with Asa Brebner, Richie Parsons Duo and Emily Grogan. And to get you in the mood there's a special Crash Course for the Ravers with Brian Young and special guests Cal Cali (and band members) along with Emily Grogan. (WMFO, 91.5FM 1-4PM)
We know you've missed the Bob Colby shows that were at The Cantab on Thursdays and at The Rosebud before that...well Bob's back at it and on May 17th at Wayne Viens' Store 54 his first show there will feature Slowdim and Incinerator. Bob says: There may also be a short opening set, we'll tell you about that when we know more. We're glad to see you back Bob!!
Al Janick's St. Stanilaus Polka Party on May 17th...this year its at Anthony's on Highland Ave in Somerville and he's got his Plastyczny Ser Orkestra consisting of world famous musicians like , Kevin Hensleyski on Guitar, Matt Burkeski on Drums and Shaun Wolf Wortiski on Bass...along with The Warsaw Marching Accordion Army and the Horny Karkow Horns...and if that weren't enough he also has special guests The Pierogi Triplets (Jordan Valentine & Jenny Dee)!!!
Also on 5/17 over at the Midway in JP is The Beantown Boozehounds, The Sprained Ankles, The Black Cheers and Spectacle.....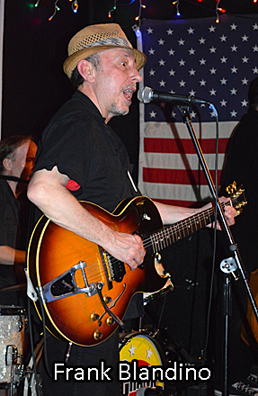 And if you are up in the North Shore on May 17th...there's a good show at The Spotlight Tavern in Beverly with Pop Gun, Cadillac Heart, The Classic Ruins and the Brigands.
And if you're south of Boston, namely Providence there's a really good show on the 17th at Firehouse 13 with
King Sickabilly and his Full Moon Boys, Slaughter Daughters, Johnny Carlevale & the Rollin' Pins, and The Red Pennys.
Thursday, May 22 at The Middle East Up……… The Woggles with Muck and the Mires, Lyres - whoa what a show!!!!
Saturday, May 24 at 6:00pm The Spot Underground (101 Richmond St, 2nd Floor, Providence, Rhode Island 02903) has punk extravaganza going on. It's featuring Boston and Providence hardcore with DYS, The FUs, The Loud Ones, Words Of Truth, Honest John, Penalty Kill, Futile Justice
also on the 24th at Store 54 there's Beware the Dangers of a Ghost Scorpion and Thalia Zedek
Thursday May 29th at Red Star Union is When Particles Collide, The Self-Employed Assassins and Sara Rabdau
Saturday May 31st ...there's a great afternoon hardcore show at http://dotrats.bandcamp.com/(4pm - 8pm $7.00) with Foulmouth, Dot Rats, Ache, Traces of Empire, Honest John. Dot Rats are on our Top Ten, as the number one song this week. check 'em out!!
And at The Midway starting at 9Pm is The Splinters, Black Fortress of Opium, Rotary Club (NYC), and Yankee Power
Sunday June 1 at The Middle East down is The Cro-Mags, Anti Nowhere League, Taxi Driver and Neighborhood Shit. This is an early show folks, doors are at 6:30PM
Watts are opening again for Cheap Trick at the Hampton Beach Casino on June 5.
Saturday June 7th Paul Robinson and Patti Moore are putting on a benefit for Autism and the organization Surfers Healing. Its at The Dog Bar in Gloucester and playing will be, from New York, Drive aka Talk Of The Town, Funbucket, Inge Berge, Girl On Top, Cripple Cove Quartet, and more TBA. This is a daytime show, Noon - 6PM More info here.
and it looks like John Felice definitely IS doing well...The Real Kids are at The Middle East down on June 15th with Lyres, Classic Ruins and Cadillac Heart!!
Echo and The Bunnymen are at the Paradise August 14th!!!
In August John Lydon hits Boston in a huge production of Jesus Christ SuperStar , he's playing King Herod...man I want to see that show!!
We finally get to see Dave Minehan with The Replacements since they are on the bill for the Boston Calling Show in September (5,6 & 7) later this year!

The 2nd Annual Rat Beach Party is already well in the planning stages...its set for September 14th& 15th and here's a list of bands so far: Saturday night- Red Parrot Beach Bar starting at 7PM: Hardwired -- Heavy Weddle & Sweet Release -- Severance (or Band To Be Announced) -- JetSet -- Billy Rath & The Street Pirates -- Open Jam to close
Sunday afternoon/evening: Red Parrot Function Room, Beach Bar and Back Room Lounge starting at 12:00 -- The Beachcombovers (Function Room) -- Hardwired (Beach Bar) -- The Boize (Function Room) -- Gino Caira Band (Beach Bar) -- Count Viglione Love & Flame (Function Room) -- Hixx (Beach Bar)-- State of Union (Function Room) -- GraveDancers (Beach Bar) -- The Derangers (Function Room) -- The Workers (Beach Bar) -- Liz Borden (Function Room) -- Kenne Highland Clan (Beach Bar) -- Slow Children (Function Room) -- Pop Gun (Beach Bar) -- Gyro Lula (Function Room) -- Moose & The Mudbugs (Beach Bar) -- Tsunami of Sound (Function Room) 8:30 -- Masters of The Obvious (Beach Bar) -- Red House (Beach Bar) - Real Real Bayou Band (Beach Bar) -- All-Star Jam led by Cindy Daley, formerly of Lovelace.
September 14th -a Sunday daytime show- at the Midway will bring us The Members!!
October 5th - a Sunday daytime show at The Midway will bring us The Vibrators!!!
CONTACT US AT…….misslynbgn@yahoo.com Send us your gig listings, your news and anything else ya got!!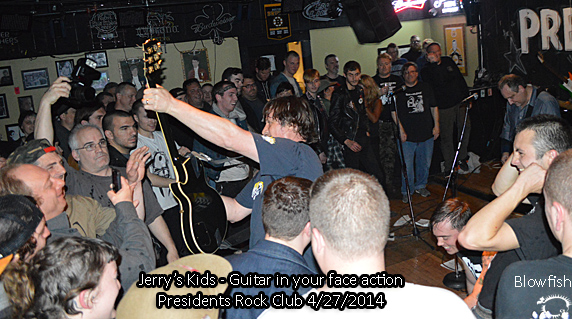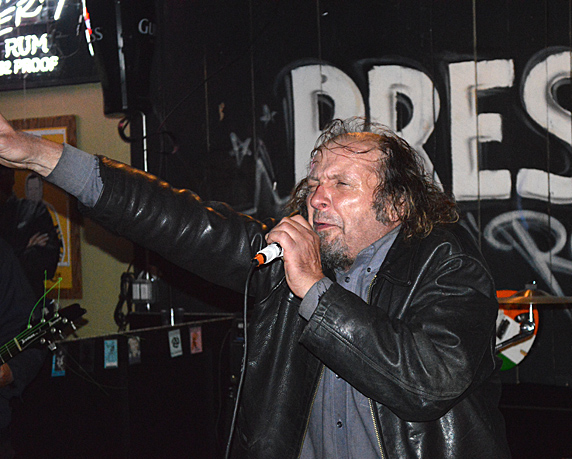 Larry Lifeless - Kilslug.
home | interviews | photos | features |BGN issue list | reviews
links | contact us

Copyright © 2014 Paul Lovell. All rights reserved.