The BGN News Archive
May 6, 2013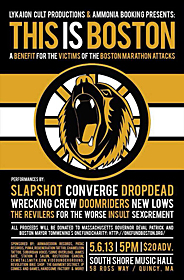 There's a great Hardcore show this Monday in Quincy to benefit the OneFund..."This is Boston" - with Slapshot-Converge-Dropdead-Wrecking Crew-Doomriders-New Lows-The Revilers and other - its $20 tix at door
This Wednesday May 8. Roger Miller's Trinary System is at TT the Bears
And this Saturday May 11 is the Joe Coughlin Tribute night at The Midway....a celebration of the man and his bday still goes on....yeah!! On the bill are The Classic Ruins, BJ Snowden, MOTO and The Electric Logs....
And Monday May 15th there is another Boston Marathon Bombing Victims benefit - this one goes to a specific family -check it out and go- on stage will be Goddamn Draculas, Cocked'n;Loaded, Ghost Thrower and others - there's also lots of really awesome raffles so go!!
In case you want to travel or are already to ChiTown: On May 16th Unnatural Axe are in Chicago for the Black Out Fest
OK, we've been back and forth on this one... as of 5/11 it looks like on Saturday May 18th is Cal Cali's Birthday Bash at the Rosebud! will be Jetset and Cadillac Heart only. In another twist - Ray Fernandes is coming up from Ohio to play with Cadillac Heart and they will be on the happening Crash Corse for Ravers on WFMO-FM around 2PM.
YAY Happy Birthday Cal Cali!! Come down and wish him a most wonderful bday. He's a great guy!!
May 20th The Upper Crust are playing a late show (10:30) at The Midway on one of those Monday is my Friday nights... May 23rd James Straight and The Wide Stance are at Radio with Gyro Lula
May 23rd Cal Cali goes even further north to Salem for a special gig at the Seaport Cafe - the Cali Leger Experience will play...
There is a benefit for Boston from a club in Rhode Island called the Mardi Gras Multiclub in Cranston RI. They are going to have an all day affair with over 20 bands. The Rock For Boston Benefit.
The Middle East Up on Friday May 31th are The 360's, Classic Ruins and Terrible Beauty....time to get out the old calendar and mark it for that one too!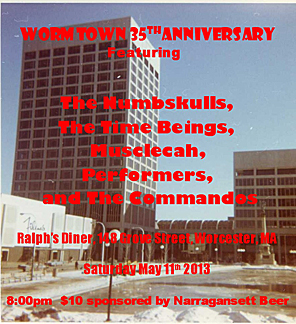 Lots o'good stuff in June! Ducky Boys do a Dead End Streets Record Release show on Sunday June 9th with The Swinger Utters , Goddamn Gallows, Welch Boys at Middle East Down....
Thursday June 13th- Jonathan Richman is at The Somerville Theater!! And Tommy Larkinon the drums!
Cal Cali 's Eaters show that was skedged for the Rosebud in June is no more - bid a fond adieu to that sweet this place...we have a sad for that one for sure.
Also on 6/15 The Middle East Down has The Adolescents, The Casualties, Tenebrae, and Done With You
And we have to wait way too long to see Petty Morals again...their next gig is July 19th at Great Scott in Allston
Adam Ant being a swamp thang at The Royale on August 19th On the things to do list we have:
Punk being spun over at The Ramrod every Tuesday from 10PM to 2AM ...IT'S FREE and it's a revolving cast of Punk DJs -All vinyl! All Punk! And there's FREE POOL too.
A website called InEffectHardcore.com has a good Boston HARDCORE REPORT. Worth checking out.
Video from The Neighborhoods gig in RI last week.
And on Fridays there's Chris Atwood's Friday night radio show called The Alternative plays punk and new wave hits.
If you have an hour click here to watch a video of Willie Alexander's 70th Birthday Party...its pretty great
EMAIL US AT....misslynbgn@yahoo.com